The 50 Sexiest NHL Ice Girls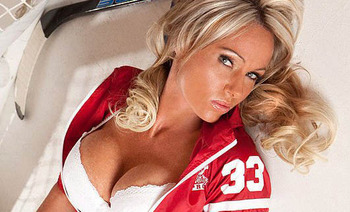 If you have ever been to an NHL game, then you have already witnessed what can only be described as heaven on ice. These beauties can make you forget who is playing or what the score is. They have that kind of power.
So for all of you out there, enjoy and admire the 50 sexiest ice girl photos I could find. Enjoy!
50. My Hockey Stick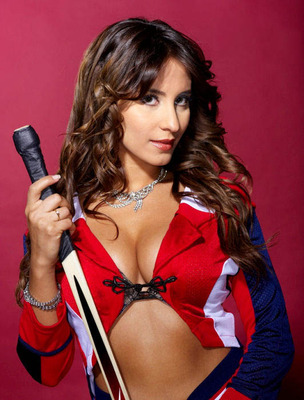 She has a good grip on that hockey stick. That makes us wonder...
49. Better Than Working Outside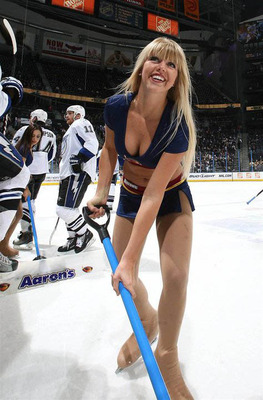 She might not be more than eye candy to the fans, but this hottie believes in her work.
In fact, she makes sure to put a smile on even while she is cleaning up ice in between periods and timeouts.
48. Free Shirts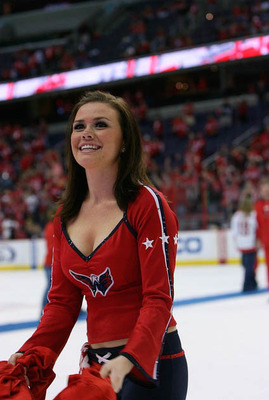 The next time I make it to an NHL game, I better get some free crap. On all the previous visits to Dallas to see the Stars play, I left without a single piece of swag.
Maybe this beautiful ice girl can find it in her heart to toss me something the next time I make it to a game. She just needs to read this article, memorize my profile photo and look for me at every single home game. It is possible.
47. Shocked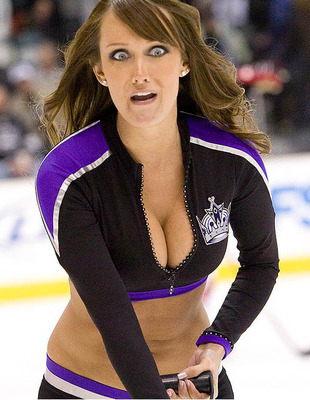 I am not too sure what she is so scared about, but maybe it has something to do with her top.
That thing is inches away from bursting onto the scene.
46. Pepsi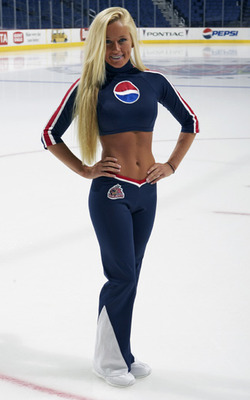 I always thought Pepsi was Coca-Cola's ugly cousin until now.
Anyone else thirsty for some Pepsi?
45. Three of a Kind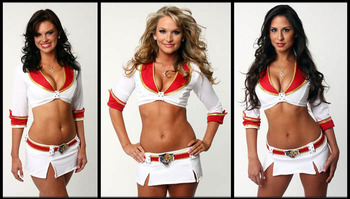 Three of a kind is the best title for a picture of three of the hottest Florida Panther ice girls.
The best part is that these are not the only ones on the team that should be considered smoking hot.
44. She's a Star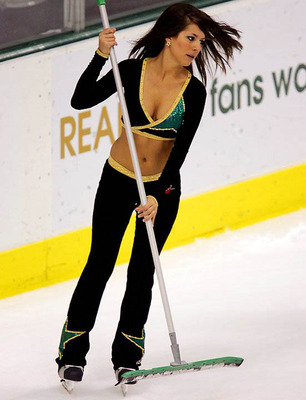 Yes, last time I was at a Dallas Stars game, I remember the babes skating around doing god knows what to the ice.
I was not paying too much attention to their actions—only their movements.
43. Top-Heavy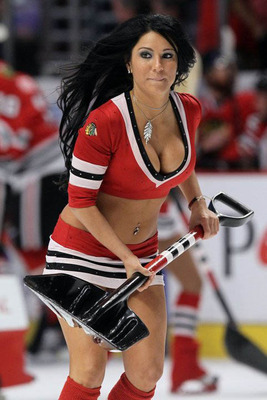 I wonder how they figure out which person will get to do which chore on the ice. Do they have a nomination ceremony at the beginning of each game?
Regardless of how, as long as the top-heavy ones don't get stuck with the shovel...oh, sorry ice girl.
42. Random Bucket Shot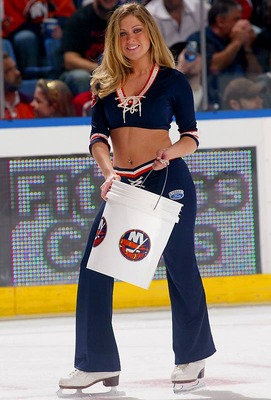 Every beautiful woman can always find time to stop what she is doing to pose for a photo—even if she is working.
I could also say even if she was at a funeral, but you get the idea.
41. Happy to Clean Up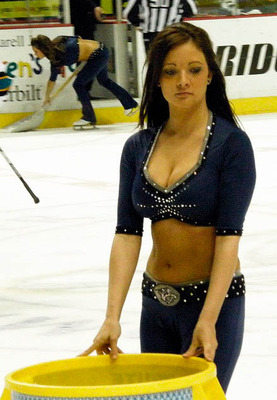 Speaking of buckets, why not use a trash bin to clean up the ice? It is larger and easier to push around the ring.
Of course, you might want to look a little happier when doing it.
40. Hotness Overload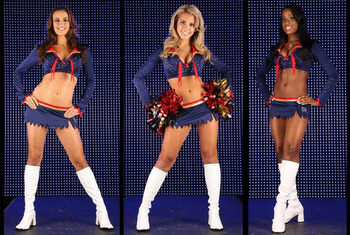 Okay, that is enough! We get it, Mr. NHL!
All you want us to do is go to the games because you now have half-naked women in skates cleaning the ice. Yeah, I am already in.
39. Are We in the Shot?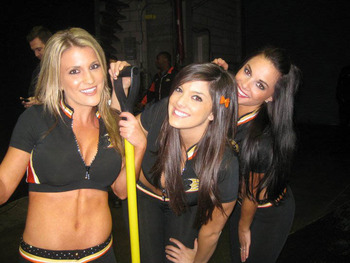 It only takes one person to figure out the camera is big enough to capture everyone in the area.
38. Predators Cap
Who said women in hats are not sexy?
I find that it is sexier than most women without a cap. Her body does not hurt her sexiness either.
37. Where Is This?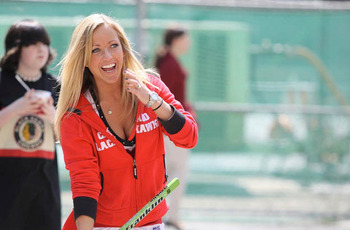 I might not be the biggest NHL fan in the world, but I can tell you that she is not inside a rink. She might be outside pulling up her street cred.
Either way, that kid behind her is happy to have ice cream and be in the presence of at least one babe.
36. Just Look Busy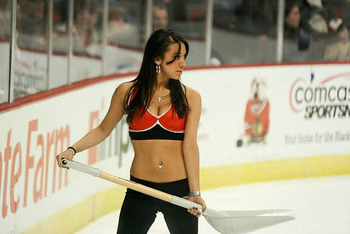 When the crowd isn't looking, you can get away with not doing anything.
Too bad for her that the crowd, mostly men, is keeping a close eye on her at all times.
35. Orange You Glad She Made It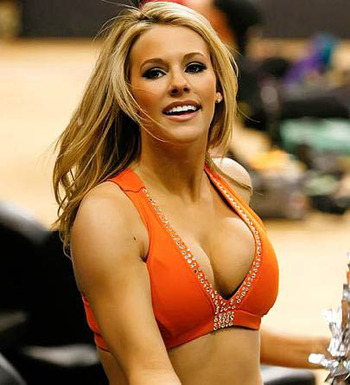 This must have been taken during a tryout for one of the NHL teams. I can tell from the piles of bags and gear just chilling in the background.
I can also tell because that top is too big for the NHL. She needs to get refitted for a costume.
34. Sailing Away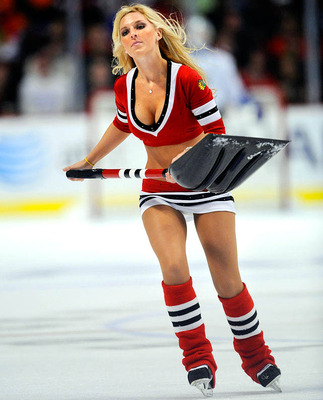 Aside from noticing her obvious features, what is something you see when you look at this babe?
I see her singing "Come Sail Away" while rolling around the ice. It would just make perfect sense for her to be listening to a song by Styx—don't ask me why.
33. Ice Girls from the Future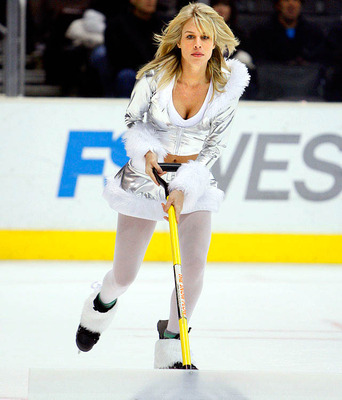 In the future, we might have flying cars and teleporters. Those are a few things we MIGHT have in the future.
One thing we will always have is hot women.
32. Who Is Their Sponsor?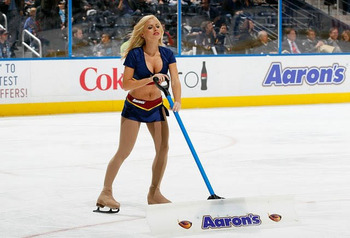 I understand business and marketing, so I get how a company would want its brand posted for all to see, but sometimes it is a bit ridiculous.
Do they make her say Aaron's to any question she is asked too?
Fan: Do you have any free shirts?
Ice Girl: Aaron's.
Fan: Um, that does not quite answer my question.
Ice Girl: Aaron's.
Fan: Well, yeah, I get that they are your sponsor, but can I have a free shirt?
Ice Girl: Aaron's.
Fan: Okay, I can see that we are not going to be getting any free shirts, thanks.
Ice Girl: Aaron's.
31. Shoveling Ice Is Hard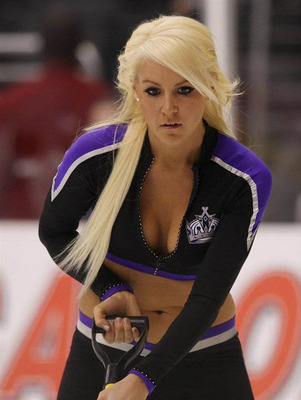 Have you ever had to shovel snow or ice before? It is not easy. Just ask anyone from the northern part of the United States how much fun it is.
That being said, she is working in Los Angeles, so when she sees ice, her first thought might be, "Where is my daiquiri?"
30. Happy Just to Be Here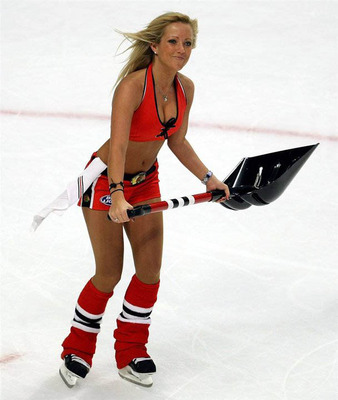 I bet she had a great afternoon at home just waiting to get to work so she could clean ice off a rink of ice.
Just give her a shovel and put to the ice, baby!
29. Too Easy to Comment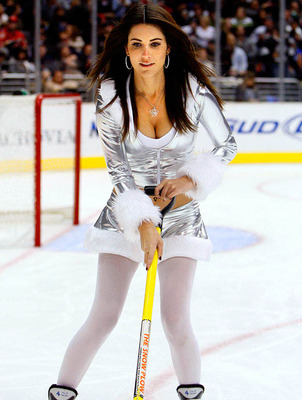 Am I the only one that is thinking something unusual about this photo? I mean, she is holding that shovel in such a peculiar way.
I can just leave a fill in the blank section for comments. Feel free to make jokes in 3, 2, 1...
28. Doing the Wipe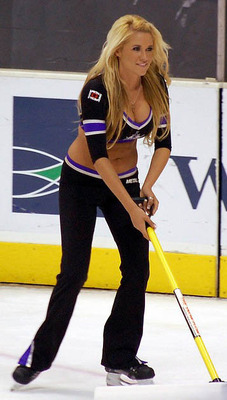 I am still waiting for the rap song to come out honoring these ladies on the ice. It can have a dance and everything. Just do not let Kanye West do it.
27. I Am Over Here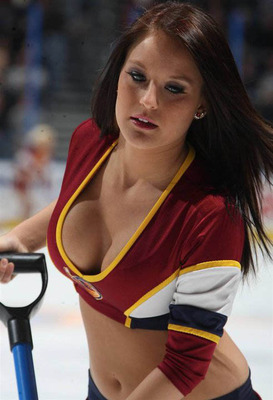 This has got to be the greatest photo of one side of a chest I have ever seen since the few photos you are about to see.
Fake? Is that a verb?
26. Sexual Harrasment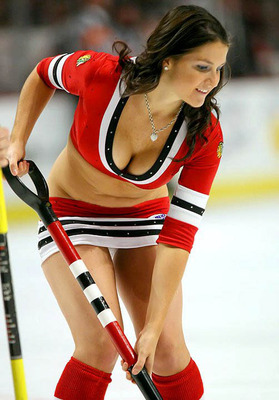 Okay, if I was the boss, you could just go ahead and sue me now for sexual harassment.
Am I supposed to not look at the lovely women? How could I even pretend they were normal employees?
25. Future Hottie No. 3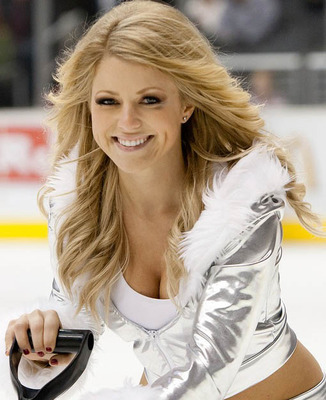 Did you think the other two women were the only ones from the future?
They have all come back to remind us of what we have to look forward to in 45 years.
24. Get the Ice Before It Melts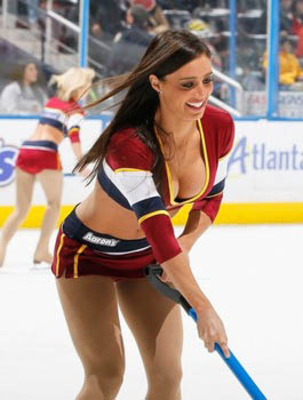 It is almost funny how small these uniforms are on these hotties.
Is Playboy in charge of the design?
23. Sexy Beach Girl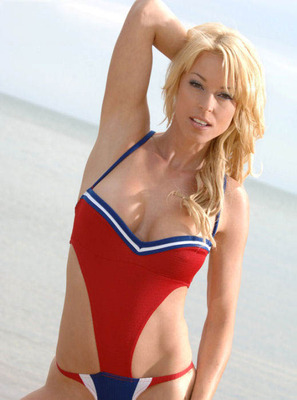 Now that is what I call a sexy NHL ice girl uniform.
Hopefully we will be seeing more of it in the next few years.
22. West Coast Hottie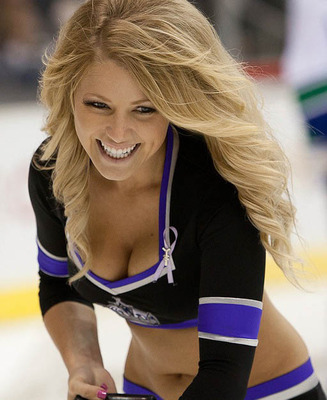 Yes, there are several times in our lives when we should just make a decision to visit a certain city to knock it off our bucket list.
Any other day I would say no thanks to visiting Hollywood, but for some reason, as of right now, I have a good reason to.
21. Hey!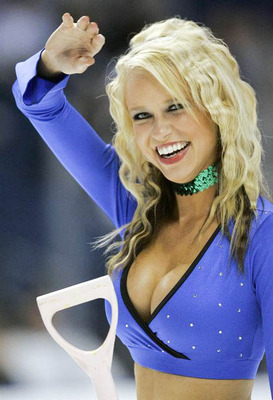 I am sorry, honey, but I was actually waving at the other babe behind you. Awkward.
20. Six Reasons to Watch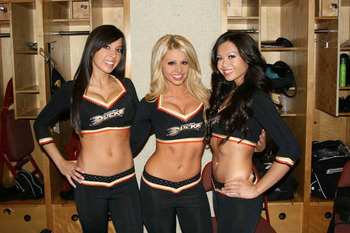 Yes, the title of this slide says six reasons to watch. Think about it before going crazy.
Go ahead and think about it. There are three girls, two twins on each, and what does that equal? Awesome.
19. Blonder Than Blondie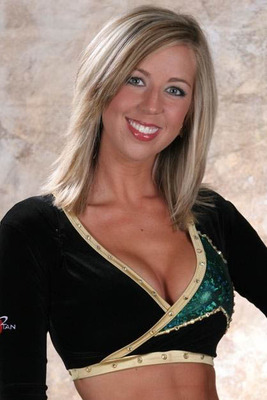 Anyone else ready to play "Find the hottie on ice!"?
All you need is tickets to a NHL game, good seats or a great pair of binoculars and an understanding wife or girlfriend. Next, you find the hottie on ice, stand up and yell, "Hottie!" Then sit back down and watch the rest of the game.
18. We Stand Together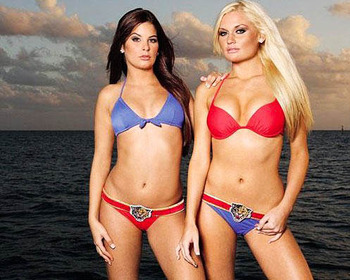 I am almost certain that the background is fake.
I am also pretty sure something else in this photo is fake. Zing!
17. Short Shorts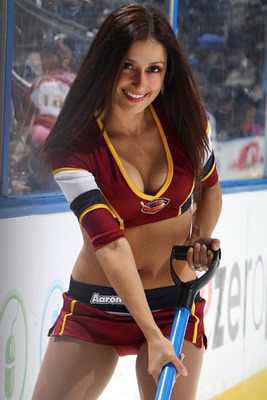 I believe in many things in life, and one of those is short shorts.
I would like to start a petition to make women wear short shorts all throughout the summer. The only catch is they have to qualify first. This can't be no Wal-Mart mass e-mail type of short shorts person either. We need only certain kind of women.
Example No. 1: this photo.
16. Quack, Quack, Quack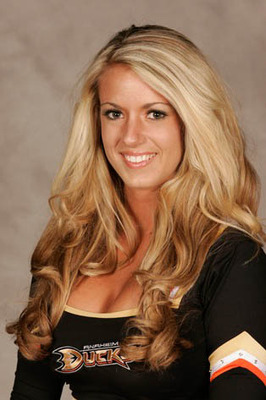 How does she not tip over on the ice?
If I was in her shoes, I would have trouble maintaining my balance on ice skates.
15. By the Pool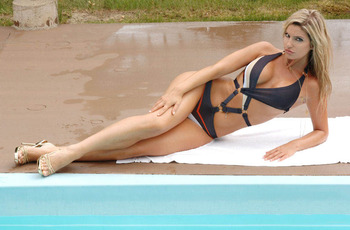 Anyone else notice the dead grass, wet cement, plain white towel and heels that do not match her outfit?
Yeah, me neither!
14. Hard Hat Hottie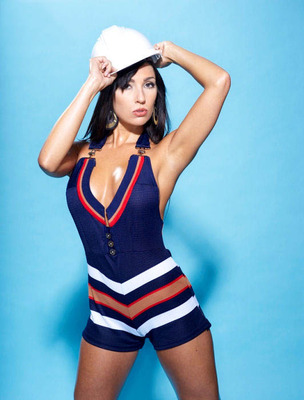 I told you women in hats are sexy.
Now, a woman in a hard hat, that is even sexier. I would hire her to build my next building in a heartbeat.
13. Suffocating Top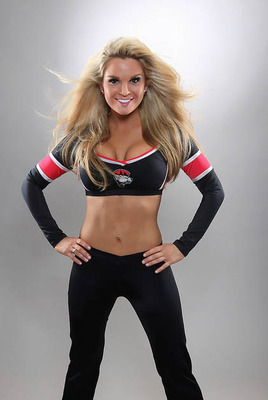 Her top is too tight. It needs to be removed before she suffocates. She could die. I am only trying to help. Please, someone help her take it off.
12. Two Is Better Than One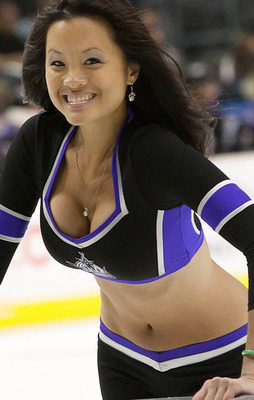 This is one of those Happy Valentine's Day photos for all my readers.
Please do not thank me—thank her outfit.
11. Lonely on Ice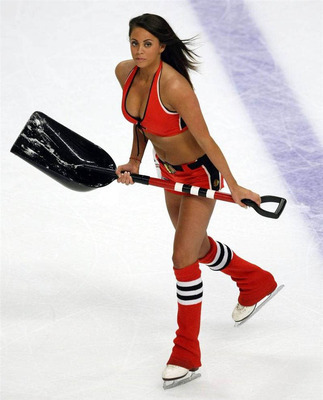 I can give you 10 reasons as to why I need to attend an NHL game in 2011, but after going through all those slides, I do not think I need more than one reason.
Babes!
10. Twin Cities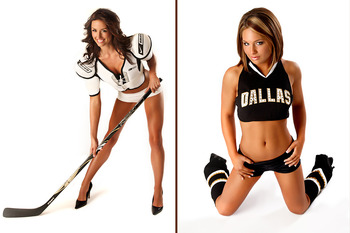 There is always a chance for every man to have two girls at once.
When we see photos like these, we are reminded of that very thing.
9. Wardrobe Malfunction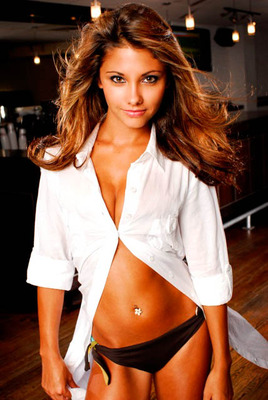 She looks like a person from one of Janet Jackson's music videos.
Too bad for us that she has all that clothing on. Perhaps next time she brings a little less gear to the photo shoot.
8. Perfect Game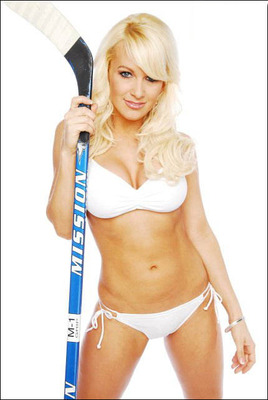 I have a idea for a new sport: lingerie hockey. It would involve women in lingerie playing hockey and kicking the crap out of each other.
In other words, half-naked women on ice.
7. Where Are My Binoculars?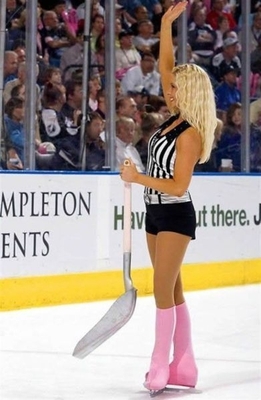 This is the point in the game when you tell your wife or girlfriend that you are using the binoculars to see the substitutes.
With beauties like this one, who even cares if your woman notices you staring? It is worth it.
6. Blonde Predator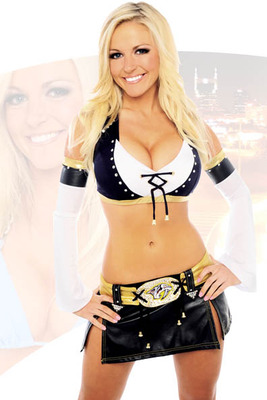 She can clean my ice anytime.
Come on folks—you knew something like that was coming. I mean, have you ever read my stuff? That was a joke I just had to use.
5. Wow Five Times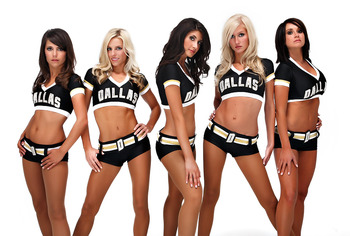 This photo deserves a wow, but five times over.
Wow!
Wow!
Wow!
Wow!
Wow!
4. Boat Day for Ice Girls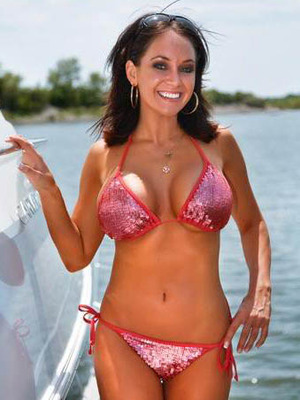 She might not be on the ice, but she is still rocking it on a boat.
Who says NHL ice girls can only be hot indoors?
3. Exposed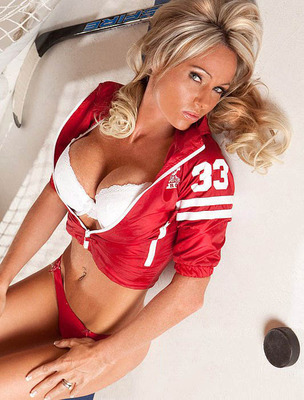 Excuse me miss, but your top seems to be ripping. If you have not noticed it, your breasts seem to have exploded from your top.
And every man is happy!
2. Locker Room Ending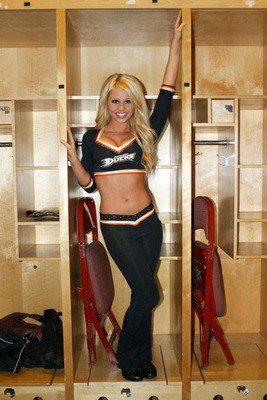 If I played professional hockey for the NHL, I would have one wish after a game.
That wish would be for the beautiful blonde you see before you, waiting in my locker for me.
1. Hotness Overload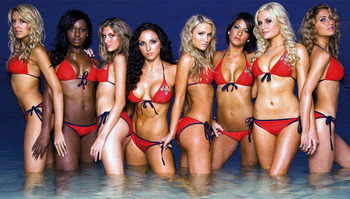 I believe the title of this slide speaks for itself.
There are too many babes in this shot. We might have to get a fire extinguisher.
Keep Reading