Strikeforce Results: Fedor Emelianenko and the 15 Biggest Upsets in MMA History
Upsets are what make sports great. Some of the greatest sports moments involve an underdog rising to the occasion and unseating an overconfident favorite. The Joe Nathan-led Jets, Jimmy V's N.C. State team, Buster Douglas knocking out Mike Tyson and of course the U.S. Olympic Hockey victory over the USSR, sports is littered with great upset stories.
Mixed Martial Arts is a very young sport, but it has made great additions to the pantheon of great sports upsets, and at Strikeforce Fedor vs. Silva MMA fans saw an all-time great take a beating unlike any other he had taken before.
Where does Fedor's most recent losses fit in the larger picture of MMA upsets? Slide on through and find out.
Begin Slideshow

»
WEC 43: Cerrone vs. Henderson
October 10, 2009
We start things off with Sherdog's 2009 Upset of the Year, and this match is just as much about the method of victory as it is the names involved.
Let me start off by saying I have nothing but respect for the U.S. Marines, they are all fantastically tough soldiers, but even I fully expected former Marine Mackens Semerzier to lose his WEC debut.
Welcoming the former leather neck was grizzled MMA veteran and highly decorated BJJ player Wagnney Fabiano. The Brazilian was a top-ranked Featherweight, with the IFL Featherweight belt and a 2-0 WEC record to his name. Fabiano has a third degree black belt in BJJ and had a great deal of success on the international level, and he was fully expected to submit Semerzier.
But at 2:14 seconds in the first round, it was Fabiano that found himself tapping out to a triangle choke. It was an absolutely shocking victory that left many observers lost for words.
April 10, 2010
The UFC's first trip to Abu Dhabi feature a pair of title bouts, headlined by arguably the most talented and temperamental Champions—B.J. Penn and Anderson Silva.
In the leadup to the card, much of discussion focused on the unworthiness of the two title contenders. Demian Maia was a replacement for the injured Vitor Belfort and was only one unimpressive win removed from his embarrassing KO loss to Nate Marquardt.
Facing Penn was wrestle-boxer Frankie Edgar, who fans and pundits alike decried as too small and not skilled enough to beat the Hawaiian champion. Most, including myself, pointed to his lack of finishing ability mean that his only chance to win was to survive all five rounds and out point Penn.
And survive Edgar did, outworking Penn for much of the fight. The decision victory for Edgar was highly controversial, and questions about the judging prevent this fight from being higher up the list. What is for certain is that Edgar made Penn look slow, ridged in the boxing game, and Edgar used this to a great effect in their second meeting when Edgar put a beating on Penn.
July 5, 2008
A clash of TUF coaches, Rampage Jackson was set for his second defense of the UFC Light Heavyweight title after knocking out the legendary Chuck Liddell and his decision win over Pride Middleweight Champion Dan Henderson.
Forrest Griffin was fresh off a shocking upset victory (it will appear later), but most observers expected that Griffin's win was a one-time fluke. While Forrest was the emotional favorite, most people putting money on the fight sided with Rampage's powerful boxing.
But when the bell rang, it was Griffin that answered it, peppering the Champion with high and low kicks. He set the temp of the fight early, dominating the second round in which Rampage didn't land a single strike. Griffin targeted Rampage's lead leg, landing 35 leg kicks and hobbling Jackson.
By the end of the night, it was Forrest Griffin who had the belt around his waist and leaving the MMA media and fans scratching their heads.
April 17, 2010
At the end of 2009, Strikeforce rocked the MMA world when UFC Middleweight contender, coming off his amazing UFC 100 knock out victory over Micheal Bisping left the UFC in favor of upstart promotion Strikeforce.
Henderson was still considered an elite middleweight, and he was given an instant title shot against sitting Strikeforce Middleweight Champion Jake Shields that was to be aired on CBS.
Shields, a natural welterweight, has moved to middleweight to find more challengers and was declared too small and too one-dimensional to defeat the larger and more accomplished Henderson. It was fully expected for Henderson win fairly quickly via knockout.
In the first round, things went as much as expected, Shields was rocked and spent the majority of the round surviving, but the next four rounds, Shields would execute one of the greatest comebacks and upsets in MMA history.
Henderson's impressive Greco-Roman background disguised his lack of freestyle wrestling and jiu jitsu, which Shields used to secure double legs and the mount position, completely draining Henderson's gas tank.
What looked like an easy win for Henderson turned into a landslide victory for Jake Shields, who then left Strikeforce for the UFC.
February 12, 2011
The most recent of our great upsets.
What lands this fight on the list is that it is the first time the MMA world has watched Fedor Emelianenko being subjected to just an absolute beating. The context of it and the fight taking place in the Strikeforce Heavyweight Tournament, which many favored Fedor to win, adds to the overall meaning of this upset.
However, it being Fedor's second loss in a row detracts from its overall standing. And while Silva just put an absolute beating on a clear favorite, there were enough questions surrounding Fedor going into the fight that it didn't come as a complete surprise.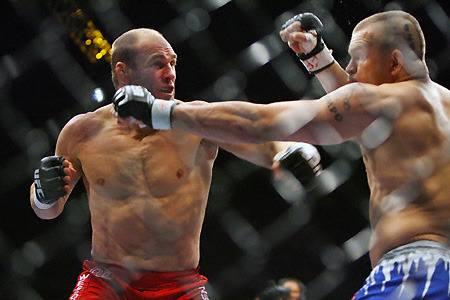 June 6, 2003
In the early 2000s Chuck Liddell was considered to be the No. 1 contender in the UFC Light Heavyweight division. Many claimed he was in fact taking harder fights than the sitting champion Tito Ortiz, who continued to refuse to fight Liddell because of a friendship that Liddell didn't seem to consider a factor.
In 2003, Tito had been out of action for the better part of a year, and the UFC wanted to hold an Interim Title Fight. Liddell was the natural choice for this fight. To oppose the Iceman, heavyweight Randy Couture, on a two-fight loosing streak, dropped down to 205 lbs.
On the surface, this seemed the classic wrestler vs, sprawl-and-brawl striker. Liddell was riding on a 10-fight winning streak with victories over accomplished grapplers like Jeff Monson, Kevin Randleman and Renato Sobral. Most pundits expected a competitive fight, but if it stayed standing, Liddell would knock out the aging Couture.
So in the third round when Couture dropped Liddell and was pulled off him by the ref, there was the distinct sounds of jaws hitting the floor in the arena. It was the first time Liddell had been TKO'ed his entire career, and it was by a fighter most fans perceived to be a wrestler.
It was the spark to one of the sports' greatest rivalries and shining moment in the epic career of Randy Couture.
April 21, 2007
Again this fight is as much, if not more so, about the method of the victory as the names involved in the fight.
Mirko "Cro Cop" Filipovic was an absolute legend at this time and was fresh off his winning the 2006 Pride Open Weight Grand Prix, including his epic headkick win over Wanderlei Silva and his stoppage win over Josh Barnett. After Pride's collapse, Cro Cop came to the UFC and had a convincing first win over Eddie Sanchez that had his fanbase buzzing that their Croatian titan would finally get the title belt that long had eluded him.
Standing between a Mirko and a UFC title shot was heavyweight contender Gabriel Gonzaga, who while a strong grappler, many felt his striking was not at the level as the legendary kickboxer. Most expected the fight to end with a highlight reel head kick for a knockout.
Those people were right, it was just Cro Cop that ended up having his head bouncing off the shin of Gonzaga and then collapsing in a mess. It remains one of the most popular clips to run in any UFC highlight made—ever.
Shooto: To The Top 7
August 26, 2001
In late 2001, the best middleweight in the world was a dynamic fighter with impressive submissions and knockout victories to his name. That's right Hayato Sakurai with his Shoot Middleweight belt and impressive 18-0-2 record.
Sakurai's new challenger was an up-and-coming Brazilian with just five fights under his belt, young Muay Thai specialist Anderson Silva. Sakurai was heavily favored to win with his well-rounded skills.
It was Silva who won the belt, using his superior striking to gain a resounding decision victory.
February 24, 2007
Takanori Gomi was a force to be reckoned with in Pride in 2007, with a 13-1 record in the premier Japanese promotion. His 2003 loss to B.J. Penn a distant memory, Gomi was ruling over the Pride Lightweight division.
Coming to Japan to challenge "The Fireball Kid" was Nick Diaz, who had just been cut from the UFC and had gone 3-3 in his last six fights. Gomi was considered a large favorite in the fight, and many expected him to outstrike Diaz.
But Diaz shocked everyone, when in a scramble in the second round, he secured a textbook gogoplata (shin) choke. Diaz would test positive for marijuana after the fight and have his win declared a no contest; there was nothing decisive about the upset victory Diaz scored.
April 25, 2004
Mirko "Cro Cop" Filipovic was the fastest rising heavyweight in MMA and was considered an unstoppable wrecking machine by his avid fanbase. His illustrious kickboxing background excited fans, and his head kick knockouts made him a legend in his own time.
Kevin Randleman, on the other hand, was past him prime and was a journeyman fighter at this point. Coming off back-to-back losses to "Rampage" Jackson and Kazushi Sakuraba, the former Buckeye wrestler was considered a piece of meat for Cro Cop to kick in the head in the opening round of Pride's Heavyweight Grand Prix.
But Randleman landed a sassy lefthook early in the first round that rocked the Croatian; Randleman pounced and left Cro Cop unconscious on the canvas.
Unlike so many of the other upsets on this list, this win was not a coming out or renaissance for Randleman but a last hurrah. Since beating Cro Cop, Randleman is 2-8 in his MMA career, and he has never matched the magic of that last great win.
January 31, 2004
What can you say about Matt Hughes that hasn't already been said? 35-3 and a perfect 6-0 in UFC title fights; the man was a massive fight in every fight he took.
After six defenses in three years, the Welterweight division was running out of challengers, and the UFC decided to bring in former lightweight contender B.J. Penn to challenge Hughes.
Penn was still a young, talented prospect who was seeking a place after the UFC had dropped the lightweight division. He took the title fight but almost everyone expected a typical Matt Hughes domination—takedown, ground-and-pound and then a submission.
But Penn showed off the jiu-jitsu skills that had earned him the nickname "The Prodigy." He quickly took Hughes' back and applied a rear-naked choke that shook the UFC Welterweight division to its foundations.
February 24, 2007
In the fading days of Pride, physical specimen Raameau Thierry Sokoudjou was signed shortly after his cut by the WEC. Then considered an elite prospect, Sokoudjou was given a serious test for his Pride debut.
Antonio Rogerio Nogueira, twin brother of the legendary heavyweight, was 12-2, fresh off his TKO win over then light heavyweight Alistar Overeem. Nogueira's skill set boasted his excellent jiu-jitsu, iron chin and crisp boxing, he was expected to run over the young Sokoudjou.
In just 23 seconds into their fight, Nogueria was knocked out by a power punch by "The African Assassin" in the biggest upset in Pride history. At the time, Sokoudjou looked like a bright prospect, but cardio and commitment to training derailed his promising career.
September 22, 2007
Mauricio "Shogun" Rua was at the peak of an absolutely meteoric rise and was widely considered the best light heavyweight and pound-for-pound fighter in MMA when Pride went belly up. His coming to the UFC was met with massive fanfare, and it was expected that when (not if) he won his first UFC fight, a title shot would follow.
Welcoming "Shogun" to the Octagon was the original Ultimate Fighter Forrest Griffin. While Griffin had won many fans during his reality TV show stint and young UFC career, few serious MMA fans considered him a serious contender. Less than one year before his date with "Shogun," Griffin had been TKO'ed by Keith Jardine and only had a win over Hector Ramirez to his name since then.
The result was one of the most shocking upsets in MMA history. Forrest Griffin smothered the vaunted Rua. Constant pressure from Griffin sapped Rua's energy, and late in the third round a complete exhausted "Shogun" scummed to a rear-naked choke. This win caused the MMA world to sit up and take notice that Griffin had gone from reality star to legitimate fighter.
June 26, 2010
Since the end of 2005, many MMA fans have questioned the quality of opponents the Russian heavyweight Fedor Emelianenko had faced. It had almost become expected that in the leadup to a Fedor fight, his detractors would tout his opponent as the one to beat him while his fans would list reasons why his opponent would wilt before his greatness. Then after Fedor's win, the roles would reverse, his detractors would decry the latest victim as a can, and his fans would argue the dispatched was still a top-10 heavyweight.
Not so with the Fabricio Werdum fight; both fans and detractors agreed Werdum was going to get his ass kicked. A jiu-jitsu fighter with no stand up and a weak chin beating the mighty Fedor? Impossible. Fedor had survived the vaunted guard of "Minotauro" Nogueira; this would be an easy KO win and set up what the fans really wanted—a showdown with Alistar Overeem.
But when Fedor dropped Werdum with an early punch, he dove head long into the jiu-jitsu champion's guard and soon found himself stuck between a triangle choke and an armbar. Fedor's solitary tap changed the very face of heavyweight MMA.
April 7, 2007
This should come as no surprise to anyone following MMA for any length of time.
Matt Serra was a failed UFC Lightweight who was best known for being the victim of Shonie Carter's highlight reel spinning back fist KO. Dana White gave Serra a chance to save his career by entering in the fourth season of the Ultimate Fighter as a welterweight, which was composed all of veteran UFC fighters and the prize was a promised title shot.
Serra won the season and many joked his reward was a beating at the hands of the new Welterweight Champion Georges St. Pierre, who had just snatched the title in a rematch with Matt Hughes. Many people, UFC President Dana White included, saw this as the realization of GSP's massive potential and did not think much of Serra's chances.
Serra entered the cage an unprecedented 11-to-1 underdog to the Champion and needed only three minutes and 25 seconds to prove the odds makers wrong. He rocked GSP with several heavy punches, and as he poured down punishment, the Champion tapped out to the strikes.
GSP, fans, media, UFC brass and likely Serra himself left that fight in utter shock of what had taken place. It remains the single biggest upset in MMA history.