Tiger Woods, Brooklyn Decker, Dana White and Sunday's Top Sports News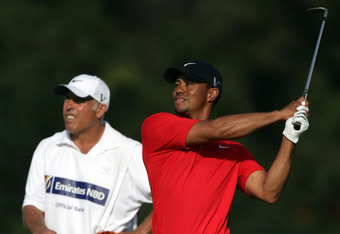 Ross Kinnaird/Getty Images
It's the first Sunday entirely free of football since way back in the summer, but that doesn't mean there isn't plenty going on across the sports universe here in the middle of February.
The PGA Tour headed to the Middle East, as the Dubai Desert Classic wrapped up today. A familiar face was stalking the leader board heading into the tournament's final round.
Former world number one player Tiger Woods, looking to win his first tournament in what feels like an eternity after a year filled with controversy and struggles on the course. How did Tiger fare?
We're also a day removed from the Strikeforce Grand Prix's big night of MMA action, and we'll cover the results from the big showdown between Antonio Silva and Fedor Emelianenko.
There's also other news being made by a number of people across the sports spectrum, so I'll bring you up to speed on the day's biggest stories. Keep it here for the latest, most breaking news on Valentine's Day Eve, if that's a real thing.
Ian Walton/Getty Images
Tiger Woods had a disastrous year in 2010 both on and off the golf course, and had hoped to have a very strong, fresh start to his professional year here in 2011. His first goal, which he seemed poised to accomplish heading into today: to win the 2011 Dubai Desert Classic, a tournament he'd won twice previously back in 2006 and 2008.
Woods headed into the final round one stroke behind the leaders, in great position to make a vintage Tiger run out in front of the pack on a Sunday at a tournament. His play, while not back to his pre-knee surgery and personal meltdown levels, had looked more promising and consistent in the early rounds of the tournament.
Tiger also showed resiliency that was often lacking from his performances in 2010, as he rallied back from a very slow start to the third round on Saturday to get back to even par at the end of the day and remain at -7, just a stroke behind the top of the leader board.
But it all fell apart on Sunday, as Woods fired an ugly round of 75 and fell down into a tie for 20th once everything was said and done in Dubai. The tournament was won by Spain's Alvaro Quiros, the 70th ranked player in the world, who finished at -11 after shooting a 68 on the final day of play.
Now Woods heads back to the drawing board in anticipation of his next tournament, expected to be the WGC Accenture Match Play Championship, with his drought of winning a tournament now standing at 455 days and counting.
His play showed signs of life in Dubai, but he lacked the dominant closing round that he became so well-known for during the height of his run of winning tournament after tournament, major after major.
The big date circled on his calendar is no doubt the Masters, the first major of the season for the PGA Tour. Woods still has time to get his game in order heading into Augusta, where he no doubt wants to get back on top of the golf world. But the hill leading to the top seems just as steep as it did last year after his meltdown in Dubai.
Perhaps his next tournament will allow him to iron out some more of his inconsistencies on the course, and will start the ball rolling towards re-building his once-impenetrable confidence and swagger.
But for now, Tiger is still left twisting in the dry desert wind, trying to find answers to his years-long problems of winning golf tournaments.
For more on Tiger Woods and a plan for him breaking out of his malaise in 2011, check out Tiger Woods: Five Things He Must Do To Get Back On Top.
This article is
What is the duplicate article?
Why is this article offensive?
Where is this article plagiarized from?
Why is this article poorly edited?
Al Bello/Getty Images
Clay Matthews Grammys: From Super Bowl Champion To Grammys Presenter In One Week
Instead of saying he's going to Disney World after Super Bowl XLV wrapped up and the Green Bay Packers were crowned champions of the NFL, perhaps Clay Matthews should have announced that he's going to the 53rd Annual Grammy Awards set to take place tonight.
Yes, the long-haired, fiery linebacker will be in attendance along with pop music's biggest stars for tonight's Grammys ceremony, according to reports. Matthews will join fellow Super Bowl XLV participant (though not on-field participant) will.i.am of the Black Eyed Peas as a presenter at the awards show.
Matthews' performance in Super Bowl XLV was much better received than will.i.am's, so Clay definitely deserves his moment in the national spotlight. He was the most noticeable Packers defender thanks to his flowing yellow locks of hair jutting out from behind his helmet, as well as his uber-aggressive style of play.
He finished second in Defensive Player of the Year voting after a breakout season, but had the last laugh on that front by leading his team to a victory over actual Defensive Player of the Year, Steelers safety Troy Polamalu.
Now Matthews has a chance to enjoy even more laughs, starting tonight with the music industry's big gala in Hollywood. He also has appearances scheduled on The Tonight Show with Jay Leno, as well as The Ellen DeGeneres Show.
So the hard-working player from the blue collar Packers' defense will have his turn in the Hollywood spotlight, and it's well deserved after such a great year on the field. Packers fans should tune in to see if Clay crosses paths with the likes of Katy Perry or Taylor Swift or whoever else is nominated for Grammys this year.
For more on the Packers' long haired great, and where he stacks up with other NFL players with flowing locks, check out Troy Polamalu, Clay Matthews and the Best Long Haired Athletes.
This article is
What is the duplicate article?
Why is this article offensive?
Where is this article plagiarized from?
Why is this article poorly edited?
Jason Merritt/Getty Images
Brooklyn Decker is currently making headlines thanks to her role in the recently released Adam Sandler and Jennifer Aniston film, Just Go With It. But the model/actress and wife of tennis star Andy Roddick is also still in the news for her role in the much-anticipated 2011 Sports Illustrated swimsuit issue, and debate rages regarding whether or not she'll be the cover model yet again for this year's issue.
Decker in a bikini has become pretty much her standard photo spread at this point in her career, and her role in Just Go With It also features a scene where she emerges from the ocean wearing an outfit strikingly similar to her barely-there wardrobe on SI's 2010 swimsuit issue.
So being in a bikini is nothing new for the model/actress, and rumors continue to swirl that she may be the cover girl for SI's 2011 swimsuit issue. The cover will be revealed tomorrow night on the Late Show with David Letterman, with 10 models featured in the issue participating in the show's nightly Top 10 list.
In recent interviews Decker has made it clear that she wants to do more acting, and transition away from being primarily a model. She's set to appear in another upcoming film, Battlefield, which is scheduled for release in 2012.
But being the cover model on the Sports Illustrated swimsuit issue is nothing but helpful in trying to build a career in Hollywood. It's still as widely circulated a magazine as we have left these days, sure to be seen by countless eyes.
If she continues to get high-profile spots like the cover of SI, and films alongside stars such as Jennifer Aniston and Adam Sandler, she may very well become the better known half of her American power couple (if she isn't already).
Tomorrow night we'll find out if it's two years in a row on SI's cover for Brooklyn Decker, but for now, Just Go With It is playing nationwide, so if you need your Brooklyn-in-a-bikini fix, feel free to check that out.
For more on Ms. Decker and the rest of the world of sports-infused pop culture, check out Brooklyn Decker, Carrie Underwood and the Rest of the B/R Swagger Buzz.
This article is
What is the duplicate article?
Why is this article offensive?
Where is this article plagiarized from?
Why is this article poorly edited?
Antonio Silva won in dominant fashion on Saturday night during the Strikeforce World Grand Prix, running over Fedor Emelianenko and earning a place in the Strikeforce semi-finals. Silva was able to withstand the heavy punching of Emelianenko in the first round, when the two fighters stood toe-to-toe. When the action moved to round two, Silva dismantled and dominated Fedor on the ground, and that was the difference in this much-anticipated MMA bout.
Fedor was considered a favorite thanks to his prowess for landing first round knockouts behind his extremely heavy punching. The first round saw Fedor and Silva standing and trading punches, which meant things were going more Fedor's way in terms of the style of fight.
But in round two, Silva and Fedor grappled on the ground, and that was where Silva took over. Fedor had seen success in getting out of precarious situations when grappling on his back, but Silva had too much technique and polish with his ground game.
Silva, according to punch scoring and counting, landed 47 punches while on the ground in round two. The fight was stopped once Fedor's right eye became swollen and closed up, and a surprising win was official for Silva.
Silva moves to the semi-finals of the Strikeforce World Grand Prix and will hope to continue his success thanks to a combination of power and technique.
For more on the aftermath of this high-profile fight, check out Post Strikeforce Fedor Vs. Silva: The Top 10 Heavyweights in MMA.
This article is
What is the duplicate article?
Why is this article offensive?
Where is this article plagiarized from?
Why is this article poorly edited?
David Cannon/Getty Images
Dubai Desert Classic wrapped up today, and despite his resilient third round that left him a stroke behind the leaders, Tiger Woods failed to make a last day charge towards winning his first tournament since 2009. Woods started the day at -7, a stroke off the leaders, but he posted an ugly 75 and managed to finish tied for 20th.
The winner in Dubai turned out to be Spaniard Alvaro Quiros, the 70th ranked player in the world. Quiros' tournament-winning round finished at an impressive 68, and included a hole-in-one on the 11th hole. He finished at 11 under overall, a shot ahead of Anders Hansen and James Kingston, who finished tied for second.
The Dubai Desert Classic had been a friendly tournament for Tiger Woods, as he'd won it in both 2006 and 2008. Tiger had also created some strong ties to the Middle Eastern nation, agreeing to develop a lush golf course and resort in the country, a project that is now on hold.
But the struggles have managed to continue for Tiger, despite his insistence on putting his ugly and tumultuous 2010 behind him. He showed glimpses of his past great play during the tournament, but his game remained maddeningly inconsistent.
The third round started off poorly for Woods but he was able to rebound and save par on the day. But in the final round, needing a positive surge under par to really make a run at winning the tournament, Woods again spun his wheels.
What is it going to take to get Woods back on top of a leader board at the end of play on a Sunday? He certainly needs to refine his short game, which was the main culprit in torpedoing his chances of winning in Dubai.
I think Tiger will break his losing streak in the near future in 2011, but this loss in Dubai is yet another step back from the world's former number one golfer. It will be a long road back to the top for Tiger Woods, but he's at least showing signs of life here in early 2011.
For more on Tiger Woods' year ahead, check out Tiger Woods: Five Things He Must Do To Get Back On Top.
This article is
What is the duplicate article?
Why is this article offensive?
Where is this article plagiarized from?
Why is this article poorly edited?