NHL Trade Deadline: A Busy Time For the Leagues Equipment Managers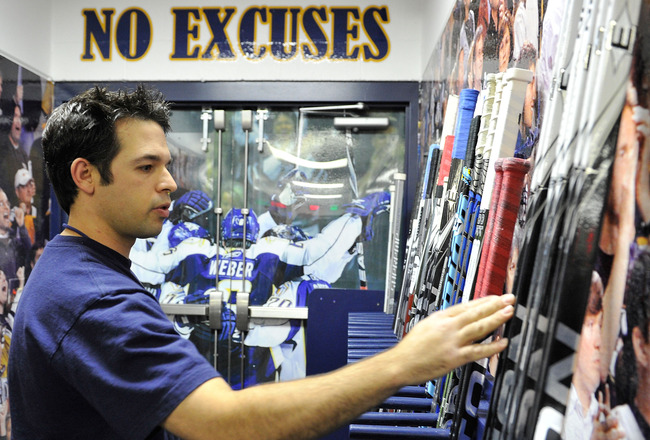 The unsung hero's of sports
Frederick Breedon/Getty Images
With 15 days to go until the National Hockey League trade deadline, there will be much speculation as to who goes where and who goes there.
The focus will be on those who make and break the trades as well as the immediate impact of these acquisitions. Experts will breakdown these events as they unfold, while fans will be joyous or they will be crying as their favorite players are moved along.
Over the last five season there have been roughly 25 transactions/trade deadline, which is pretty significant considering the NHL has to double check each transaction before they can be official announced.
(See my article: http://bleacherreport.com/articles/601113-nhl-trade-deadline-a-look-at-past-deals-from-2005-2010)
Many people will be needed to see that this flurry of activity is executed properly. All 30 NHL teams will have their hockey operations departments ready to go, their respective general managers making calls, e-mails and texts, scouts pouring over reports.
League officials waiting to check every transaction. Looking for any mistakes in salary cap situations and filing the proper paperwork needed to complete each deal (And who said the fax machine is dead! in the hockey management world it's still a must have).
While I could go on and on about the many people who will help make the NHL trade deadline a success, I'm often reminded of the thankless job of a team's equipment staff and trainers.
It's these people who help get the newly acquired players ready to don their new team's jersey.
Let's look at the how these people are so valuable to their teams. This is the one day, outside of the beginning of training camp that they are placed on high alert. At least when training camp comes they have months to plan for 60+ players.
On trade deadline day, they usually find out just before we, the fans do.
My hats are off to these people, the unsung hero's of pro sports.
A Trade Is Made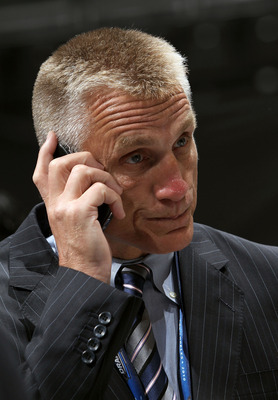 Do we have a deal?
Bruce Bennett/Getty Images
How many NHL players will worry about being traded on February 28th, 2011?
I really don't know.
So many seem safe, while others seem destined to be moved. We will have to wait and see how it all unfolds.
For 16 NHL teams, they will be playing on February 27th, while just four teams (Chicago at Minnesota and Detroit at Los Angeles) will see action on NHL trade deadline day, February 28th. March 1st will see 20 NHL teams back in action.
How many of these teams will sport new line-ups? Again, we will have to see.
Many have had the experience of being dealt several times during their career where the trade deadline is concerned. Dallas Stars center Brad Richards was part of a big deal only a few seasons ago when he was dealt by the Tampa Bay Lightning to the Stars in a deal involving goaltender Mike Smith.
Could we see Brad Richards move again this year?
The result is that it's very possible that at least someone will be traded at the deadline and while we all analyze and comment on the completed deal, many other things are set into motion.
People behind the scenes are working hard to welcome the new players as they up root their lives and make plans to join their new teammates.
It all begins with a trade.
Your Equipment Has Arrived!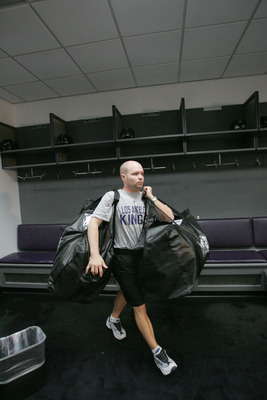 Your equipment has arrived!
Bruce Bennett/Getty Images
While it's part of the business, players are people too.
They have families and roots established close to where they work and now they are to re-organize their life in mere hours after finding out that they have been traded. Sometimes it is close by, for others it might be across the continent.
Usually, your new boss (general manager or someone in the hockey operations department) calls you and welcomes you to the team. Directs you to someone who can help you make plans to meet up with the team where ever it may be. There will be people to guide you to a hotel or other temporary place until you get time after to settle in.
There is a lot going on, not to mention the mixed emotions a player may still be feeling in the aftermath.
While travel and family plans are made, several people behind the scenes are working hard to get you settled and comfortable the best they can over the next 24-48 hours.
These dedicated people are your equipment personnel and team trainers.
As you and your equipment arrive, some of your new teammates may be there to welcome you. Your new boss, (GM) will try his best to pick you up from the airport, or meet you after your drive.
Your new team will take your equipment, hang it to dry—if need be, and briefly chat with you about things like how your skates are to be done (sharpened), type of stick tape you use, type of sticks (if you didn't bring any with you) and get your gloves and helmet picked out.
Some times a simple text will let the equipment managers know what you need, but nothing is better than doing it in person. After all, these guys help you be the player you are on the ice.
Where Do I Sit?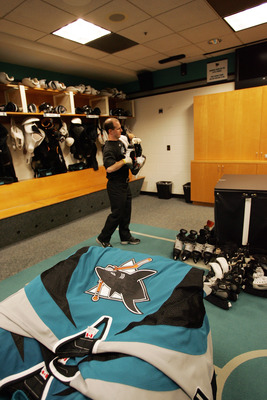 Even more work to do
Bruce Bennett/Getty Images
Entering the room and getting settle might be tougher than you think...you never know who might be there with you when you enter the room.
The coach usually sets up the room as to who sits beside who and while your getting all your stuff organized you have to be aware that the room you are now in is different than the one you left.
It can be a bit intimidating.
Chances are that you're going to be just fine. Your new equipment staff will be there to help you every step of the way.
Getting Ready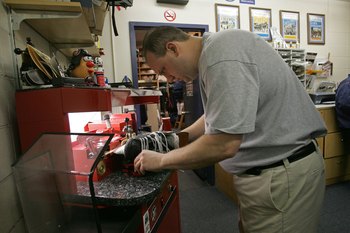 I like my skates done a certain way?
Bruce Bennett/Getty Images
Depending if you're getting ready to play your first game or your first practice, getting ready is always different when you move to a new team.
While you get organized, the equipment managers are getting not only you, but 19 other players ready.
For teams traveling on the road at the deadline, the equipment staff have to pack extra items to be ready to welcome just about anything.
There is a lot of respect amongst the equipment managers of the league and every manager tries to help out the visitor the best they can. Trying to accommodate new players working out of a make shift office can be tough, but these people are professionals who do an excellent job at getting everyone ready.
More Work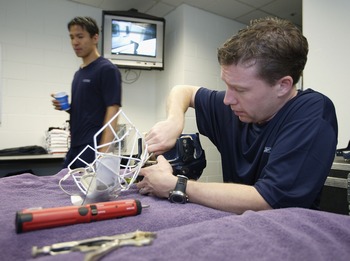 Buddy has a screw loose... must be a goalie!
Jeff Vinnick/Getty Images
Lot's of things need to be done.
While on the road an equipment staff must unpack all the teams equipment, hang it up, do laundry, fix equipment and just about anything else that is related to getting 20 players ready for a game.
They work mostly all night, get little rest and come back in the morning to get players ready if there is a game day skate, or full practice.
Now they have you, the new player in the mix, and they do the best they can to make you feel right at home.
After the game, pack it all up again and move out and onto the next game.
As an example, the Boston Bruins are on the road for six games from February 17 to March 1st which will see them travel from Long Island, Ottawa, Calgary, Vancouver, Edmonton and return to Ottawa on March 1st before heading home.
They will be making there way from Edmonton to Ottawa on trade deadline day...better pack more jerseys just to be safe...
Getting On the Ice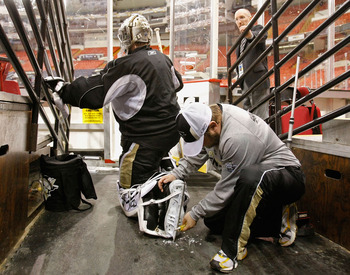 Thanks buddy!
Dave Sandford/Getty Images
While you take the warm-up or getting ready for your first practice, these people are there for you. They make sure that your focus is on the game or practice and will be watching over you.
They know the needs of there own players, so when a new player arrives they do their best to get them situated. Surprisingly, it doesn't take these people long to make you feel like you've been here all along.
A little goes a long way.
Best Seats in the House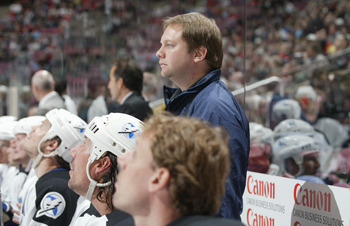 Best seats in the house
Andy Marlin/Getty Images
While these people dedicate their lives to cator to others, they enjoy being part of the team.
Without their hard work and efforts, no team would be able to play a single game.
Getting the best seats in the house certainly is perk...provided no player needs anything.
They're always on stand by to assist any player at any time.
Your Dedication Has Made This All Possible...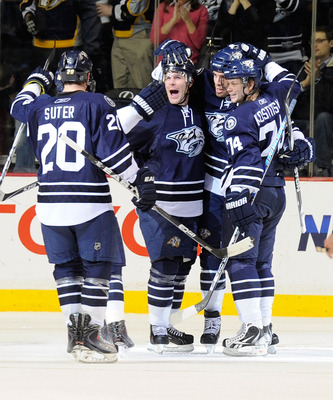 All that work really pays off
Frederick Breedon/Getty Images
While players go through all the emotions of being traded and the media coverage that comes with it, these dedicated people make the transition as smooth as they can.
Their day in and day out hard work is vital to any teams success.
For a 24-48 hour period, all 30 NHL equipment managers are placed on high alert and eager to help the team anyway they can.
So as the trade deadline is soon upon us, let's remember that its these people who help make all these transactions a reality.
Keep Reading