50 Hottest Female Soccer Players on the Planet
What will it take to convince you to watch the 2011 FIFA Women's World Cup? What about a slideshow of the 50 hottest female soccer players in the world?
Female soccer players have a bad rap. There are not many people that have noticed the high volume of hotties that grace us with their presence on the soccer field.
I had to conduct a ton of research to find these hotties, but thankfully, I have found them and present them to you for your enjoyment.
So sit back, relax and enjoy the female soccer hotties you are about to admire. Enjoy!
Begin Slideshow

»
One has to love Sweden. They have plenty things to do and the women are hot.
Let's not get crazy, not all the women are hot, but the ones I would be seeing when I visit would certainly be.
Speaking of hotties from Sweden, here is another one.
Jessica Landstrom hails from Sweden and now I am really beginning to think I need to visit.
I was shocked to see a female player from Germany make the list. I did my research and it was hard to find much talent out of the country.
However, Kim Kulig, who is also pretty damn good, made the list for that sexy smile she usually has while beating up on the other teams from around the world.
Lauren Cheney, no relation to Dick Cheney, is the first cutie from the U.S. to make the list.
There is just something about her that makes us say the word cute. She is absolutely adorable.
Go to Canada, they have talented women hidden throughout the country.
As long as you can find one of them, like Justine, then you will have a great time in Canada, eh.
New Zealand might be far away, but Kate Gill's beauty is not. She might be playing all her games in Australia, but she still has a pretty big online following.
So, thanks to the Internet, she is never too far away from us.
I am not sure why South Park hates Canada, they have beauties like Jonelle Filigno.
This beautiful dark haired soccer star makes all her Canadian teammates look bad.
I am starting to think that Australia might have enough hot female soccer players to be the second ranked country for overall talent.
You already know who the top country is, right? If you don't, you will at the end of this slideshow.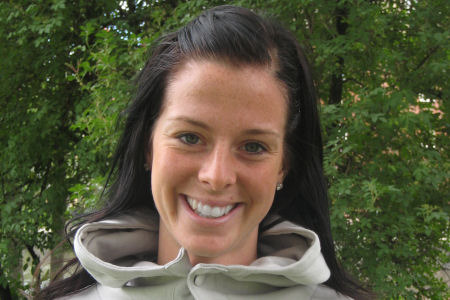 If Sweden plays Canada, one of two things might happen.
We will either have serious trouble understanding a single word being spoken or the field will have enough hotties to make you rethink your favorite sport.
Kayla Bala looks like she is ready to stomp on you. She also looks like she is the hottest female on the soccer field.
Either way, we are going to have a good time.
Caitlin Rehder is one of those hotties that comes out of nowhere and makes a name for herself just by being hot.
That does not bother me. I would rather watch the hot ones play.
I am going to go straight to the beauty and skip right past her last name. The joke is there, but it is just too easy. I am pretty sure most of you will make one up on your own anyhow.
Just try to keep it PG-13, thanks.
What kind of photo does not have a random female tongue sticking out from it?
Is watching hot female soccer players play in the rain considered a bad idea?
Well, it shouldn't be. We should want to watch them in the pouring rain. It makes the game that much sexier.
That is it!
I am heading to Sweden this summer to meet the Sweden National Women's soccer team.
I am beginning a petition to force hot female athletes to pose for a magazine. It would be greatly appreciated by yours truly.
My work would be so much easier if these beauties could find time to pose for FHM, Maxim or whatever magazine would want them.
Kara Lang should never be sitting alone on a sofa.
After taking one look at her, I would easily be hoping on over to that sofa to grab a seat. I would probably even move that oddly placed soccer ball.
How many more players from Sweden will make this list?
Oh yeah, she is the blonde on the left. I am pretty sure you already figured that out, but I wanted to make sure first.
I just realized that if the world did not have twins, it would be a sad place to live.
Twins make us happy. And by us, I mean men. Men love twins...fact!
Can you guess where Ally Akins goes to school? Really? You have no idea?
Take another look and give it one more try. Arkansas! You could not tell from the Ford shirt, tattoos and short shorts? She has country written all over her.
If you are smart enough to pronounce Anouk Hoogendijk's name, be my guest. I spent three days trying to figure out how to spell it, let alone say it.
The good news is that all you need to do is look at her and not talk to her.
Just head down to the travel agency and buy your tickets to Germany for the 2011 World Cup.
If you want to know why, take a look at Leslie Osbourne. Now think again about the trip.
Meet Lindsay Tarpley.
She is cute, sexy and whatever other adjectives you would like to use to describe her beauty. I chose to keep it simple and refer to her as hot!
What is missing from this photo? Is it a big giant flower in her hair? Nope, we got one of those.
Is it her arm bands that tell us she is legally able to purchase alcohol? No, because she has that too.
Maybe it is the abundance of clothing she is wearing. Yeah, that is it.
Alexis Dickinson is wearing a dress that could be considered illegal in most countries for being too short.
However, in the great United States, that dress is too long. I love America!
When I look at pictures of people posing in weird poses, I usually wonder why. This is one of those moments.
Why would you want to stand at the bottom of the staircase? Is there a hidden meaning behind it? Does it have significance to the story the photo is telling?
Regardless, Niki Arlitt can pose wherever and however she wants to.
Chelsea Balestra is another hot blonde that plays soccer.
That is not a bad thing either. The world can not have enough beautiful blondes playing sports.
On the left side of the photo, we notice an incredibly sexy blonde in a green bikini, that would be Ms. King.
Caitlin King played at the University of Auburn only a few years ago.
Aside from having a low cut dress and being the hottest person in the room, Lindsey Packard has one more enduring quality, her smile.
She has one of the sexiest and sweetest smiles on this side of the Mississippi River.
What do female soccer players do in their down time?
How about wakeboarding in their bikini? Now that is something I need to learn how to do and I am not talking about wearing a bikini.
If anyone does not think Mia Hamm is the reason we all started watching female soccer, you need to leave the room.
She was the first hot athlete in the soccer world. She made it cool to be sexy and good at soccer. She is 38 years old and mother of two girls, which can now classify her as an international MILF.
I found the next three women from a Spanish FHM magazine.
None of their names were known, but they are still Spanish soccer players and that was good enough for me.
I have no argument yet. I am pretty much going to be moving to Spain tomorrow.
Ok, I am definitely moving to Spain now. If the women are half as good looking as the previous three slides, I will have no problem adapting to life in Europe.
Kaylyn Kyle is from Moose country, Canada.
She is a hidden gem amongst vast areas of land covered in snow. She is a needle in a haystack and I found her for you guys.
Rachel Unitt is more than just another pretty face, she got game.
She has scored plenty of goals in international play and has won many awards, including FA International Player of the Year, twice.
So when you watch her during the 2011 FIFA World Cup, do not be shocked when this hottie scores a few goals.
And I was worried Mexico was not going to have any women make the list.
Thankfully, Monica Gonzalez is still here.
No one said you have to go to college just for an education. There are many other things to do with your time not spent in the classroom.
Crashing local sorority events at Texas Christian University in efforts to find hotties like Kaitlyn Mellem is an example.
This is one of those moments when telling your buddy, "I will take the ugly one," would actually not be a bad thing.
By the way, Bri Swift is the one on the right. But once I found out her friend's name, you will be the first to know.
How cute is Katie Peterson? She is cute enough to make me want to follow college soccer.
But if she was not enough to sell you on women's collegiate soccer, maybe the next slide will...
TWINS!
That is right, my friends, twins. A pair of hotties made exactly the same way, running around the soccer field for your enjoyment. Well, maybe not fully for your enjoyment, but we can imagine a world where hot twins play sports. That is the world I want to live in.
Where is Soulja Boy when we need him?
"She got a donk, she got a donk, she got a donk, she got a donk, she got a donk!"
At 31 years of age, Amy Taylor is a retired former soccer player from Australia.
Retired at 31? I want to retire at 31 years old. That is almost as bad as the gymnasts who retire at 21 years old. I am in the wrong line of work.
Heather Mitts is finding herself always in the middle of the conversations about hot female soccer players and it is well deserved.
She is a good soccer player, but her fame has come from being so damn hot. She might be the main reason I still watch women's soccer today.
It is hard to imagine a beautiful woman like Alex Morgan not going to a West Coast school.
No offense to the rest of the United States, but it is a known fact that California has all the beautiful women. In the words of San Francisco Giants Closer Brian Wilson, "Fact!"
Other than the West Coast, Florida is the next in line to claim the title of most hotties in one state. Katelin Swift is just another one of those examples.
How lucky is her bed? For that matter, how lucky is her stuffed animal?
I would volunteer to be reincarnated as either one, thank you very much.
What is it about Hope Solo that drives us wild? Why do we all think she is so hot? What is that about?
Oh wait, I just remembered. It's because SHE IS HOT!
Thank you, Brazil.
Thank you very much.
Although I sometimes make mistakes, this I can assure you, Miss Claudia Munoz is the hottest female soccer player on the planet.
She is tall, slender, and beautiful. Three things that should bump you to the top of any list.