Strikeforce: Fedor vs. Silva: 25 Sexy Photos of the Strikeforce Rings Girls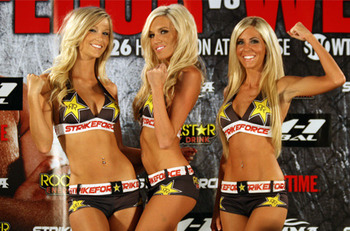 Tonight, all eyes will be focused on the action inside of the Strikeforce cage when Fedor makes his return to action since his loss against Fabriciao Werdum.
All the fans in attendance will get the pleasure of seeing the sexy Strikeforce/Rockstar ring girls do their thing in between rounds and fights.
Unfortunately, for us that will be watching the event at home, we get to check out cornermen, cutmen, Frank Shamrock and Mauro Ranallo.
Fortunately, for those of you not attending the event live, here are a collection of photos and videos of the girls that you will be missing out on.
Enjoy.
Knuckle Up!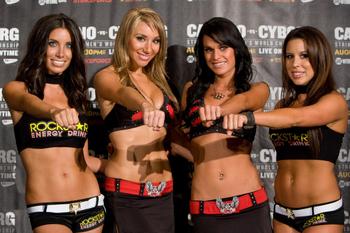 I don't know about you, but I prefer the little black shorts over those black skirts.
Tipping The Scales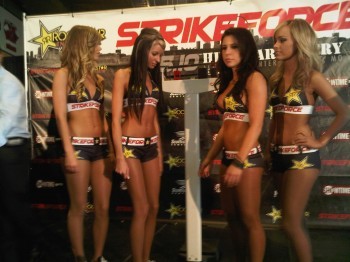 I bet if you get all four of them on that scale at once, they still wouldn't outweigh our resident cake expert Robert Gardner.
Bobby Lashley Is a Lucky Man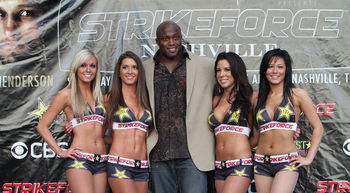 I guess being an over-hyped fighter does have it's privileges.
I See Stars...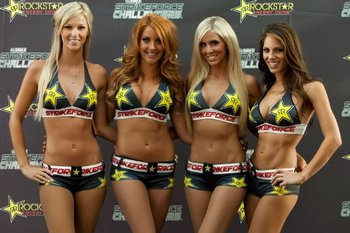 The ones on the banner in the background. I swear.
Let's Get It On!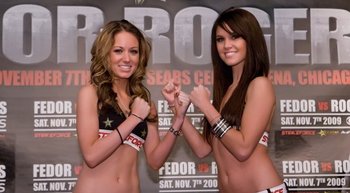 In the cage of course. Get your mind out of the gutter.
Is That Seat Taken?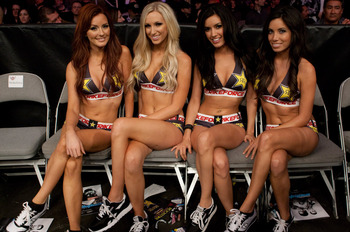 If it is, I'll still gladly pick up all the trash under your chairs.
C'mon Right The Train and Ride It!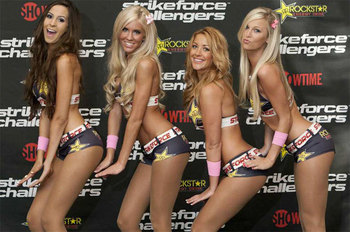 Choo Choo! Sorry for the Quad City DJ's reference.
But seriously, I call caboose.
The Stars Are Out Again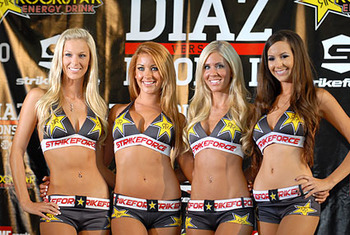 The ones on the background banner again. Seriously, you pervert.
Round Two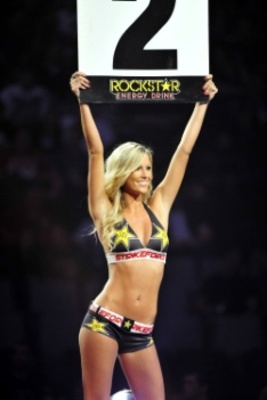 There would be no round two. You would get "knocked out" in less than 30 seconds.
Meet Kelli Hutcherson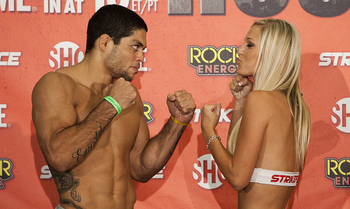 On the outside, he has a mean face on. But on the inside, you know what he's thinking.
More Of Kelli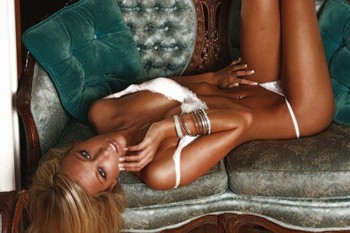 Not only does she have a great tan...
More Of Kelli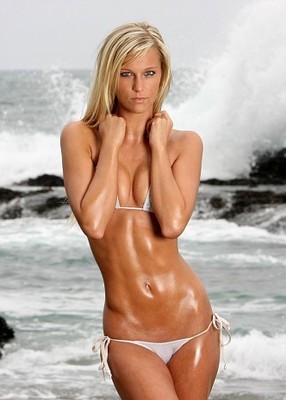 ...but she has a beautiful face...
More Of Kelli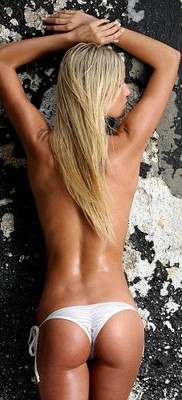 ...and other wonderful assets.
The Guns Are Locked and Loaded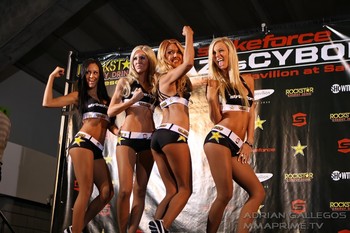 They're ready to kick your ass and take your name, but you only wish they would take your phone number.
Oh Holy Night, The Stars Are Brightly Shining.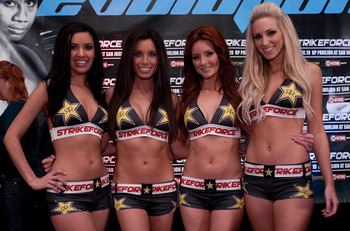 There are no stars on the backdrop banner to get me out of this one. Uh oh.
How Do You Think Robert Gardner Would Look In One of Those Outfits?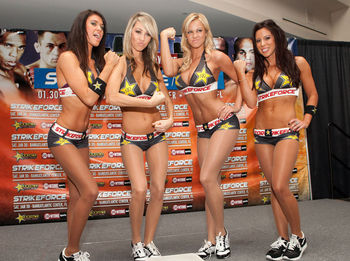 Thanks to Edgar-Maynard II ending in a draw, we will never know. For those of you who are doubters, that should be proof positive there is a God of some kind out there.
Round Two Again?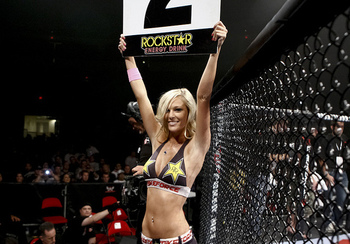 Who cares, Kelli is still super hot.
Meet Natalie Skyy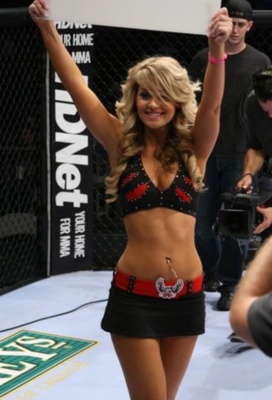 I'm pretty sure she's not a Strikeforce ring girl anymore, but nostalgia is always a wonderful thing.
There's Been Too Many Blondes So Far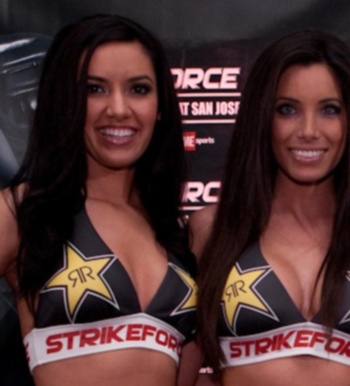 Have to give some of the brunettes some love!
Meet Christina Mendoza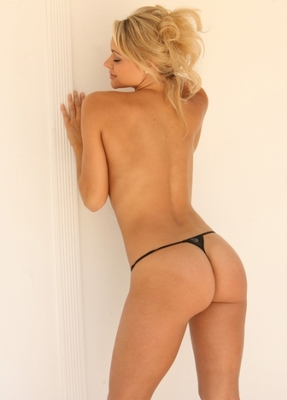 You can't see much of her face, but judging by the rest of what can be seen, I'm sure it's just as beautiful.
My Washing Machine Is Broke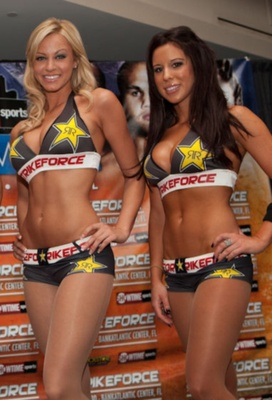 Could I pretty, pretty please borrow your abs to do my laundry?
I Want This Guy's Seat
If any of you reading this are going to be here live, make sure you get some video!
Strikeforce Girls at The Fedor-Silva Fan Expo
I'm sure everyone was there to meet Antonio Silva and not get free stuff from these beauties.
Strikeforce Girls In Miami
The next time they hold an event there, I'm going to pull a Will Smith and go to Miami.
Listen To Sprawl N Brawl Radio
...or Kelli will show you her mad boxing skills first hand.
I put the over/under on listeners we'll get next week at two.
Keep Reading