Atlanta Braves: 5 Things Chipper Jones Still Brings to the Table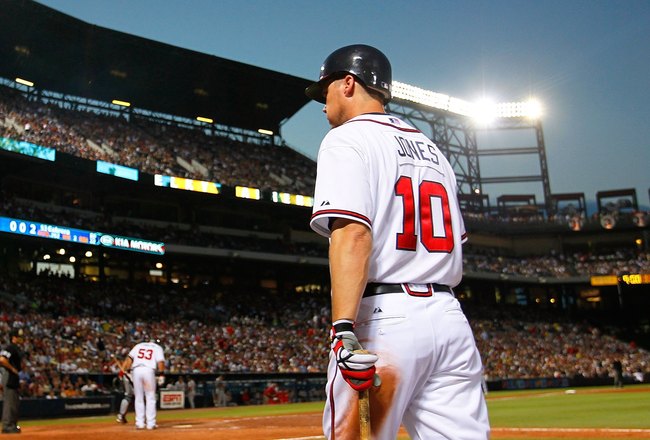 Kevin C. Cox/Getty Images
Chipper Jones is an all-time Brave. He's been through the best times that the franchise has ever had and the recent struggles to make it to the postseason up until 2010. He's won a World Series Championship and many division titles.
He's been a Most Valuable Player and he's posted extremely good numbers throughout his career.
The problem now, though, is that Jones will be 39 years-old in April and has seen a huge decline in his numbers since he hit .364 in 2008. He's had his power taken away his average has fallen off drastically.
Jones is entering his 16th full season in the big leagues and knows his way around the league. It could be his last season putting on a baseball uniform, which means it may also be our last chance to see a living legend.
It doesn't all have to be sad though, because Jones still brings a lot to the table.
5. The Drive to Play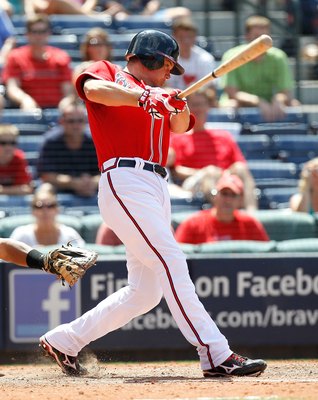 Kevin C. Cox/Getty Images
Jones is coming off a huge ACL tear that many thought would end his career. He has put in the work to get back and to be ready for Opening Day.
Jones has said all the right things, and for the first time in a while I'm getting the impression that he really wants to succeed. This is not to say that in the past he hasn't worked hard, but when I read things that he's said or things that he's done, I just feel differently.
Jones wants to go out by his own choices, and he seems poised to continue the success he had found after talking about retiring at the end of 2010.
The drive and work will pay off and I wouldn't be surprised to see an upturn in his numbers this year.
4. Being a Teacher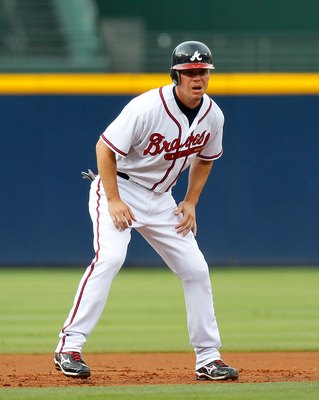 Kevin C. Cox/Getty Images
It's undeniable that Jones is getting ready to turn over the key to the franchise to players like Brian McCann and Jason Heyward, but the younger players can still learn a lot from one of the best players in league history.
Jones has been around the league and has seen everything that baseball has to offer. He has always been a guy that has helped groom younger players to help the team as much as possible, whether by giving them little tips in between innings or a scouting report on what to expect from a pitcher.
With youngsters McCann, Heyward, and now Freddie Freeman getting ready to carry the torch so to speak, it is very important for Jones to leave a lasting impression on them.
3. Still a Viable Offensive Threat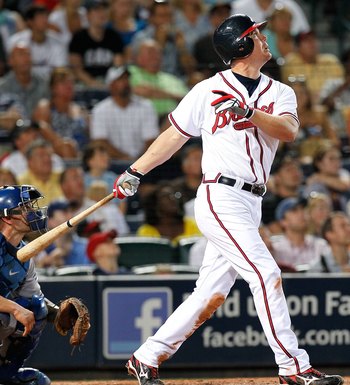 Kevin C. Cox/Getty Images
Most people look at his .264 average in 2009 and his .265 average in 2010 and think that he doesn't bring anything to the table and this is hardly the case.
After making some claims that he might retire following the season, Jones hit .307 with a .520 slugging percentage. That's nothing to scoff at. His overall power really jumped after the All-Star break. In the first half Chipper hit a homerun every 40.33 at bats, after the break he hit one every 18.75 at bats. That was only in 75 at bats, but it was still a good sign.
Even though he posted a low batting average in 2010, the one factor Chipper has already brought to the game was just as good as ever. I'm currently reading Moneyball: The Art of Winning an Unfair Game by Michael Lewis, and the book has given me a new appreciation for something that I already knew was important to the game, and that is on-base percentage. Chipper's on-base percentages the last two years were .388 and .381.
These aren't up there with his career average of .405, but they are still well above the league average and still show that he's going to get on base, regardless of his batting average.
2. Trust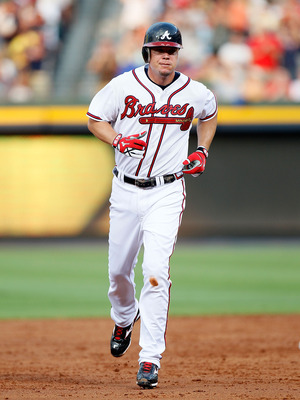 Kevin C. Cox/Getty Images
If we have two outs in the ninth inning and we're down one with a runner on second, I still want Jones at the plate.
Heyward is well on his way to becoming "the guy" that Braves' fans will want up to the plate, but there is something comforting in having the seasoned Jones in on that situation. Chipper also still thrives in these type of situations as his batting average with runners in scoring position was .333 in 2009 and .293 in 2010. Not exactly a joke.
Jones is going to knock in runs when he gets a chance, he is going to get on base and he is going to make the routine plays at third.
The one knock on him is his inability to stay healthy, but even if Jones can play in 120 games you will see the impact he has on the lineup and the team as whole.
1. Leadership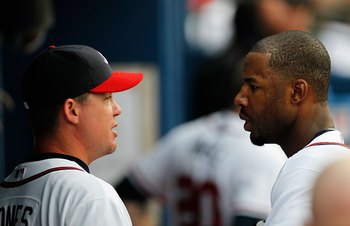 Kevin C. Cox/Getty Images
All of these factors combine together to make Jones a great leader. Jones gives the rest of the guys confidence knowing that he is going to be penciled in every day in the third hole in the lineup.
Chipper doesn't have to hit .300 with 30 homers and 100 RBIs anymore and he's not expected to. Chipper's job is to help the rest of the players progress to their full potentials, to produce in key situations and do all the he can still do.
Jones was said to be very informative and helpful even after his injuries with all the players and I expect that to continue this year whether he puts up the numbers or not.
I think Chipper will see a bit of a resurgence for the 2011 season.
My prediction for 2011:
.275, 15 home runs, 80 RBIs, 75 runs scored, .385 OBP, .440 SLG, .825 OPS
Keep Reading

Atlanta Braves: Like this team?