Tiger Woods, Maria Sharapova, Barry Bonds and Friday's Top Sports Stories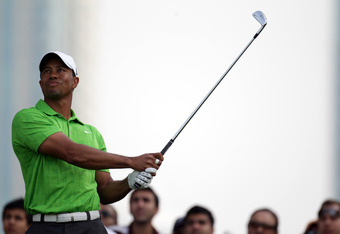 Ross Kinnaird/Getty Images
So it's the Friday before Valentine's Day Weekend, when couples symbolize their love with flowers, chocolate and $5.99 Hallmark cards.
But while those ProFlowers.com commercials dominate every channel on the tube, there is a lot of sports news on this Friday.
Tiger Woods is making his yearly trip to Dubai and apparently found his game there, too. He's making a big charge right now after a great second round.
Meanwhile, another star athlete, Maria Sharapova, is trying to find her way back to the limelight, but she's been derailed by yet another injury, although this one isn't as serious as the other ones.
Then there's Barry Bonds. We all remember him, right? He of the Home Run King and Game of Shadows fame who's finally going on trial, but has the prosecution's case already started to crumble before the trial even starts?
These are just some of the major stories in the sports world. There are other top stories as well, and this is just the place to find the latest news on these topics and many more.
So keep reading the updates for everything making news this Friday morning.
Carrie Underwood: Underwood's Husband Mike Fisher Traded Out Of Ottawa
So Carrie Underwood's going home.
After less than a year in beautiful Kanata, Ontario, Underwood's going back to Nashville. Her husband, Mike Fisher, was traded to the Predators yesterday from Ottawa for a first-round pick in this year's Draft and a conditional pick in the 2012 Draft.
Now buried in all of this is the actual hockey impact. Nashville gets a two-way center with some offensive upside who's not a top-six forward but better than what they have right now, while the first shoe has finally fallen in what's expected to be a significant firesale in Ottawa and one that's been expected by the Canadian media for months.
But the lead story surrounds Fisher, and mostly Underwood, who's now being labeled as Yoko Underwood in Ottawa because she stole their cult hero away to her hometown. The reference of course being to Yoko Ono. But there's an important note to make here, and it's one that some bloggers and Aaron Ward of Versus said on-air last night.
The Beatles were good, the Senators aren't.
Basically, Fisher became a cult hero in Ottawa because he was one of those character guys who worked hard and that every successful team needs. But he's not a second-line center and a consistent point producer. He's really a John Madden-type who can provide offense while in a checking/shutdown defensive/third-line role.
In reality, he isn't going to Nashville because of Underwood. He's going because he was one of the few tradeable assets the Senators had that other teams wanted, and as the Versus analysts pointed out last night, the Senators sent him to Nashville as a favor to him.
And really, if Underwood's Yoko, then Fisher's John Lennon? Does that make Daniel Alfredsson Paul McCartney?
For more NHL news: Nashville Predators: Mike Fisher Trade Makes Perfect Sense
This article is
What is the duplicate article?
Why is this article offensive?
Where is this article plagiarized from?
Why is this article poorly edited?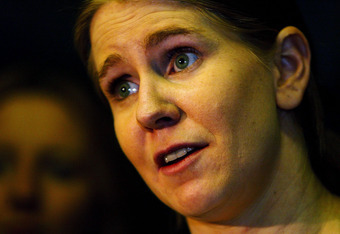 Tonya Harding: Former U.S. Skating Star Becoming A Mother
Oh Tonya, how we've missed you.
How we long for the days when you were just an Olympic-hopeful figure skater instead of an Celebrity Boxer with a sex tape. But then again, things would've been so much different if your ex-husband and bodyguard hadn't hired a man to pulverize Nancy Kerrigan's leg with a police baton and then helped cover it up.
So now Harding's going to become a mother, as she's expecting a baby boy with her second husband, according to the Hampton Roads Virginian-Pilot. I guess it's a nice end to such a sad story, as now she'll have her first child.
But the fall of Harding was still one of those moments that changed American pop culture. We forget that the Kerrigan incident came only a few months before O.J. Simpson's alledged murder investigation and the car chase that made a white Ford Bronco infamous in American history. If you listen to some people, those two events laid the foundation for reality television and made us the celebrity-obsessed culture we are today.
I can't speak much on that, considering I was a little child at the time. But it does speak something to our culture that Tonya Harding's still a public figure. If the attack on Nancy Kerrigan doesn't happen and Harding goes on to just be a figure skater, is her pregnancy even making news? Probably not.
Harding's had a long way down to make it to this point. We should hope this can be the turning point in her life with a child on the way.
For more news: Most Bizarre Arrests In Sports
This article is
What is the duplicate article?
Why is this article offensive?
Where is this article plagiarized from?
Why is this article poorly edited?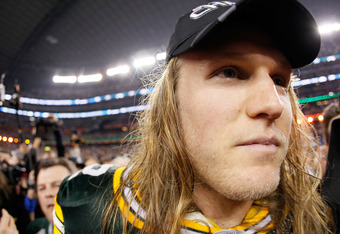 Clay Matthews: Matthews Will Present An Award At The Grammys
So if the pop culture world hadn't heard of Clay Matthews before, it has now.
He's become the media darling of the Green Bay Packers basking in the light of their Super Bowl title. While Aaron Rodgers got to speak the famous "I'm Going To Disney World!" line, Matthews has been all over the place. He even was a guest referee at a taping of SmackDown!, I guess to voice his displeasure with Dolph Ziggler.
But I can see the SmackDown taping, especially since it was in Wisconsin. I could see "The Tonight Show with Jay Leno" and even "The Ellen DeGeneres Show". The news about him presenting at the Grammys, that's a little odd.
At the end of Pardon The Interruption last night, Kornheiser related Matthews at the Grammys to the cast of Glee presenting at the ESPY's. I'm not sure if I could come up with a better analogy other than Clay Aiken at the NHL All-Star Game (that actually happened), but the point remains the same.
There's nothing wrong with enjoying the spotlight and getting all the publicity you can, all the Champions in every major sport pretty much do the same. But there's doing the normal PR tour and then there's this.
If Matthews wants to do this, then I really don't have a problem with it. But if it's just a public relations blitz, then I have bigger issues with it.
For more NFL news: Peyton Manning: Why The Colts Shouldn't Franchise Tag Him
This article is
What is the duplicate article?
Why is this article offensive?
Where is this article plagiarized from?
Why is this article poorly edited?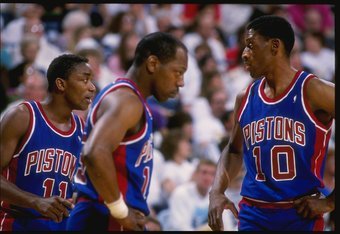 Dennis Rodman: Pistons Will Raise Rodman's Number To The Rafters
There are a lot of monikers and labels that go with Dennis Rodman: "The Worm", eccentric, a man who could pull off wearing a wedding dress.
But here's another thing attached now to his name: Pistons legend.
Or at least that's the thought, as the team is expected to announce today that Rodman's No. 10 will be retired by the team, according to Fox Sports Detroit. Rodman would join among others, Joe Dumars, Isiah Thomas, Bob Lanier and Chuck Daly as Pistons to have their number retired.
It's definitely interesting, because for all his antics and transgressions, he was one of the best defensive players and rebounders around. He was a key cog both during the "Bad Boys" Pistons days and the second Bulls dynasty in the late-90s.
But is he worthy to have his number retired?
As I mentioned, his rebounding prowess was legendary. He also won Defensive Player of the Year twice during his career, which is an accomplishment. But I don't think he's that worthy of having his number retired.
It's nothing out of the ordinary to see players who might have less than stellar statistics have their jersey retired because of what they meant to the organization. I don't like to use different sports to make an analogy, but most hockey fans didn't think Markus Naslund deserved to have his number retired by the Canucks, nor did many think Adam Graves need to have his jersey retired by the Rangers.
But they were both retired because of what they meant to the organization, and that has to be the rationale here too. Rodman was one of the bad boys, and now he'll be up there with Zeke and Dumars and Laimbeer.
From a basketball sense, though, I don't see it.
For more NBA news: Ray Allen Breaks All-Time Three Point Record: Ranking Him Among Celtics Shooters
This article is
What is the duplicate article?
Why is this article offensive?
Where is this article plagiarized from?
Why is this article poorly edited?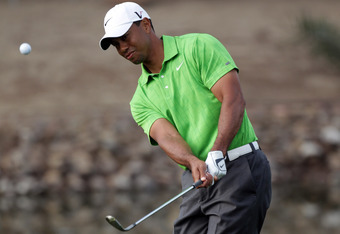 Tiger Woods Climbing Up The Leaderboard In Dubai
All of 2010, we kept waiting for the real Tiger Woods to show up. We kept waiting for the one who was one of the most dominant athletes on the planet, the one that had the rest of the tour running scared every time he broke out the Sunday Red.
But after shooting a six-under 66 in the second round of the Dubai Desert Classic, the mood is beginning to change.
This is the Tiger we wanted to see.
He's still four shots behind Rory McIlroy, but he's beginning that charge. There have been times when Woods have had bad first rounds and been able to recover. Of course, what does it say about our standards of him when a one-under par is a bad round from him? There's a long list of things I'd do be able to get close to a 71.
But this is the Tiger we've expected to see for so long. And it goes back farther than the car accident heard 'round the world and Tiger's sex tours of Central Florida's Perkins. It really goes back to that epic 2008 U.S. Open, when Woods played on that badly injured leg and still found a way to win that major. He really hasn't been the same since.
I don't know if he'll be able to catch McIlroy, nor do I know if he'll break out the Sunday Reds. But Tiger is closer to being back then he was at all last year and he was in 2009.
For more Golf news: Tiger Woods Moves into Contention Friday With 66 in Dubai
This article is
What is the duplicate article?
Why is this article offensive?
Where is this article plagiarized from?
Why is this article poorly edited?