Ray Allen: The Greatest Shooter in NBA History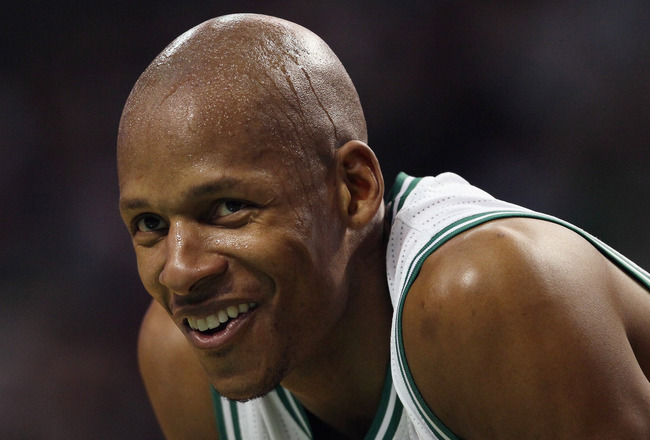 Elsa/Getty Images
Last night, the Boston Celtics' Ray Allen passed Reggie Miller's all-time record for three-pointers made. Allen has made 2,562 three-point shots in his career. Miller made 2,560.
For some perspective, Jason Kidd sits third on the all-time list. He's made a measly 1,752.
Ray made number 2,560 in his 15th season. It took Reggie 18 seasons.
But Ray is more than just a three-point marksman. One would never confuse him for Jason Kapono or Kyle Korver. For his career, he's just below the 90 percent mark from the free throw line. He's a 45 percent shooter from the field, and he's scored 20,000+ points.
And that stroke. That beautiful, quick release. No one will ever be able to recreate the smoothest, most efficient shot in NBA history.
With that in mind, here's a video and pictorial history of the career of the greatest shooter of all-time, Ray Allen.
1996 NBA Draft
Ray Allen was drafted by the Minnesota Timberwolves with the fifth pick in the 1996 NBA draft, behind Allen Iverson, Marcus Camby, Shareef Abdur-Rahim and Stephon Marbury. No offense to Camby, Reef, or Starbury, but I think I'd rather have one of the most consistent shooters—no, players—in NBA history.
If only David Kahn had been in charge of the T'Wolves in 1996, maybe they would have drafted Antoine Walker at five, opening the door for the Celtics to take Ray sixth. Hey, everyone can dream.
Milwaukee Bucks: 1996-2003
Immediately after the draft, Ray was traded to the Bucks, along with Andrew Lang, for Stephon Marbury.
While in Milwaukee, Allen was named to the All-Rookie Second Team and the All-NBA Third Team. He won the 2001 three-point contest, beating out Dirk Nowitzki and Peja Stojakovic in the final. That season, he averaged 22 points per game on a career-high 48 percent shooting from the field.
Also, he and Sam Cassell joined forces as the most alien-looking tandem in league history.
1998: Jesus Shuttlesworth
Ray Allen made his acting debut in Spike Lee's 1998 Best Picture Nominee Denzel Washington led "He Got Game."
Jesus Shuttlesworth (Ray) is a highly-ranked high school player in Brooklyn. Denzel Washington is his father. They play basketball together when Denzel is free to help Jesus make his college choice.
This one-on-one scene is pure gold. I can only hope Ray talks better trash than this in real life.
Seattle Supersonics: 2003-2007
Ray Allen was shipped to Seattle midway through the 2002-2003 season for Gary Payton and Desmond Mason. There, he just absolutely racked up threes and evolved into the player that you see today. Look at that video. I lost count. Nine? (Seriously, someone count that. I need to keep writing before the third quarter starts.)
At some point, he got into a beef with Kobe. Or rather, Kobe got into a beef with Ray. Of course he did.
In '06-'07, the year before he was traded to the Celtics, he averaged a career-high 26.4 points per game, but only played in 55 total games.
Most of this is unsubstantial, as everybody knows how Ray Allen will be remembered. Truthfully, he can carry a team for a game at a time, but when he's off, he's not going to win you any games without help. Which is why he needed Paul Pierce and Kevin Garnett.
Boston Celtics: 2007-Forever
In the summer of 2007, the Celtics shipped Wally Szczerbiak, Delonte West and Jeff Green for Ray Allen and Glen Davis. Then they got Delonte back last summer. Yeah, I think that one worked out for Danny Ainge.
Of course everyone in New England had high hopes, but I had my doubts. I'll never forget the day those doubts were put to rest.
After a dominant win to open the season versus the Wizards, the Celtics looked fatigued, old and lazy at Toronto in game two. My dad and I were bored enough to practice our golf swings in his apartment while the game was still in progress. Luckily, we put down the irons for long enough to see Ray bury the Raptors and show us who these Celtics would be.
They will not win every regular season game. There will be "dud" games. They'll fade towards the end of the regular season because, well, they are old. But they will win close games, and they will perform with heart in the playoffs. They're a late-game, postseason team and I wouldn't have it any other way.
June 17, 2008: First NBA Title
In the biggest game of his career, Ray Allen notched an all-time performance with a record-tying seven three-pointers made in an NBA Finals game.
Ray also broke Dan Majerle's, Dan Majerle's, record for three-pointers made in an NBA Finals series, with 22.
He came oh so close to a second title last summer, coming one Kendrick Perkins knee injury away from winning Game 7 versus the Lakers. But I'm not worried about it. Something tells me Ray will have one for each hand in a few months.
April 30, 2009: 51-Point Playoff Game vs. Chicago Bulls
Perhaps the most unforgettable Celtics game I've ever seen. Perhaps my favorite, too, even though they lost. Ray couldn't miss in this one: 51 points with nine three-pointers in a triple-OT loss to the Bulls.
To this day, it remains a top-three single game performance that I've seen live, and I doubt that a single shot will ever make me go as wild as that three over Noah.
February 10, 2011: All-Time Leading Three-Point Shooter
And finally, last night, Ray Allen broke Reggie Miller's all-time mark for three-pointers made.
My only wish is that he had made that kick-out three right after he tied the the record. That would have been the loudest I'd ever heard an arena, no doubt.
Ray Allen, despite his age, is a focal point for each and every team the Celtics face. He's the only Celtic capable of going off for 50.
If Pierce gets hot, teams swarm him, double team him before he reaches the three-point line. You can't do that to Ray. He doesn't operate with the ball, and in that, he's his own brand of superstar. Ray Allen's going to get his shots, and his teammates better believe it.
But Ray Allen's also going to pick his spots. He might pass up a three in the second quarter when the Celtics are up ten, but you will never see him hesitate on taking, and making, a three to tie the game with less than a minute left in the fourth.
Congratulations Ray Allen, one of the greatest clutch shooters in NBA history and, as of last night, the greatest shooter in NBA history.
Keep Reading

Boston Celtics: Like this team?