Why Steven Stamkos Will Be in the Same Category As Sidney Crosby & Alex Ovechkin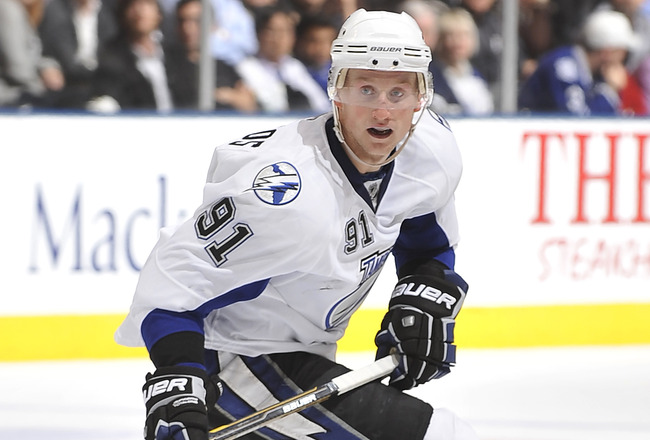 Abelimages/Getty Images
If you ask someone to name a player in the NHL, they'll most likely say Wayne Gretzky, Alex Ovechkin, or Sidney Crosby. But that could change, thanks to Steven Stamkos.
Stamkos plays for the Tampa Bay Lightning, a team that won the Stanley Cup in the 2003-2004 season, but Stamkos was only 14 at the time.
The Lightning are a small market team, but they have the seasoned veterans, such as Martin St. Louis, Vincent Lecavalier, and Ryan Malone, and the young guns, including Victor Hedman and Teddy Purcell.
Stamkos was that missing puzzle piece that not only improved his team, but increased ticket sales.
So why is he such a hype?
Here are four reasons why Steven Stamkos will become a household name:
1. He's a fresh face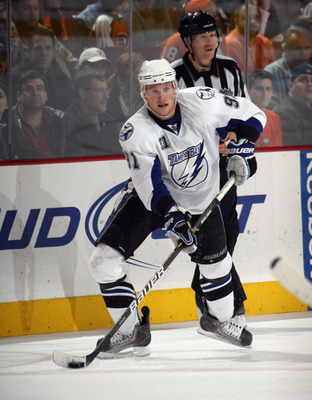 Bruce Bennett/Getty Images
People are sick and tired of hearing about Sidney Crosby and Alex Ovechkin. Frankly, I'm sick of it myself. It's like going to a Twins game, and only seeing Mauer t-shirts and jerseys (one of my biggest pet peeves).
I think many sports fans are like me in thinking that the sport is too focused on Crosby and Ovechkin. ESPN rarely puts hockey games on SportsCenter because there are only two notable players, which aggravates many hockey fans. If Stamkos keeps his production up, he could not only include his name on the list of NHL superstars, but I could finally catch highlights from hockey games on SportsCenter.
2. He Plays For a Stanley Cup Contender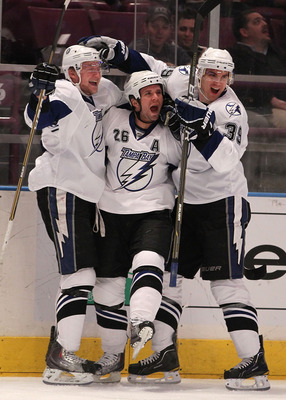 Paul Bereswill/Getty Images
Like I said earlier, the Lightning haven't hoisted Lord Stanley's Cup since the '03-'04 season, and they still have two of the major components on that team: Martin St. Louis and Vincent Lecavalier.
Although the Lightning haven't been as successful in the past couple of years, they have the skills that could bring them back to the Finals. Stamkos is one of the biggest reasons why they're doing so well. His plus/minus is 12, which is 49th in the NHL. The reason why he isn't higher is because the Lightning don't have a stable goalie. Once they get a consistent goalie, I believe they will be the favorite for the Stanley Cup.
3. He's Got All the Skills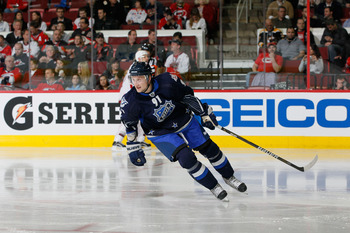 Kevin C. Cox/Getty Images
Stamkos has an accurate shot, is a fast skater, and has a whip of a slap shot. I'm not sure if you watched the Super Skills competition at the NHL All-Star game this year, but I was glued to my TV. Stamkos had a great night at the competition, whipping a 101.9 MPH slap shot, the fastest slapper from a non defenseman.
Stamkos also skated around the rink in 14.731 seconds, placing 3rd out of 10 skaters. You might say, "These numbers aren't very good. He didn't win anything." Well, when you're going against the best in the world, these numbers are impressive.
4. He's Part of the Future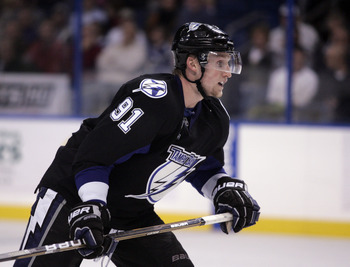 Justin K. Aller/Getty Images
Stamkos was the 5th leading point scorer last season, scoring 95 points in 82 games. Out of the top ten point scorers last season, five of them were under the age of 27 (Sidney Crosby, Alex Ovechkin, Nicklas Backstrom, Stamkos, Patrick Kane). This season, Stamkos is leading the NHL with 72 points in 54 games. This season, that number of scorers under the age of 27 is the same (Stamkos, Sidney Crosby, Corey Perry, Alex Ovechkin, Eric Staal).
Keep Reading

Tampa Bay Lightning: Like this team?