The Sexiest Smiles in Sports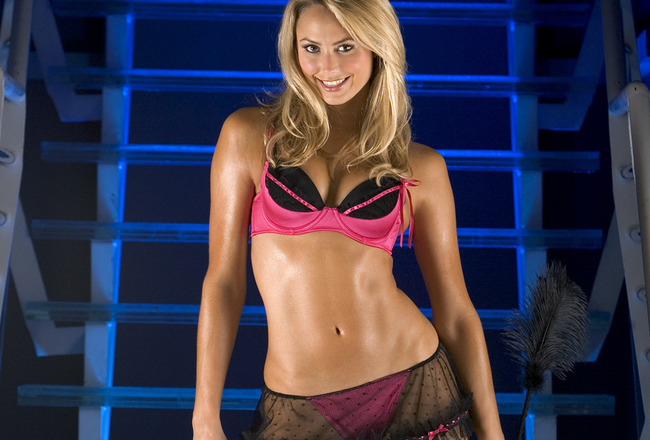 When you look at a beautiful woman, what is the first thing you notice? Her body? Her chest?
What about her smile? Hot female athletes have much respect because of their bodies, but it is their smiles that truly catch our attention.
I have watched enough women sporting events to know that the real hotties are noticed when they smile. It is one thing to see a hot body but when you see her smile to go with it, if you are like me, then you are stuck.
For your pleasure, I have compiled a list of the 50 sexiest smiles in sports. Enjoy!
Anouk Hoogendijk: Soccer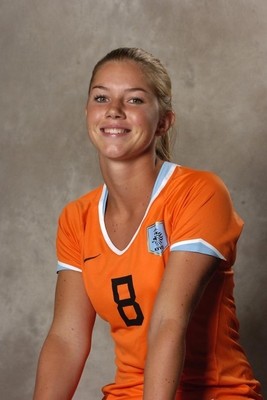 Who is ready for the 2011 FIFA Women's World Cup?
Whoa, not so fast folks. We only have a few tickets left. We need to save them for people that actually want to go for the soccer and not just the beautiful foreign hotties.
Maurizia Cacciatori: Volleyball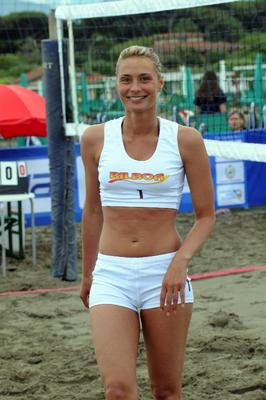 I will give the next person who can pronounce Maurizia Cacciatori's name correctly an undisclosed amount of money.
To be honest, the disclosed amount is zero dollars but it was fun while it lasted, right?
Vicky Parnov: Pole Vaulting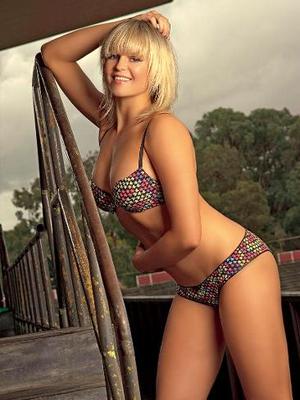 I find it hard to imagine a sport sexier than pole vaulting. Is there honestly something that could be considered remotely hotter?
I did not think so.
Pole vaulting is a sport where women run around grabbing poles and using them to fly in the air. Is there even a need for a joke here?
Jennifer Barretta: Billiards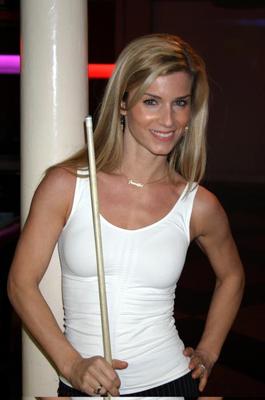 Speaking of pole vaulting, what about billiards? Now that is a sexy sport too.
Don't agree? Take a look at the beautiful Jennifer Barretta holding onto her pool stick like someone was asking it to the prom and she was not going to give it up that easy.
I am with you on that last sentence. I have no idea what I am talking about. I am actually more lost now than when I had to learn about the origins of Cricket.
Callista Balko: Softball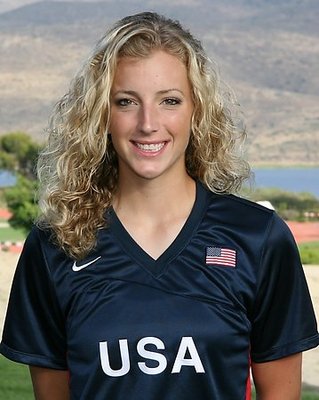 I will give you three guesses as to what college Callista Balko attended but you will only need one.
She went to the school that gave us the sexy Jennie Finch and Taryne Mowatt. Still need another hint? She went to a school that is not known for academics but is well known for having the hottest women on the planet.
Manon Flier: Volleyball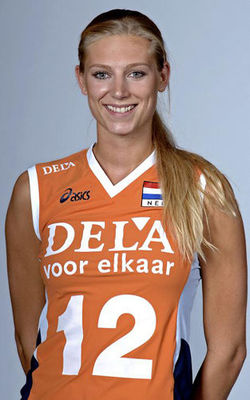 Aside from Manon Flier being a beautifully talented volleyball player, she is also a tall skinny blonde with an amazing smile.
If anyone knows how to speak Dutch, I might need your assistance please. Thanks.
Tanith Belbin: Figure Skating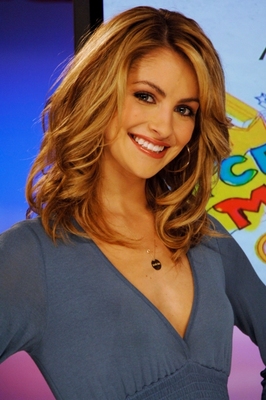 Does anyone watch the Olympics for the sports?
How about men? Do any of the guys out there actually care about figure skating? Or is it women like Tanith Belbin that attracts us to the television?
I would say that for every time Tanith skates on TV, thousands of men flock to the channel.
Whitney Baker: Softball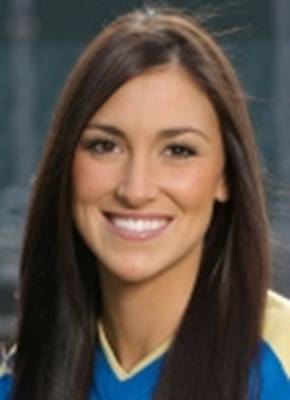 Since when does UCLA not have beautiful women? I have personally not seen too many uglies sporting the Bruins gear.
Whitney Baker is one of the sexiest women at UCLA, her smile is the sexiest. FACT!
Julia Mancuso: Skiing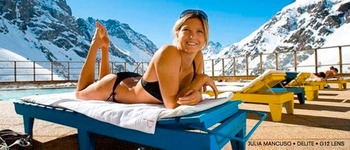 I am beginning to wonder if Julia Mancuso was sent to the Olympics by the U.S. Government to distract all men in the world. She is just so damn cute that it is hard not to watch her hit the slopes on a daily basis.
I am beginning a Facebook petition to make bikini's the new USA uniforms in the next Winter Olympics. Could you imagine?
Blair O'Neal: Golf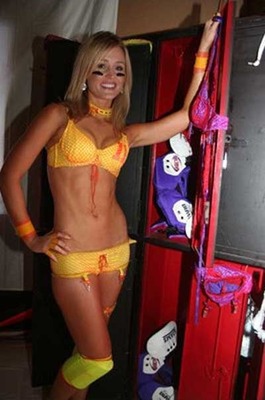 I am not sure what to make of this woman.
On one hand she is a golfing pro, but on the other hand she can play football. In fact, she was originally in the Lingerie Football League when it first arrived on the scene.
I prefer her in the LFL until they develop a Lingerie Golf League.
Alana Blanchard: Surfing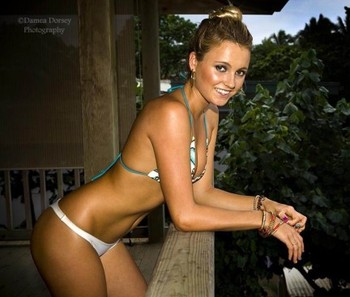 Do you want to surf yet?
How many times do I have to sell this sport to the world? In case I have not made my point yet, let me say this one last time. Female surfers are sexier than beach volleyball players.
Kiira Korpi: Figure Skating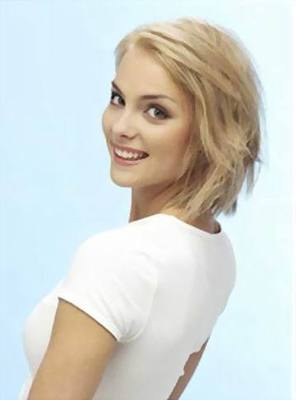 I do not know where she has been all my life but Kiira Korpi is one of the cutest female figure skaters on the planet.
Case in point, look at her beautiful smile and tell me you would not want a chance at her. I thought so.
Jennie Finch: Softball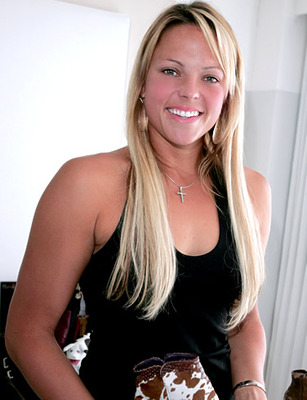 When I was in school, none of the softball players looked like Jennie Finch. That is not an insult to my former school because, we can all agree, she is one of the hottest women in sports ever.
She could pitch in the MLB and use that smile to distract the hitters.
Ines Sainz: Sports Reporter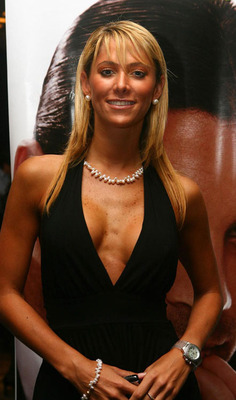 This was one of the best photos I could find of the sexy Ines Sainz that did not have a Jets player trying to grab her.
Whoops, I mean, Mark Sanchez trying to pinch her bu...I mean, I should sum this up right now, huh?
Ines Sainz is hot. Period.
Natalie Gulbis: Golf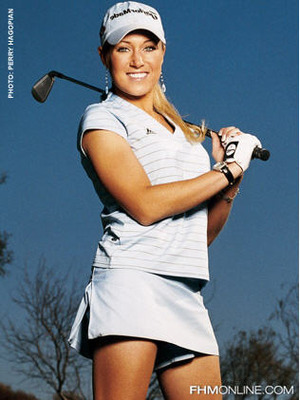 If there was any woman on the face of the earth that could thank FHM it is Natalie Gulbis.
Since that point in time, she has grown in fame and hottness. She was already a golfer but the November 2004 issue of FHM is easily the reason she is in our heads still, today.
Anna Rawson: Golf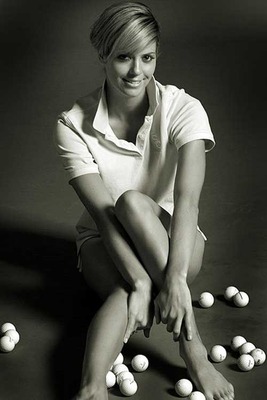 Female golfers have been around for years. However, hot female golfers have not.
Until the last few years, it was not easy to find more than a couple of hot female golfers. But thanks to lovely hotties like Anna Rawson, that number has grown by leaps and bounds.
Anastasia Ashley: Surfing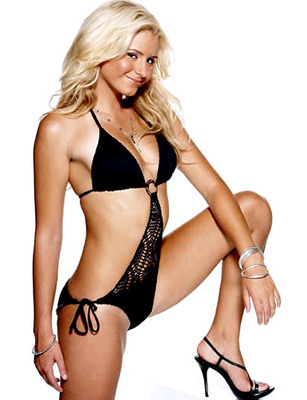 If you thought female golfers were hot, you have not seen anything yet.
Just check out my girl Anastasia Ashley. She sports a beautiful smile without even opening her mouth. Now that is what I call sexy.
Ana Ivanovic: Tennis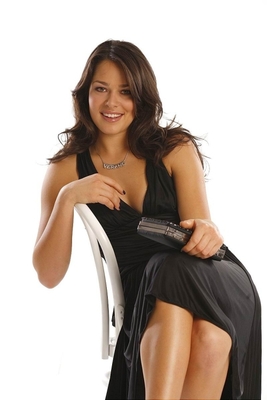 Ana Ivanovic has a great name. She also has a sexy figure and while she plays tennis, it is hard to concentrate on the actual game. I would rather just stare at her run up and down the court.
But this is about her smile and not her body so I should say her smile is the real reason I stare. That thing only makes her sexier.
Kathleen Nash: Basketball
Let us take a quick tour of this photo.
On the right we have a beautiful blonde in a bikini.
On the left we have Kathleen Nash and her amazing smile also in a bikini.
Please wait until the end of the tour before any photos are taken. Thank you.
Danica Patrick: Racing
I was always a NASCAR fan. I watched it every year. It was not until recently that I began watching it for the babes.
Danica Patrick has a lot of haters out there but she has one thing they will never, a killer smile.
Katelin Swift: Soccer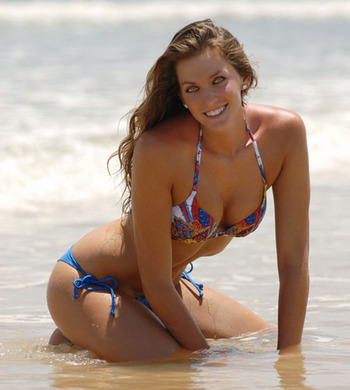 If you thought Mia Hamm was a hottie, you need to meet Katelin Swift.
So without further ado, ladies and gentleman, I present to you Katelin Swift.
Ashley Harkelroad: Tennis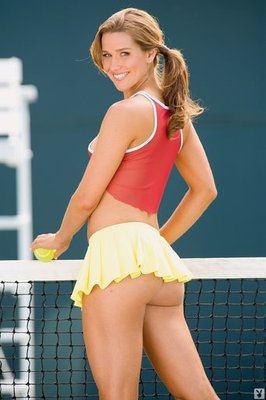 How can any person concentrate on her smile when Ashley Harkleroad is running around in tennis skirts that short?
I have trouble paying attention when she is playing in real life, let alone for Playboy.
Maria Kirilenko: Tennis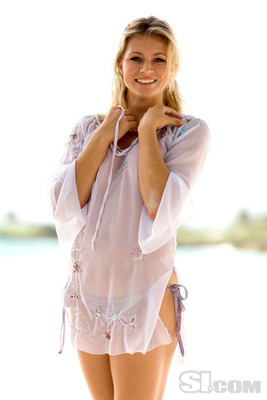 Speaking of tennis hotties, Maria Kirilenko is one of the sexiest.
Her smile is beautiful, her body is sexy, and her overall level of hottness is phenomenal.
Jenn Brown: Softball/Sports Reporter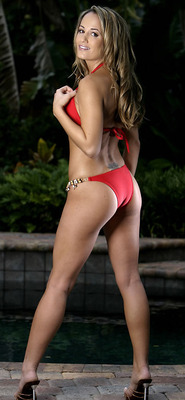 Is that not the greatest photo of a woman ever?
I know we are here to rank smiles, she does have one of the sexiest ever, but how can we not stare her backside. She has more booty than Jack Sparrow.
Macie Morrow: Softball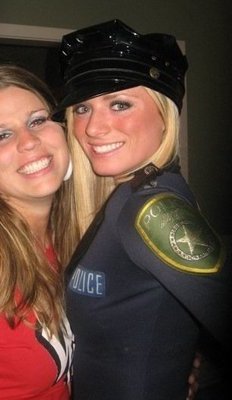 Did you go to college for the parties too?
I thought so.
Maria Sharapova: Tennis
Did I almost make a list of hot female athletes and leave out Maria Sharapova?
Nope! I made just enough space to fit her into this list. Awesome!
Roberta Mancino: Extreme Sports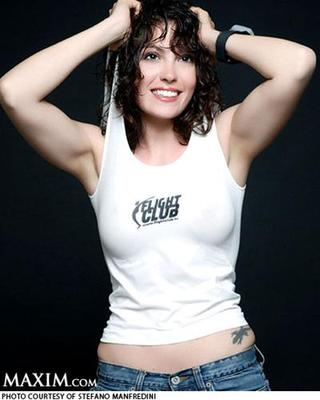 When Roberta Mancino is not doing crazy things like jumping out of planes, base jumping, or being a wingsuit flyer, she is busy being a model.
From the looks of the photo, being beautiful comes easy.
Sara Galimberti: Track and Field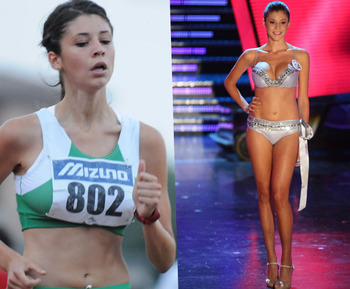 From Miss Lombardia to track and field star, Sara Galimberti has two things that most people would kill for, her looks and athleticism.
It is one thing to be a good runner but when you turn out to be such a full blown hottie that can melt others with her smile, you got game and she has some game, folks. Just take another browse at the picture above.
Taryne Mowatt: Softball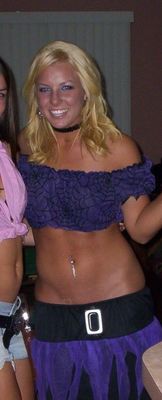 Am I the only person who seems to think that bottom is way too low?
I am? Ok, then I guess I will switch sides on that subject. The bottom of her costume is officially too high.
Vanessa Chin: Pole Vaulting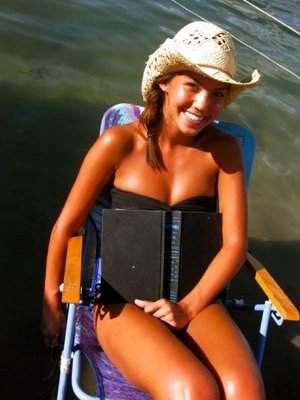 Do you recognize the beautiful smile of Vanessa Chin?
She is the newer version of Allison Stokke. Just call her Stokke 2.0.
Natalie Coughlin: Swimming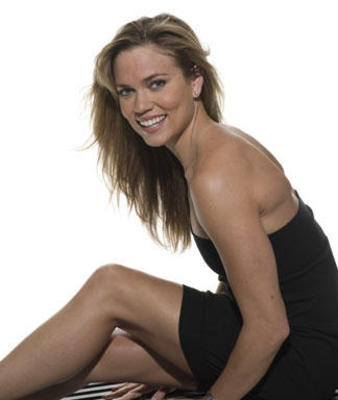 Natalie Coughlin is a game changer.
She is the type of woman that walks into a room and everybody notices her smile. That thing is more popular than Lindsay Lohan at a prison convention.
Misty May: Volleyball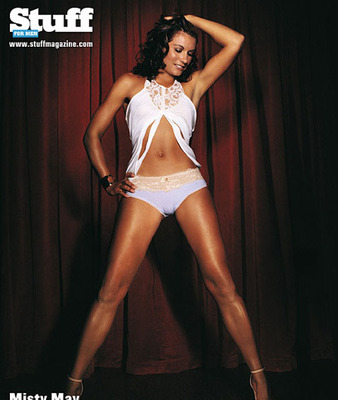 Yeah, I watch beach volleyball for the sport too.
Meghan Gardler: Basketball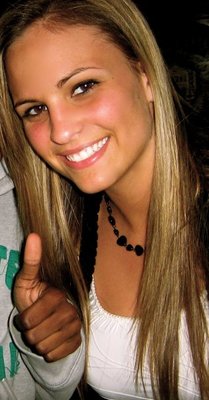 Anyone else crushing yet on the beautiful Meghan Gardler? Or is it just me?
She is currently playing overseas thus making all the men in Europe the luckiest guys alive.
Torrie Wilson: Wrestling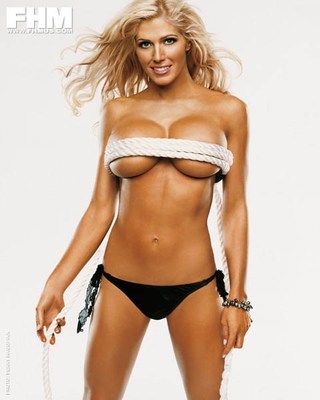 Can I point out a few obvious observations?
1) You never noticed her smile
2) You still have not noticed her smile
3) You are not reading this, you are instead trying to figure out a way to pull the rope off the computer screen.
Gretchen Bleiler: Snowboarding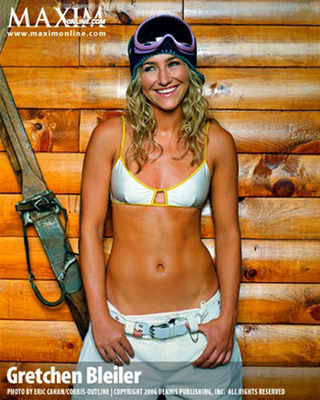 I knew Gretchen Bleiler was hot but I had no idea how sexy her body was until this photo found its way into my world.
Her smile, however, is the reason she is so dang hot. Her smile attracts people who do not even care about the Winter X-Games to watch the events.
Ashley Massaro: Wrestling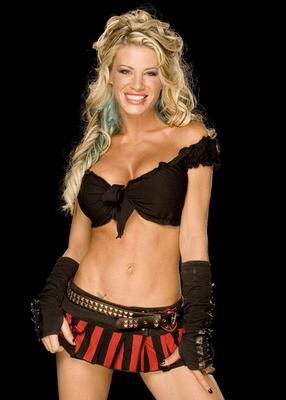 Dear Ashley,
Your smile makes me want to sell my house, car, and anything else I own and hand you all that money to do whatever you want.
The End.
Allison Stokke: Pole Vaulting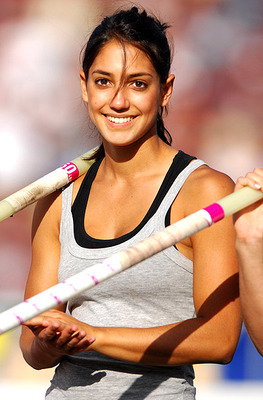 Has pole vaulting become your new favorite sport yet? Or do you need more convincing?
If you need more convincing than maybe you should rethink some life choices.
Carolyn and Elise Whitney: Basketball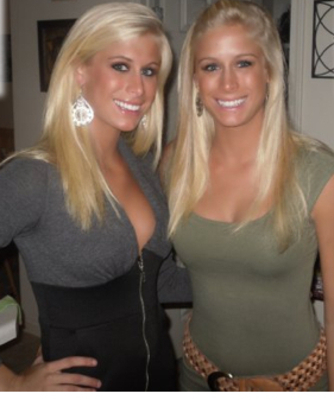 What is better than one beautiful face with a sexy smile?
How about two of them in the exact same specifications? Yeah, that is what I am talking about.
Han Ji Yeon: Volleyball
Excuse me but her smile is about ten inches higher than you are looking at right now.
Ok, now that you see why she is ranked so high, you may go back to staring.
Stephanie Rice: Swimming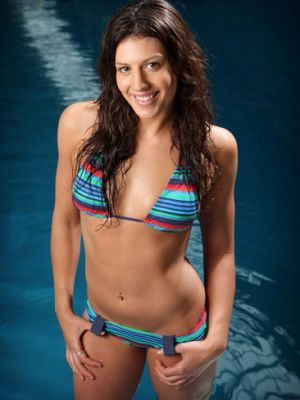 I guess you will be heading to your local travel agent to book your trip to London for the 2012 Summer Olympics.
Why? Because Stephanie Rice will be there.
Anna Kournikova: Tennis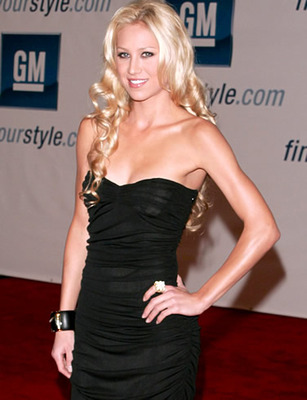 Until someone legally rules Anna Kournikova ineligible to be listed as a sexy athlete, I shall continue to rank her.
She is smoking hot, that has never changed, and she has one of the best smiles in sports.
Caitlin Lever: Softball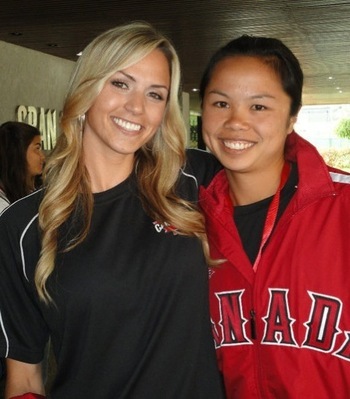 You have never heard of Caitlin Lever?
So you do not follow the Canadian National softball team? Because she has been there the whole time. Maybe we should open our eyes to the lesser known teams to find the gold.
Bia and Branca Feres: Synchronized Swimming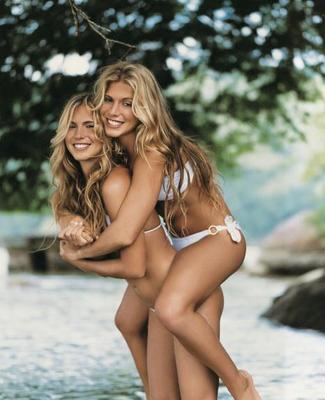 I see twins in this photo.
That means we have two beautiful smiles instead of one. That is simple math that I can understand.
Erica Hosseini: Surfing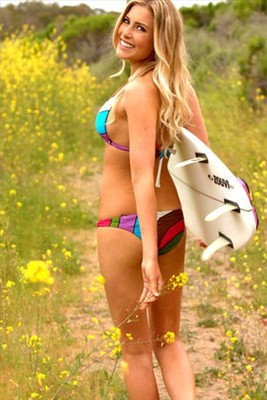 The new babe of female surfing is Erica Hosseini. She has earned her spot among the top female athlete hotties just by being so damn sexy.
Her smile was an added bonus to an already impressive figure.
Erin Andrews: Sports Reporter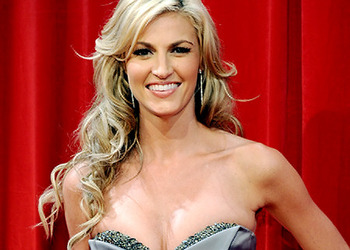 Yes she is hot.
Yes she is a beautiful person.
Yes she was sexy on Dancing with the Stars.
Yes she has the sexiest smile at ESPN.
Oh wait, those are all good things.
Michelle Waterson: MMA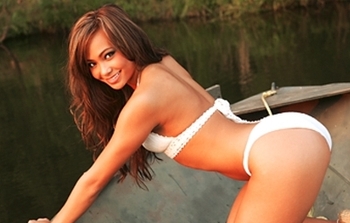 Michelle Waterson is one of two beautiful mixed martial artists that cracked the top five.
Can you guess the other one? If you can't keep on rolling, you will soon find out.
Caroline Wozniacki: Tennis
She is boring? Really? How so?
I watched her press conferences and she was not any less boring than Roger Federer in his. The simple fact is that press conferences are boring. Period.
That is, unless you are Eli Manning after a loss to the Philadelphia Eagles.
Stacy Keibler: Wrestling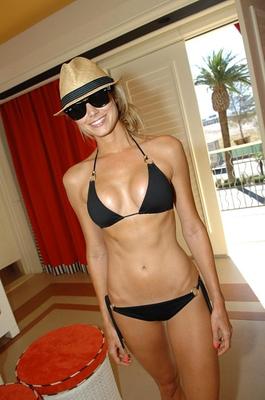 Is there a hotter candid photo of Stacy Keibler showing off her beautiful smile? Nope!
I am pretty sure that the hat look was out until she put one on.
Gina Carano: MMA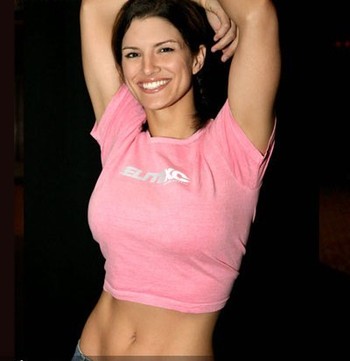 I was not sure how else to say this but Gina Carano has the greatest smile in sports.
If you do not agree, just send her an email and tell her yourself. But make sure you bring your gloves.
Keep Reading