10 Reasons Why The Memphis Grizzlies Could Make Playoff Noise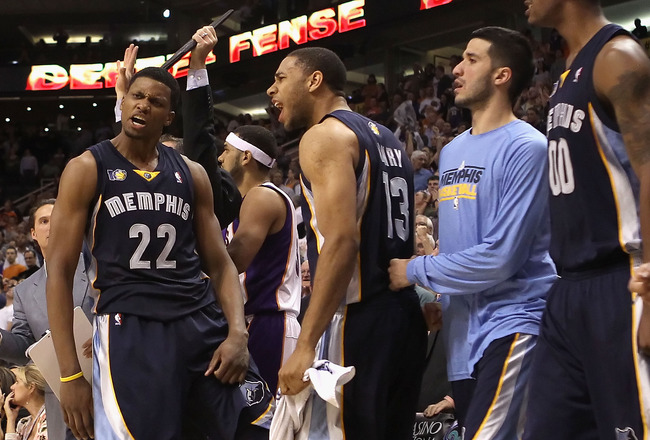 Memphis Grizzlies
Christian Petersen/Getty Images
"He who conquers endures."
Persius never meant for this quote to embody an NBA franchise, or the city in which it resides.
But, if you asked the city of Memphis, they'd tell you they've had to endure plenty without much conquering.
Which is why you may forgive Grizzlies fans if they get slightly excited for the fact that their team is actually in the thick of the playoff hunt as the calendar hits mid February. It has been a long time coming for such a downtrodden franchise and fan base to feel relevant as All-Star Weekend approaches.
As of today, the Grizzlies sit one game behind the Portland Trail Blazers for the eighth and final playoff spot in the annually brutal Western Conference. Not a lock for the playoffs by any means, given they're chasing a team with much more experience making the playoffs, but considerably closer than Lionel Hollins and his ball club are used to seeing themselves this time of year.
In the Grizzlies putrid 15 year history, they have only three first-round playoff exits to show for their times spent in both Vancouver and Memphis. Even worse, those three seasons also constitute every winning season the Grizzlies have ever accumulated.
Not exactly a storied franchise to say the least.
But, before you start wallowing in the pity of the Grizzlies history, I remind you that we're here today to celebrate what lies ahead for this youthful team comprised of budding young stars and a surprisingly stellar resume. Without further adieu, the moment you've been waiting for, the 10 reasons the Grizzlies may buck historical precedent and scratch and claw their way to playoff relevancy
10. Nuggets Media Circus And Trail Blazers Injuries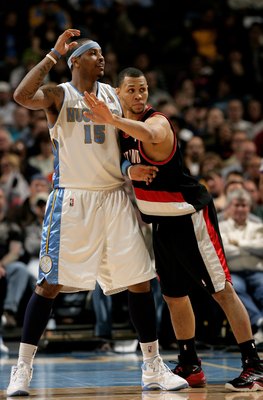 Denver Nuggets' Carmelo Anthony and Portland Trailblazers Brandon Roy
Doug Pensinger/Getty Images
Surprisingly, the first reason that the Grizzlies have a chance to even make the playoffs, much less compete in the playoffs, has nothing to do with them at all.
It has all to do with distractions blinding the currently seventh seeded Denver Nuggets and injuries (once again) plaguing the current eighth seeded Portland Trail Blazers.
In case you've been living underneath a comfortable rock the past 5 months, Carmelo Anthony is rumored to be wanting out of Denver and head with LaLa (his wife) to LaLa Land (Los Angeles Lakers) or the Big Apple (New York Knicks).
This is a pretty big distraction for a team who's coach, George Karl, has been battling plenty of distractions himself. After the 2010 All-Star Weekend it was confirmed that Karl had been diagnosed with treatable neck and throat cancer. Karl was forced to miss the remainder of the season, including the Nuggets first round playoff loss to the Utah Jazz. Karl has since recovered and has coached every game this season. Yet, this doesn't minimize the off-the-court distractions that have forced the Nuggets' players to confront issues they never expected to address.
On the contrary, the Trail Blazers at this point might welcome a Carmelo-like trade distraction compared with what they've been forced to deal with on a seemingly annual basis.
I apologize for reminding you of this Blazers fans; but for the third consecutive year, the 2008 number one draft pick, the now infamous Greg Oden has suffered a season-ending injury. As painful as that may be to comprehend for Portland residents, it pales in comparison to what has happened since Oden was lost for the 2010-2011 season.
The Trailblazers current injury list shouldn't be wished upon anyone. Leading scorer for the past three seasons and best overall player, Brandon Roy: missed the last 29 games and his return is still unknown. Starting center and seasoned veteran Marcus Camby: missed the past 13 games and his return his also TBA.
To the Trail Blazers credit, they have continued to play at a high level even with three of their best players missing significant portions of the season. Forward LaMarcus Aldridge has been as good as anyone in the league this season, averaging 21.6 PPG and 9.1 RPG in his best season for the Blazers. Andre Miller has been running the point in a typically Miller-like fashion, limiting turnovers and gets the ball into the hands of the team's offensive playmakers.
As much as the Trail Blazers have exceeded expectations with many of their best players in street clothes on a nightly basis, Grizzlies fans have reasons to be excited.
If Carmelo is traded before the February 24th trade deadline, the Nuggets stand to be a lot less intimidating ball club in the immediate aftermath. Unless the Knicks magically develop another player on their roster, the Nuggets will have a hard time replacing Anthony's impact with the likes of WIlson Chandler, rookie Landry Fields and Eddie Curry. As for the Lakers, even if the Nuggets are able to persuade Los Angeles to trade Andrew Bynum and Lamar Odom (Very unlikely), Bynum's injury-prone past and Odom's motivation still make it a tough sell to Denver fans that the team is better off.
As for the Trailblazers, with such a myriad of injuries to overcome, it may be hard for them to sustain this type of success for another thirty games.
Which makes the Grizzlies 28-26 record, one game behind the Blazers and 2.5 games behind the Nuggets, look like a pretty nice place to be right now. All the Grizzlies have to do is play consistently and let the pieces fall where they may.
And considering how bad the pieces may break in Portland and Denver, Memphis can ride that all the way to the playoffs
9. Rookie Contributors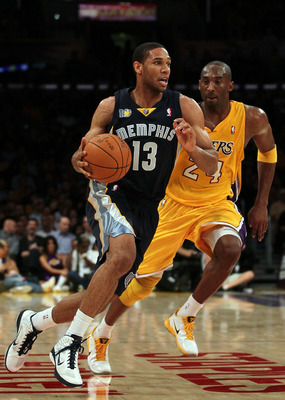 Xavier Henry
Jeff Gross/Getty Images
Their numbers don't jump out at you. Their limited minutes per game don't truly speak to it. But make no mistake about it.
Greivis Vasquez and Xavier Henry are on the rise.
A rookie guard out of Maryland, Vasquez has yet to contribute big minutes with the Grizzlies. Yet, the minutes he is putting in are paying huge dividends for Memphis. Vasquez is currently averaging 8.7 APG per 48 minutes. In addition, Vasquez is showing his mettle at the free throw line, shooting a solid 80%. These two categories illustrate the progression of the former Terrapin, and why Grizzlies fans expect to see more of Vasquez on the court in years to come.
In his one year at Kansas, Xavier Henry proved to be a solid inside-outside threat from almost anywhere on the floor. In his first year with the Memphis Grizzlies, Henry is flashing the same signs. A polished 6-6 guard, Henry has the ability to play both the small forward and shooting guard positions, an asset the Grizzlies are thankful to posses both in the present and in the immediate future.
With a solid contribution from a young group of talented rookies, the Grizzlies are licking their chops. With a few more years of maturation and greater game experience needed to reach their potential, the not-too-distant future holds a brighter day Vasquez and Henry.
8. Marc Gasol: The Forgotten Brother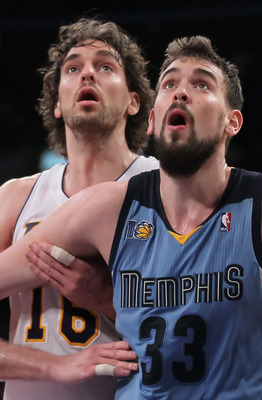 Marc and Pau Gasol
Jeff Gross/Getty Images
Marc Gasol is used to it by now.
While Marc usually spends his June preparing for the season to come, his more popularly known brother Pau still has the current season to work on. It's this time of year that Marc is, more often than not, watching his brother play in another NBA Finals. Marc is always happy for Pau to have the opportunity to win another championship.
But, at some point, Marc Gasol would like that scenario to switch.
This year, Gasol hasn't been putting up the numbers he did a season ago. In the 2009-10 season, Gasol averaged a near double-double, a career high 14.6 PPG and 9.3 RPG. This season, with the re-commitment by Zach Randolph, steady contributions of Mike Conley, and of Rudy Gay (we'll get to them) Gasol understands that his role will be diminished.
Even with these emerging realities, Gasol is currently chipping in a respectable 11.8 PPG and 7.0 RPG, while defending the opposing team's top big man in the post. Gasol's acceptance of his limited role has augmented the development of Randolph, Conley and Gay. Whereas many top big men demand that more possessions run through them on offense, Gasol's understanding of where he stands in relation to his teammates development is arguably the most significant reason the Grizzlies stand on the precipice of playoff relevancy.
With Gasol facilitating the rise of the budding young stars, maybe, just maybe, Pau may be the one watching Marc play on the big stage in 2011.
7. Mike Conley: Emerging Young Star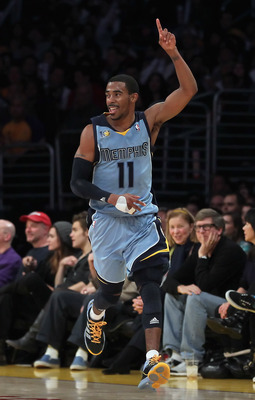 Mike Conley
Jeff Gross/Getty Images
When Ohio State Buckeye teammates Mike Conley and Greg Oden walked off the floor for after a crushing loss to the Florida Gators in the 2008 National Championship, conventional wisdom held that Oden was the next star.
As for Mike Conley, he might go on to have a nice career, but it was Greg Oden that everyone believed was a sure-fire re-creation of a David Robinson or Hakeem Olajuwon. Mike Conley was just an afterthought. Three years later, the pundits were right, one Buckeye is definitely having a substantially better career.
Only his name is Mike Conley.
As mentioned earlier, Oden is currently on his third season-ending injury. Meanwhile, Conley has subtly become an effective facilitator for the Grizzlies offense.
Conley is currently averaging 13.4 PPG. Not bad considering that Conley is the Grizzlies' third option on offense. Even more impressively, while starting every game this season, Conley's efficiency rating is currently at a stellar +15.57. Throw in the fact that Conley is averaging a career high 6.7 APG, it is easy to see why Grizzlies fans are excited not only for what the present is bringing, but what the future holds for this budding young star.
And just think, he was the afterthought behind Greg Oden.
6. Tony Allen: Defensive Master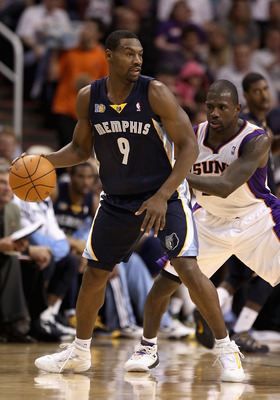 Tony Allen
Christian Petersen/Getty Images
26.6 percent.
Ask Kobe Bryant what that number means to him and there's a good chance he might now. Tony Allen sure does. That's what the Lakers' superstar shot from the field in the 2010 NBA Finals when guarded by the then-Boston Celtics defensive specialist. Now a member of the Memphis Grizzlies, Allen may have switched jerseys.
But he sure hasn't lost his touch on defense.
Case in point, in the Grizzlies thrilling 105-101 OT victory of the Oklahoma City Thunder, Allen, who mostly comes of the bench for Memphis, proved he is still a top notch overall player. Allen torched the Thunder for the tune of 27 points. But, most importantly, Allen wreaked havoc on defense coming up with a game-high five steals. The same guy who got the nickname "Kobe stopper" illustrated his defensive merits in forcing All-Star point guard Russell Westbrook into eight costly turnovers. In addition, he played tough and aggressive defense against the leading scorer in the NBA, Kevin Durant.
After the game, Thunder coach Scott Brooks marveled at Allen's effort by stating "the guy was an all-pro all night on both ends of the floor -- 27 points and he made Kevin work for every shot. I thought he won the game for them."
"Certain guys in this league compete every possession, and he's one of them" Scott continued. "He competes every possession, and I love guys that hate getting scored on."
Same old Tony Allen.
What does this all mean come playoff time? If they Grizzlies play to their potential and make the playoffs, they will more than likely have to travel to hostile arenas in San Antonio, Dallas, or Los Angeles. There will be times when those teams, with such immense talent, will get the crowd going through amazing play and huge runs. It is in those times that head coach Lionel Hollins will look around the huddle for a player willing to step up and put the clamps on defense. He has only one place to turn.
Just call him "Kobe stopper."
5. Big Performances Against Eastern Powers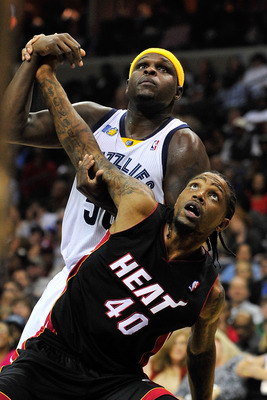 Grant Halverson/Getty Images
LeBron James had just hit the game-tying shot with nine seconds left in the game. The Memphis crowd was stunned, but not surprised. They could see the game's precious few seconds unravel before them with clear clairvoyance. After all, this was King James and D Wade. The Miami Heat. The Grizzlies should be happy to put up a fight at all. They could look for moral victories.
Someone forgot to tell that to Rudy Gay.
With the aforementioned King in his face with the clock winding down, Rudy Gay took a hard step back and let fly a fadeaway jumper. This is a shot that the man guarding him, James, is used to hitting. But, this time, the King had to watch as the ball gently fell through the hoop as time expired.
Game over. Grizzlies win 97-95. The mighty Heat have fallen thanks to a miraculous game-winning shot by Rudy Gay.
Unfortunately for the Grizz, their epic win over the Heat hasn't translated into victories against the Eastern powers, but there have been signs of improvement.
In the Grizzlies' November 13th home game against the Boston Celtics, the Grizzlies rallied from 11 points down in the 4th quarter to send the game into overtime. A feat in and of itself considering the caliber of opponent the Grizzlies were matched against. This, however, did little to comfort Grizzlies fans as they watched the Celtics score the first seven points of overtime to win the game 116-110.
Though the Grizzlies couldn't close the game out, they had reason to like what they saw. In the fourth quarter, the Grizzlies largely held in check Boston's Big Three of Paul Pierce, Kevin Garnett, and Ray Allen. It is in these crunch time moments where the playoff merits of a team are revealed. And though they couldn't finish the game off in overtime, the Grizzlies proved they could stand toe-to-toe with the NBA's best.
That gives Memphis fans hope that, if their games against Miami and Boston are any indiciation, they have a chance to make some noise come April.
4. Home Court Strength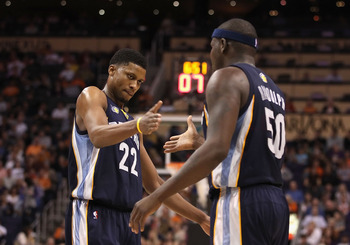 Christian Petersen/Getty Images
No one mistakes the Fed-Ex Forum for the Staples Center. Or Madison Square Garden.
Nonetheless, the Grizzlies wouldn't trade their home court for any others right now.
Before this season, the Grizzlies have never had a home winning percentage above .600. Not surprising given that the Grizzlies have all of three winning seasons to their name. Not only are the Grizz on track to have their best record at home this year, they have a chance to reach the .600 mark. With a 16-8 home record, the Grizzlies are on pace to have a .667 winning percentage at the Fed-Ex Forum. This has to bring a smile to the face of the long-suffering Grizzlies faithful.If the playoffs were based off of home records, the Grizzlies would be playoff bound with a better home record than the Utah Jazz (17-11).
If only.
The Grizzlies 12-18 road record ensure that, as of today, the Grizzlies would be on the outside looking in come playoff time. But let's not minimize the importance of what the Grizzlies are doing at home.
In a seven game playoff series in a 2-2-1-1-1 format as the lower seeded team (which the Grizzlies will be), home victories are the barometer for success. If you can't win the all-importnat games at home, you have no chance of winning on the road.
The Grizzlies home record will inject confidence into the young and playoff green Grizz, especially when they'll look across the court and see the likes of the Spurs, Lakers or Mavericks lining up against them.
Even at the Fed-Ex Forum, there's no place like home.
3. Zach Randolph: Dominating Effort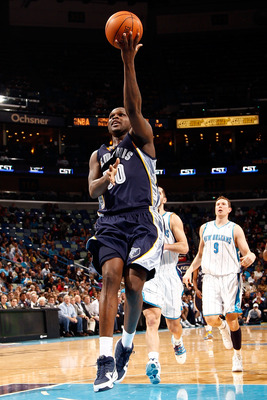 Zach Randolph
Chris Graythen/Getty Images
Zach Randolph always had the talent.
It is the questioning of his heart and soul that had followed Randolph from his stops in New York, Portland, Los Angeles and Memphis.
But, as many scouts and teams wrote him off as "should have been better" player, Randolph responded by defying the critics and emerging as a serious threat the Grizzlies desperately hoped he would eventually grow into.
A career 17.5 PPG scorer, Randolph is averaging 20.2 PPG and a career-best 13.2 RPG this season. Although he has had better statistical seasons scoring, he has never, I repeat, never been more of a force on both ends of the floor.
Don't believe me, here is testimony from Cleveland Cavaliers coach Byron Scott after the Randolph's Grizzlies beat Scott's Cavaliers.
"What I like about Zach is that he's matured over the years from what I've seen," Scott said. "What he's done the last few years is become more of a team player instead of it just being all about him. At one point, he was a pretty selfish player. Now he's looking to pass and wants to play with his other teammates. That makes him even more dangerous. Now he wants to win on a consistent basis."
This painfully slow, but now very apparent maturation process makes Randolph a dangerous player. Which, subsequently, makes the Grizzlies an equally dangerous team.
Finally, the heart has caught up to the talent.
2. Rudy Gay: Star In The Making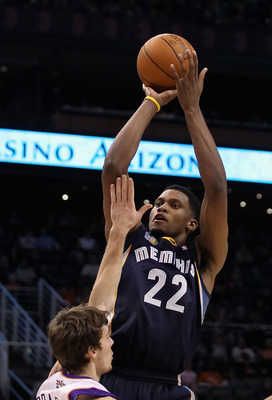 Rudy Gay
Christian Petersen/Getty Images
Every team has to have a go-to guy. The one player who has the physical gifts to score from anywhere on the floor. Who has the speed and quickness to create his own shot. The icy cold veins to have the confidence to take the big shot with the game on the line. Coach Lionel Hollins wasn't sure coming into this season who that guy for the Memphis Grizzlies would be.
That questioned was answered on November 20th against the Miami Heat.
We've already chronicled Rudy Gay's game-winning shot fadeaway over LeBron James, but what we haven't delved into is what Rudy Gay is evolving into.
An all-around complete player.
A quick look at Gay's 2010-11 season provides a warrant to that claim.
Not only is Gay taking over as a 20.0 PPG scorer (his current average), but his P.E.R. (Player Efficiency Rating) is currently standing at a robust +19.78. That number, in itself, doesn't really mean anything. That is, until I tell you that Gay's PER is higher than established All-Stars Paul Pierce, Chris Bosh, Tony Parker, Manu Ginobli and Joe Johnson.
Not bad for the starting small forward for the Memphis Grizzlies.
Much like that of top level scorers such as Kobe Bryant, Dwayne Wade or Carmelo Anthony, Rudy Gay's statistics jump out at you. But, even then, it is what players like Bryant, Wade, Anthony and Gay do outside the stat sheet that solidifies their position atop their respective teams.
Gay is constantly defended by the opposing team's best stopper, putting added heat on Gay to perform under intense defensive pressure. This reality is augmented by the fact that the Grizzlies' offense runs through him. Meaning that, when Gay has on off shooting day, the Grizzlies will have a real hard time pulling out the victory.
In his first four years in the NBA, fighting through the double-teams and in-your-face defense would have mentally frustrated Gay and led him to poor shooting nights and deferring when his team needs a basket.
Alas, opposing teams can't count on this any longer.
This has not been lost upon his coach, Lionel Hollins, who had this to say about his star pupil: "The game of basketball is about skill, and Rudy's improved his skill level to where he's in pick-and-rolls now and he's making plays off the dribble, which he did not do two years ago."
The maturation of Rudy Gay is still on-going. But there is little doubt who the Grizzlies count on with the game on the line.
Just ask LeBron James.
1. Grizzlies Hold Their Own Against Best In The West
Kobe Bryant and Marc Gasol
Jeff Gross/Getty Images
As the Grizzlies walked into the Staples Center on a mild January evening, the Lakers wanted revenge.
The Lakers had left the Fed-Ex Forum with a 98-96 loss to the Grizzlies, a building which the Lakers are used to dominating each time they roll into Memphis. This was not lost upon the Black Mamba, a.k.a. Kobe Bryant, who is used to making such statements in the friendly confines of Staples.
Only this time, the Black Mamba wasn't prepared for another Grizzly attack.
The Staples Center faithful wasn't prepared for what ensued that evening, as the Grizzlies torched the Lakers on pick-and rolls to the tune of a 104-85 massacre. It got so bad that, the same Lakers fans who pack the arena for annual NBA Finals appearance, booed their beloved Lakers off the court.
With it, the Grizzlies got their best road win of the year in utterly convincing fashion.
In a year in which the Grizzlies are on the precipice of playoff relevancy, wins like this against Western Conference elite provide the number one reason why the Grizzlies have a chance to make some noise.
Just ask the Lakers.
If that weren't enough, the Grizzlies hold these records against the top four teams (by record) in the Western Conference: San Antonio Spurs: 2-1, Los Angeles Lakers: 2-1, Dallas Mavericks: 2-1, San Antonio Spurs: 0-1. For those of you counting at home that's a combined record of 6-4 against the four most likely opponents the Grizzlies will face come playoff time.
Now that, my friends, is a pretty good track record for success.
Of course, most records go out the window come playoff time, which is what pundits will tell you if the Grizzlies face one of the Western powers in the playoffs.
Yet, those same pundits who decry the Grizzlies success against the top teams as regular season parity, didn't expect the Grizzlies to come into Los Angeles and watch as the home crowd booed the Lakers off of the court.
As such, as we complete our look at the Grizzlies chances to redeem its pitiful history, proper perspective must be kept.
The Grizzlies, as a team, and a city have suffered the pain and sorrow of being beaten.
But maybe, just maybe, those who endured will finally conquer.
Keep Reading

Memphis Grizzlies: Like this team?