NCAA Basketball: Duke-North Carolina Rivalry, Five Keys For a Tar Heel Victory
Streeter Lecka/Getty Images
The North Carolina Tar Heels find themselves back in the Top 25 just in time for their showdown with the No. 5-ranked Duke Blue Devils in Durham.
The two national powerhouses will renew one of the best rivalries in college sports for the first time since the Blue Devils routed the Heels 82-50 on March 6 of last year.
It probably won't be quite as easy this time around, even though Duke is favored to win at home.
The teams have split the last six games, with Duke winning the last two.
Carolina has to be optimistic going into Cameron Indoor Stadium, winning their last five games and 13 out of their last 15 overall.
What will it take for UNC to extend their winning streak to six and win in Coach K's house for the first time in almost two years?
I have come up with five keys that the Tar Heels must focus on in order to come out of Durham with a victory.
5. More Assists Than Turnovers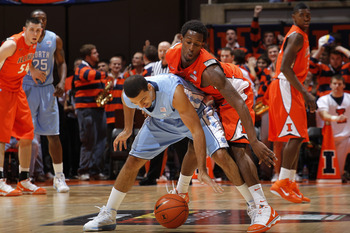 Joe Robbins/Getty Images
Carolina averages 16.1 assists per game compared to 13.8 turnovers.
However, in their five losses they have averaged just 11.6 assists and 17.2 turnovers.
Out of those five games, the only contest in which they registered more assists than turnovers was a 78-76 loss to Texas in Chapel Hill on December 18 when they recorded 13 assists and 12 turnovers.
If the Heels hope to hang with Duke, they must limit the turnovers and share the ball on offense.
4. Score at Least 70 Points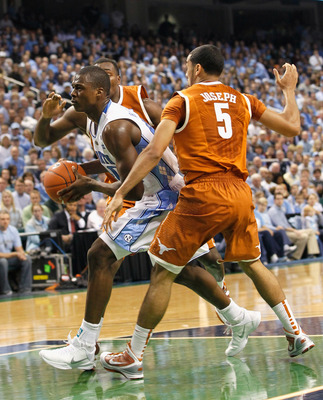 Kevin C. Cox/Getty Images
The Tar Heels are averaging 79.1 points per game, second best in the ACC behind only Duke.
However, when Carolina fails to score 70 points, the Tar Heels are just 2-4.
Those two wins came against Virginia and Virginia Tech, both in the middle of the pack in the ACC.
The Heels might be able to get by with that type of a performance against lesser teams, but that's not going to get it done at Duke.
When the boys from Chapel Hill score at least 70 points, they are 15-1.
3. Force Turnovers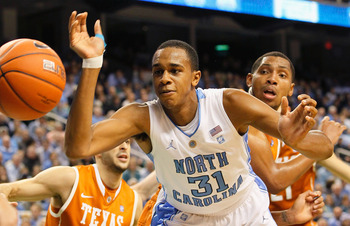 Kevin C. Cox/Getty Images
For the season, Duke turns the ball over just 12.3 times per game.
However, they turned the ball over 15 and 17 times in losses to Florida State and St. John's.
It might go without saying, but the Heels must win the turnover battle to have a chance at upsetting the No. 5 Blue Devils.
2. Defend The Three-Point Shot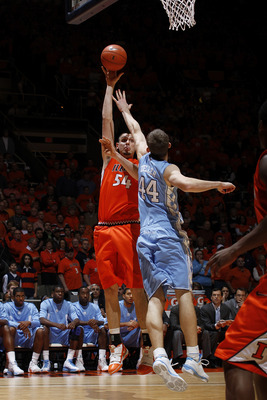 Joe Robbins/Getty Images
Duke leads the ACC in three-point shooting at 39.5 percent compared to Carolina's 34.6 percent from long range.
If Carolina can force Duke into taking contested jump shots, their chances increase dramatically.
In losses to St. John's and Florida State, Duke went a combined 16 for 61 from three-point range, or 26.2 percent.
1. Make the Rest of the Team Win the Game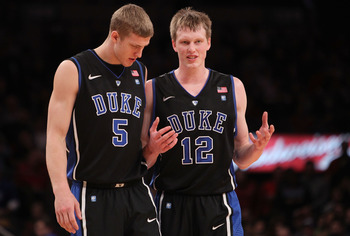 Nick Laham/Getty Images
Kyle Singler and Nolan Smith, Duke's senior leaders, are going to get their points.
This season, Singler and Smith have combined for 39 points, 11 rebounds, 7.1 assists and 2.6 steals per game, and both play over 33 minutes per contest.
Players that good are going to put up numbers.
The key for Carolina is to limit the damage done by the rest of the team.
Players not named Smith or Singler combine for 45.7 of Duke's 84.7 points per game.
However, the rest of the team scored just 22 points while Singler and Smith combined for 39 against the Seminoles.
Against St. John's, Smith and Singler scored 52 while the rest of the team managed just 26 points.
So, the super seniors can score between 40 and 50 points, but the Heels have to limit the rest of the Devils to under 30 points rather than their normal 46.
Keep Reading

UNC Basketball: Like this team?