NFL Power Rankings: Mark Sanchez and the Top 15 Quarterbacks Heading Into 2011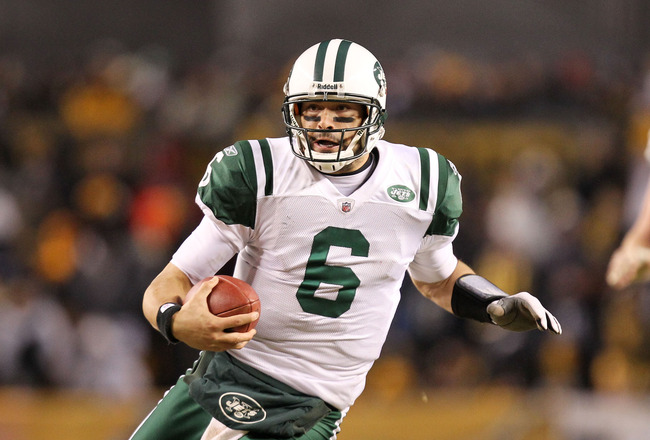 Ronald Martinez/Getty Images
Even though the Packers just took home the Super Bowl last Sunday, it's that time again to start looking toward next year.
This last season had its ups and downs for quarterbacks, with some teams finding new franchise players, and others watching their QB lead them to the promised land.
Who will be the top quarterbacks for their teams next year?
15. Sam Bradford, St. Louis Rams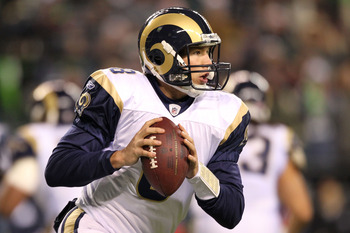 Otto Greule Jr/Getty Images
Bradford turned the Rams from a horrible team into a good one almost all by himself.
He was drafted number one overall by the Rams in 2010, and both sides are probably very happy with the decision.
Bradford almost lead the Rams to a playoff spot, which would have sent the city into pandemonium.
14. Mark Sanchez, New York Jets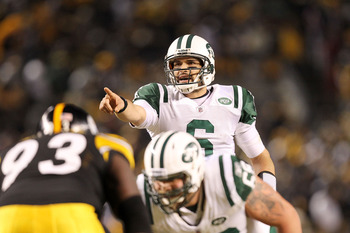 Ronald Martinez/Getty Images
After taking the Jets to the AFC championship game two years in a row, Sanchez is becoming a top-notch quarterback.
The Jets defense has the ability to make other defenses tired by keeping them on the field all the time, and Mark Sanchez has learned to take advantage of this.
13. Jay Cutler, Chicago Bears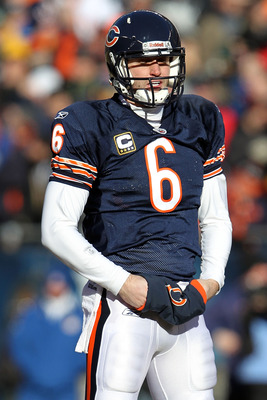 Jamie Squire/Getty Images
After the controversy surrounding the NFC championship game involving Jay Cutlers hurt knee, he may have some people breathing down his neck next season.
Cutler still has the capability to be a dominant quarterback, and it's a question of whether or not he shows them.
12. Matt Schaub, Houston Texans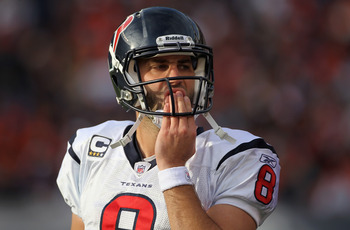 Doug Pensinger/Getty Images
After a promising 2009-2010 season, Schaub's statistics were a bit low this last season.
This could be attributed to the injuries of his wide receivers, including Andre Johnson, who some consider as the top receiver in the league.
The emergence of star running back Arian Foster took away many of Schaub's opportunities as well, but look for him to come back strong next year.
11. Eli Manning, New York Giants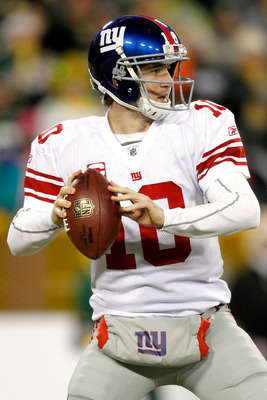 Matthew Stockman/Getty Images
After leading the Giants to a Super Bowl victory, Manning has struggled.
Failing to make the playoffs two seasons in a row, Manning needs to come back with a strong season next year.
Playing in the shadow of his brother Peyton, Eli is still a fantastic quarterback, but he doesn't deserve the elite status.
10. Joe Flacco, Baltimore Ravens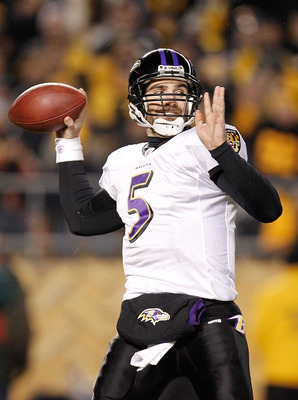 Gregory Shamus/Getty Images
Joe Flacco has proved he's a great playoff quarterback, and he almost lead the Ravens to a AFC championship appearance last season.
Next season will be his fourth in the league, and he has gotten better each of his previous three.
He isn't an elite quarterback yet, but he has the capability.
9. Tony Romo, Dallas Cowboys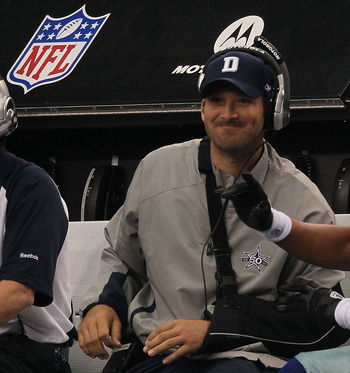 Stephen Dunn/Getty Images
The huge question surrounding Romo is how well he will play coming off of a broken collarbone.
He has probably played as well as ever in his last couple seasons, but the injury left him ineffective and incapable of keeping in football shape.
If he can come back healthy and prepared, he will be a dangerous quarterback in 2011.
8. Ben Roethlisberger, Pittsburgh Steelers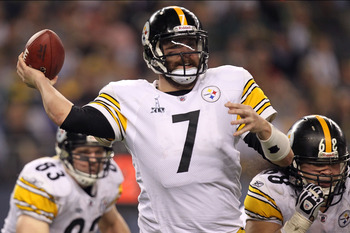 Ronald Martinez/Getty Images
Roethlisberger was close to grabbing his third Super Bowl ring, but fell just short.
After missing the first four games due to a suspension, he came back strong and almost lead the Steelers all the way.
Next season, he gets those four games back, and will be looking to get back to the Super Bowl.
7. Phillip Rivers, San Diego Chargers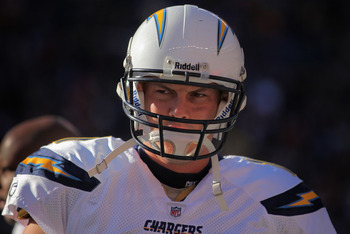 Doug Pensinger/Getty Images
Rivers played tremendously in the first half of last season.
His second-half statistics were a little worse, but that could be attributed to the many injuries that plagued the Chargers.
If San Diego can get top wide receiver Vincent Jackson back, then the Chargers will probably look like their dominant selves.
6. Matt Ryan, Atlanta Falcons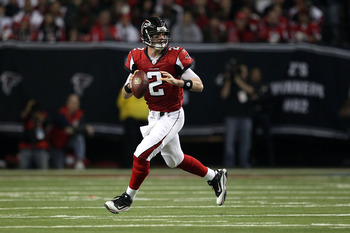 Streeter Lecka/Getty Images
Matt Ryan lead the Falcons to a number one seed in the NFC last season and probably would have gone to the Super Bowl if it weren't for the Green Bay Packers.
Ryan has one of the best home records percentage wise of all time. The Falcons aren't going to lose any big names and Ryan should be able to duplicate the season he had this year.
5. Drew Brees, New Orleans Saints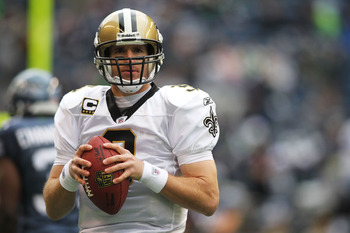 Jonathan Ferrey/Getty Images
Drew Brees has been one of the best quarterbacks in the NFL for the past few years.
There isn't much else he can do performance-wise.
There are just too many other dynamic quarterbacks in the league for him to be any higher.
4. Tom Brady, New England Patriots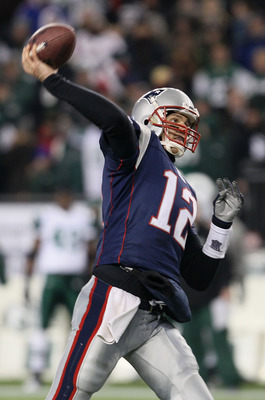 Elsa/Getty Images
After coming off a unanimous MVP award, Brady might be looked at as the best quarterback in football.
He has proved he can be consistently good, but not consistently great. In the past few years Brady has played phenomenal most of the time, but there are still stretches that show nothing special.
If he plays like he did this year, then, of course, he will be the best quarterback, but I just do not see him doing that.
3. Peyton Manning, Indianapolis Colts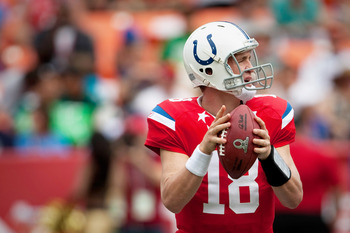 Kent Nishimura/Getty Images
Peyton Manning is definitely the best quarterback in some aspects of the game.
He audibles during plays like nobody else, and he has one of the most accurate arms in the league.
Unfortunately, the Colts have been filled with injuries over the last couple seasons, and there is just no way he can keep up with other quarterbacks when that happens.
2. Michael Vick, Philadelphia Eagles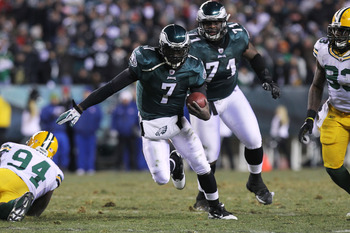 Nick Laham/Getty Images
Michael Vick may be the most exciting player to watch in the NFL.
Everyone always knew he could run, but Vick showed the league how much better his arm has gotten.
Vick and Desean Jackson should be a force to be reckoned with next year because of the combined pure speed and athleticism of both.
1. Aaron Rodgers, Green Bay Packers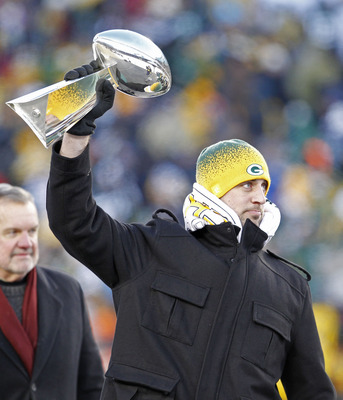 Matt Ludtke/Getty Images
Coming off the best year of his career, Aaron Rodgers finally left the shadow of Brett Favre and claimed a Super Bowl title for himself.
Rodgers finally got into a good rhythm with his wide receivers this year, and if he can play at that level next year, then the Packers have a great shot at contending for the championship once again.
Keep Reading

Green Bay Packers: Like this team?