NBA Trade Rumors: 10 Possible Landing Spots for Ron Artest
Harry How/Getty Images
With the NBA trade deadline right around the corner, rumors are starting to intensify as teams are looking to fill holes in their roster before the postseason.
While a lot of the rumors have been focused on Carmelo Anthony and Dwight Howard, Los Angeles Lakers forward Ron Artest has slowly started to surface into the headlines.
Artest is averaging a career-low 28 minutes per game and has been complaining about his lack of playing time recently. The 11-year veteran is also averaging a career low in points (8.2), rebounds (3.0) and steals (1.4).
This has translated into frustration for Artest and rumors have begun to swirl.
With the Lakers sitting on the No. 3 seed in the West and having a sub-par record against elite teams, they seem to be in the market for a trade. Artest is a perfect bargaining chip for teams looking to acquire cap relief next season when his contract comes off the books.
Here are 10 potential landing spots for Artest.
Charlotte Bobcats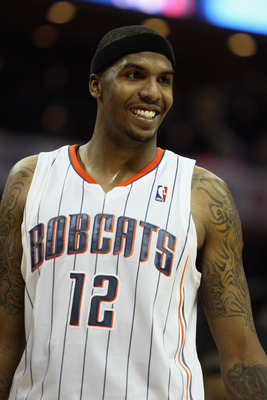 Streeter Lecka/Getty Images
Last week, rumors surfaced that the Lakers were pushing a trade with the Bobcats. The struggling Bobcats already saw Larry Brown step down and don't have much hope for a successful season, other than a first round playoff exit.
Tyrus Thomas would be a potential player in the deal. He could bring great energy off the bench and bring in some solid rebounding. At only 24 years old, Thomas could be a good investment.
Detroit Pistons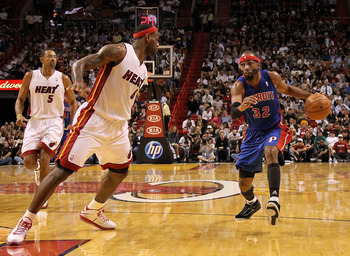 Mike Ehrmann/Getty Images
The Pistons have been in the trade market all season long, as they have been trying to get rid of Richard Hamilton and Tayshaun Prince over the last two years.
Hamilton would be a solid scoring boost for the Lakers and has championship experience that could benefit Los Angeles.
Washington Wizards
Greg Fiume/Getty Images
Although the Wizards drafted John Wall with the No. 1 overall pick, they are still struggling, with only the woeful Cleveland Cavaliers having a worse record in the East.
They will be looking to dump some salary, and Kirk Hinrich or Josh Howard could be involved in potential deals. Hinrich and Howard can both score and would be good additions off the bench. With Matt Barnes still out with an injury, Hinrich would probably be the best fit.
Cleveland Cavaliers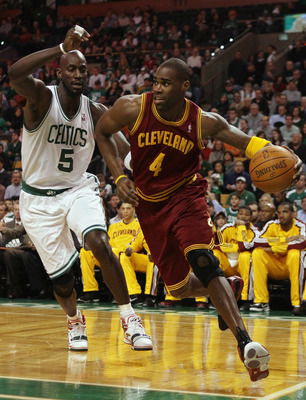 Elsa/Getty Images
The Cavaliers have descended into NBA infamy after losing a league-record 25 straight games. The franchise won't be able to recover from LeBron's decision for a long time. They are going to have rebuild through drafting and free agency.
With that being said, there isn't much reason for them to keep a lot of players on their current roster.
Antwan Jamison could replace Ron Artest in the Lakers' lineup. He is a forward that can create his own offense and could be big for the Lakers' playoff run.
Golden State Warriors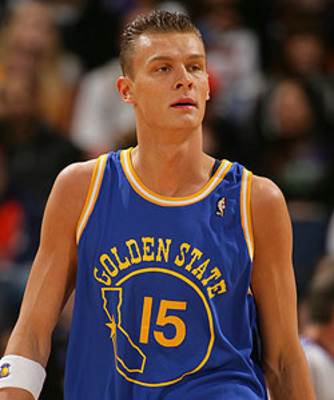 The Warriors have a solid core with Monta Ellis, Stephen Curry and David Lee, but they still don't have enough to push them to that next level.
Andris Biedrins looked promising at one point in his career, but injuries have taken a toll on him recently. However, he could be a great addition to the Lakers off the bench, as he could take pressure off Pau Gasol and be a solid presence inside.
Artest would also fit in well with Golden State by providing a veteran defensive presence. He might not be the piece that pushes them to the next level, but it would be a start that would help out their defensive woes.
Milwaukee Bucks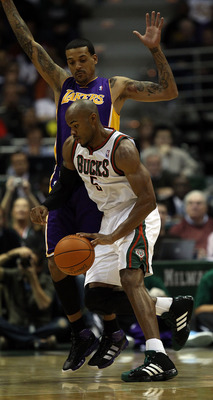 Jonathan Daniel/Getty Images
The Bucks have been playing below expectations after a promising playoff appearance last season, when they pushed the Hawks to seven games in the first round. However, injuries to key players like Brandon Jennings have derailed their season.
Milwaukee currently sits in the 10th spot in the East, only 2.5 games behind Indiana for the eighth and final seed. They might be looking to do some last minute deals to better their chances for a playoff run.
A veteran such as Corey Maggette could entice the Lakers to strike a deal. He would bring an immediate scoring boost to the team and has a similar contract to Artest, which is a key element.
Artest could help the Bucks in their playoff pursuit with his defensive presence.
New Jersey Nets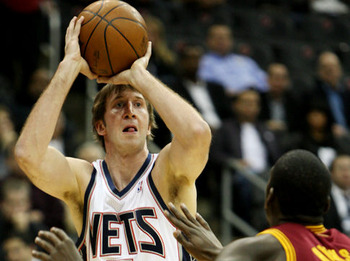 The Nets have been involved in numerous trade scenarios this season, most notably the Carmelo Anthony deal. After failing to sign LeBron in the offseason and deal for Carmelo this season, New Jersey Nets owner Mikhail Prokhorov is itching to make a deal.
While Ron Artest isn't exactly the quality of James or Anthony, he could be a solid veteran piece to help guide Brook Lopez and Derrick Favors.
A Troy Murphy or Travis Outlaw would be a good acquisition for the Lakers, as they can both provide rebounding and size off the bench. Murphy's expiring contract would also be beneficial in the deal.
Denver Nuggets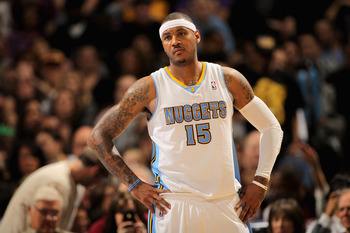 Doug Pensinger/Getty Images
Probably the most unlikely of deals to occur, but since the Lakers have been mentioned in the Carmelo Anthony sweepstakes, I figured I'd throw it out there.
While New York seems to be the favorite right now to land Anthony, you never know. If the deal with the Knicks falls through, they could be desperate and turn to LA and Artest.
Memphis Grizzlies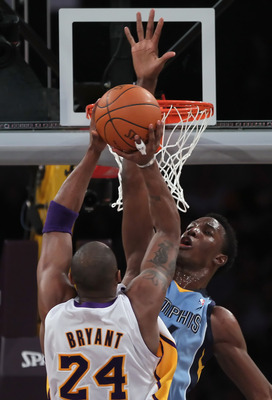 Jeff Gross/Getty Images
Memphis would be a good team to make a trade-deadline deal with, as they are a team on the cusp of making the playoffs. Artest would fit well in the Grizzlies' system and shore up their defense.
In return, the Lakers could grab a player like Hasheem Thabeet. Some might consider him a bust, but Los Angeles could be the team to help him grow and exercise his potential.
Houston Rockets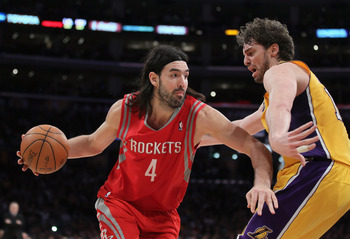 Jeff Gross/Getty Images
The Rockets have had a miserable year after losing Yao once again to a season-ending injury. Rumors have already popped up about Aaron Brooks possibly being on the move.
They seem to be entering a rebuilding phase and could be looking to make some deals.
Luis Scola would be a huge pick up for the Lakers. He has been outstanding this year, averaging 19.4 points and eight rebounds per game. The 30-year-old has a very similar contract to Artest and would be a perfect fit for the playoff run.
Artest would make his reunion with Houston after many Rocket fans were upset that he left in the first place.
Keep Reading

Los Angeles Lakers: Like this team?