Chivas: A Plan That Only a Few Can See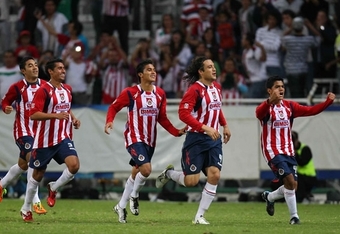 For good or bad, a "big team" will always have the attention of everyone.
Chivas is no exception. Criticisms of the team in recent years have been very harsh, regardless of the progress as an institution.
Guadalajara has a direction and a goal. It knows it can form a team from its ideology and style of play. All the Mexican soccer teams say that they admire a club like Barcelona FC, a club who looks at their young players and squads to be a success. But no team takes the initiative like Guadalajara.
It is understandable to the average fan to demand results from his or her team. But the main criticism comes from the press, which in part, can be seen as unacceptable. One would expect a deeper analysis of the situation, like why and where the actions are being directed.
While results in the League have not accompanied the team in recent years, the contributions to Mexican football have been, in large part, a success.
For example, Javier "Chicharito" Hernandez, a product of 100 percent "rojiblanco", something which today, all Mexicans take pride in. Players like Carlos Salcido, Francisco Rodriguez and even Carlos Vela, who were generated from the Chivas institution, today form a large part of the national team.
Patricio Araujo, Omar Esparza, Johnny Magallon and Fabián, among others, are names that today give body to the team. You have to see other teams thrive on elements that do not belong to the first team, but with sufficient quality to play on loan.
There are Nava and Aceves making strong impact in Queretaro. Liborio Sanchez, a young prospect that is in loan with Veracruz, has been rumored to go with Mexico to this year's Copa America. Even Edgar Solis, who is a starter in Atlante, has made his impact on the team.
There have been a few occasions where Chivas has fallen short of reaching international or national glory because of the dismantling of the team in order to give players to El Tri.
Let's not forget in 2005 when Guadalajara was close to reaching the final of the Copa Libertadores, and the breakup of the team clearly affected Chivas' chances to reach the final.
Or last year's 2010 Bicentenario tournament, where five players were taken by Javier Aguirre towards the end of the season, breaking up a team who had won eight straight games in that season. Still, Guadalajara was able to overcome many naysayers and, with a limited young team, reached the Libertadores Final.
Still, the Mexican press and many people out there question and complain about the lack of reinforcements every year for the team. As if going out and buying Aldo De Nigris or Rafael Marquez Lugo would change the whole structure of the team and give it a complete turnaround.
It's always the same story every year and the same complaints from some fans and most of the press. But I ask those people, who can Chivas buy in the offseason? Name a player that can bring a spark or make a change to the team? There might be one or two players who might be a good addition to the team, but when Chivas does try to buy someone from the national market, teams raise the price incredibly and take advantage of Chivas' tradition of only fielding Mexican players.
Not even a top-of-the-line stadium in Mexico detracts the criticism from the institution. Maybe it's the arrogance and loud-mouth owner the institution has that makes the team an easy target for criticism.
Maybe it's the status of a team with so much history, a team known as the most popular in the country. Even Alfredo Tena, an idol for Club America, the eternal rivals of Chivas, said "They might be our hated rivals, but we (America) can learn a thing or two from Chivas, not just us, but Mexican futbol as a whole can learn a little something from the institution."
Chivas does something that many teams in Mexico are afraid of, and that is give opportunity and continuity to its young players.
This article is
What is the duplicate article?
Why is this article offensive?
Where is this article plagiarized from?
Why is this article poorly edited?