Houston Astros: 10 Reasons Why They Should Overhaul Their Aging Outfield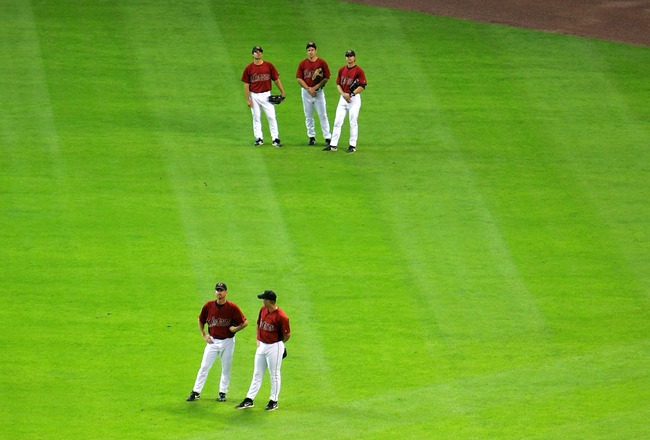 Stephen Dunn/Getty Images
The Houston Astros were mediocre last season with a losing record. Dominant teams have run producers and run scorers in their outfield. Houston has an aging crew that do not produce up to the levels of other teams.
Houston needs to get younger in its outfield, but it also needs to flat get more talented. The current starters are Hunter Pence, Michael Bourn and Carlos Lee.
Improve Fielding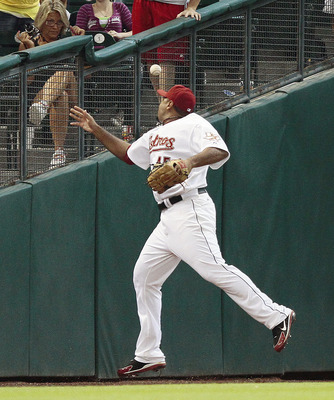 Bob Levey/Getty Images
Michael Bourn is fast. Michael Bourn is, in fact, freakishly fast. Speed from one position does not solidify an outfield enough though.
Carlos Lee and Hunter Pence are both below average fielders for their positions (although Pence has a very good arm) and Bourn has a weak throwing arm.
In order to compete with the MLB's elite, the Astros must obtain fielders who can catch every ball and throw out runners at the plate.
Get More Power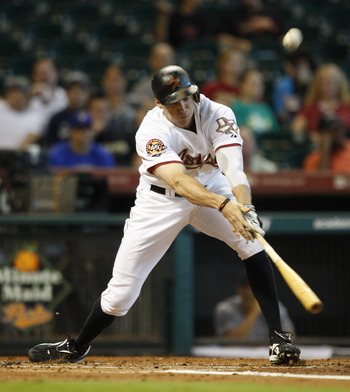 Bob Levey/Getty Images
Hunter Pence and Carlos Lee are good power hitters. Michael Bourn makes up for his lack of power with an abundance of speed.
The problem is, most teams have a dominant run producer somewhere in their outfield. Lee's production is tailing off now that he is 34; he missed the 25 home run 100 RBI plateau for the first time since he has been in Houston.
He has turned into an overpriced player for his production level and doesn't make up for the average production of Hunter Pence and below average production of Michael Bourn.
Get Fans Excited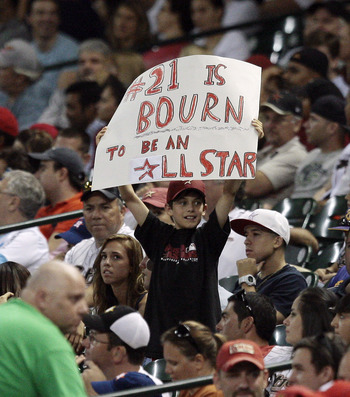 Bob Levey/Getty Images
Outfielders are often among the most dynamic players on their teams. Think Ryan Braun, Matt Kemp and Carl Crawford. These are guys that get the fans excited whether they are at the plate, in the field or on the basepaths.
Selling tickets is an enormous part of the MLB and while Bourn's tremendous speed makes him a fan favorite, Pence and Lee are boring, albeit consistent, players.
Improve Chemistry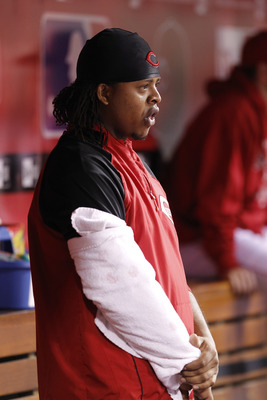 Joe Robbins/Getty Images
The Astros have been mediocre for so long that it has to be grating in the clubhouse. Mediocrity breeds contempt, I believe the old saying goes.
A breath of fresh air into the outfield would go a long way towards changing the culture in Houston and improving team chemistry.
Improve Versatility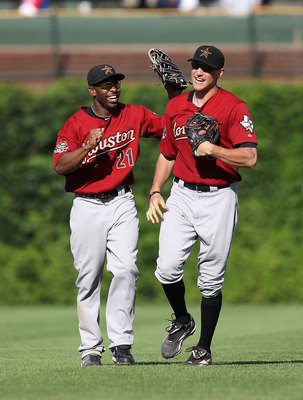 Jonathan Daniel/Getty Images
Houston's outfield is full of specialists. Michael Bourn is a speed specialist. Carlos Lee is a fast-aging power specialist.
Hunter Pence is the closest thing the team has to a balanced guy as far as speed, fielding and hitting; but his caught stealings are abnormally high for a baserunner who runs as seldom as he does.
Build Reputation From Within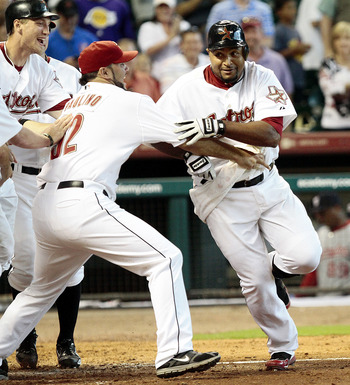 Bob Levey/Getty Images
The most popular players in the league are the ones who stay with the team from the draft to the big leagues.
Fans have the time to bond with the players from Class-A on through the minors. By the time a player reaches the bigs, the fans know his story and feel like they are on a journey with him.
Increasing fan interest is essential to improving a team. Full stadiums feed players's emotions, and adrenaline can lead to an extra win here and there.
Improves Rest of Team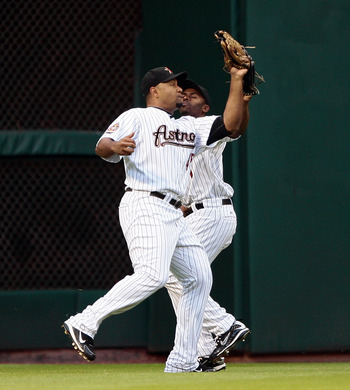 Bob Levey/Getty Images
By improving the outfield, the Astros can improve the rest of their team too. Added power production and baserunning ability will not only set up runners on the basepaths, but also allow for the improved outfielders to bat in more runners.
The whole team will improve with increased versatility in the outfield.
Change For Change's Sake (Jumble It All Up)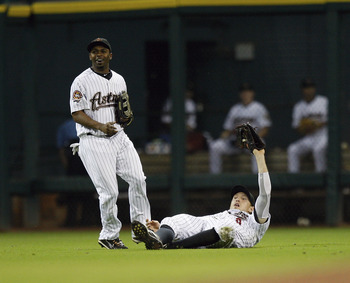 Bob Levey/Getty Images
The Astros haven't made the playoffs since their miracle 2005 World Series run. At some point, it's time to cut the team loose and start over, simply to change things up.
The Astros just need to make a few changes to change the culture around the organization, and the aging outfield is a good place to start.
Increase Attendance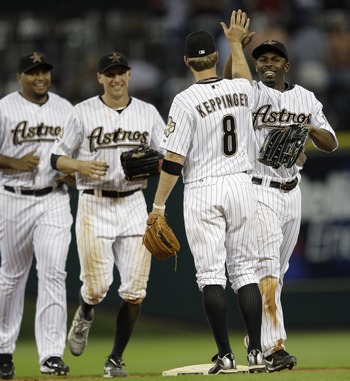 Bob Levey/Getty Images
Beyond winning, the goal of most baseball teams is to turn a profit. A younger outfield can help the Astros out by becoming more dynamic.
Young, dynamic player can sometimes draw fans to a park even if the team isn't very good.
Save Money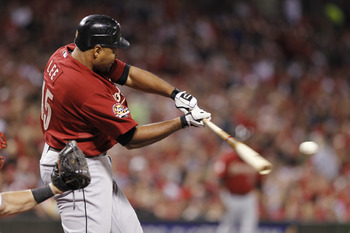 Joe Robbins/Getty Images
Carlos Lee used to be a very good player. A six-year $100 million good player? Probably not. But good nonetheless.
The simple fact of the matter is, the Astros outfielders are not as good as they are being paid.
A reduced cap figure can allow the Astros to invest in other positions that can help the team win.
Keep Reading

Houston Astros: Like this team?