NHL: Chicago Blackhawks vs. Calgary Flames Live Blog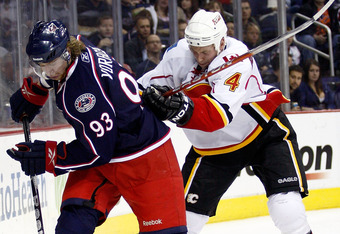 John Grieshop/Getty Images
The Blackhawks are looking to beat the Flames again as Corey Crawford plays his first game in net in two weeks.
Calgary is trying to get another two points to help their playoff cause.
These two teams usual play a great, tough hockey game, so expect a good one!
It's official.
Flames win 3-1
Hawk's net is now empty... and the Flames seal the deal with an empty net goal.
Calgary will win this game 3-1.
Tough loss for the Blackhawks.
And that should do it. Seabrook is givien a penalty for yapping at the refs.
Seabrook was cross-checked. Awful miss by the refs.
2 minutes remaining now.
Not many good chances for the Hawks. Kudos to the Flames.
3 minutes left for the Hawks to do create something.
Here we go!
Final 5 mins in the game. It's all or nothing for the Blackhawks.
Hawks are going to have exaclty 5 mins to score a goal, or this game is over.
Great powerplay kill by the Hawks, by the way.
2-1 Flames
Duncan Keith is limping to the Hawks' bench.
Took a puck to the leg.
Hawks are getting a interfence penalty. Sharp is the culprit.
Flames have a powerplay with 7 mins left in the game.
Are we witnessing another missed opportunistic for some points by the Blackhawks? It sure looks like it.
Calgary almost capitalizes on a shorty opportunity.
Hawks powerplay is over. HUGE kill for the Flames.
2-1 Flames with 8 mins left in the game.
The Blackhawks get another powerplay off an Alex Tanguay's holding the stick penalty. 13 mins left in the game.
And the Flames take a one goal lead with a hard slapshot right over Crawford's glove.
Goal Scored by Curtis Glencross. His 14th of the season.
2-1 Flames.
The action has dimished a little as the 3rd period chugs along. Some shots on net, but nothing too exciting.
Still tied at 1 with 12:30 left in the game.
Both teams have had some decent shots on ice but no shots have gone in for either teams.
Still tied at 1 with 16 mins left in the game.
Blackhawks fail to score on their third powerplay. They're 0-3, though they did draw iron.
18 mins left in the 3rd period.
Third period has begun!
It's very possible that this game might go some extra minutes. Both teams need these two points. They are neck and neck in the standings with the Flames having 2 games over the Hawks.
If you want to know just how bad the Blackhawks have been in the 3rd period, they've been, either, tied or up by one goal 19 times and have only came away with 4 total points.
It's that bad.
Note: The Blackhawks have been terrible going into the 3rd period while tied. Is today the day to change the trend?
We'll see. This 3rd period should be an exciting finish to this heated battle. Both teams are fighting for that extra edge. The Hawks will have a powerplay going into the 3rd period. If they can score early, the momentum will be on their side.
And that's the end of two in Calgary!
Game is still tied at 1.
Both teams both got 11 shots on goal. Both offensives are heating up, making this game a lot more exciting. Crawford is playing well and has made some big saves along the way.
Flames need to limit their penalties, as well as continuing to attack the net. The chances will come.
Calgary penalty on a very dangerous but accidental hit on Bickell by Sarich.
Hawks' 3rd powerplay. Just under 30 secs loft in the 2nd period.
A bouncing puck off a Blackhawk player almost puts the puck in the net.
Flames had multiple chances for a goal as the powerplay ended. They even hit iron, but no goal.
2 mins left in the 2nd period. Game is still tied, but, boy, is it getting exciting!
Calgary gets their 2nd powerplay after a Viktor Stalberg penalty.
Big kill for the Hawks so late in the 2nd period.
5 mins left in the 2nd period.
After a Hawks' powerplay, the Flames saw some great opportunities but couldn't get the puck in the net.
Still tied at 1
Duncan Keith saves yet another Flames' chance.
Hawks' powerplay is over. No real big chances. Both teams' offenses are beginning to come alive, forcing these goaltenders to be on their feet.
A great sequence leads to another Blackhawks's powerplay. I guess it's another shot for the Hawks after their first one was pretty poor.
I knew this period would be a crucial one. Flames are now on the defense, and the Hawks have made vast improvements to their offense.
This article is
What is the duplicate article?
Why is this article offensive?
Where is this article plagiarized from?
Why is this article poorly edited?

Chicago Blackhawks: Like this team?