Deion Sanders: Is Sanders the Best Corner to Ever Play in the NFL?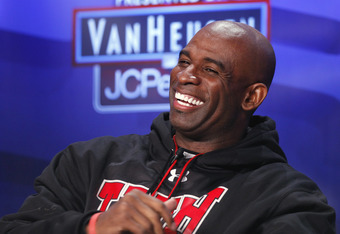 Deion Sanders' Unique Style and Incredible Production Make Him a Worth Hall of Famer
In the land of love-'em-or-hate-'em athletes, you could easily make the case that the most charismatic man is king.
Thus, despite the fact that we all learned from Monty Python that you don't vote for kings, I would like to nominate Deion Sanders as the most lovable love-'em-or-hate-'em athlete.
Of course, while I'm sure Prime Time would be just delighted to hear news of this magnitude, he might be a little honored-out after being announced as one of seven new members of the Pro Football Hall of Fame over the weekend.
This probably always was a foregone conclusion, as few players have left as big a mark on the game of football (and other sports) as the one left by Sanders. Deion took the league by storm the moment he was drafted fifth overall by the Atlanta Falcons in 1989, and he proceeded to gather up accolades and awards at an alarming pace throughout his 14-year NFL career.
As you may have noticed, he was also the epitome of a multi-platform star, as he had a relatively successful side career as a Major League Baseball player, released an album, and starred in myriad commercials throughout his career.
But let's not kid ourselves. Deion is in the Hall of Fame because he truly is one of the great cornerbacks in the history of the NFL.
In fact, it really wouldn't be too much of a stretch to say that he is the greatest.
In his career, Deion was an eight-time Pro Bowler, a six-time First Team All-Pro selection, a two-time Super Bowl champion, and he was named the AP Defensive Player in the Year in 1994.
You can definitely make the case that Deion's achievements are overshadowed by such greats as Dick Lane, Rod Woodson, Mel Blount, and Ronnie Lott. But, and this may just be because I'm a biased youngster, it seems to me that few players have ever been able to change the outcome of a game on a whim as easily as Deion could.
This is obviously up for debate. If that sounds like fun to you, feel free to sound off in the comments section.
Or, you could delight in our list of The Top 50 Cornerbacks of All Time.
Most recent updates:
This article is
What is the duplicate article?
Why is this article offensive?
Where is this article plagiarized from?
Why is this article poorly edited?