Doritos Super Bowl Commercial 2011: Did Doritos Have the Best Ad Sunday?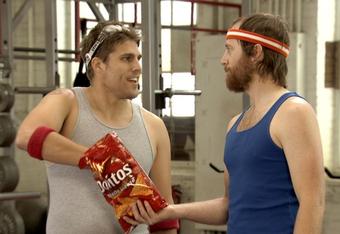 Is the Doritos Super Bowl Commercial 2011 the tops for Super Bowl XLV?
Doritos has had a knack for making the kind of Super Bowl commercials that everyone loves. They generally tend to be fresh, progressive and very funny.
But was did the Doritos spot last night rank as the cream of the crop?
While many were entertaining, there were only a few out there that got my vote as being funnier than the Doritos commercial.
The Eminem Chrysler commercial comes to mind right off the top of my head.
It also gets the nod for making the slogan "Imported from Detroit" into an actual legitimate advertising campaign.
The Volkswagon Young Vader commercial was also one of the night's best.
It's cute, I know.
It makes me a softy for even admitting it, but it was one funny commercial.
Plus, who doesn't like to see a little kid walk around in a giant Darth Vader helmet?
And if you are a man and have a pulse, the Kim Kardashian commercial was misleading in a very fun way. Plus, any chance to see Kim in her workout clothes, well....we should just move on.
Sure, that Doritos Super Bowl spot was great, but there were a handful that I would personally pick over it.
Maybe that's just me.
Related Story: Super Bowl XLV: Why it's the Last NFL Football We'll See For A Long Time
Most recent updates:
This article is
What is the duplicate article?
Why is this article offensive?
Where is this article plagiarized from?
Why is this article poorly edited?