Terry Collins Finally Blows Up after Woeful New York Mets Get Clipped by Pirates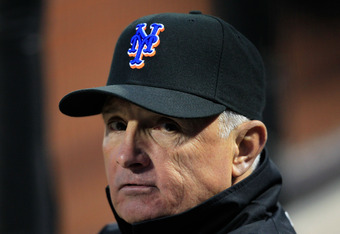 Chris Trotman/Getty Images
Well, what took so long?
Two months into his tenure as Mets manager, Terry Collins let the New York media know what he thinks about managing a team that can't seem to shoot straight.
No, Collins didn't channel his inner Lou Pinella by turning over chairs; he didn't quote Dennis Green by saying that the Mets "failed to crown the heads" of the Pittsburgh Pirates; he didn't even channel Jim Mora and say "Playoffs? Playoffs? How about we win a game. Playoffs?"
He didn't have to, because it could all apply to the frustration that was quite apparent in Collins mannerisms when he tried to get through his postgame press conference as if it was a tooth extraction.
To Collins credit, he has been quite patient with this Mets ballclub. He understands that a team that has not had the full complement of its star players for the entire season was sure to struggle. He knew about the Mets recent struggles the past four seasons, knew about the long, disturbing history of injuries, and the consistent lack of hustle that was so apparent during both the Willie Randolph and Jerry Manuel administrations.
Collins came to New York hoping to get these Mets to bare down and focus on the fundamentals and play to the level of a major league ballclub.
For the most part this year, this team has responded in short intermediate spurts. They beat up on the Houston Astros and Colorado Rockies in an impressive road trip in mid-May and even gave the Yankees all they could handle a few weeks ago, winning Game 1 and holding leads in the final two games of the Subway Series.
Video of Terry Collins post game conference after a 9-3 loss to Pittsburgh.
Justin Turner and Dan Murphy have hit the baseball well this year, Jose Reyes has been great with the bat, and Carlos Beltran has been solid. The pitching has been inconsistent and the fielding leaves a lot to be desired.
But even decent play is not enough. Not in Major League Baseball. It's all about the wins.
Collins' bubble popped after watching the Mets blow a 2-0 lead on the Pirates, as Pittsburgh scored five runs in the seventh inning, thanks to four weak ground balls that got the momentum rolling in Pittsburgh's favor.
It was the second straight game that the Mets blew a low-scoring lead in the later innings thanks to poor pitching and defense.
As Collins sat for his press conference, anyone watching could see the steam coming out of his ears. When a reporter asked him the opening two questions, Collins tried to restrain himself from lashing out at the reporter by asking him to repeat his two questions before he flipped out.
"I don't have the answers," Collins said. "I'm searching. I'm wringing the rag dry of coming in here and looking at you guys, and having you look at me like I'm a stinking fool. And I told these guys, 'We're good enough.' We've got to go play the game right. We just can't continue to make foolish mistakes."
Sounds simple, but it clearly isn't getting through.
Collins frustration is palpable, but it won't get any better. Sure the Mets have a new minority owner now, in David Einhorn, who will try to bring some financial relief to the cash-strapped franchise, but it won't change everything right away.
Will Terry Collins get this team turned around?
The Wilpon's still own the majority stake in the franchise, and they have millions of dollars of debt riding over their heads.
Wilpon, who made news ripping his stars to the New Yorker last week, even told SI's Tom Verducci that the Mets are "bleeding cash" to the tune of $70 million in losses this year alone. That means the Mets are sure to cut a lot of payroll, 30 percent to be exact, according to that SI article, beginning this summer at the deadline.
Even though Sandy Alderson played it down, rumors are rampant that the team will either trade Jose Reyes, Carlos Beltran or Francsico Rodriguez, or trade all of them eventually. Even David Wright has been rumored to be trade-bait in the offseason.
So where does this leave Collins?
With a fine mess on his hands. For a manager who wanted to rebuild a reputation as a guy with a short fuse that led to his ouster in Anaheim and Houston, the Mets are quickly turning into an impossible situation for him.
Collins said, during his postgame conference, that he wants to change the atmosphere, even if it means "bringing in new players." However, if that means doing it without Jose Reyes and David Wright, for example, in the near future, Collins will never see the light of day with this franchise.
To get a feel of what life would be like without Reyes and Wright, look at the Mets this week. Reyes is on family leave after his grandmother past away during the weekend, and Wright is on the DL. The Mets sure look worse without them.
Terry Collins has every right to be upset at his ballclub for blowing two games to the Pirates. But the worse is yet to come, if things don't get better fast.
This article is
What is the duplicate article?
Why is this article offensive?
Where is this article plagiarized from?
Why is this article poorly edited?

New York Mets: Like this team?