UFC 126 Results: Jones Vs Rua and the Top Ten 205-Pound Title Fights of All Time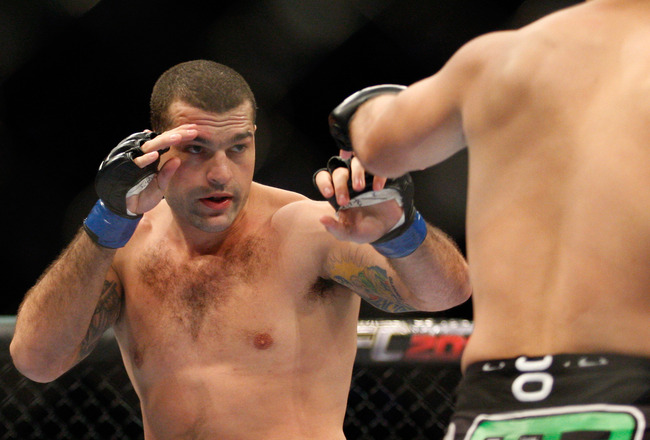 Richard Wolowicz/Getty Images
Immediately after Jon Jones defeated Ryan Bader via a second-round submission at UFC 126 on Saturday night, he was offered a chance at Mauricio "Shogun" Rua's UFC Light Heavyweight Title at UFC 128.
Rua had originally been matched up with "Suga" Rashad Evans, but Evans had to withdraw from the fight card due to a knee injury.
How will the Jones versus Rua light heavyweight title bout compare to the top ten Light Heavyweight Title bouts in UFC history?
UFC 40: Ken Shamrock vs. Tito Ortiz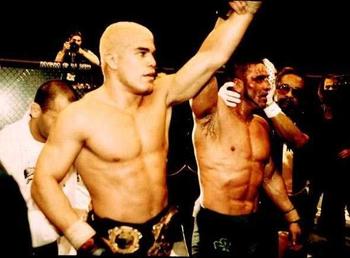 When this bout took place at UFC 40, it marked a change in the UFC as Shamrock and the old guard of the original days of the UFC, were replaced by the newer fighters such as Ortiz.
While this one-sided battle was all Ortiz, the fight was an indicator of things to come for the UFC—as the pre-fight hype generated strong ticket sales as well as pay-per-view buys.
Ortiz dominated this fight from the start, pummeling Shamrock so badly that his team was forced to thrown in the towel prior to the fourth round starting, giving Ortiz his fifth-straight title defense victory, a record at the time.
UFC 43: Randy Couture vs Chuck Liddell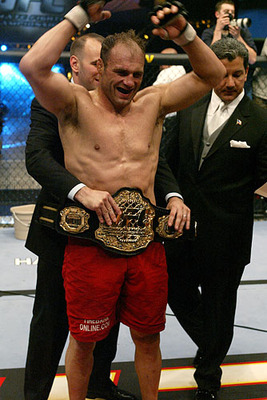 Randy Couture's fight with Chuck Liddell for the interim Light Heavyweight Title on June 6, 2003 would mark Couture's first foray into the Light Heavyweight division, and it was a success.
The interim title was created due to the fact that champion Tito Ortiz was taking too long to defend his title.
If you listen to some, they say that Tito was holding out for more money. Others say Tito was afraid to step into the cage with Liddell. Another theory was that Tito was reluctant to fight Liddell since the two were friends.
Liddell did not share the idea, and was more than willing to fight Ortiz.
Whatever the reason, Ortiz was out of the picture.
Liddell was the favorite in this bout, but he was beaten at his own game as Couture, known mostly as a wrestler, decided to stand and strike with "The Iceman."
After working strikes, he switched to his wrestling game and took Liddell down, ending the fight by TKO at 2:39 of round three.
UFC 44: Randy Couture vs. Tito Ortiz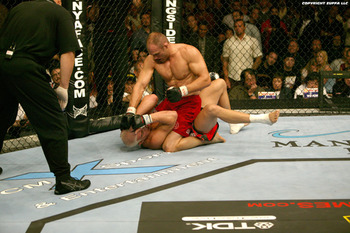 UFC 44 took place at the Mandalay Bay Events Center on September 26, 2003.
Randy Couture, who had captured the interim heavyweight title with a defeat of Chuck Liddell at UFC 43 in June of 2003 was matched up against Tito Ortiz to decide who would be the UFC Light Heavyweight Champion.
Prior to the fight, Ortiz trash-talked Couture, claiming his interim title was meaningless. Couture, not content to listen to Ortiz run his mouth, responded by calling Ortiz out for refusing to face Chuck Liddell.
When the two stepped into the Octagon. Couture used his wrestling skills to dominate the younger Ortiz—at one point spanking Ortiz to the delight of all the Ortiz-haters watching the fight.
UFC 62: Chuck Liddell vs. Renato Sobral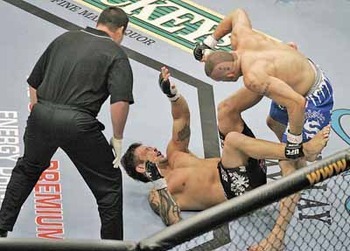 UFC 62 took place on August 6, 2006.
Sobral looked focused and angry before the bell rang to start the fight, while Liddell looked relaxed and at ease. Sobral came out and tried a straight kick right away. The two then settled in and did some feeling out. One minute in, Sobral moved in and threw some wild punches that had Liddell backing up.
The punches weren't crisp and Liddell was not backing up from the impact of the strikes, but rather to find an opening in the wide, looping punches.
It didn't take long for him to find that opening.
Liddell delivered an uppercut that hurt Sobral and Liddell moved in for the kill. Referee John McCarthy saw enough and stopped it at the 1:55 mark, and Liddell retained his title.
UFC 66: Chuck Liddell vs. Tito Ortiz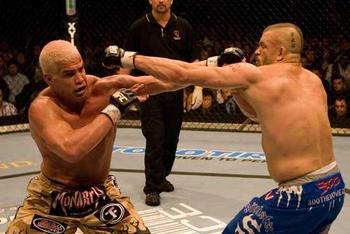 UFC 66 took place at the MGM Grand in Las Vegas on December 30, 2006. This card would feature the second bout between Chuck Liddell and Tito Ortiz as its main event.
The first time they met was at UFC 47 in April of 2004, a fight that Liddell won via second round TKO.
The fight card was the first non-boxing match to sell more than one million pay-per-view buys and earned a live gate of almost $5.5 million.
Liddell took the first round of this fight, nullifying an Ortiz takedown attempt and then working Ortiz over with his punches.
Ortiz returned the favor in the second round, taking the round on strikes.
The third round was when it all ended for Ortiz. Liddell knocked Ortiz to the ground and then let the bleeding fighter get back to his feet. Liddell then knocked Ortiz down again and landed more strikes when he moved in to end the fight.
He gained the TKO win at 3:59 of the third round.
UFC 71: Chuck Liddell vs Quinton Jackson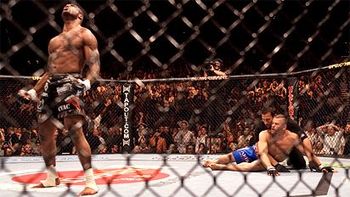 UFC 71 took place in Las Vegas on May 26, 2007.
The fight would be Chuck Liddell's last fight as a UFC champion as he was quickly knocked out by Quinton Jackson.
The fight did not last long as Jackson sent Liddell to the ground with a big right and then finished him off from the ground.
The knockout came at the 1:53 mark of the first round, ending "The Iceman" era of the UFC Light Heavyweight division.
Liddell would go on to finish out his UFC career by losing four of his next five fights.
UFC 75: Quinton Jackson vs. Dan Henderson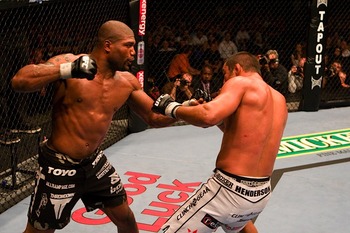 UFC 75, which took place in London, England on September 8, 2007 was headlined by a title unification bout.
UFC Champion Quinton "Rampage" Jackson faced PRIDE champion Dan Henderson in the main event at the O2 arena.
The two champions battled for five rounds, with Henderson taking the first two and Jackson taking the final three.
In the end, Jackson scored the unanimous decision win and unified the UFC and PRIDE titles.
UFC 86: Forrest Griffin vs. Quinton Jackson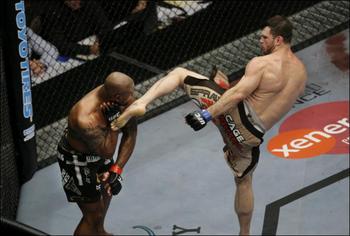 UFC 86 took place on July 5th 2008 in Las Vegas. The main event pitted Quinton "Rampage" Jackson against Forrest Griffin.
Griffin had defeated Mauricio Rua in his last bout while Jackson entered the fight with a win over Dan Henderson, unifying the UFC and PRIDE light heavyweight crowns.
This one was a hard-fought five round battle that many fans thought could have gone either way, but in the end it was Griffin who had his hand raised with the unanimous decision win.
After the fight Griffin said, "I think that was pretty close, and I didn't want to (over-engage), because he hits too f***ing hard, but I think we're going to have to do that again. And that sucks for me. Every f***ing punch he threw hurt. I'm not kidding. Like I would catch it, and it would hurt my arm. Just everything hurt. And I just kind of let him get off and throw one, two or three. I never made him pay for it."
For his part Jackson said, "Sometimes you win, sometimes you lose. Forrest is tough. I respect him a lot. He works hard; he's a hard worker. Hey, whenever you step in the Octagon, there's a 50/50 chance you're going to get your ass whooped. I ain't no stranger to getting my ass whooped. I get my ass whooped sometimes."
UFC 98: Rashad Evans vs. Lyoto Machida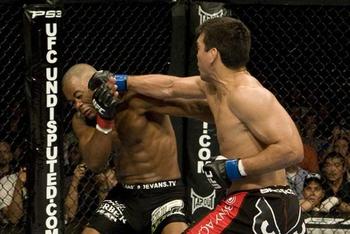 UFC 98 took place on May 23, 2009. The main event on the card featured "Suga" Rashad Evans defending his UFC Light Heavyweight Title for the first time, in a bout with Lyoto "The Dragon" Machida.
The first round of this bout featured a cautious—some would say slow—start as the fighters seemed reluctant to engage.
Machida was able to put Evans to the ground during the first round via a combination and that most likely secured him the round.
Machida would not need to worry about the judge's scorecards after that as he hurt Evans with a left and then followed that up with more strikes before ending the fight with a left that put Evans' lights out at the 3:57 mark of the round.
UFC 113: Lyoto Machida vs. Mauricio Rua
Richard Wolowicz/Getty Images
UFC 113 was headlined by a rematch between the Champion Lyoto Machida and the challenger Mauricio Rua.
The two first met at UFC 104 with Machida taking a controversial unanimous decision victory.
There was no controversy or judges involved in the rematch.
The early part of round one was owned by the champion who took Rua down, but Rua would not stay down. With the fighters on their feet Rua dropped Machida with a right to the head and then followed him to the ground, mounting the champion and continuing his assault.
He was awarded the knockout win over the previously unbeaten Machida at the 3:34 mark of the first round.
Keep Reading