Black Eyed Peas, Christina Aguilera, Super Bowl XLV and the Swagger Buzz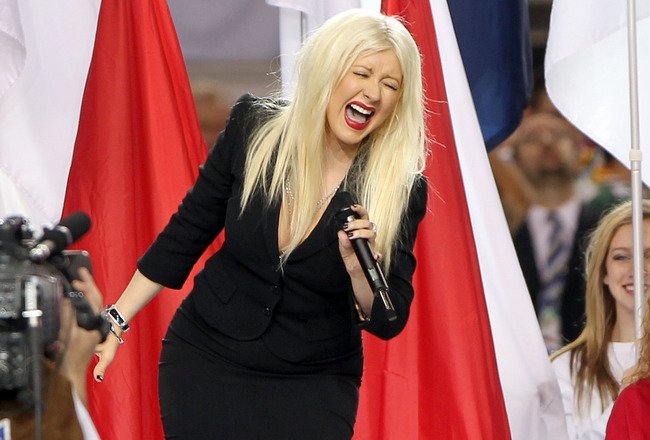 Christopher Polk/Getty Images
The Black Eyed Peas, Christina Aguilera and Super Bowl XLV are all front and center in today's B/R Swagger buzz.
This is hardly a surprise, of course, as all three are intertwined in one awesome package. The good news is that we aim to waste as much ink as possible talking about these three things, and any other storylines that come out of the Super Bowl.
The Black Eyed Peas are just about to take a stage for their highly-anticipated halftime show. You can rest assured that there will be plenty to talk about concerning their performance.
Meanwhile, today's action has already given us one memorable performance, as the internet is abuzz with the awful rendition of The Star-Spangled Banner offered up by Christina Aguilera.
(If you for some reason missed out on it altogether, it really was awful. And we'll discuss why.)
In any case, there's plenty more to talk about. If you want to stay up to date on all the latest from Super Bowl XLV, just keep it here and we'll keep you posted.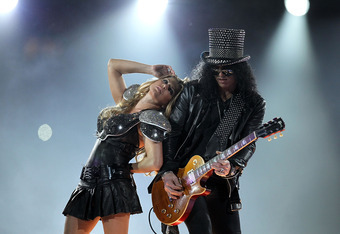 Slash Arises From Stage at Halftime, Proceeds to Be Old
A few short minutes after the book had closed on the Black Eyed Peas' Super Bowl halftime show, your humble narrator did his level best to put a positive spin on the whole thing, despite the fact that every indication seemed to be that it was a king-hell debacle.
In doing so, all I really had to say about Slash, the ex-guitarist of Guns N' Roses, was that he was there.
But now, several hours after Slash emerged from a trap door in the stage and proceeded to inject a whole lot of extraneous age into the whole show, I'm not too sure.
Indeed, was he actually there?
I mean, I know he was there in body, which was disturbing enough in its own right. But I'm not so sure he was there in spirit, as all he seemed to do was stand there and look old and weird while Fergie paraded around him like some kind of drugged-up nymph.
That's rock 'n' roll, you say?
Erroneous. What I saw on the stage at halftime was not rock 'n' roll. It was crappy pop music that just happened to have a rock guitarist attached to it. And the whole scene was an embarrassment from start to finish, even if it took certain slow-minded individuals like myself a little while to realize it.
Well, that may not be rock 'n' roll, but it's sure as hell halftime at the Super Bowl.
So it goes. Here's hoping things don't get any worse in next year's halftime show.
For more on that front, check out our Top 10 Choices for the 2012 Super Bowl Halftime Show.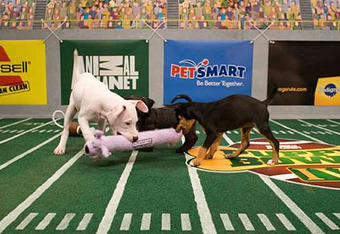 Puppy Bowl VII Was the Most Successful Sideshow On a Day That Featured Christina Aguilera and the Black Eyed Peas
Shortly before the Super Bowl kicked off, I wrote a piece that questioned whether or not Animal Planet's seventh annual Puppy Bowl was actually a better way to pass the time than FOX's Super Bowl pregame show.
I don't want to spoil the ending, but I sided with the puppies.
Indeed, no doubt many of you are of the opinion that the Puppy Bowl is a spectacular waste of time, and the kind of novel entertainment that is just plain annoying.
However, let us not forget that this is Super Sunday. Novel entertainment and spectacular wastes of our time are par for the course. Why else do you think the likes of Christina Aguilera and the Black Eyed Peas were invited out to Cowboys Stadium?
Moreover, as far as the ever-important realm of social media is concerned, the Puppy Bowl was a roaring success. As of right now (9:20 p.m. PT), "Puppy Bowl" is still trending on Twitter, despite the fact the telecast wrapped up hours ago.
In short, show some respect. Those puppies (and kittens) may be cheap entertainment, but they're damned effective cheap entertainment.
Speaking of effective entertainment, you'll find plenty of failed efforts on our list of Christina Aguilera and the Top 10 Botched Sports Performances.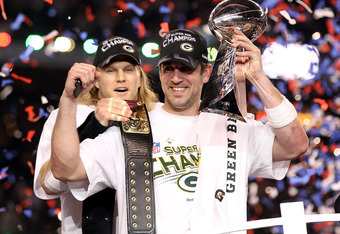 Vince Lombardi Would Be Proud of These Packers
It was a hell of a ride for the Green Bay Packers this season, but they ended it in style with a 31-25 victory of the Pittsburgh Steelers in Super Bowl XLV.
Shortly after things went final, FOX broadcaster Joe Buck did the moment perfect justice when he said, "The Lombardi Trophy is coming home."
Indeed, Vince Lombardi earned the right to have his name emblazoned on the Super Bowl trophy by leading his Packers to victory in the first two Super Bowls ever played back in 1966 and 1967. All totaled, he won five NFL Championships, as the Packers also won the league championship in 1961, 1962, and 1965.
These days, Lombardi is regarded as one of the true legends of football, and he is probably quoted more than any other figure in the history of American sports.
There was a pretty huge gap in between Super Bowl victories the last time the Packers took home the Trophy in 1996, when a young Brett Favre led the Pack to victory over the New England Patriots.
Favre was able to shed the ghosts of Packers past with that win. And this year, Aaron Rodgers sheds the ghost of Brett Favre with his victory. But both of them did just fine by Coach Lombardi, and it's a good bet that the three of them will be mentioned in the same sentence for years to come.
On balance, the 2010 NFL season was a humdinger, and football fans around the country can be forgiven if they're already looking forward to next season.
If you are, you might get a kick out of our list of 10 Matchups We Want To See In Super Bowl XLVI.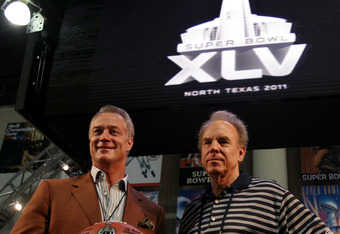 Roger Staubach, For the Record, Has Nothing To Do With the Green Bay Packers Organization
As you no doubt have already noticed by now, Super Bowl XLV is over. It was the Green Bay Packers coming away with the win, as they defeated the Pittsburgh Steelers by a final score of 31-25.
As FOX broadcaster Joe Buck so adequately put it, the Lombardi Trophy is coming home.
Nevertheless, the manner in which the Lombardi Trophy was handed over to the organization has a lot of people scratching their heads, as it was presented to the Packers by Roger Staubach, the Hall of Fame quarterback of the Dallas Cowboys.
While Staubach may very well be a Hall of Famer and a fine ambassador for the NFL, the question is obviously why it was him presenting the Lombardi Trophy and not somebody like, say, Bart Starr.
One supposes that the venue must have something to do with this, as it makes sense that Jerry Jones would push for a Cowboys great to have something to do with the proceedings at Cowboys Stadium. But of course, that's just a theory, and your humble narrator has no intentions whatsoever of starting any kind of controversy.
Regardless, the whole exchange just felt a little awkward, and all involved parties seem to realize it as well.
Oh well. It was a good Super Bowl, and you get the sense that a good portion of the country is more than thrilled by the fact that the Packers were able to come away victorious.
Now that Super Bowl XLV is in the past, why not look ahead? Here are 10 Intense Matchups We Want to See Next Year in Indy.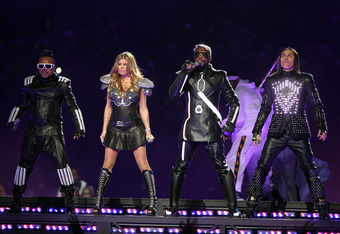 Black Eyed Peas Did Their Best, But Their Super Bowl Halftime Show Will Go In the Books As a Failure
For whatever reason, Super Bowl halftime shows are kind of a necessary evil. We get one every year, and it has pretty much become a given that whoever goes out there to perform is going to suck.
This has been particularly true over the last decade or so, during which we've been graced with forgettable performances from over-the-hill rockers like The Rolling Stones and Bruce Springsteen. In fact, the only really memorable halftime show was the one in which the whole world was exposed to one of Janet Jackson's boobs.
Today, it was the Black Eyed Peas' turn. And despite the fact I gave it my best shot to defend them in my initial review, it's becoming more and more apparent that their highly-stylized halftime performance was actually quite hollow.
As many people around the internets have already opined, their music, which is mediocre as it is, really didn't translate well on stage. They did their best to dress up the whole thing by bringing out Slash and Usher and by parading around in funky outfits, but nothing could hide the fact that they were just there to pass the time.
Truth be told, there were enough pretty images to at least hold my attention, which is probably why I chose to gave them the benefit of the doubt. But even I've already forgotten what exactly transpired, which obviously is not a good thing.
Ultimately, the Black Eyed Peas' halftime performance is yet another failure in the long, sad history of Super Bowl halftime shows. They may be a necessary evil, but you honestly have to wonder how long it will be before enough is finally enough (if we're not already there, of course).
Of course, the notion that there might come a day when there will not be an overblown Super Bowl halftime show is probably nothing more than a delightful pipe dream. Alas, there's just no way in hell that the TV execs are going to risk sacrificing a few extra viewers just because us football fans are tired of having our time wasted at halftime.
As such, I'm afraid we have no choice but to take it and like it.
Or, you could delight in our list of our Top 10 Choices For the 2012 Super Bowl Halftime Show. Either way.
Alex Rodriguez and Cameron Diaz Caught in Awkward Feeding Moment
When it comes to celebrities at sporting events, the Super Bowl is what it would be like if somebody took the Staples Center and turned it up to 11.
I doubt that everyone is going to get that reference, but the point is that there are quite a few celebrities on hand at Cowboys Stadium to watch the Green Bay Packers and Pittsburgh Steelers butt heads in Super Bowl XLV.
And yes, each and every one of them has gotten some screen time.
One of the more humorous moments, as you can see in the above video, involved New York Yankees third baseman and his movie star girlfriend, Cameron Diaz
Coming on the heels of a shot of John Madden texting (gasp!), A-Rod was shown having popcorn shoved in his mouth by his lovely lady, prompting Joe Buck to humorously note that they had clearly caught him at a bad time.
That may be true. Nevertheless, if something like this had to happen, it somehow makes perfect sense that it happened to A-Rod.
Doesn't it?
For more such awkward goodness, check out our list of The 50 Most Awkward Moments in Sports History.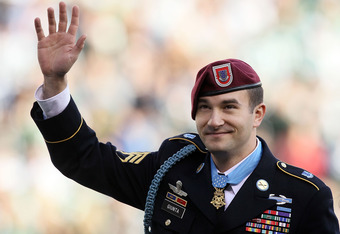 Salvatore Giunta Is the First Living Recipient of the Medal of Honor Since the Vietnam War
Plenty of legends will be born in today's Super Bowl XLV matchup between the Green Bay Packers and Pittsburgh Steelers, and those who end up having their hands on the Lombardi Trophy when all is said and done will inevitably be labeled as "heroes" in certain parts of the country.
But the biggest hero on the field today at Cowboys Stadium was not wearing either team's colors, nor was he in pads. In fact, he was there for what he had done in service of certain other colors.
This would be U.S. Army Staff Sergeant Salvatore Giunta, who was awarded the Medal of Honor by President Obama back in November. He is the first living recipient of the award since the Vietnam War, and he was a guest of honor today at Super Bowl XLV.
Needless to say, Staff Sergeant Giunta received a very warm welcome, as fans were standing and clapping all across the 100,000-seat stadium.
And for good reason. Staff Sergeant Giunta received the Medal of Honor for his actions in Afghanistan in late October of 2007. His squad was ambushed by a formidable group of insurgents. Enemy fire struck his body armor, but he continued to return fire while attempting to reach soldiers that had detached from the rest of the unit.
He led a small team that came to the aid of a few wounded soldiers, but he also broke off from the group on his own initiative to reach another soldier that was in need of aid. He found him being carried off by two insurgents.
Giunta engaged both of them, killing one and wounding the other. He then provided medical aid to his wounded comrade.
When it was over, the enemy ambush had been defeated.
Truly, an amazing story. His appearance at the Super Bowl was a truly emotional moment, not to mention a well-deserved honor.
For more on the Super Bowl, feel free to drop in on our Super Bowl XLV Live Blog.
Christina Aguilera Badly Botches the Star-Spangled Banner at Super Bowl XLV
Singing the National Anthem at the Super Bowl is obviously a rather huge honor, and there's probably not a singer on earth who wouldn't surrender an arm and a leg for the opportunity to do so.
This year, the honor went to pop superstar Christina Aguilera. And about halfway through her rendition of The Star-Spangled Banner, it was obvious that she was in the midst of making history.
Indeed, I know it's a little early, but I'm going to go ahead and say right here and now that Christina Aguilera has performed the worst National Anthem in the history of American sports.
Harsh words, to be sure. But unfortunately for her, they are also well-deserved.
First of all, and this is a point that has been dwelt upon pretty heavily all over the internets, she forgot one of the freakin' lyrics. It's not "what so proudly we watched," my dear. It's "o'er the ramparts we watched."
Secondly, if one is going to botch the National Anthem, one could at least do it while singing in key. This is something she struggled to do, and it was downright painful to listen to.
Nevertheless, I'm willing to forgive Christina. I am, after all, a reasonable man.
However, there are just some things you should avoid doing in the state of Texas, and one of them is sullying the National Anthem. In other words, it's not me she should be worried out.
In any case, for more Super Bowl and entertainment goodness, check out our Top 10 Choices to Play the 2012 Super Bowl Halftime Show.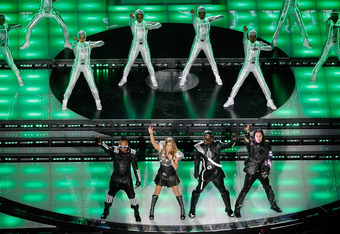 Black Eyed Peas Offer Up a Truly Original Halftime Performance
I don't think it would be too much of a stretch to say that recent Super Bowl halftime shows have been pretty forgettable. And when I say "forgettable," I mean that they sucked pretty hard.
Indeed, this is what happens when you decide to play it safe, as the NFL pretty much had to do after the infamous Janet Jackson nipple slip at Super Bowl XXXVIII. Since then, we've been graced with the tired old acts of The Rolling Stones, Prince, Tom Petty, Bruce Springsteen, and The Who.
Things probably reached rock bottom with last year's performance by The Who, as it was just painfully obvious that these poor, over-the-hill Britishers had absolutely no business being at the Super Bowl.
As such, it was time for a youth movement, and the NFL delivered in the form of the Black Eyed Peas.
It was apparent from the start of their performance that they were going for something new. They bore fully electronic, Tron-esque costumes, and were soon joined on stage by the likes of Slash and Usher. The whole thing lasted about 10 minutes, during which they took the audience on a ride through their biggest hits.
Personally, I've never been a huge fan of the Black Eyed Peas, as I've always thought their music to be rather overproduced, and way too simple-minded. Unfortunately, things like these don't go away in live performances, and this was certainly the case here.
Nonetheless, even if the music was pretty lame, the spectacle of the whole thing was without a doubt impressive, and I think the Black Eyed Peas deserve heaps of credit for crafting a halftime show that will likely prove to at least be somewhat memorable.
As such, I say bravo. And on balance, after watching the show I feel comfortable in saying that whoever is tabbed to play halftime next year has a hard act to follow.
I would now like to go on record in saying that it should be The Black Keys.
For more on that front, check out our Top 10 Choices to Play the 2012 Super Bowl Halftime Show.