Super Bowl XLV: Live Blog, Updates and Analysis for Packers vs. Steelers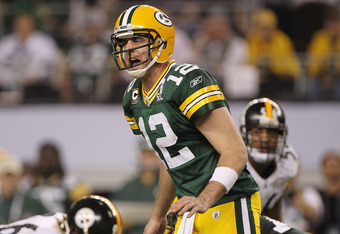 Doug Pensinger/Getty Images
Super Bowl XLV features two of football's iconic franchises in the Pittsburgh Steelers vs. the Green Bay Packers.
BleacherReport.com is the biggest home for content leading up to the Super Bowl, and Super Sunday is no different.
I am Matt Miselis, an NFL Featured Columnist for Bleacher Report. I will be running the live blog for tonight's game, so hopefully it will be an enjoyable one.
Analysis from all aspects of the game is on the agenda for tonight, and I am glad to be covering the biggest game in all of sports.
Follow me on Twitter: @MattMiselis
Congrats to Rodgers and the Packers. Glad to have live blogged the game for you today.. Be sure to follow B/R's NFL section throughout the year!. Good night!
I think Greg Jennings should be MVP.. Credit Rodgers is the QB and had some quarterbacks drop passes, but nontheless Jennings amde the clutch catches when it counted.
2010-2011 season in the books. Lombardi trophy returns to its original home.. 2011-2012 season officially on the way.
GAME IS OVER! PACKERS ARE SUPER BOWL CHAMPIONS! 31-25 Final
Incomplete pass on 4th and 5.. Packers take over on downs
Steelers burning those 2 timeouts in the 3rd quarter is coming back to bite them
Stupid penalty by the Steelers.. After the play personal foul. Steelers need to go the distance for the win.. Will be a classic for sure
FIELD GOAL: PACKERS. Green Bay couldnt capitalize on the field position.. Only made lead 6 points...
James Jones with another big catch on the sidelines. Packers inside the Steelers 10 yard line with 3.20 to play
Greg Jennings being clutch again for this Packers.. Huge throw from Rodgers to Jennings for first down..
TOUCHDOWN STEELERS! Ben to Mike Wallace for the touchdown. Ben then runs the option and flips it to Randel El for the conversion.. 28-25 Packers
Mike Wallace is the guy Ben is going to early in this quarter...
Can Ben Roethlisberger work his 4th quarter magic again? He is going to need this unit to respond quickly.
TOUCHDOWN PACKERS! Greg Jennings comes in the clutch in the side of the end zone. 28-17 Packers
Nelson redeems himself with the big catch. Brings Packers to 1 yard line
James Jones with a first down on the sidelines... Packers in Steelers territory for first time this half
Huge Mendenhall fumble.. Packers at midfield, its time to put the 3rd grade woes behind them
Packers lose the challenge, and the Steelers start with good position after the punt
Mike McCarthy challenging the rule on the field of an incomplete pass.. Not sure what call this is..
Stupid penalty by Tramon Williams.. Totally uncalled for. McCarthy should bench him, set an example
Packers punted, Steelers have the ball and run it first play with mendenhall
Packers facing a 3rd and long, and Steelers waste a 2nd timeout in the 3rd quarter
First play after missed field goal: Rodgers to Nelson for 18 yards.. Huge first down, Packders in desparate need of more points.
Wow.. Worst field goal attempt I have ever seen in a Super Bowl. Packers start with pretty good field position.. Time for Rodgers and co. to get it going
Joe Buck said previous play Packers recorded no sacks. Green Bay records one now in the most important moment. Trying long field goal
This article is
What is the duplicate article?
Why is this article offensive?
Where is this article plagiarized from?
Why is this article poorly edited?