Ben Roethlisberger: Will Pittsburgh Steelers Quarterback Win His Third Ring?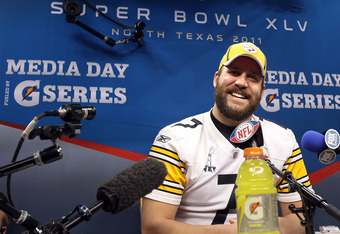 Ben Roethlisberger having an up and down, tumultuous 2010 year is a bit of an understatement. His year started out in controversy-plagued fashion, as he was accused of sexual assault for a second time and had countless reports from unnamed female accusers swirling about his poor, disrespectful conduct off the field.
The NFL didn't take kindly to the accusations lobbed at Roethlisberger, and commissioner Roger Goodell suspended him for the first six games of the 2010 regular season, eventually reducing the penalty to four games upon appeal.
These were dark days for Big Ben, who had two Super Bowl titles under his belt and was a beloved son of the Pittsburgh community historically obsessed with the Steelers and their success. But Roethlisberger tested even the most loyal Steelers fans' patience with his behavior, and questions even swirled about his future in Pittsburgh.
But now things have certainly seemed to change for Roethlisberger. All reports about his conduct and demeanor have improved greatly, as he's been described as re-dedicating himself to being a good teammate and good person off the field.
He also came back and won, and won regularly, with the Steelers this year. That makes up for a lot of character deficiencies in the eyes of fans and pundits, as historically even the worst of individuals have found redemption in athletic glory, justified or not.
So now Roethlisberger's attempts to re-write his recent negative image brings him to his third Super Bowl since entering the league as a rookie back in 2006. If he's able to pull out another championship by winning the NFL's biggest game, it stands to reason that it will be hard to find a Steelers fan that looks to harbor much ill will towards the team's franchise quarterback.
His image among casual fans, though, will no doubt still be tarnished after a year of controversy and accusation. Winning cures a lot, but the sniping and references to Roethlisberger's sexual assault issues won't die down, the same way that controversies still follow other NFL players who have been linked to crimes or other issues.
I don't know if Roethlisberger has enough to pull off another Super Bowl win this year, mostly because he's facing off against perhaps the best NFC team he'll have played as a quarterback with the Steelers. But it's still quite the accomplishment that Roethlisberger and Pittsburgh have gotten into this position of driving for yet another Super Bowl.
For more on predictions for Super Sunday's big game, check out Super Bowl Predictions: 20 Things You Can Expect To See On Super Bowl Sunday.
Most recent updates:
This article is
What is the duplicate article?
Why is this article offensive?
Where is this article plagiarized from?
Why is this article poorly edited?