Puppy Bowl VII: Is the Puppy Bowl More Enjoyable Than FOX's Super Bowl Pregame?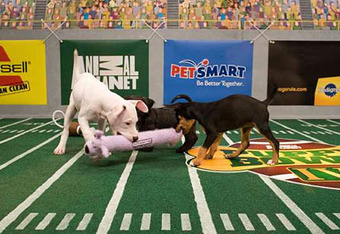 Puppy Bowl VII Dares To Occupy Same Time Slot As Pregame Festivities

We may as well be honest with each other. As much as the good folks at FOX like to pretend that people around the country can't fully enjoy the Super Bowl without their lengthy pregame show, honest football junkies like you and me could really care less.
Indeed, the Super Bowl pregame show is something that you just kind of have on in the background while having a few beers and chatting it up with the fellas. It is white noise, so to speak, permissible only because it has something to do with the big game.
Meanwhile, on Animal Planet, Puppy Bowl VII is in full swing. To be sure, to many football fans around the country, the Puppy Bowl is a petty affair, one that borders on a blatant annoyance to respectable NFL junkies.
But if you want my advice, I say turn it on for a few minutes. If you do, you will see that it is instantly more enjoyable than watching all the pinheads on Rupert Murdoch's payroll pontificate about the most overblown sports event in the history of the planet (as much as I love the Super Bowl, it's not that magnificent).
Indeed, what's not to like about puppies having a proverbial ball on a miniature football field? And if you're a cat person, there are kittens too, and their appearance at the halftime show always makes me feel all warm and fuzzy inside.
Through it all, I dare you not to crack a smile. As a matter of fact, I dare you to change the channel back to all the pregame nonsense once you've made the switch.
And no, for the record, I am not on Animal Planet's payroll. Although, I'd be open to the idea if one of their execs feels like giving me a call.
In any case, I feel like I've made my point. If you need further distraction from the pregame show, check out our list of the 100 Greatest Super Bowl Commercials.
Most recent updates:
This article is
What is the duplicate article?
Why is this article offensive?
Where is this article plagiarized from?
Why is this article poorly edited?