Pittsburgh Steelers: This Steelers Dynasty Boasts Several Future Hall of Famers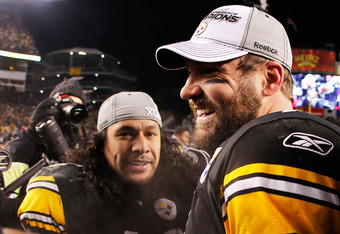 Pittsburgh Steelers Gunning For Third Super Bowl In Six Years
The Pittsburgh Steelers were the premiere dynasty in the NFL way back in the 1970s. Behind head coach Chuck Noll, quarterback Terry Bradshaw, and a smothering defense that came to be known as the "Steel Curtain," the Steelers won four Super Bowls. In doing so, they produced several future members of the Pro Football Hall of Fame in Canton, Ohio.
With the present-day Steelers set to take part in their third Super Bowl in the last six years, it is safe to say that we are dealing with yet another Pittsburgh dynasty. Whether or not they are the premiere NFL dynasty of the last decade depends on your opinion of the New England Patriots, but they are a dynasty nonetheless.
As such, looking ahead long-term makes for a good bit of fun. There is of course the question of whether or not these Steelers will make it back to the Super Bowl after this season, and how many times.
However, looking ahead into the even more distant future another fun exercise. Given the announcement on Saturday of the 2011 Hall of Fame class, we may as well try to determine who among these Steelers will be enshrined in Canton when all is said and done.
The biggest name among them is also the most controversial. That would of course be quarterback Ben Roethlisberger. He does have the two rings, but his case for Canton is complicated by his off-the-field issues and his lack of true individual excellency. Nevertheless, I wrote a piece on Big Ben yesterday that argued a third ring would pretty much make him a lock for Canton, no matter how the rest of his career pans out.
Another player with a pretty good chance for the Hall of Fame is safety Troy Polamalu, the 2010 AP Defensive Player of the Year. He has been perhaps the best safety in the game since he came into the league out of USC in 2003. He will have a pretty good case for the Hall when his career is over. But keep in mind that there are just a few safeties in Canton already, and Polamalu's votes could very well get split with a fellow player (i.e. Baltimore's Ed Reed).
The one player with perhaps the toughest case is going to be wide receiver Hines Ward. He's been one of the most consistent receivers in football since his debut in 1998. But if Cris Carter, Tim Brown, and Andre Reed can't even get into Canton, it's going to be extremely tough for Ward to get in.
One man who should not be counted out is head coach Mike Tomlin, who is on the verge of becoming the first coach in the history of the NFL to win two Super Bowls in his first four seasons at the helm. He's still very young, so who knows what else his career may hold.
Obviously, we shall have to wait and see. For now, just keep in mind that you are watching some all-time greats whenever the Steelers take the field in today's Super Bowl XLV.
As such, try to appreciate it, even if they go down against the Green Bay Packers.
For more on the big game, check out our list of 25 Last Minute Predictions for Steelers vs. Packers.
Most recent updates:
This article is
What is the duplicate article?
Why is this article offensive?
Where is this article plagiarized from?
Why is this article poorly edited?