50 Sexiest Long-Haired Athletes
In honor of Clay Matthews and his fellow long haired athletes, I have come up with a list of the sexiest female athletes with long hair.
Now, I know what you are thinking and yes most female athletes already have long hair. So why make a list of woman that would most likely include all hot female athletes?
Because who does not want a reason to look at beautiful woman? How many people do you know that would say, "Beautiful woman in a slideshow format so that all I have to do is press next and get another picture of a beautiful woman? That is stupid. I would much rather look these women up myself."
If you have a friend like that, tell them to leave the room as you sit there and enjoy the list of the sexiest long haired athletes.
Begin Slideshow

»
Even though the Winter Olympics are not for another three years, it is fun to imagine all the hotties we might be seeing in 2014.
Kiira Korpi has already been to two Olympic Games but has not come close to a medal. However, since I could care less about the sport, it is fun to watch her skate around in those sexy dresses. If she wins, great. If she does not, who cares?
Is this your first time meeting the lovely Nicole Hage?
Do me a favor and try to remember this one, she has some skills to go along with that amazing body.
Torah Bright should be fresh in most peoples minds still after she upset the competition in the Halfpipe at the 2010 Winter Olympics claiming the gold medal.
Of course, she is no stranger to winning prior to that event, having already claimed two golds and two silver medals at the previous four Winter X-Games.
Regardless of how good she is, she has one beautiful smile that even the haters have to love.
Wow, another Russian tennis player tossed in our mix. Is it just me or does Russia produce gorgeous tennis players like Nebraska does corn?
Vera Zvonareva is also kind of crazy.If you are going to lose, you might as well go nuts. In 2009 at the U.S. Open, she lost to Flavia Pennetta. But during that match, she cried, cursed, ripped bandages off her legs, complained some more, destroyed her racquet against a post, then put a towel over her head as she sat in her chair for what seemed like forever.
Don't you just love the crazy ones?
Kristine Engeset is hot and I am shocked that not many people have heard of her by now.
She has been around for a few years now, running in all kinds of track and fields events. She is a long distance runner. How come no one has heard about a long distance runner? Oh, probably because no one knows anyone that does long distance running.
The Olympics are fun to watch. They are always interesting, especially the Summer Olympics.
However, Julia Mancuso is a skier and she does not appear at the Summer Olympics so I have to watch the Winter as well. If she decided to be a pole vaulter, I would no longer care to watch the Winter Olympics. She has that kind of affect on me, as well as many male fans.
How often do you such a beautiful woman playing in the WNBA? For that matter, how often do you see a beautiful female basketball player? The list is not as small as it once was however, it is that too long either.
Aside from having the greatest name in the WNBA, Swin Cash is tall, beautiful, and one hell of a good player. She also attended the school that has not lost a game since 2001, the University of Connecticut.
How does anyone forget about the beautiful Natalie Coughlin?
She stole our hearts in 2004 at the Athens Summer Olympics and then again in 2008 during the Bejing Summer games. She is smoking hot and can swim too, so she is more than just eye candy.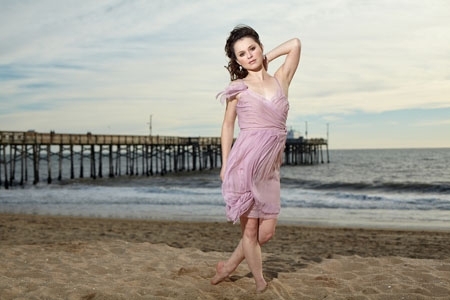 Sasha Cohen is not known for anything besides figure skating. But she should get recognition for being a hottie too.
She has made a few different lists already and I do not see that slowing down anytime soon.
The 2011 Women's World Cup is happening in a few months, are you ready to watch these hotties the world has to offer?
Rachel Unitt is just one of many beautiful female soccer players we shall see this summer. I think they should all wear the flag as a dress like in this photo. That would be awesome.
Is that Ashley Harkleroad, the sexy tennis star that posed for Playboy? Yes it is.
Why is she fully clothed? What is that about? I think she is spanning her horizons and proving she can pose with clothes too.
I wonder if Tiger Woods would have chosen one of the many hotties in golf had he known there were so many of them, when he was doing his cheating thing.
Do you think he even knew how much talent was right there in front of him instead of miles away in Vegas or New York?
Example 1 - Maria Verchenova
Speaking of hot female golfers, Anna Rawson is one of the best. She has an amazing body to go along with her beautiful hair.
That's right, I said hair. She is beautiful from head to toe and her hair is included in that equation.
Ok, so is this another hottie golfer? How many of these women are out there?
I might have to head to the next local golf tournament and try my skills out. Hopefully, I can make enough of an impact to get on the tour. The next part is all about getting to meet women like Sophie Horn.
I know it sounds like a ridiculous plan but stranger things have worked before.
If you were watching the 2010 Winter Olympics and not looking for Tanith Belbin in those skimpy figure skating outfits, I am pretty sure you were not there for the hotties because she was the second reason to watch the Winter Olympics.
If you had to waste time watching figure skating, you might as well have watched her dance around looking fine as hell.
There are not many woman in the world that can dunk on a man and still look sexy doing it.
Candace Parker could slam dunk on top of me whenever she wanted to and I would not be upset one bit. I would actual ask her to do it again.
Speaking of women dunking on men, what about the women that could knock you out?
Would anyone let Miesha Tate knock you around for awhile just for a chance to meet her? It is not like she would have to ask anyways.
How could we forget one of the sexiest women ever? Where has she been in the last couple of years?
Lisa Leslie, wherever you are, please show yourself again. We miss you.
I just discovered a new game, water tennis.
It involves playing tennis in a pool and it would star all the hotties that currently play tennis today.
Can you imagine a sport so great?
The words I want to put on paper would not equate to the hottness you are currently admiring so I shall leave this simple.
Taryne Mowatt is smoking hot. The End.
Come on Russia! This is getting a bit out of control. Every time I blink, another hot beautiful tennis player comes out of Russia.
I am not complaining, I am just asking them to control it a bit and send some of those hotties over to the States.
Look folks, just get on board or hit the road, Danica Patrick is hot.
She might get little respect when it comes to her driving skills, she is one of the most beautiful woman on earth, fact.
So maybe we stop hating on her skills and give her a little credit for being a female racing in the man's world of NASCAR.
Does surfing have to be such a weak sport?
When I say weak, I mean the lack of support it gets. There should be lines of people willing to watch the sport. Take a look at Anastasia Ashely, for example, she is a surfer. I would go to the next event just to see her.
Yes, she is sitting in the coolest bathroom you have ever seen.
Yes, she is sexier than any woman you have ever been with.
Yes, she does play poker.
Any questions?
I am left speechless for Vojislava Lukic. I have almost nothing to say that could equal how she looks.
She is the Gisele of tennis.
I will never watch a tennis match that does not feature Maria Sharapova and Caroline Wozniacki again.
If you have watched the two play, then I would not have to explain my choice. If you have not, go check them out on youtube. It is like an overwhelming amount of hottness tossed right into your face.
Anyone else want to shoot a gun now? How about just hold some bullets?
If you have not figured it out by now, Velvet Sky is the reason most men watch TNA wrestling today. There is not much else to say about the beautiful Sky other than how phenomenally phenomenal she looks.
If ever there was a reason to make a sexual innuendo, the time would be now.
Allison Stokke has given us hours of entertainment and pages of sexual jokes. She is a mega hottie that is also a pole vaulter. I do not need a writer from Family Guy to help me with the sexual jokes here, they practically write themselves.
Another beauty pageant model turned athlete, Rachel Christie is an aspiring sprinter for her home country, England.
Too bad she was not from the states, it would be nice to have a former beauty contestant winner run track for the USA. There would not be too many complaints there.
What is it about this woman? Why are so many people attracted to her?
I am one of those men that can not see why she is so damn attractive but at the same time, I am incredibly in love with her beauty. She is hot and that is that. No need to explain why she is, just now that she is.
Jade Johnson has a beautiful body. She is one of the few woman on this list to have a complete package. She has a beautiful smile, body, legs, butt, and even her hair is fantastic.
Look out for her in 2012 when she introduces herself to the world at the Summer Olympics.
Why would I make a list of beautiful athletes and not include Amanda Beard? How could I do something so stupid?
Amanda Beard has beautiful hair. She also has beautiful everything else too. She is what I like to call the complete package of hottness.
Have you ever seen Ana Paula Mancino in live action? Have you seen her play volleyball, ever?
I have and it is as incredible as she is in all her photo spreads. She is one of those women that will always be hot, regardless of what she is doing.
Yes poker is a sport. If you do not agree, then go somewhere else and complain about how beautiful woman are bothering you.
Seriously, get out of here if you want to argue about poker not being a sport. Lacey Jones is all the proof I need. Poker is a sport, she is hot, and anyone who disagrees just as a problem looking at beautiful woman.
If Anna Kournikova was a great tennis player, she would have more respect in the sports community. However, she was a mediocre player that turned the sport into a fashion show. She used her beauty to sell herself to the tennis world and it worked.
She became the most popular woman in tennis, ever. So there is no reason not to include her in the list for hottest long haired athletes.
I almost gave up on chasing after Ashley Massaro.
First I wrote her. Then I emailed her. Next I expressed my love for her through my articles.
Finally, I have one last shot at capturing her all for me, I just have not figured it out yet. I will figure it out someday but until than, I shall wait.
Erica Hosseini is the new hottest woman of surfing.
She has grown in popularity since the last time we took a look at all the beautiful woman in surfing. She is now my favorite beauty of the ocean.
Sorry guys, that is the closest we will get to seeing the twins.
Now it is time to admire her top side and that luxurious hair she has atop that beautiful body and head.
Does having beautiful hair count for anything these days?
Just ask Blair O'Neal because she has made almost every list I have ever built because of it. It also does not hurt that she is super sexy too.
I am pretty sure that the first thing you noticed when looking at this picture was the beautiful long black hair the lovely Bianca Cruz is sporting and not the white wet shirt she is donning.
There was no way you were looking to see nudity under her wet t-shirt, no way that was the first thing you looked for.
Trish Stratus has beautiful hair.
Too bad her body is so damn fine, we never truly noticed it until now.
Who is this beautiful woman? Where did she come from?
Where she came from is not important. She is Sara Galimberti, one of the hottest woman in the world today and she plays sports.
If she did not have long hair, I would have no idea what to do with her. She just might be bring sexy back.
I do not like to say anyone is perfect but Torrie Wilson is the closest I have ever seen.
Her body is structured in a way that makes every person in this world look fatter. She looks as if she was sculpted by a sculptor building a statue in her image. But this is about hair and she has great hair too, I think. I never really noticed it before.
If you were looking for a reason to watch the 2012 London Summer Olympics, this is it.
Stephanie Rice is sexy, Australian, and did I mention HOT? She can swim too.
When I think about heaven, I usually see myself surrounded by beautiful sets of twins. In this case, I would take the Feres twins over any others heaven has to offer.
I think most men would agree with me when I say that the Feres twins belong in every man's heaven.
If only everyone considered wrestling a sport, then we would have no problem including beautiful woman like Maryse in these lists.
Every year, wrestling comes out with another babe that is hotter than any of the previous versions and for that we thank you WWE.
Welcome back to the top Gina!
We have missed your fine self and we are glad to see you back where you belong.
It is not fair to have any kind of list where Anna Semenovich is included.
She might not have been the top overall choice but she is consistently in the top five in every single list she finds herself apart of. That gives her instant street cred amongst the hottie sports stars in the world.
Before there was ESPN, Jenn Brown had softball. She played at the University of Florida a few years ago and has turned herself into a mega hot sports reporter today.
It does not matter to me how we get to look at her, as long as we continue to see her on a daily basis.
Was there ever any doubt to who was the sexiest female athlete with long hair?
Time and time again, Stacy Keibler finds herself at the top and each time is well earned.