UFC 126: Silva vs. Belfort Fight Card Results and Analysis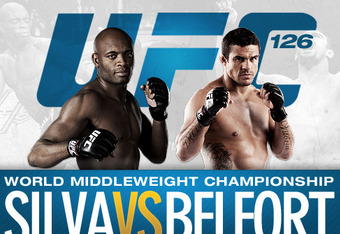 Courtesy of UFC

UFC 126 is live tonight at the Mandalay Bay Events Center in Las Vegas, Nevada and will feature a middleweight title fight between Vitor Belfort and middleweight kingpin Anderson "The Spider" Silva.
The prelims will air live on Spike TV, featuring a featherweight bout between Chad Mendes and Michihiro Omigawa and a lightweight scrap between former WEC fighter Donald "Cowboy" Cerrone and Paul Kelly.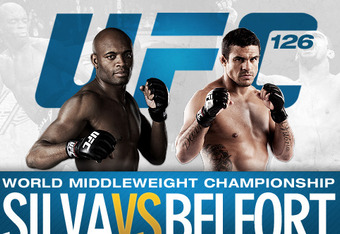 In the main event, Anderson "The Spider" Silva solidified his place as the pound-for-pound best fighter in the world when he defeated the dangerous striker and former UFC light heavyweight champion Vitor Belfort with a first round knock out.
Silva increased his UFC win-streak to 13-0 with a knockout over Belfort in 3:25 into the first round, which is something no UFC fighter has done in the history of the organization.
Round one stared off with both men begin circling each other.
Belfort managed to land a leg kick to the lead leg of Silva.
The two men started circling each other again and then Vitor tags Silva with a left.
Belfort takes Silva down and then Silva quickly gets back up.
Silva out of nowhere lands a front kick to Belfort's face and knocks him out with it and follows it up with a few punches on the ground for good measure.
What was supposed to be Silva's most dangerous opponent couldn't even escape the first round, and the Vegas crowd was left in awe.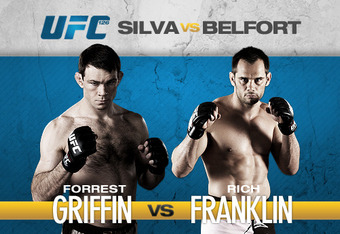 In the co-main event for UFC 126, former UFC light heavyweight champion Forrest Griffin defeated former UFC middleweight champion Rich Franklin (29-28, 29-28, 29-28).
Griffin indicated after the bout that he felt rusty, but Griffin really didn't look like he missed a beat with a solid performance over Franklin.
Franklin opens round up with an inside leg kick and then Forrest returned with a head kick that Franklin blocked.
Forrest quickly catched Franklin's second kick and brings the fight to the mat, and Franklin was able to keep Forrest in his closed guard.
Then Forrest began to open up with a bit of ground n' pound but nothing to incredibly devastating.
Franklin seemed to be content to just try and control Griffin's posture, but as a minute is left in the round Forrest seems to land some heavier strikes.
With the final seconds of the round Griffin lands some small strikes giving him the round 10-9.
Round 2 begins and Griffin opens with an inside leg kick.
Both men begin to exchanging and the action seems to pick up.
Griffin goes for a head kick and it is blocked by Franklin, and then Griffin is able to duck under and go behind Franklin and drags Franklin down to the ground.
Franklin stands up, but Griffin is able to drag him down again, but shortly after Franklin stands up and breaks away.
Forrest rocked Franklin with a left hook with 90 seconds left into round 2 but Franklin gets back to his feet and keeps his composure.
Franklin is still able to land a few strikes but nothing too significant.
At the end of the round Griffin was able to graze Franklin with a head kick giving Griffin a 10-8 round.
Round three began with Franklin throwing the body kick, and Griffin immediately started firing back.
Then Franklin pushed for the takedown, but Forrest almost took his back in the process, but both fighters broke away.
Griffin starts getting the better of the combinations and Joe Rogan seems to be vocal on the subject that Franklin could've injured his elbow.
Then Griffin shoots for a takedown and gets it, but Franklin quickly scrambles and gets a take down on Griffin.
Griffin than scrambles and manages to get another takedown on Franklin, but Franklin quickly gets back to his feet and both men exchange til the final bell.
Hard round to score, but I gave it slightly to Forrest 10-9.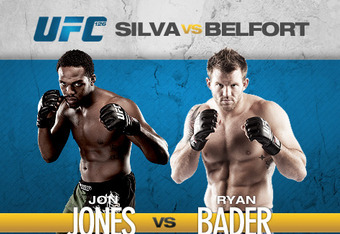 Next up on the card, was a battle of light heavyweights fighting to move up in the ranks when Jon "Bones" Jones (11-1) took on Ryan "Darth Bader (12-0).
Jones proved that he's for real as he submitted top-ten ranked Ryan Bader 4:20 into round 2.
Rogan announced at the end of the fight that with this win Jones was announced as the next challenger for Mauricio "Shogun" Rua for the UFC light heavyweight title.
Prior to the bout, UFC commentator Joe Rogan made mention that Jones looked more nervous for this fight than he ever had, but Jones proved otherwise...
Round one started and Jones immediately shoots for a takedown and ends up in side control almost instantly.
Jones moves to north south position and goes for a north south choke but Bader manages to escape and get space.
Bader is able to scramble and the fight is back on the feet.
Jones goes for a head kick and it appears that Bader wants nothing to do with the stand up as he wants nothing to do with the striking of Jones and shoots for a takedown.
Then Jones easily stuffs the takedown and controls Bader for much of the round.
With just seconds left in the round Jones is able to land a strike before the bell sounds, giving the round 10-9 easily to Jon Jones.
Bader starts round two with an inside leg kick to Jones but Jones responds with a quick left hook.
Jones then attempts a flying round house, but Bader blocked the telegraphed kick attempt.
Bader finally started to land something significant as Jones was met with a right hand.
Jones lands a solid leg kick and Bader tried to clinch with Jones to get a takedown but Jones easily stuffed it.
As the fight wore on Jones kept attacking the lead quadricep of Bader.
With just over a minute left Bader got out position and Jones went for a guillotine and was able to choke out Ryan Bader late in round 2.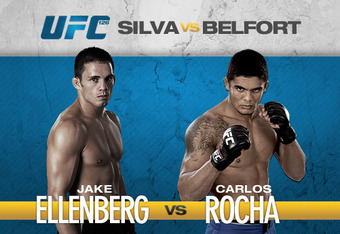 Jake Ellenberger moved his record to 3-1 in the UFC following a split decision victory over Brazilian Jiu-Jitsu black belt Carlos Eduardo Rocha.
While Ellenberger didn't look too impressive in the fight, it was still odd how one judge scored the fight 30-27 for Rocha.
Ellenberger clipped Rocha right away in round 1 and then shoot for a takedown on Rocha, but Rocha was able to get back to his feet.
Then Ellenberger was able to secure a takedown and end up in side control, but Rocha was able to get to his feet.
After the fight quickly restarted Rocha shoots for a takedown and ends up in a dangerous position as Rocha is able to get to side control.
Ellenburger tried to roll but Rocha briefly took his back and as Ellenberger moved Rocha maintained dominant position.
Rocha makes a mistake in side control and Ellenberger is able to scramble to his feet with just a minute left in round one.
Rocha then shoots for a takedown, Ellenberger stuffs it, Rocha is able to roll Ellenberger into an americana with just seconds left into the round.
I gave the round 10-9 in favor of the Brazilian.
Round two began and Ellenberger starts landing more of his strikes. Rocha looks noticeably slower in the second round and is breathing heavier.
Ellenberger got the better with his boxing and started to fight a bit slower and was edging out Rocha.
Rocha attempted a flying knee with over a minute left into the second round but to no avail.
With 22 seconds left into the round Ellenberger solidifies the round with a solid takedown.
Round three begins with Ellenberger firing out inside leg kicks.
Ellenberger proceeds to keep a bit busy with the kicks and Rocha shoots in with a very predictable takedown.
Rocha attempted a very telegraphed spinning hook kick, but Ellenberger was much wiser and got out of the way.
As the round wore on Ellenberger started swinging wide, and shot in for a big takedown that Rocha was able to easily stuff.
Rocha attempted a head kick at just a minute into the round, but Ellenberger easily side stepped him and waited for Rocha to get back up.
Ellenberger realizing this fight is his to lose, he secured another takedown late in the round and took the third round with another 10-9.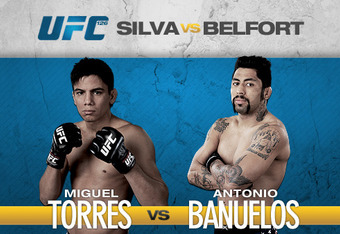 Up first on the pay-per-view portion of the card is a bantamweight bout between former WEC bantamweight champion Miguel "Angel" Torres against Antonio Banuelos.
The former bantamweight champion Torres won a unanimous decision but didn't impress in his UFC debut as the Las Vegas fans were very vocal in the lackluster matchup.
The opening round began with Torres utilizing the jab and loading up on his right hand.
As two minutes went by, the crowd started seeming unimpressed as Torres wasn't over committing to any of his punches and just occasionally utilized the jab.
Torres went for a kick, and was immediately swept to the mat, but Banuelos refused to follow Torres to the ground.
Banuelos just doesn't look like himself and appears very hesitant in this fight and Torres doesn't seem to be incredibly active.
With little action in the opening round, Torres still takes it 10-9.
Round two began and the two fighters picked back up where they left off, much to the crowds displeasure.
After a few minutes went by, it seemed that finally both men started exchanging but it was only momentary.
The crowd kept booing the fight, but Torres stayed content with just utilizing his jab and moving out of the way of the few strikes from Banuelos.
With less than a minute left Torres landed a solid combination, and the blood was pouring from Banuelos's nose.
At the end of the round, Banuelos was able to finally get something going, but still Torres was able to control much of the round, so I give the fight 10-9 to the former WEC champ.
Both Torres and Banuelos started exchanging as soon as round 3 began but it wasn't so exciting.
Torres kept flicking out the jab, but half way through the round the Las Vegas fans kept booing.
As the fight wore on, Banuelos just couldn't get the distance and Torres kept utilizing the jab.
With just 15 seconds left in the fight, Banuelos goes for broke against Torres but cannot land anything to significant and Torres gets the better of the exchange winning him the third and final round.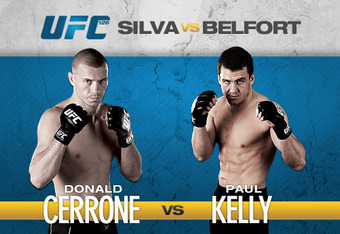 Next up on the card was a lightweight battle between former WEC fighter Donald "Cowboy" Cerrone and team Wolfslair's Paul Kelly.
Cerrone managed to get an ugly win over Paul Kelly in his UFC debut and moved his record to 14-3.
The action started with Kelly quickly swinging wide and Cerrone rushing for a takedown.
Cerrone was able to secure mount, but Kelly immediately was able to get out and Cerrone went back to standing.
As soon as the fight started back on the feet, Kelly bull rushed Cerrone with knees but Cerrone was able to break away.
At the midway part of the round, Cerrone just couldn't seem to find his rhythm and Kelly seemed to be teeing off on Cerrone.
With just over a minute left in the first round, Cerrone was able to secure another takedown and managed to land a devastating elbow that cut Kelly.
Kelly began round two by firing at Cerrone once again, and Cerrone just seems to look stagnant.
Cowboy was able to manage a few leg kicks but just seems to look unlike many of his WEC performances.
Cerrone secured another takedown but was quickly met with a guillotine choke from Kelly.
It didn't take to long for Cerrone to escape the guillotine and as Cerrone passed guard, Kelly turned and gave his back, and Cerrone managed to secure the body lock.
Moments later, Cerrone was able to pull off a very tight rear naked choke at 3:48 into the second round.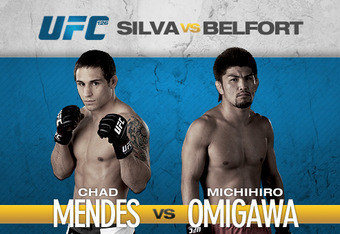 In the opening bout on the Spike TV card, Team Alpha Male's Chad Mendes moved to 10-0 as a fighter after defeating Michihiro Omigawa via unanimous decision (30-27, 30-27, 30-27).
Round one began with Mendes opens up with a right hand Omigawa looks a bit stiff early on.
Omigawa fired back with a left hook.
Mendes looks for a big takedown from far away but Omigawa stuffs it and then proceeded to land a few inside leg kicks.
Then Mendes shoots for another takedown from far away and Omigawa easily stuffed it.
At just under 2 minutes into the first round, Mendes is able to secure a takedown.
Omigawa with just over a minute goes for a straight armlock, but Mendes is able to defend and begins to land lets Omigawa get back to his feet.
Mendes seemed to be in control of the first round and Omigawa is behind a bit on the feet in the first round. I score the fight 10-9 for Mendes.
Round two got under way and Mendes rocks Omigawa with a big right and immediately followed Omigawa to the ground.
Omigawa was able to get his wits back and goes for an omoplata but Mendes escapes, and then Mendes fired with some ground n' pound but then Omigawa went for a leg lock and both men went back to their feet.
Omigawa doesn't seem to look right in this fight at all, and Mendes has found his range.
Mendes shoots for a big takedown but cannot take Omigawa down on this occasion, but lands a big elbow against the fence.
As the round wears on, Mendes shoots for another takedown but cannot get the double leg.
Omigawa just seemed flat footed and as he fires at Mendes with less than 20 seconds left, Mendes is able to secure another takedown winning the round 10-9.
The third round began and Mendes opened with a right hand.
Omigawa looked to press the action early in the third round, and makes Mendes shoot for the takedown.
Then Omigawa stuffed the takedown and goes for a guillotine choke, but Mendes is able to escape and secure top position.
Mendes kept nullifying the guard of Omigawa for a small portion of the round, but Omigawa was able to get back to his feet.
Omigawa looked a bit desperate and with his strikes and Mendes was able to counter and secure another takedown with a minute left into the fight.
At the end of the round, Mendes was able to land some solid ground n' pound to finish the round awarding him another 10-9 round.
This article is
What is the duplicate article?
Why is this article offensive?
Where is this article plagiarized from?
Why is this article poorly edited?