NHL Trade Rumors: The Top 25 Available Players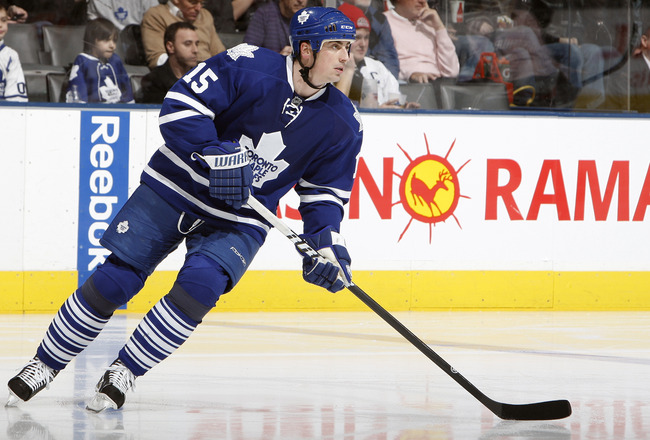 Abelimages/Getty Images
As February 28 approaches, it's looking more and more like this year's edition of the trade deadline will be one of the more active deadlines in recent history. It's beginning to seem like half the NHL is on the trading block.
However, it's not just the players. The closer it gets, the more teams are beginning to look like like they will be active on deadline day.
Teams in the playoff picture are looking for players that will help secure them a coveted postseason berth.
The clubs that inhabit the NHL's basement will likely hold fire-sales, becoming sellers and distributing their veterans for prospects and picks.
Another factor that contributes to the excitement surrounding this season's cut-off date is injuries. Teams are seeing their top players become victimized by the injury bug.
Unexpected events like such are often what cause a team to make a trade.
Will your team make a move?
Probably.
Veterans, rookies and possible future stars are all on the table on deadline day. Here are the Top 25 available players.
Jarkko Ruutu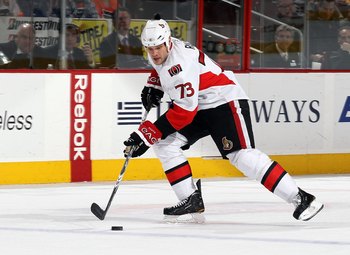 Jim McIsaac/Getty Images
Senator tough guy Jarkko Ruutu is supposedly being shopped. The 35-year-old Finn is getting old, but can still provide a spark of grit and toughness.
Ruutu can often contribute 15-25 points, which isn't bad for a fourth-line grinder.
Ruutu is a UFA at the end of the year, a fact that makes the left winger more desirable.
Craig Rivet
Christian Petersen/Getty Images
Craig Rivet hasn't enjoyed his best season in Buffalo this year.
He has spent nearly half the year as a healthy scratch, a move which boggles the minds of many.
Why Buffalo would sit down their captain is anybody's guess, but it can't be good for locker room chemistry.
Rivet has put up as much as 35 points in the past, so he does have offensive ability. However, he has posted just three points this year.
Rivet would bring experience and leadership to any locker room, and his acquisition could cost as little as a seventh-round pick.
Brandon Yip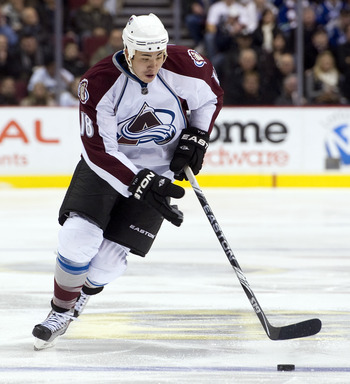 Rich Lam/Getty Images
Brandon Yip is currently enjoying a second season that seems to have avoided the infamous "sophomore slump."
Thus far, he's notched nine goals and nine assists for 18 points. He's also posted a respectable 11.3 shooting percentage.
Although Yip isn't performing at the pace he showed in his rookie campaign, he would still be a solid addition to a team looking for secondary scoring.
Rostislav Olesz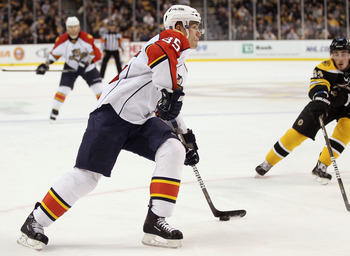 Elsa/Getty Images
Rusty Olesz is a winger that can be counted on to produce. He generally posts 30-point seasons when healthy.
So far in 2010-11, Olesz has recorded five goals and 16 points in 35 games. He missed a large amount of time due to a broken finger.
The Phoenix Coyotes and the New York Rangers are two teams thought to be looking at the Czech.
Maxime Talbot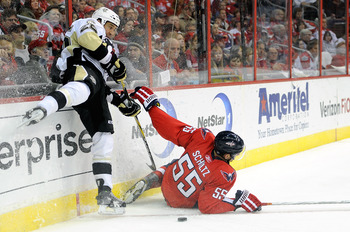 Greg Fiume/Getty Images
Maxime Talbot is a player who is likely affected by the Penguins' loss of superstar Evgeni Malkin.
With Malkin out for the season, Pittsburgh will likely be looking to make a deal that will solidify the team and assist them in their playoff run.
Talbot had already been on the trading block previous to Malkin's injury, but his status as trade bait has increased with the loss of a star player.
Talbot is a solid third-liner. He can put up 10-15 goals in a season and play with energy and grit nightly. He's registered six goals and 13 points in 54 games this season.
Chris Phillips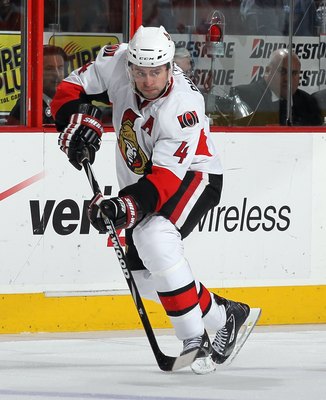 Jim McIsaac/Getty Images
Chris Phillips is a solid defenceman that has been attracting a lot of attention in the trade market this season.
Although he's had an off year, his play can likely be attributed to the Senators' terrible season.
His minus-26 is a bit of a scary stat. However, the Sens' lack of success can likely be linked to that as well, as Phillips has previously had plus-minus numbers of plus-36, 19 and 15.
Jason Arnott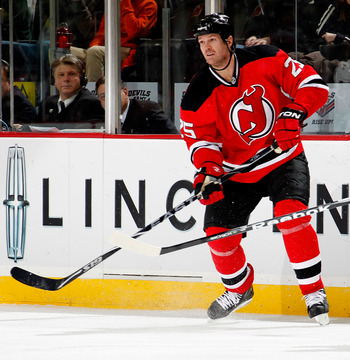 Paul Bereswill/Getty Images
Jason Arnott appears to be on the move again this season after being acquired from the Nashville Predators in the summer.
With 13 goals and 23 points so far, the pride of Collingwood, Ontario, has proved that even at the age of 36, he can still perform.
The Stars, Blues and Thrashers are teams that have been rumored to be inquiring about Arnott.
The Pittsburgh Penguins are another team that could be kicking the tires on him. He is a free agent at the end of the season, so the Penguins could acquire him to help fill the void caused by the absence of Malkin.
Factor in that Crosby is also out for a while and it's obvious the Pens need as much help as they can get.
Arnott has a no-trade clause, but that would likely prove to be irrelevant if the opportunity to move and win another Stanley Cup came up.
Niclas Bergfors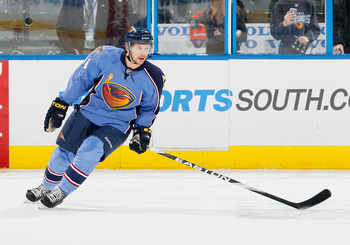 Kevin C. Cox/Getty Images
Niclas Bergfors has been contributing to the Atlanta Thrashers, but hasn't quite hit the level they were hoping he would when they acquired him in the Ilya Kovalchuk deal.
Because of this, Bergfors now finds himself as trade bait on a Thrashers squad that is hungry for playoff action.
He could be combined with a prospect or a pick to capture a player that will help the Thrashers in this year's playoff hunt and the long run.
The Flames and Panthers are two teams believed to be in the hunt for Bergfors.
Matt Moulson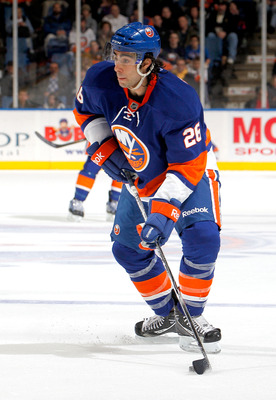 Paul Bereswill/Getty Images
Although he has recently signed a new contract, Matt Moulson could still be involved in an old manuever known as the "sign and trade."
The Islanders were said to be shopping the goal-scoring forward, but rumors settled down after the new contract.
Moulson proved last year that he can score, posting 30 goals and 48 points.
Teams looking for an offensive presence heading into the playoffs could be considering Moulson.
Alex Kovalev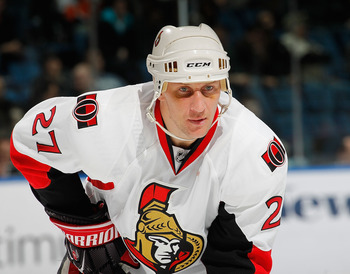 Paul Bereswill/Getty Images
At age 37, Alex Kovalev is beginning to slow down in his career, but there's no doubt he can still contribute points.
Kovalev has posted 11 goals and 23 points in 47 games this season, including four in his last two. A change of scenery is likely all Kovalev would need in order to boost those stats.
Should a team be looking to trade for him, they'd have to swallow his $5 million salary as part of the deal.
However, if the trade resurrected the Russian's former self, it could be $5 million well spent. It's a chance that a team or two might want to take.
In a recent edition of Hockey Night in Canada, a commentator speculated that Pittsburgh would be a good fit for Kovalev, as it can be argued that's where he played his best hockey. This is a scenario that actually makes sense.
The Penguins are in need of offensive help after the loss of Evgeni Malkin. With Malkin's exponential cap hit now off the board, the Pens can afford to take on a large salary. Kovalev is a UFA after this year, so they would drop his contract in time for Malkin's return.
It's just speculation, but it really makes sense.
Jakub Voracek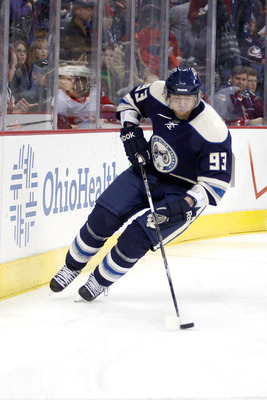 John Grieshop/Getty Images
Jakub Voracek is a rising right wing who should have a successful NHL career. He's currently playing in his third career season.
Thus far, Voracek has notched nine goals and 23 assists for 32 points, putting him on pace for a similar point total to his sophomore year.
Rumor has it Columbus has been shopping Voracek. He would fit in well on a team needing secondary scoring for a playoff push. He's an RFA at season's end, which gives any team the option to either re-sign him or let him sign with another team.
Francois Beauchemin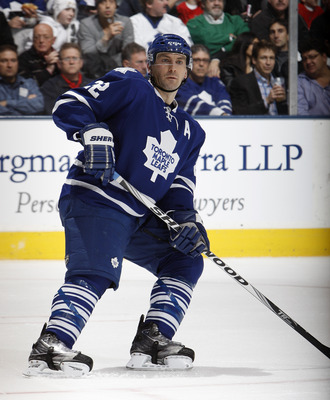 Abelimages/Getty Images
Francois Beauchemin is another name that has been attracting offers from a few teams.
Beauchemin is a strong defenceman that will likely be a victim of the Toronto Maple Leafs' lack of offence.
Burke needs to find a solution for the club's struggles and fast, and Beauchemin's $3.8 million contract makes him a valuable trade asset.
Beauchemin has notched two goals and 12 points so far, as well as a plus-minus of minus-3. While that may not be impressive, it sounds a lot better when you consider that other Maple Leafs have plus-minuses such as minus-20, minus-19 and minus-13.
To add to that, Beauchemin's plus-minus used to be in the same area as the aforementioned stats. However, he has battled hard and improved his play recently.
Rostislav Klesla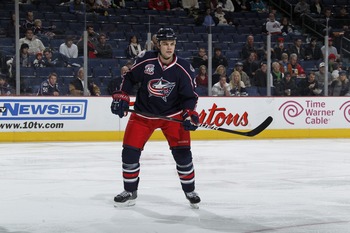 Gregory Shamus/Getty Images
Rusty Klesla is probably the player most likely to be moved from the Blue Jackets. Lately there have been whispers of a big trade out of Columbus with his name in the middle of the mix.
In 45 games, Klesla has picked up three goals and 11 points, as well as a plus-10.
Klesla is currently out with a lower-body injury and has had his fair share of injuries in the past. However, there hasn't been anything too serious that could cause a team to worry about the future.
Teams looking for a solid two-way defender are likely considering the 28-year-old Czech.
Robyn Regehr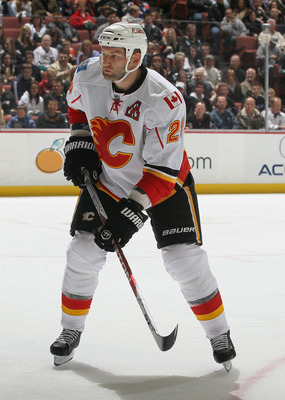 Jeff Gross/Getty Images
Robyn Regehr would be a great veteran pick-up for a team that is in need of leadership and/or a solid defenceman.
His plus-minus of plus-11 is enough to lead the Flames. Past that, he has notched one goal and eight points so far this season.
Although the Flames have slowly climbed back into the playoff picture, there is always the chance Regehr could be dealt, especially if they begin to fall back down the standings.
Regehr is under contract for two years after this season at $4.02 million per.
Devin Setoguchi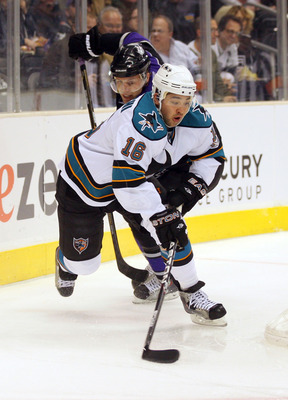 Victor Decolongon/Getty Images
Devin Setoguchi's production has slipped in the last two years.
He's on pace for an 18-goal campaign, which was preceded by a 20-goal and a 31-goal season.
He's been in a rut of sorts for a little while, which is a large reason why his name has been featured in a large number of trade talks recently.
Setoguchi could preform better in a new environment. His RFA status will make him more attractive to buyers.
Rumor has it the Toronto Maple Leafs and the Edmonton Oilers have shown interest in the Canadian forward.
Tim Connolly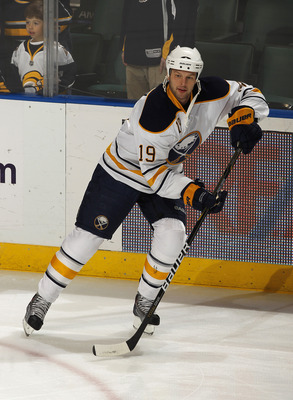 Joel Auerbach/Getty Images
Tim Connolly can be quite the dangerous player...when he's healthy. Unfortunately, being healthy isn't exactly one of his strong points. The last time he played a full NHL season was in 2001-02.
He's already had three separate injuries this year: a nasal injury and a hip injury that required surgery, and a groin injury.
However, in the 37 games he has played just far, Connolly's posted seven goals and 21 points, which isn't bad considering he probably a few of those games getting accustomed to NHL action after an injury.
Rumor on the street is, Sabre GM Darcy Regier would be willing to trade Connolly. However, his history of injuries might shorten the list of callers.
Jean-Sebastien Giguere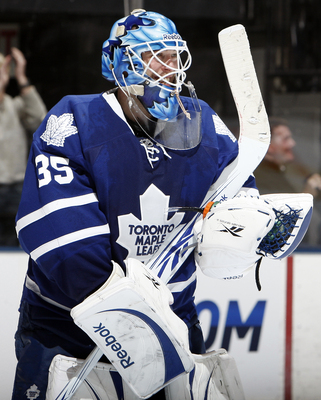 Abelimages/Getty Images
Jean-Sebastien Giguere is a goaltender that could be very good on a good team, or be decent on a bad team. That decency is what we've seen this year with the Toronto Maple Leafs.
Giguere has managed an 11-9-3 record so far this season, despite the Leafs lack of defensive help.
A team in need of a goalie approaching the playoffs could look to Giguere. He almost single-handedly won a Stanley Cup in Anaheim, so he's got more playoff experience than anyone could ask for.
However, with fellow Leaf 'tender Jonas Gustavsson now going through a conditioning stint in the American Hockey League, Giguere is looking less and less available as the games pass.
Mike Fisher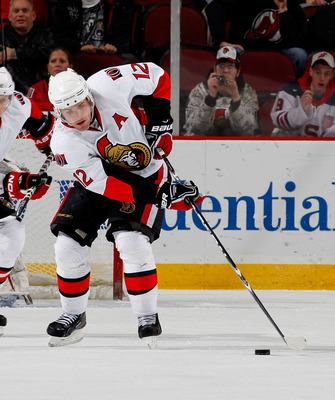 Paul Bereswill/Getty Images
Mike Fisher has played in Ottawa his entire NHL career, but as the old saying goes, "all good things must come to an end."
It's believed that Senators GM Bryan Murray has been shopping Fisher and the center has been drawing some attention.
The 30-year-old has three years left on his contract at $4.2 million, which is a little bit pricey for a 50-point man. However, that contract is much better than some of the others that have been floating around in trade talks lately.
Alex Tanguay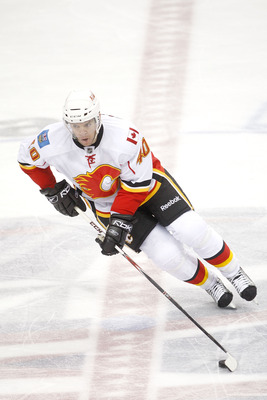 John Grieshop/Getty Images
Alex Tanguay seems to have revived his career.
After playing for three teams in the past four years and four in the past six, Tanguay landed in Calgary for the second time in his career.
The move originally led fans to criticize the decision-making skills of Flames GM Darryl Sutter, but the 42 points he's posted thus far have settled them down.
Tanguay has scored 14 times and notched 28 assists in 54 games this season. Although it seems as though he's finally found chemistry with a team, it is believed that he is being shopped nonetheless.
Tanguay also comes in at just $1.7 million, so he's affordable as well.
The Penguins, Flyers, Thrashers and Ducks are just four of the teams on the long list of clubs rumored to be in the hunt for Tanguay.
Stephen Weiss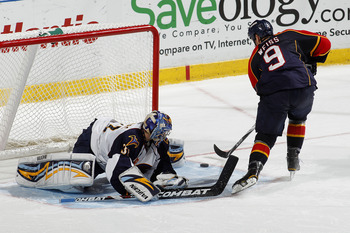 Joel Auerbach/Getty Images
Stephen Weiss was drafted by the Florida Panthers and hasn't played anywhere else since. However, that may change before 3 p.m., February 28.
The centerman has recorded 15 goals and 36 points in 51 games this year, putting him on pace for 56 points. If the Panthers can't claw their way into playoff contention, look for Weiss' availability to become more publicized.
A change of scenery for Stephen Weiss could bring his game to new heights. Playing with more talented line-mates in another city could have a very positive effect.
The Kings, Blue Jackets, Wild and Leafs are four teams believed to be looking at Weiss.
Kris Versteeg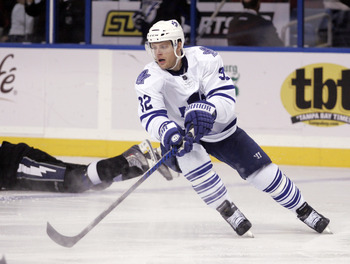 Justin K. Aller/Getty Images
Brian Burke wasn't originally planning on shopping Kris Versteeg, but when he received a hard offer in late December, the tables began to change.
Since then, there have been rumoured to be numerous trade offers for the speedy forward.
Versteeg is a very versatile player that would be welcome on any team. He's a proven 20-goal scorer who can contribute on the penalty kill and power play.
He's versatile positionally as well. He can play any forward position and has played at the point on the Leafs power play for the majority of the year.
"Steeger" has posted 14 goals and 20 assists so far, putting him on pace to tie his career high in goals and eclipse his career high in points.
Dustin Penner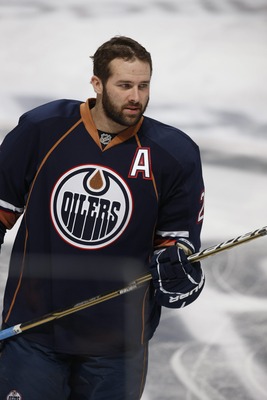 Dale MacMillan/Getty Images
Every NHL team needs a Dustin Penner.
By that, I don't mean that every team needs Penner himself, but rather they need a player of his style and stature.
A number of teams have inquired about Penner's availability. The Canadiens, Hurricanes, Kings and Avalanche are all clubs rumored to have interest in the forward.
Penner is a strong, gritty left winger with a nose for the net. He's a proven goal-scorer with a 30-goal season under his belt.
He's posted 17 goals and 16 assists for 33 points thus far in 2010-11.
Ales Hemsky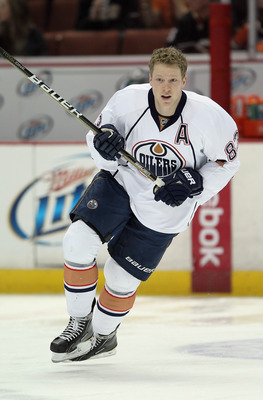 Jeff Gross/Getty Images
With the Edmonton Oilers struggling again, Ales Hemsky has found himself in a fairly unfamiliar spot: the trading block. With a possible fire-sale coming in Alberta's capital, Hemsky looks like he might be the first one on his way out.
The list of teams interested in Hemsky is likely very long. Although he's had his injury troubles, Hemsky usually operates at around a point-per-game pace.
He's registered 30 points in 35 games so far and has one of just three positive plus-minus ratings on the squad.
The Nashville Predators are rumored to be one of the teams in the mix for Hemsky.
Tomas Vokoun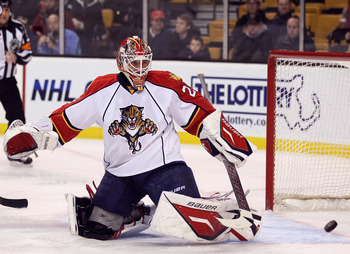 Elsa/Getty Images
There have been rumors of Tomas Vokoun leaving the Sunshine State since the day he arrived.
Vokoun would be a solid addition to any team in need of a goaltender for a playoff push. He's over .500 this year with an 18-17-3 record.
The Capitals, Blackhawks, Avalanche, Sharks and Flyers are all teams that pop up when discussing clubs that might need a number one 'tender heading into playoff action. Conveniently, each of those teams have a trade piece or two that could help Florida in the future.
Highly-touted goaltending prospect Jacob Markstrom will likely be the eventual replacement for Vokoun if he is traded.
Tomas Kaberle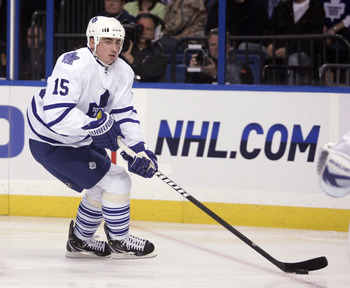 Justin K. Aller/Getty Images
Will the rumors ever stop?
Well, yes they will—on the day Tomas Kaberle is traded.
The Czech has been stuck in a whirlwind of trade talks for a number of years now. The top defender is a UFA at season's end, which bolsters the likelihood of his movement.
Kaberle is having a typical Kaberle season. He sits fifth on the Leafs in points with two goals and 32 assists.
His offensive instincts would fit in well anywhere. He is a legitimate power-play quarterback who possesses one of hockey's best breakout passes.
These days, it's nearly impossible to separate truth from lies when it comes to rumors. Nearly half the NHL has been rumored to be chasing Kaberle.
Kaberle has a no-movement clause, which may prove to be an issue if Brian Burke wishes to trade his star blueliner.
Keep Reading