Phil Simms: Reportedly Threatens Desmond Howard at Super Bowl XLV Event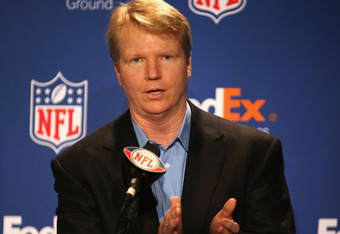 Phil Simms allegedly confronted former Heisman Trophy winner and Super Bowl XXXI MVP Desmond Howard on Saturday, threatening to punch him over comments Howard made when discussing Simms' son, Matt, a quarterback at Tennessee.
Howard broke the news himself earlier on Saturday, tweeting that Simms had threatened to hit him over the fact that he'd described Matt Simms as one of the worst quarterbacks in the SEC. According to Howard and subsequent reports, police had to intervene in order to keep things from escalating to violence.
Quite the interesting and strange development between two former players and Super Bowl champions who both now make their hay as analysts. Simms released his side of the story through CBS Sports, his current employer, confirming that he and Howard exchanged in a conversation that became heated. But the former quarterback insisted that it never got close to punches being thrown, nor did he claim that the two needed to be separated by police.
You would figure that Simms would have grown thicker skin for hearing his family criticized publicly, considering the up and (mostly) down career his son, Chris, had as an oft-injured and often ineffective quarterback in the NFL. But it appears that Phil didn't take kindly to his younger son getting raked over the coals, and he seemed to handle it in the worst way possible.
Confronting a fellow analyst in this manner doesn't get you anywhere but into the barrel for ridicule and mockery. It similarly doesn't help his son's chances of avoiding derision next year at Tennessee. I can already hear the jokes about someone needing to keep an eye out for a blindside attack by Phil Simms if a commenter criticizes the Volunteers' quarterback and his play.
Perhaps the elder Simms is still bitter about having to miss Super Bowl XXV due to an injury? Either way, this is not exactly the best way to handle yourself in the age where, as a legendary athlete, every action you take can end up on the Internet via Twitter, a cell phone picture, or anything.
Regardless of how heated things became, this was a dumb move on Simms' part. Here's hoping he doesn't freak out at the drop of a hat whenever his son, who is willfully playing football on the big SEC stage, struggles or gets criticized.
For more on the college football and NFL crossroads, specifically the upcoming April draft, check out 2011 NFL Mock Draft: Pre-Super Bowl XLV Edition.
Most recent updates:
This article is
What is the duplicate article?
Why is this article offensive?
Where is this article plagiarized from?
Why is this article poorly edited?