Cowboys Stadium, Donald Driver, Aaron Smith and Saturday's Super Bowl Buzz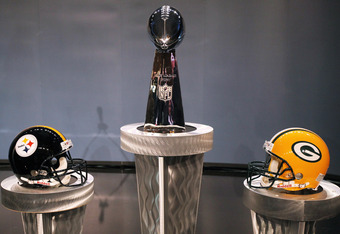 Doug Pensinger/Getty Images
Super Bowl XLV is fast approaching, as we're just a day away from sports' biggest event. The commercials are finalized, the teams are in their last anxious hours of preparation and anticipation, and there's little left to do but get the Pittsburgh Steelers and Green Bay Packers out onto the field.
On the eve of the big game, though, there remain some notable storylines and pieces of news that have emerged. Whether it's preparations at Arlington, Texas' Cowboys Stadium, the injury reports, or other pregame decisions by both teams, there's plenty left to talk about on "Super Saturday".
I'll bring you up to speed on all the must-know details so that you're fully prepared for Sunday's events. Consider this your definitive Super Bowl XLV primer.
Ronald Martinez/Getty Images
Green Bay Packers defensive tackle B.J. Raji has taken the league by storm, and he heads into Super Bowl XLV as one of the stars of a very strong Packers defense that will be looking to slow down Ben Roethlisberger, Rashard Mendenhall and the Pittsburgh Steelers.
What's most remarkable is that Raji is in the midst of his very first full year of playing inside on the defensive line, after lining up at defensive end during his uneventful and injury-plagued rookie season. As a nose tackle in Dom Capers' defense here in 2010, Raji came into his own as a dominant pass rusher and offensive disrupter.
No play better exemplified Raji's rise to national fame than his athletic, impressive interception of Bears quarterback Caleb Hanie in the NFC title game, which Raji returned for a touchdown and punctuated with a ridiculous touchdown celebration.
Is Raji the next in line for the crown of the league's most dominant defensive tackle? There are still some great DTs out there in the league, but he is quickly rising up the ranks after a great 2010 regular season and equally impressive playoff run.
It's a travesty that Raji wasn't elected to the Pro Bowl, passed over for Jay Ratliff and Darnell Dockett who are both deserving entrants, but Raji's season deserved the notoriety. Undoubtedly he's pleased to be playing in the Super Bowl while those two players remain at home, but still, Raji deserves his due as a dominant pass rusher and highly entertaining personality (as evidenced by the photo accompanying this post, I mean...wow.)
For more on who to watch in the Super Bowl, check out Super Bowl XLV: 10 Unsung Heroes Who Could Snag Super Bowl MVP Honors.
This article is
What is the duplicate article?
Why is this article offensive?
Where is this article plagiarized from?
Why is this article poorly edited?
Christian Petersen/Getty Images
Phil Simms allegedly confronted former Heisman Trophy winner and Super Bowl XXXI MVP Desmond Howard on Saturday, threatening to punch him over comments Howard made when discussing Simms' son, Matt, a quarterback at Tennessee.
Howard broke the news himself earlier on Saturday, tweeting that Simms had threatened to hit him over the fact that he'd described Matt Simms as one of the worst quarterbacks in the SEC. According to Howard and subsequent reports, police had to intervene in order to keep things from escalating to violence.
Quite the interesting and strange development between two former players and Super Bowl champions who both now make their hay as analysts. Simms released his side of the story through CBS Sports, his current employer, confirming that he and Howard exchanged in a conversation that became heated. But the former quarterback insisted that it never got close to punches being thrown, nor did he claim that the two needed to be separated by police.
You would figure that Simms would have grown thicker skin for hearing his family criticized publicly, considering the up and (mostly) down career his son, Chris, had as an oft-injured and often ineffective quarterback in the NFL. But it appears that Phil didn't take kindly to his younger son getting raked over the coals, and he seemed to handle it in the worst way possible.
Confronting a fellow analyst in this manner doesn't get you anywhere but into the barrel for ridicule and mockery. It similarly doesn't help his son's chances of avoiding derision next year at Tennessee. I can already hear the jokes about someone needing to keep an eye out for a blindside attack by Phil Simms if a commenter criticizes the Volunteers' quarterback and his play.
Perhaps the elder Simms is still bitter about having to miss Super Bowl XXV due to an injury? Either way, this is not exactly the best way to handle yourself in the age where, as a legendary athlete, every action you take can end up on the Internet via Twitter, a cell phone picture, or anything.
Regardless of how heated things became, this was a dumb move on Simms' part. Here's hoping he doesn't freak out at the drop of a hat whenever his son, who is willfully playing football on the big SEC stage, struggles or gets criticized.
For more on the college football and NFL crossroads, specifically the upcoming April draft, check out 2011 NFL Mock Draft: Pre-Super Bowl XLV Edition.
This article is
What is the duplicate article?
Why is this article offensive?
Where is this article plagiarized from?
Why is this article poorly edited?
Al Bello/Getty Images
Super Bowl 2011 will feature a backup slotting in to a crucial position for the Pittsburgh Steelers, as their Pro Bowl center Maurkice Pouncey was officially ruled out of Super Bowl XLV with a high ankle sprain he suffered during the AFC Championship game against the New York Jets.
Coach Mike Tomlin made the center's status official on Friday, after a week of will he-won't he speculation about Pouncey, who seemed optimistic about playing at the time of the injury and leading up to the game. Now the focus shifts to who replaces Pouncey along the offensive line, and that duty falls to an undrafted free agent in his second year out of Marshall: Doug Legursky.
Legursky will be making his first NFL start in the league's biggest game, and will be doing so at a position that holds vital importance for Pittsburgh's chances on offense. Arguably the Green Bay Packers' hottest defensive player, nose tackle B.J. Raji, will be lining up directly across from the Steelers' center, so Legursky has quite the challenge in front of him.
His performance in relief of Pouncey against the Jets included two botched exchanges, one that occurred while Pittsburgh was deep in their own end and resulted in a safety. Other than that, though, Legursky lived up to the challenge.
But his biggest challenge goes down tomorrow night, as he'll have his hands full with Raji and dynamic Packers linebacker Clay Matthews.
Legursky's story is an impressive one. He went undrafted in 2008, but was released twice by the team that year before the regular season even began. Then in 2009, as Legursky was apparently trying out for a spot in the Arena League, the Steelers called again, and this time it stuck and he ended up on their roster.
He hasn't looked back since, becoming a versatile contributor along the offensive line. Legursky started four games at right guard this year, and now will slide in at center on the biggest stage imaginable.
I don't think he'll be able to totally shut down Raji and Matthews from bringing pressure up the middle, but Legursky has had such an uphill climb to even get into the position of starting for an NFL team that I don't think he'll totally flop and embarrass himself in Super Bowl XLV.
Still, his performance will go a long way towards deciding the fate of the Steelers. If he can successfully replicate some of Pouncey's solid and steady play in the middle of the o-line, the Steelers will have a great chance of knocking off Green Bay. If not? Big Ben might be scrambling out of the pocket quite a bit more than he'd like, for better or worse.
For more on the Super Bowl, check out Super Bowl XLV: 10 Reasons Why This Could Be The Best Super Bowl Ever.
This article is
What is the duplicate article?
Why is this article offensive?
Where is this article plagiarized from?
Why is this article poorly edited?
Doug Pensinger/Getty Images
Super Bowl 2011 continued to have the game itself be overshadowed by the ongoing labor negotiations between the league owners and the players' union, as the two sides held a formal meeting for two hours on Saturday to discuss a new labor deal. This was the first time the leaders of each side have sat down for a formal meeting since November, and it resulted in a joint statement that described a plan to increase the face-to-face negotiations between each side in the hopes of avoiding a dreaded NFL work stoppage.
It's unclear if any progress was made towards actually hammering out a new collective bargaining agreement before the current one expires on March 4th. But it is clear that the two sides are at least planning to talk and talk more often, as it was announced that two more negotiating sessions are scheduled for next week.
The major issues at the heart of the conflict between the owners and the players continues to be how to split up the NFL's exorbitant revenues, with the players requesting a bigger piece of the pie and the owners believing they already give enough away to the guys that drive the product on the field. There's also the owners' idea to expand the regular season to 18 games, as well as the players' desire for extended health benefits for retirees.
While the two sides don't appear to be any closer to making a deal, commissioner Roger Goodell has adamantly stated that the players and owners must come to an agreement and avoid a dreaded work stoppage.
Of course the commissioner wants to avoid a stoppage, because the NFL is still at the top of the American sports heap. They get the biggest TV ratings, pull in the highest revenues and are generally the most profitable sports league in the country. Goodell represents the owners and it won't help his standing if he's unable to keep dollars floating into his owners' pockets throughout all of 2011.
For the players, they seem to fundamentally disagree with a number of the owners' demands, an this clearly seems like a recipe for disaster. The hope for fans would seem to be that this uptick in interaction between the two sides will ultimately let them talk out their differences and find a common ground.
Considering the lost revenues and salaries possible for both owners and players, it behooves each side to make a deal. But each side is a business in the end, and are responsible for making the best business decisions for themselves, not the fans, as unfortunate as that may be. We obviously want to be able to watch the NFL in 2011, but for now it's very much up in the air.
One game we know will be taking place is Super Bowl XLV thankfully, so hopefully everyone can absorb the pending problems of the players' union and owners' strife and move on to the celebration that should be the league's showcase.
For more on the Super Bowl, check out Super Bowl Prop Bets: 25 Great Bets To Take To Your Super Bowl Party.
This article is
What is the duplicate article?
Why is this article offensive?
Where is this article plagiarized from?
Why is this article poorly edited?
Jonathan Daniel/Getty Images
Super Bowl 2011 will see the continuation of the absence of Pittsburgh Steelers defensive end Aaron Smith, who has been out of action since late October due to injury. Smith was officially ruled out of the Super Bowl this week as he continues to rehabilitate from a torn triceps that he suffered on October 24th.
Smith has been replaced throughout the season by Ziggy Hood, who has filled in admirably for the Steelers and will look to continue his strong play on Super Bowl Sunday.
Replacing the 12-year veteran Smith was looked at as a tough task for this Steelers team once the defender went down with the serious triceps injury which has kept him from practicing since that fateful late October day. But the second year player Hood has stepped up in a big way, living up to his first round draft pick status from 2009.
Hood had three sacks during the regular season, an impressive number for a defensive end in the Pittsburgh defensive scheme, as the Steelers bring most of their pressure on quarterbacks from the linebacker spots.
Smith's absence also hasn't been felt against the run, as Hood contributed to the Pittsburgh defensive unit's placement as the top defense in the league against opposing running games.
Now Hood, who is from Texas originally, will head home (in a way) to try and capture his first NFL championship on Sunday. He'll be filling some big shoes in the absent Aaron Smith, but if his regular season is any indication, Ziggy Hood will be up for it.
For more on the big game, check out Super Bowl Predictions: 20 Things You Can Expect To See On Super Bowl Sunday.
This article is
What is the duplicate article?
Why is this article offensive?
Where is this article plagiarized from?
Why is this article poorly edited?
Chris Graythen/Getty Images
Super Bowl 2011 looks like it will definitely have veteran Green Bay Packers wide receiver Donald Driver participating, as he looks to cap a strong career with the elusive championship ring. After sitting out practices throughout the week as he continues to deal with a quadriceps injury, Driver participated in the Packers' final jog-through practice on Saturday morning.
Driver is listed as probable for the big game on Sunday, and it seems like his condition has improved and he's going to be ready to go once the game kicks off. He was added to the team's injury report on Thursday after being limited through practices during the week, but considering his probable listing and the fact that he was able to participate on the team's final tune-up Saturday morning, things look good for the veteran wide receiver.
While he's not as big of a component of the Green Bay offense as he's been in years past, Driver is still a reliable target for quarterback Aaron Rodgers. Driver also has the added motivation of being a player late into a successful career that's still missing his crowning achievement: a championship.
I think Driver could have a strong game against the Steelers, thanks to the emphasis Pittsburgh will no doubt place on making sure top receiving threat Greg Jennings doesn't beat them for a big play. Driver is a strong second option and could find some seams in a Pittsburgh passing defense that will have a lot on its plate as they look to stop a quarterback playing at a very high level in Aaron Rodgers.
The health of Rodgers' number two receiver has to be good news for Packers fans, and Driver's likely participation just ensures we'll have an even better matchup come kickoff on Sunday.
For more on the impending big game, and perhaps a look at Donald Driver's potential impact as an unsung/under the radar player in the Super Bowl, check out Super Bowl XLV: 10 Unsung Heroes Who Could Snag Super Bowl MVP Honors.
This article is
What is the duplicate article?
Why is this article offensive?
Where is this article plagiarized from?
Why is this article poorly edited?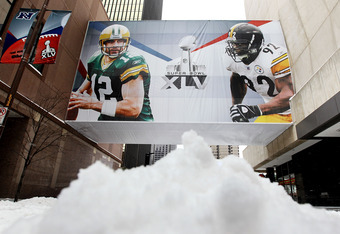 Al Bello/Getty Images
Super Bowl 2011 start time is slated for 6:30 p.m. ET, after what should be a lengthy pregame build up full of pomp, circumstance and further hyping of football's biggest game.
Actually, if you're looking for Fox's exact planned moment for kickoff, it's set to be 6:29, at least according to their detailed broadcast schedule.
That's right, another key piece of information: the 2011 Super Bowl is on Fox, so be sure that you're on the right channel and don't end up waiting for the PGA's Waste Management Phoenix Open to end in order for the big game to kick off.
Joe Buck and football's Tim McCarver, former Cowboy and Hall of Fame quarterback Troy Aikman, will be the voices that bring us a detailed account of the game's action. Fox's day of coverage of the big game starts off at 2 p.m. eastern time, with their extensive pregame show.
The pregame festivities are supposed to include an Oscars-like "red carpet", which hopefully will feature Brett Keisel's beard wearing a Jean Paul Gauthier dress as he makes his entrance. There are two high-profile interviews scheduled for the pregame, as President Barack Obama will sit down for a one-on-one interview with Fox News personality Bill O'Reilly. That should be "fun".
Legendary Steelers quarterback Terry Bradshaw will also have a heart-to-heart chat with Pittsburgh's current lightning rod of a passer, Ben Roethlisberger.
If you're not into the pregame festivities, there's always Animal Planet's Puppy Bowl, set for bark off at 3 p.m. eastern.
So there will be plenty to keep an eye or an ear on as you whip together your various dips, wings or other delicious Super Bowl foods currently dancing through my head like sugar plums on Christmas Eve.
But most importantly for you fans out there, the game itself will start somewhere around 6:30, depending on how long it takes diva Christina Aguilera to belt out the national anthem. So be sure to be tuned to Fox for that all-important moment when the big game begins.
For more coverage to get you amped for Super Sunday, check out Super Bowl 2011: Five Things Each Team Must Do To Win On Sunday.
This article is
What is the duplicate article?
Why is this article offensive?
Where is this article plagiarized from?
Why is this article poorly edited?
Mike Ehrmann/Getty Images
Cowboys Stadium Roof: Will Dallas' Wintry Conditions Jeopardize the 2011 Super Bowl?
The host site of Super Bowl XLV found itself prematurely thrust into the spotlight on Friday, as several people were injured by falling ice and snow that tumbled off the roof of Cowboys Stadium. None of the injuries were said to be life threatening, but it's a frightening development in a week that's seen the weather wreak havoc on the Dallas area.
An ice storm descended on the Dallas-Fort Worth metroplex on Tuesday, and temperatures throughout the week remained below freezing. Then came a snow storm on Friday morning that compounded the wintry conditions, and subsequently led to this incident where the snow and ice tumbled off the roof and struck innocent bystanders below.
The Dallas area has come under fire for its perceived lack of preparation to deal with the snow and ice storms that have hit this usually warm section of the country. Sports Illustrated's Peter King tweeted earlier in the week that the area was "plow-less", and called the whole effort to deal with the poor conditions a "debacle".
But will these weather-related issues affect the game, or the hundreds of thousands of fans expected to crowd into Cowboys Stadium to witness sports' biggest event of the year?
The answer is, no. First and foremost, most of the complaints and concern being voiced about the weather in Dallas and the wintry conditions have come from sports writers covering the game. A highly ironic group to be complaining considering they get an expenses-paid trip and ticket to a sporting event many would give an arm and a leg to attend.
Most importantly, though, is that this is not an outdoor Super Bowl that will be affected by the weather (unlike the Super Bowl in 2014 in New Meadowlands Stadium in East Rutherford, New Jersey). The roof, despite its issues with handling a steady stream of ice an snow, will be closed come kickoff Sunday night.
Yes the Cowboys have had issues with their roofs before, as their practice facility's roof collapsed in 2009 resulting in the paralysis of a Cowboys scouting assistant. But Jerry Jones' billion dollar-plus stadium isn't going to face these types of issues come the big game, at least if we're to believe what's been said by the Arlington, Texas fire department and those NFL officials that have said the roof will be fine for the game.
To me this incident is scary, no doubt about it, but the overall narrative of complaint about the weather conditions is immaterial and irrelevant. Dallas has a state of the art stadium and a populous that obsesses over football, and they're an ideal place to host a Super Bowl because of it.
While the roof is a point of concern, as is the Dallas-Fort Worth area's cleanup efforts after a week of winter weather, it should in no way take away from football's biggest day. All the griping about the weather does nothing to get fans ready for the game, and only works to detract from what should be a great day for football fans.
For more on tomorrow's big game, and another piece to get you fired up for it, check out Super Bowl XLV: Five Reasons This Could Be The Best Super Bowl Ever.
This article is
What is the duplicate article?
Why is this article offensive?
Where is this article plagiarized from?
Why is this article poorly edited?