Super Bowl XLV: Clay Matthews and the 5 Biggest X Factors on Super Bowl Sunday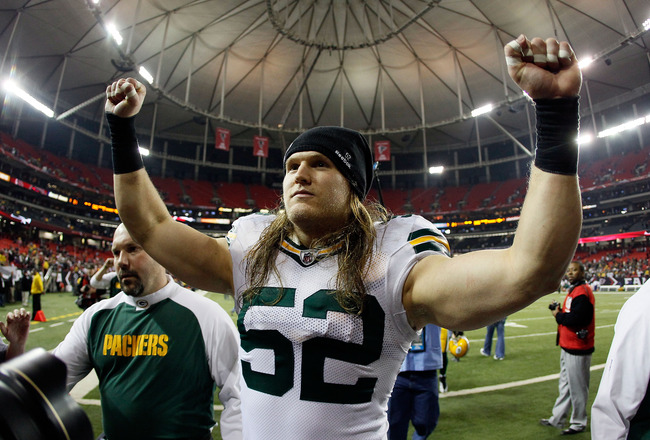 Kevin C. Cox/Getty Images
Every Super Bowl it happens.
Whether the guy is a relative unknown (David Tyree) or he's an explosive player waiting to make a huge play (Tracy Porter), there is usually one defining play to every Super Bowl.
This year will be no different.
Both the Steelers and Packers have plenty of guys that can break this game open at any time.
Here are five guys you should keep an eye on for the biggest game on the planet, Super Bowl XLV.
5. Bryant McFadden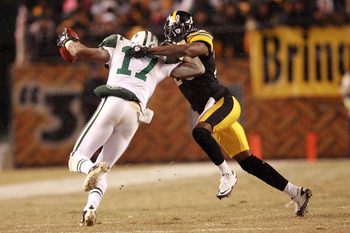 Bryant McFadden will have his work cut out for him in Super Bowl XLV
Karl Walter/Getty Images
Bryant McFadden might be one of the most underrated players on the loaded Pittsburgh Steelers defense.
On Sunday, we will find out how good he really is.
Whether McFadden has to match up against Greg Jennings or Donald Driver, he will have his work cut out for him.
McFadden will have to put a blanket on whoever he is covering, with the laser arm of Aaron Rodgers always being ready to thread the needle.
Not only do the Steelers need McFadden to have outstanding coverage on Sunday, they really need him to make a big play.
Like Tracy Porter did in last year's Super Bowl, McFadden has the ability to bust the game wide open on any play.
McFadden possesses high end speed and quickness, making him a serious threat on defense.
Watch out for McFadden to do everything he can to make his presence felt, making anything possible for this stud.
4. James Starks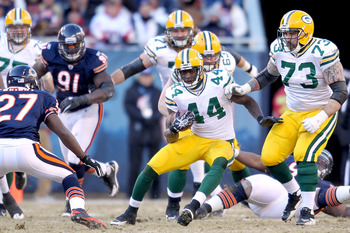 James Starks ability to run North and South has been a big asset to the Packers
Andy Lyons/Getty Images
James Starks is still a relatively unknown guy, making him extremely dangerous.
Starks didn't even get his first carry in the NFL until Week 13. He only played in three regular season games, but with the injuries to the Packers' backfield, Starks got his chance.
Whether the Packers were saving Starks for the playoffs or he only got the opportunities because of injuries to guys ahead of him, he has made the most of it.
Getting over 20 carries in every playoff game so far, defenses haven't had much of an answer for the rookie out of Buffalo.
Starks is averaging nearly 90 yards a game in the playoffs, adding a new dimension to the Packers' high powered offense.
Starks ability to run north and south, picking up chunks of yards every time, really helps the Packers offense.
Expect Starks to get over 20 carries again in Super Bowl XLV, making him a dangerous threat.
3. Mike Wallace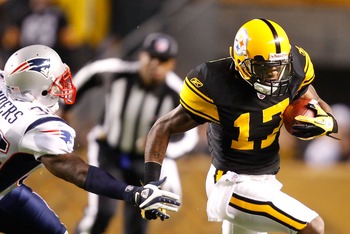 Jared Wickerham/Getty Images
Talk about explosiveness.
Mike Wallace is the epitome of the word.
Coming into this season, many were skeptical if Wallace were actually a wide receiver or just a speed freak. Well, now we know he is both.
Wallace has seven catches this year for over 40 yards, six of those going for touchdowns.
The second year player out of Ole Miss is a nightmare to cover down field.
Green Bay will without a doubt have their hands full in trying to keep this guy contained.
Defenses have done a great job so far in the playoffs controlling Wallace, but how long can that last? For Wallace and the Steelers, they hope it ends very soon.
Unfortunately for Green Bay, I expect Wallace to get loose once or twice on Sunday.
Whether him getting loose results in a touchdown or not is entirely up to Ben Roethlisberger and Wallace making the connection.
2. James Harrison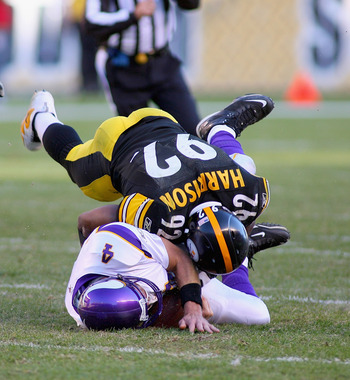 Harrison developed the reputation of a huge hitter in 2010
Rick Stewart/Getty Images
Known around the league as an "enforcer," James Harrison's hits have been felt this year. Being fined time and time again, Harrison has garnered headlines for all the wrong reasons.
People now regard Harrison as a "bad guy," and generally don't want to see him succeed.
But Harrison has done much more than just knock the day lights out of people.
A former NFL Defensive Player of the Year, Harrison can play in a finesse role too.
Harrison set his career record for interceptions in 2010. While his career record is only two, it shows how Harrison has the knack for being in the right place at the right time.
In the Steelers' last trip to the Super Bowl, Harrison displayed that ability with a 100 yard interception returned for a touchdown.
It's break out plays like those that make Harrison such a dangerous player to have to go against.
Expect Harrison to have his usual tackles and big hits, but don't be surprised to see him make a huge play on the biggest stage of them all.
1. Clay Matthews
Clay Matthews has wrecked havoc in opponents backfields this year
Al Bello/Getty Images
Clay Matthews has burst onto the national scene in a big way in 2010.
Coming into the Super Bowl as Defensive Player of the Year runner up, the football world has taken notice of his work.
Matthews has amazing defensive numbers this year with 54 solo tackles, 13.5 sacks, two forced fumbles, one interception and one touchdown.
Looking at his numbers, this guy does it all, literally.
His tenacious ability to get in the backfield is one we haven't seen out of a linebacker since the Lawrence Taylor days. Now that's a big statement.
Few defensive players have the ability to impact every single play of the game, but Matthews does.
Matthews seems to bull rush with ease right through some of the most accomplished offensive lineman in the NFL.
Anticipate Matthews to come after Roethlisberger early and often on Sunday, making him the biggest X factor of the game.
Keep Reading

Green Bay Packers: Like this team?