Super Bowl 2011: Ben Roethlisberger, Cullen Jenkins and Friday's Super Bowl Buzz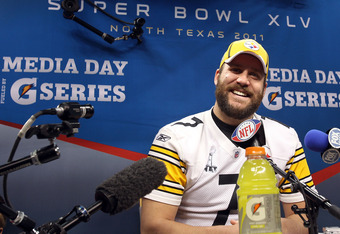 Ronald Martinez/Getty Images
Super Bowl week was a blur.
Wild Card Weekend has come and gone. The Divisional Round is a thing of the past.
The Conference Championships are yesterday's news. The Pro Bowl was played, but nobody cared.
The teams arrived in Dallas, Media Day was the circus it always is and now it's the weekend. Do you know what that means?
That means that the big day is finally, mercifully, almost here! But that doesn't mean that we don't still have some last bits of pregame news to sift through.
So bear with us one more time while we run down Friday's stories surrounding America's biggest sports spectacle.
Jared Wickerham/Getty Images
Steelers vs. Packers Gives us Two Teams That Get to the Same Place in Different Ways
This year's versions of these two franchises are interesting studies in success. The Steelers grind things out on the ground, while the Packers gain chunks of yards through the air. Pittsburgh was ranked 8th in the league in rushing attempts and rushing touchdowns, and 11th in rushing yards, while Green Bay was ranked 20th in attempts, 18th in TD's, and 24th in yards. But Green Bay was ranked 5th in passing yards and 4th in passing touchdowns, while Pittsburgh was ranked 14th in yards and just 21st in touchdowns.
On defense, it's the opposite. The Steelers don't let their opponents run the ball, while the Packers have a top notch secondary that stifles most passing attacks. Pittsburgh finished 2010 leading the league in every run defense category, allowing the least rushing attempts, yards, and touchdowns, and the lowest average yards per carry. Green Bay allowed the 5th fewest passing yards, and was second in the league with 24 interceptions.
The most telling stats though? Pittsburgh's defense allowed the fewest points in the league, giving up only 232 points all season, an average of just 14.5 points allowed per game. Second best? The Packers, who gave up just 240 points (15 points per game). That means we should expect a low scoring Super Bowl.
That doesn't mean it won't be exciting though. On the contrary, that simply means that every yard will be hard fought, and every first down will feel like a mini victory. In this kind of a contest, turnovers will play a key role. As for that stat? The Steelers had the second best turnover margin in the league, +17. The Packers were no slouches either, fourth at +10. Whichever team holds more true to that line on Sunday will be hoisting the trophy at the end.
This article is
What is the duplicate article?
Why is this article offensive?
Where is this article plagiarized from?
Why is this article poorly edited?
Fordham University/Getty Images
Steelers vs. Packers Is a Classic NFL Matchup. Who Holds the Historical Edge?
The Steelers and Packers are two of the NFL's classic franchises. But let's dig a little deeper to find out who's more classic?
The Green Bay Packers have been around since 1921. The franchise even pre-dates the 'NFL' moniker by a year. The Steelers came into being in 1933, as the Pirates. They became the Steelers in 1940. Edge to Green Bay.
The Steelers have won six Super Bowls, including two of the last five. The Packers have won three, and none in the last 14 years. They did win the first two ever, but still, I have to say on this one, edge to Pittsburgh.
Both franchises feature iconic coaching legends, with Vince Lombardi for the Packers, and Chuck Noll for the Steelers. Noll won four Super Bowls to Lombardi's two, but Lombardi did lots of winning before the Super Bowl existed. Plus, he went to Fordham, my alma mater. And oh yeah, the championship trophy is named after him. Check for Green Bay.
As for stadiums, Green Bay gets the nod here as well, too. Lambeau Field is football's version of Fenway Park, Wrigley Field, and the old Yankee Stadium all rolled into one. Heinz Field is one of the nicer new stadiums in the league, but the term 'frozen tundra' basically was invented at Lambeau.
So, there you have it. The Packers are the more classic franchise. But don't be mad, Steeler fans. You're still plenty classic, too.
This article is
What is the duplicate article?
Why is this article offensive?
Where is this article plagiarized from?
Why is this article poorly edited?
Win McNamee/Getty Images
Super Bowl 2011 Gets a Taste of Snow Deep in the Heart of Texas
When the Pittsburgh Steelers and Green Bay Packers arrived in Dallas on Monday, one of the stories was the unseasonably cold weather in Texas. But it was believed that things would get better by the weekend.
That hasn't happened yet, and if anything, weather conditions have gotten worse throughout the week. A new snowstorm hit the Dallas-Fort Worth area on Thursday night, and continued blanketing the region with fresh power into Friday. There were up to eight inches of snow on the ground in some locations, while the area around Cowboys Stadium in Arlington saw around four inches.
This storm couldn't come at a worse time for people looking to fly into North Texas this weekend for the game, as almost 900 flights into and out of the region were cancelled today. And forget about driving. Many roads had not been cleared, and traffic was heavy as cars battle the conditions.
The timing is also terrible for local retailers looking to capitalize on the influx of tourists surrounding the game. People don't want to go outside and shop in this kind of weather. They stay in their hotel rooms, get room service, and watch weather reports on TV while waiting for Sunday.
The forecast is still for better conditions starting tomorrow, and clear skies on Sunday, but this situation can't have been what NFL officials were hoping for when they granted the Super Bowl to Texas for just the third time, and to the Dallas area for the first time ever.
This article is
What is the duplicate article?
Why is this article offensive?
Where is this article plagiarized from?
Why is this article poorly edited?
Tom Pennington/Getty Images
Super Bowl 2011 Broadcast Dominates Sunday Programming
The official Super Bowl 2011 broadcast starts at 6:00 p.m. ET (that's 5:00 p.m CT, 4:00 p.m. MT, and 3:00 p.m. PT) on FOX. But if you don't care about all of the pre-game festivities, then you can wait 29 more minutes, because that's when kickoff is scheduled to take place, at 6:29 p.m. ET (I'll leave you to figure out the time zone translations yourself this time. I think you can handle it. Just don't blame me if you live on the west coast and you turn on the game three hours late).
As usual, you can strap yourself in for a full day's worth of Super Bowl related programming much earlier than that, though. At noon eastern, FOX is airing one-hour specials titled "Road to the Super Bowl" and "Inside the Rings with Troy Aikman", before getting the pre-game show going at 2:00 p.m. Yep, a full four-and-a-half hours before kickoff.
I don't know about you, but by the time Super Sunday rolls around, I'm usually already overloaded on all things preview. I've learned who each quarterback's junior high coach was, I've learned who the longest tenured season ticket holder for each team is, and I've learned all other sorts of random information that I'll forget in short order. I figure I've got three to four hours in front of the TV in front of me anyway to look forward to, so I can afford to miss the 67th prediction from some B-list celebrity.
But I know lots of people can't get enough of this stuff, so if you're one of those people, consider this a public service to you.
This article is
What is the duplicate article?
Why is this article offensive?
Where is this article plagiarized from?
Why is this article poorly edited?