What Are The Starters From The 2010 Orange Bowl Champion Iowa Hawkeyes Up To?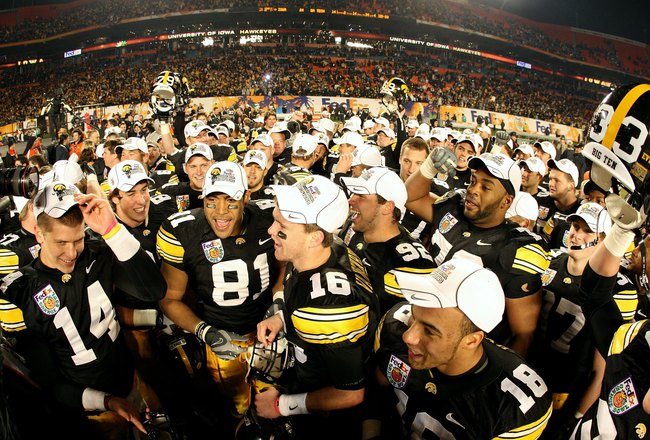 Streeter Lecka/Getty Images
After a season in which many Iowa fans thought they would be celebrating a Rose Bowl appearance or more, the last four months as a Iowa Hawkeye fan have not been the best of times, to say the least.
It was after the pounding of the undefeated Michigan State team on Halloween that the wheels seemed to come off for the Hawkeyes.
The following weeks saw a victory over Indiana in a game the Hawkeyes had no business winning. And, after that, the Hawkeyes imploded with losses to Northwestern, Ohio State and lowly rival Minnesota.
Though things turned for the better in the Insight Bowl victory over the Missouri Tigers, the worst had passed for Hawkeyes fans.
Or so we thought..
Scandals surrounding drugs, suspensions, player transfers, and finally the hospitalization of 13 players have left Hawkeye fans scratching their heads. It would appear to most that the best season the program ever had was followed by one of the most unpleasant fans have ever had.
But, as far away as it appears now, the magical season that finished with a victory over Georgia Tech in the Orange Bowl was something everyone from the "Hawkeye State" will remember and cherish.
So I will give an update on the happenings of the starters from that fairy-tale team and show the successes that have come from the 2009 Iowa Hawkeyes.
QB: Ricky Stanzi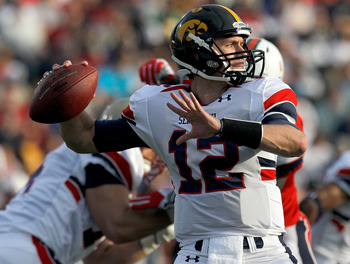 Sean Gardner/Getty Images
One of the great Iowa quarterbacks of all-time, Ricky Stanzi went 18-4 as the QB. He led the Hawkeyes to three straight bowl victories in the Outback, Orange and Insight Bowl.
His most memorable play would probably be the last-second touchdown pass to Marvin McNutt to remain undefeated in East Lansing in 2009.
In his senior season, he improved as a passer and leader; decreasing his interceptions greatly. He performed well in the Senior Bowl and is looking to get drafted this coming year. He is projected to be drafted anywhere from Round 3-6.
FB: Brett Morse
Fullback doesn't get the glory that other positions provide its players. And, No. 36 Brett Morse is no exception. He started his junior and senior season after sharing time at fullback with Wade Leppert as Shonn Greene's lead blocker.
In terms of professional aspirations, it is hard to tell. He is ranked by NFL scouts as being anywhere from the 10th to 15th best fullback as a senior. He will not be drafted, but he could get a shot somewhere.
RB: Adam Robinson and Brandon Wegher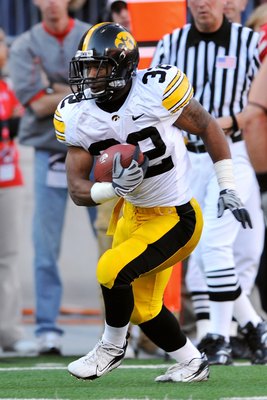 Jamie Sabau/Getty Images
After Shonn Greene left Iowa early to go on the NFL's New York Jets, many Iowa fans were unsure who would fill the void. Jewel Hampton had torn his ACL before the season got going and Adam Robinson and Brandon Wegher were inexperienced and untested.
They both proved many people wrong.
Wegher, who had an amazing game against Indiana, had a touchdown to remember against Georgia Tech in the Orange Bowl. But, when it came time for the 2010 season; he was nowhere to be found.
He sat out of the season with personal issues and has since transferred to Oklahoma where he will sit out another season.
Adam Robinson did not have this kind of controversy BEFORE the season. He came in and was the incumbent starter for the Hawkeyes. He nearly ran for 1,000 yards and had 10 touchdowns on the year. But, he also battled concussions and bad grades, and he was arrested.
He has since been kicked off the team by Kirk Ferentz. He is looking to return to the team next season, but with Marcus Coker as starter and the Hawkeyes recruiting some good young runners, that might not be in their plans.
WR: Derrell Johnson-Koulianos and Marvin McNutt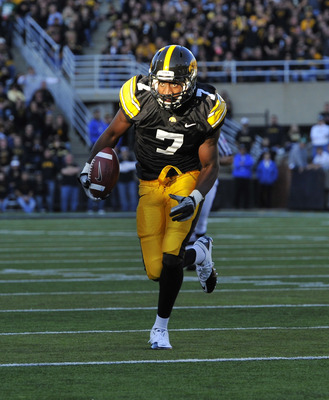 David Purdy/Getty Images
Two dynamic threats were in Ricky Stanzi's arsenal for the last two seasons at wide receiver.
Derrell Johnson-Koulianos, also known as DJK, ended up being one of the greatest wide receivers the Hawkeyes have ever had. He finished as the Hawkeyes all-time leading receiver in several different categories and was also a dominant kick returner in his years as a Hawkeye.
He also was arrested in the well-publicized "drug house" sting after the season had ended. He has fallen off many draft charts that had him in the fourth or fifth round to now going undrafted.
His talents are worth a second chance, and he could be a dangerous weapon for any team that picks him up.
Marvin McNutt made the transition from quarterback to wide receiver after the coaches realized that Ricky Stanzi was not going to surrender the job to either Jake Christensen or McNutt.
McNutt responded to the change very well. He made two big-time catches in his sophomore season. One was to win the game as time expired against MSU, and the other was a touchdown catch against GT in the Orange Bowl.
This last season, he also had the winning catch against Indiana. He made the choice to return next season, and will no doubt be the prime target for James Vandenberg.
OT: Kyle Calloway and Bryan Bulaga
Otto Greule Jr/Getty Images
Perhaps the key to the Hawkeyes success over the course of the last decade under Kirk Ferentz has been and will continue to be the play of the offensive line.
Kyle Calloway embodied what an Iowa tackle should be. He started at the tackle position for three years and was a key blocker for Shonn Greene.
He was drafted later than expected in the Draft, in the seventh round by Buffalo. He was later released before the season started and has not signed with another team since.
Bryan Bulaga was an outstanding player at Iowa and was named the Big Ten Offensive Lineman of the Year in 2009. He was a dominant force for much of his time as a Hawkeye, and was selected in the first round by the Packers after deciding to forgo his senior season.
OG: Dace Richardson and Riley Reiff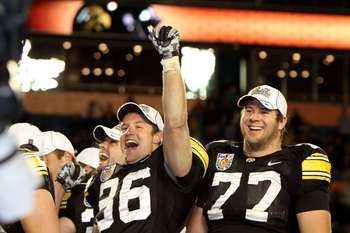 Doug Benc/Getty Images
The guard position for the Hawkeyes was makeshift for much of the season in 2009. Dace Richardson, however, had overcome a lot and it was nice to see him go out a winner in the Orange Bowl.
One of the big time recruits in 2005, Richardson overcame brutal injuries that took more than two years of his playing career at Iowa. Even his All-Big Ten season in 2009 was plagued by a broken leg. He would go on to get a tryout with the Giants, but he was unable to get a contract.
Riley Reiff could go down as one of the best lineman in Iowa history before its all said and done. He was the only starter returning this season, and his leadership showed through.
He could be a top draft pick in the coming years if he continues to pave the way for Marcus Coker & Co.
C, TE: Rafael Eubanks and Tony Moeaki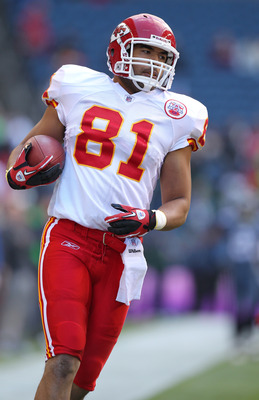 Otto Greule Jr/Getty Images
Eubanks played a lot throughout his career at Iowa, including a sophomore campaign in 2007 that would receive an All-Conference honorable mention. He would not go on to the NFL, but the predecessor for James Ferentz at center had a solid career at Iowa.
Another one of the big-time gets in recruiting by the Hawkeyes in 2005, Tony Moeaki always showed his exceptional ability when healthy. Healthy was something Tony always could not remain in the black and gold.
The first-team All-Big Ten pick would go on to be drafted in the third round by the Chiefs. His one-handed touchdown catch against the 49ers is considered by some to be the catch of the year in the NFL.
DE: Adrian Clayborn and Broderick Binns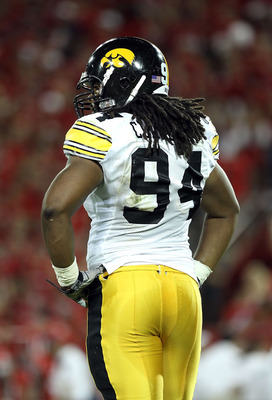 Christian Petersen/Getty Images
Any time you have two players at the same position who are both slotted to perhaps be first-round NFL picks, it must mean that the program is doing something right at that spot.
The Orange Bowl MVP and All-American, Adrian Clayborn had a stellar career as a Hawkeye. His junior season was his most impressive season, including the legendary blocked punt and touchdown recovery against Penn State. His senior season featured constant double teams, but he still is slotted to be a first round pick.
Broderick Binns has since moved to the inside for the Hawkeyes this past season. He improved his game as an interior pass rusher and his pick-six in the desert against Arizona was one of the highlights of the season.
Next season, he will be looked upon to bring stability to the defensive line that will be suspect in the pre-season.
DT: Christian Ballard and Karl Klug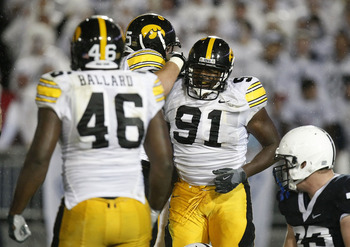 Gregory Shamus/Getty Images
Christian Ballard may not have received all the attention nationally that Clayborn got, but he too had great games as a Hawkeye.
He started every game as an upperclassman and improved greatly in his senior season. He has been projected to be a second-round pick, but some believe he will sneak into the first round this year.
Karl Klug is another player who will get a shot as making an NFL roster next season. After having his best season starting at defensive tackle, he could be a steal for any team that gives him a chance.
On many occasions last season, he was the top performer on the defensive line when the others seemed to get tired at the end of ball games.
LB: AJ Edds, Pat Angerer and Jeremiah Hunter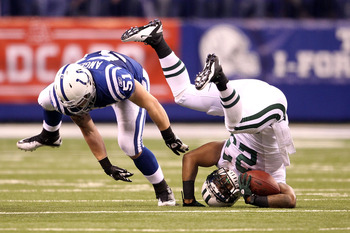 Shonn Greene and Pat Angerer, former teammates meet again
Andy Lyons/Getty Images
Pat Angerer exploded his junior year to become the Hawkeyes leading tackle and he has never looked back. In his senior season he was ranked among the best linebackers in the country, and was on many award watch lists.
He was selected by the Colts in the second round of the draft, and had an outstanding year in which he made his case to be the Colts middle linebacker for the future.
AJ Edds was always a productive linebacker who had many facets of his game. He was a solid tackler and made a lot of plays in pass coverage and interceptions as well.
This led the Miami Dolphins to take him in the fourth round of the draft. He sadly tore his ACL before the season got underway, but he should be in place to make a difference for the Fins in 2011.
Jeremiah Hunter, unlike the two others, had another year to play for the Hawkeyes after the Orange Bowl. He would go on to again finish second on the team in tackles this past season, as he had done before.
He was hampered by injuries at the end of the season, which kept him out of the bowl game. He has a slim chance to get drafted, but he will need a good showing at the combine to make that happen.
CB- Amari Spievey and Shaun Prater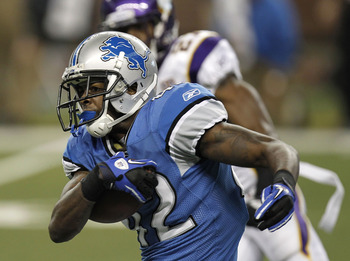 Gregory Shamus/Getty Images
Amari Spievey went from community college to being a starting safety in the NFL. Along the way, Spievey was one of the best shutdown corners that the Iowa Hawkeyes have ever had.
He could cover anyone that the opposition put on him. And, when it came time to decide if he would come back for his senior season, he took the advice of the draft "experts" and made the move.
He was taken in the third round by the Lions, and by the end of this last season, he was starting on an up-and-coming defense.
Shaun Prater faced a similar decision in the last month about leaving school early, and decided against it.
Yes, Prater who will receive much pre-season hype before next season, will have to lead a defense that is young up front on the defensive line and at linebacker.
If he continues to progress, then he could be drafted in the first couple of rounds after next season.
S: Tyler Sash and Brett Greenwood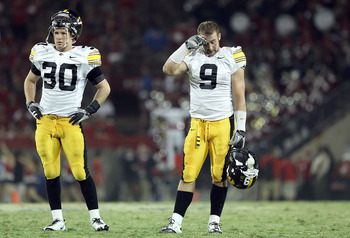 Christian Petersen/Getty Images
Very few combos in Hawkeye history will be as remembered and revered as the pairing of safeties Brent Greenwood and Tyler Sash.
Sash who ranks among the tops all-time in his career in interceptions at Iowa always seemed to have a nose for the ball. His "pinball" interception against Indiana in 2009 was a play that no one can or will soon forget.
And, no one could play him for leaving early after this season with the time and injuries that he had given to the Iowa program.
He could be a third round pick and should be a play-maker for whatever team gives him a shot (I would love to see him as a Chicago Bear).
Brett Greenwood was always willing to make a big hit when necessary. He also had an instinct to make big plays against the hated Iowa State Cyclones, as he had many of his career interceptions against the other team in Iowa.
Greenwood has a chance to make an NFL team as a special teams player.
P, K, LS: Ryan Donahue, Daniel Murray, Andrew Schultz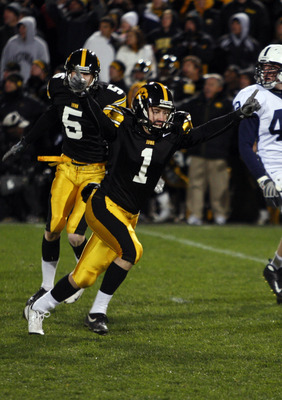 David Purdy/Getty Images
Ryan Donahue was a great punter in his four seasons with the Hawkeyes. And, he may do something that not many punters do: get drafted. He is ranked among the top two or three punters coming out, and some have him atop the list.
The man who kicked one of the most memorable field goals in Iowa history, Iowa City native Daniel Murray, lived out any Iowa kid's fantasy the day he beat No. 2 Penn State in Kinnick Stadium.
A year later he was the starting place kicker when the Hawkeyes won the Orange Bowl. His senior season was interrupted by muscle strains, and he watched most of it from the sidelines. But, he will have a lot of free drinks bought in his hometown for the rest of his life.
Andrew Schultz was an undervalued entity that the Hawkeyes had over the past four seasons. A talented long snapper and athlete (I played Little League with him), Schultz never messed up a snap and was always around for the tackles on coverage.
He is rated as the No. 2 long snapper coming out this season. He will most likely have to try to work his way onto a team via free agency, but long snapping is not something anyone can simply master.
Keep Reading

Iowa Hawkeyes Football: Like this team?