The Deep South: Pros And Cons Of The NFC South Teams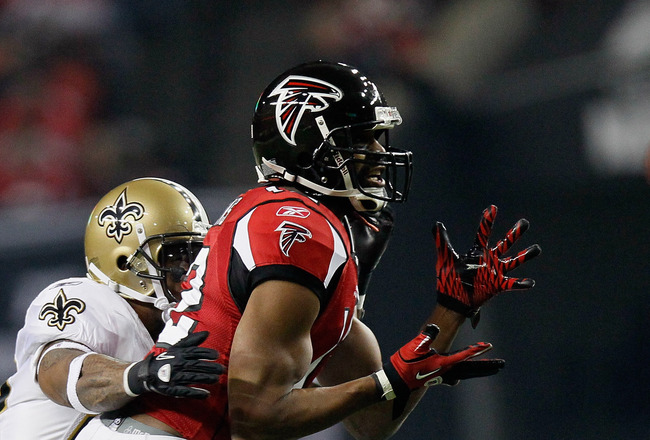 Kevin C. Cox/Getty Images
With the 2010-11 football season wrapping up, it is time for teams to look back on their year and analyze what is going right and what is going wrong to better prepare for the future.
Even with the doomed Panthers dwelling in the cellar, there was a lot that went right for the NFC South. Having three teams with double-digit wins surpassed every other division, and the 36 combined wins tied for first in the league. The division also made history this year by being the first ever to have three teams post a 6-2 road record.
While the playoff mauling of the Falcons—and the Seahawks upsetting the Saints—hurt the NFC South's street cred, it was nothing that can't be recovered from before the season opener. The following are the pros and cons each team is facing heading into summer.
Atlanta: Pros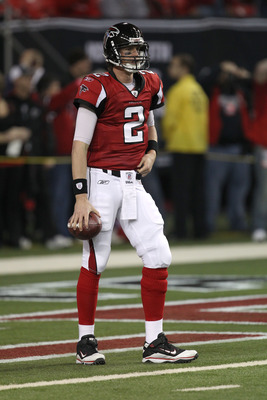 Streeter Lecka/Getty Images
Matt Ryan is evolving into exactly what the Falcons needed him to be. He has taken steps forward every season, improving his yards and touchdowns while simultaneously cutting down on interceptions. He absolutely has a 4,000-yard, 30-touchdown season waiting for him in 2011. Brees is still the top quarterback in the NFC, but within the next couple years Rodgers versus Ryan could develop into the welfare version of Manning versus Brady.
Four years ago, the Falcons were in a real life horror movie, their star quarterback was headed to prison and the new head coach disgracefully left the team after 13 games. The standard anecdote is to trade away all the decent players in order to acquire draft picks and revert into a rebuilding phase.
Well Mike Smith, who just signed a three-year extension with the Falcons, had other plans. Coming unheralded out of the Jacksonville Jaguars coaching squad, he decided instead to lead the Falcons to the best three-year period in franchise history, as well as the only time they have had more than two consecutive winning seasons.
This was enough to earn one Coach of the Year award. He would have gotten his second this year if not for Belichick somehow steering the Patriots to a 14-2 record, even though they had so many white players it made the Winter Olympics seem like an NWA concert.
With them both on contract for the next three years, as well as much of the Pro Bowl -aden team locked up for at least next season, the future is nothing short of inspiring.
Atlanta: Cons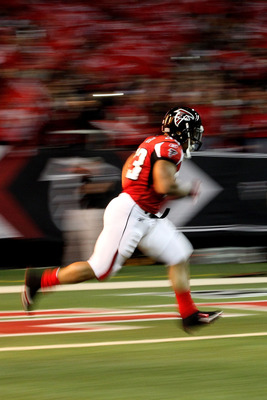 Streeter Lecka/Getty Images
Roddy White and Michael Turner are both getting dangerously close to 30 and are on the tail ends of their athletic primes. It seemed like the Falcons may have peaked as a team this year, which still wasn't enough to make it out of the first round of the playoffs.
As of right now they are on the market for a new quarterbacks coach, and depending on how good of an interviewer offensive coordinator Mike Mularky is, they may need a new one of those as well.
New Orleans: Pros
Jonathan Ferrey/Getty Images
They still have Drew Brees and proved this year—despite an embarrassing loss to one of the worst playoff teams in recent years—that they are still the same group of players that proved capable of winning it all in 2010. Bad luck with injuries—they were on the fifth-string running back by the postseason—curbed any chance of back-to-back Super Bowls. But if they can come back healthy next season, winning two rings in three years is certainly in play.
Sean Payton has changed the whole atmosphere of Saints football since arriving in 2006. Rebounding from a 13-loss season in 2005, they have only had one sub .500 year in his tenure. Having him and a healthy Drew Brees guarantees a playoff appearance.
Another bright spot was Gregg Williams choosing to maintain the defensive coordinator job rather than pursue the numerous head coaching vacancies he was being contacted to interview for.
New Orleans: Cons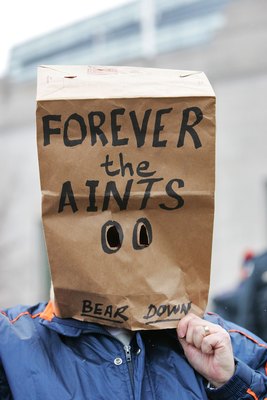 Al Bello/Getty Images
No contender was more riddled with health problems than the Saints. Five running backs and 12 players overall were sent to injured reserve throughout the season.
It wasn't just major injuries; they consistently had minor injuries nagging them all year causing players to miss practices or sit out plays in a game. While it is impressive they managed to rack up 11 wins, they can't survive another year like this, and Drew Brees isn't getting any younger.
Not only do they need to add some depth on defense, particularly around the defensive line and linebacker positions, but they also have a slew of players they need to decide whether to retain or let go including Pierre Thomas, Heath Evans, Scott Shanle, Lance Moore and Jermon Bushrod.
Tampa Bay: Pros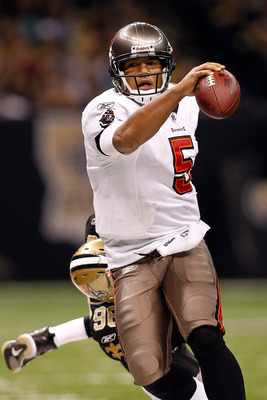 Chris Graythen/Getty Images
Josh Freeman far exceeded the expectations anybody not on the Tampa Bay coaching staff had for him. He turned into Michael Jordan when the game was on the line, piling up seven fourth-quarter comebacks in only 25 starts.
Freeman beat every quarterback not named Michael Vick in rushes that led to a first down; he had 29.
The youngest team in the NFL also expects to see improvement out of ROY candidate Mike Williams, who finished his debut season with 964 yards and 11 touchdowns.
There young core looks to be added on by a full set of draft picks, and with the Bucs breaking from their normal strategy and seeking to add free agents with the abundance of cap room at their disposal, potentially even acquiring Nnamdi Asomugha.
Tampa Bay: Cons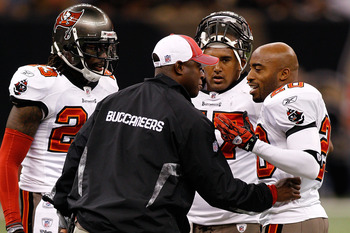 Chris Graythen/Getty Images
Only one of their 10 wins was against a team with a winning record, and it came in a meaningless game 17.
The Bucs are the 23rd team in history to have a seven-game improvement from the previous season, and the other 22 teams before them went a combined 168-166-3 the following year. This implies the 10-win season may have been more of an outlier than the new standard.
With a team this young still trying to find their identity, a lockout in the offseason could prove a major setback. Teams more veteran-based may find themselves benefiting from a lockout shortened season, seeing as older players find it hard to make it through the 16 games without health issues. However it would be detrimental to Bucs who are still trying to develop team chemistry.
The lockout would also mean no free agency, horrible news for a team trying to make it rain like they're Pacman Jones in a strip club.
Carolina: Pros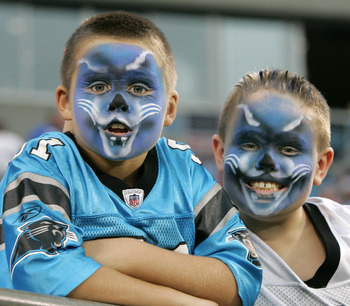 Mary Ann Chastain/Getty Images
Well…uh..They have the first overall pick?
They haven't been moved to Los Angeles yet.
There are also so many holes it looks like the first overall pick next year might as well already belong to them.
Carolina: Cons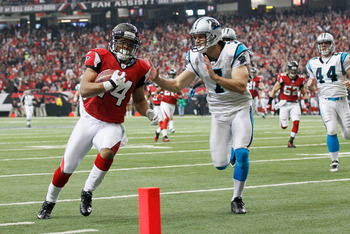 Kevin C. Cox/Getty Images
I will resist the urge to just write the word "everything."
The Panthers were the only team to not get a single win in their own division.
Deangelo Williams said that whether or not RB coach Jim Skipper came back would be a major factor in his decision to enter free agency, and they decided to let Jim Skipper go.
They are trying desperately to keep Steve Smith happy, even going to the lengths of hiring his mentor Ricky Proehl as an offensive consultant, but it isn't clear if anything is enough to satisfy him after the shaky quarterback play he had to deal with all of last year.
Keep Reading

Atlanta Falcons: Like this team?