Michael Bradley to Aston Villa: What the USA Star Must Do to Emulate Roy Keane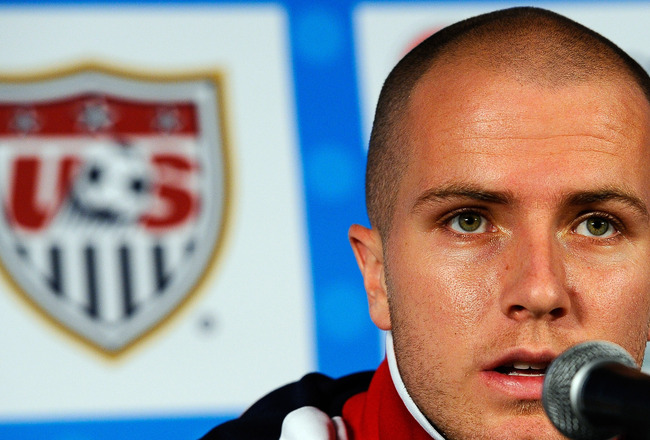 Kevork Djansezian/Getty Images
USA international midfielder Michael Bradley is setting some very high goals for himself ahead of his recent loan move to Aston Villa.
Bradley announced that he wants to emulate the career of former Manchester United great Roy Keane with his new club Aston Villa.
Bradley has recently secured a loan move to the Premier League, leaving German club Borussia Mönchengladbach, who are currently fighting to avoid relegation.
Bradley now joins Aston Villa, who are amidst fighting their own relegation battle. Villa have also brought in striker Darren Bent and are hoping Bradley and Bent can help improve their league position.
Bradley has now set his sights with Villa sky-high by wanting to emulate one of the best midfielders of the Premier League era. Bradley's goals are for good reason, as his game already has its similarities to Keane's.
Here are 10 things Bradley needs to do in order to successfully emulate the Manchester United legend Roy Keane.
10. Play Your Way into the First Team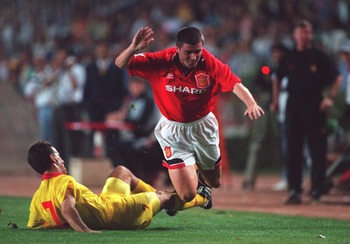 Graham Chadwick/Getty Images
When Roy Keane first came to Manchester United, he was not automatically given a place in the first team. United already had an established central midfield pair of Bryan Robson and Paul Ince.
Despite a large (at the time) transfer fee, Keane was going to have to be to earn himself a first team place.
Keane would catch a break, as Robson was growing old and was kept out of the start of the 1993 season by injuries. Keane was placed in the starting XI and never looked back.
Wherever Michael Bradley has gone in his career, he has always started from the same place with each team: the bench. Every stop Bradley has made he has had to play his way into the starting XI.
So far Bradley has done that successfully at each one of his clubs. He is now looking to do the same thing at Villa.
While Bradley won't become an automatic fixture in the Aston Villa starting XI right away, he will be given plenty of chances early on. Villa have struggled this season and currently sit just four points above the relegation zone. When it comes to the midfield, Villa have tried almost everything.
Every combination Villa have used so far this season has been relatively unsuccessful. Bradley represents a new and untried idea, and they will try it quickly and often.
9. Secure a Permanent Move: Get a Run of Games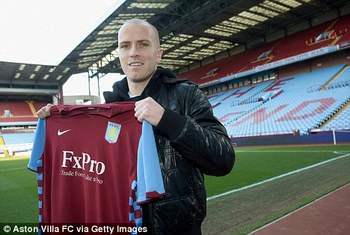 Currently, Michael Bradley's move to Aston Villa is just a temporary loan until the end of the season.
However, the deal does have the option of becoming a permanent transfer for £6 million at the end of the season—something that is more than likely to happen if Bradley has success in England, or if Borussia Mönchengladbach get relegated.
One of the greatest things about the career of Roy Keane was longevity. Bradley certainly can't emulate the career of Roy Keane is he only stays at Villa for half a season. The first step that Bradley needs to make is play well enough to ensure that Aston Villa make the move permanent.
When Keane first entered the Manchester United first team, he took off running and never looked back. He scored twice in his home debut against Sheffield United and just three months later scored the winner in the Manchester Derby, enough to make anyone a legend around Old Trafford.
Pretty soon, Keane's play demanded a permanent fixture in Sir Alex Ferguson's starting XI.
When Bradley gets his chance at Villa, he must take off running just as Keane did at United. Bradley must force himself to be a permanent inclusion in the starting XI and be a vital player for Villa in the second half of the season.
Villa's lack of options and Bradley's already high level of play give him a great chance of establishing himself as a fixture in the Villa midfield. If Bradley can help Villa move up a few places in the table, he could be looking at a long and promising future at Villa Park.
8. Be a Rock Defensively and a Ruthless Tackler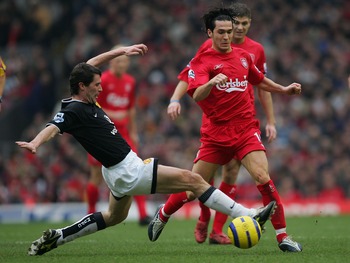 Alex Livesey/Getty Images
You can't think of Roy Keane without thinking of the man's ability to tackle. There may have never been a more ruthless tackler in the Premier League than the Manchester United captain.
Over the course of his years at Old Trafford, Keane would form a tremendous partnership in midfield with Paul Scholes. The pair worked beautifully together: Scholes would push up and score goals, while Keane would stay back and hold the midfield.
Together that combination led Manchester United to great success throughout the late '90s and early 2000s.
For Michael Bradley at Villa, his first step is becoming a great defensive midfielder. Bradley is already more known for his physical style of play than his goal scoring. He has become an important holding midfielder for the United States, but he still must get better.
Bradley's physical style of play suits the Premier League, and he'll have the ability to thrive. However, he still has a lot to learn defensively. Roy Keane was able to hold the midfield on his own and still push up into the attack. Bradley still needs a partner to hold the midfield with him, and a decent one at that, as the United States' lack of a second holding midfielder was exposed in South Africa.
Many critics of Bradley complain that he is not creative enough and are hoping that his time at Villa will allow him to develop more creativity. While he does need to add creativity to his game, the most important thing for him to do first is become a rock solid defensive midfielder.
7. Never Change Your Style of Play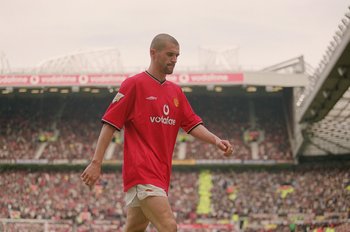 Gary M. Prior/Getty Images
Bradley is a physical midfielder, and he sometimes can get a little bit too physical. When that happens, punishment is usually handed down from the referee in the form of a yellow card, and sometimes it could be in the form of a sending off.
Roy Keane was no stranger to being sent off. The man played the game hard every time out on the pitch. While at times he was a dirty player, which he has admitted, at times he just went all out
Keane was hailed for his aggressive style of play, a style which helped him lead Manchester United to great success.
Keane was no stranger to being sent off. The former Manchester United captain holds the record for most times being sent off in English football. Keane saw 13 red cards during his career; 11 of them came with United. Despite the red cards and the suspensions, Keane never changed his style of play.
Michael Bradley has been known to make some reckless tackles as well. He has already had the experience of being sent off during important matches. Bradley picked up a red card in the 2007 Gold Cup semifinal against Canada and again during the 2009 Confederations Cup semifinal against Spain. Both infractions caused Bradley to be suspended for the final of each tournament.
Bradley's physical and aggressive style of play will suit well in the Premier League, but some referees may see too much for him. If Bradley ever does see a red card, he cannot afford to change his style of play because of it.
While too many red cards will undoubtedly hurt his chances of playing, he must know that it is his aggressive play that makes him the footballer that he is. If he is ever to be sent off during a match, he cannot come back for the next match afraid that he will be sent off again. Rather, he must put the red card behind him and continue to be aggressive.
Roy Keane never let the red cards bother him; rather, he let them pile up. Michael Bradley must do the same thing at Aston Villa.
6. Score Big Goals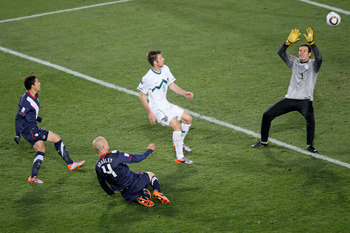 Christof Koepsel/Getty Images
While Roy Keane was well-known for his defense, he certainly had a knack for scoring big goals. Keane scored twice in his home debut for Manchester United against Sheffield United. Three months later he scored the winner against Manchester City.
In the 1999 Champions League semifinal against Juventus, United trailed by two goals. Keane started a United comeback, scoring the first goal, as United went on to win 3-2 and move on to that famous 1999 Champions League final against Munich.
Later that year, Keane provided the only goal in a 1-0 win in the finals of the Intercontinental Cup.
Despite being a more defensive midfielder, Keane had a sense of when it was time to push up the field. He also possessed an incredible ability to be in the right place at the right time, scoring countless big goals for United. It seemed that every time Roy Keane scored a goal for United, it was either the winner or a goal that started a comeback.
So far in his young career Michael Bradley has shown the world glimpses of that ability himself. Bradley has already scored eight international goals for the United States, but it was his last two that have been incredibly important.
In the US' final World Cup qualifying match, the United States fell behind 2-0 to Costa Rica. A loss would have put the Unite States in jeopardy of not even making the tournament. In true Roy Keane fashion, Bradley got the US started, scoring the team's first goal to pull the team within a goal. The United States would end up scoring a dramatic injury time equalizer, putting them atop the group and into the World Cup.
At the World Cup, the United States once again fell behind 2-0 against Slovenia. Losing this match would have made moving on to the knockout rounds very difficult for the United States. After Landon Donovan pulled the US back to 2-1 early in the second half, Bradley anchored a strong US attack looking for the equalizer. After a pass was deflected away from US striker Herculez Gomez in the 82nd minute, it was Bradley who ran onto the loose ball, sliding in and blasting a shot into the corner of the goal for a dramatic equalizer.
Bradley has already scored the big goal on the big stage once in his career. Now he must be able to provide that big goal when it is needed at Aston Villa.
5. Lead Aston Villa to a Trophy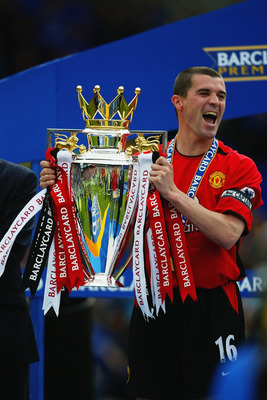 Gary M. Prior/Getty Images
What made Roy Keane one of the greatest, if not the greatest Manchester United captain? All the success Keane brought to the club.
During Keane's tenure with Manchester United, He brought trophies galore to Old Trafford. When Keane left the club in 2005 he had won the Premier League title seven times, along with four FA Cup wins and winning the Champions League once.
When people think of Roy Keane, they think of the trophies he won as the Manchester United skipper. If Michael Bradley wants to be thought of in the same way, he's going to have to win some trophies.
For Bradley to right now be dreaming of the success Keane had is almost unrealistic at this point. For now, Bradley must take baby steps.
For now, that means winning just one trophy.
Aston Villa have not won a trophy since winning the League Cup back in 1996. The last time they won the league was when they won the old First Division in 1981, which they followed up by winning the club's only European cup in 1982. Villa have won the FA Cup seven times in their club's history, but they haven't won it since 1957.
Aston Villa are still alive in the FA Cup, and Bradley can help them this year. If Bradley can lead Villa to the club's first trophy in 15 years, not only will it be a steppingstone for further glory, but the Aston Villa fans will already be thinking of Bradley as their own Roy Keane.
4. Become a Tremendous Box-to-Box Midfielder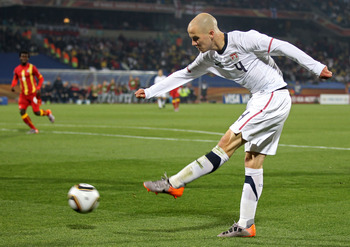 Phil Cole/Getty Images
When you think of great box-to-box midfielders, you think of Roy Keane. A box-to-box midfielder is exactly what it sounds like: a player who excels from his defensive third all the way up through his attacking third of the field.
A box-to-box midfielder is a terrific defender who is also terrific at keeping possession of the ball and pulling the strings for the attack.
Enough has been said about Keane's defensive abilities. He was an anchor that sat right in front of the United back four, helping to keep the pressure off them. We have also noted his knack for pushing up and scoring big goals when United needed them.
But Keane was also terrific in keeping possession and coordinating the United attack with his terrific passing ability. While Keane didn't score every goal during United comebacks, they were often because of his influence in the midfield, keeping possession in the attacking third of the field and keeping the United attack going.
Bradley is already a tremendous defensive and holding midfielder. The most common critique of his game is that he lacks creativity and the ability to get the attack going.
At Aston Villa, Bradley must work on this part of his game. Bradley has the ability to become this kind of midfielder and begin leading the Villa attack as the main supply line to Ashley Young and Darren Bent.
Bradley already excels at half of the skill set of a box-to-box midfielder. If he could improve his attacking ability, he could bring a completely new element to the Villa attack.
3. Become the Captain of the US National Team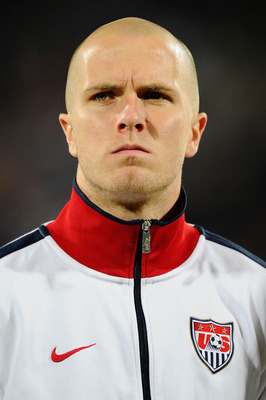 Kevork Djansezian/Getty Images
Roy Keane was a great leader, and that was not just confined to Manchester United. Keane also featured for the Republic of Ireland national team over a 14-year period. He spent most of those years as captain.
Despite Keane's international career being plagued with controversy, he was still a tremendous leader for the Republic of Ireland, leading them to a shocking 1-0 victory over runners-up Italy in the 1994 World Cup.
In order to fully emulate Roy Keane, you cannot just emulate Keane's ability on the field; you also must have the leadership abilities that Keane had.
Michael Bradley is coming along at just the right time to do this. Current US captain Carlos Bocanegra is getting old and could have very well already played in his final World Cup. Other US stars Landon Donovan and Clint Dempsey are also starting to get up there in age, though they will likely be there for one last hurrah at the 2014 World Cup.
However, the United States could easily be looking for a new captain as early as the year 2012. The decision could go in two ways: Give the armband to Donovan or Dempsey until the conclusion of the 2014 World Cup, or give it to someone younger who could be the captain now and for the future.
If the US chooses the second option, they would be looking to give the armband to someone young, but someone who also has experience and has been an influential player.
Aside from being the coach's son, which would definitely draw its fair share of criticism, Bradley would be the obvious choice. He has already been given the armband once for the national team, during an August 2010 friendly against Brazil following the US return home from the World Cup.
Of the other young players with the US national team, only Jozy Altidore has received consistent playing time. But even Altidore's place in the team is far from set in stone due to Altidore's poor form, the return of Charlie Davies and the rise of youngsters Teal Bunbury and Juan Agudelo.
Bradley has been a constant fixture in the United States midfield since 2007 and will continue to be there for years to come. The captain's armband will soon be worn by him permanently.
2. Employ the Eye-for-an-Eye Mentality—To an Extent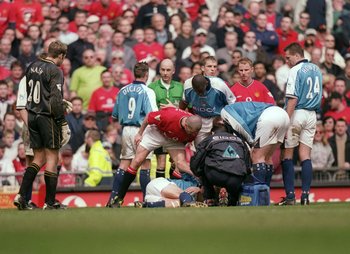 Gary M. Prior/Getty Images
You can't talk about Roy Keane without talking about his dark side. That dark side was that Keane did not take anything from anybody.
Keane has openly spoken about his "eye-for-an-eye" attitude that he employed on the pitch. The most famous example is when Keane admitted to deliberately trying to injure Alf-Inge Håland during a 2001 Manchester Derby.
The act was considered an act of revenge after Keane had suffered a knee injury while trying to tackle Håland while Håland was playing for Leeds during the 1997/98 season. Håland stood over the injured Keane and accused him of deliberately trying to hurt him and faking an injury to escape punishment.
In his autobiography, which was released in 2002, Keane admitted that he had deliberately set out to try to hurt Håland. Not only did Keane's tackle succeed in injuring the Norwegian, but he also stood over the injured defender right afterwards to deliver some choice words for the player. Keane also stated that he did not have any regret over the incident and that Håland "had it coming," saying that "what goes around comes around."
In no way should Michael Bradley take this eye-for-an-eye mentality to the extreme that Keane took it, but he should still employ it on the field. The Alf-Inge Håland incident was the most radical incident Roy Keane had been a part of. But Keane still possessed this mentality at all other times on the field.
If you scored against Manchester United, Keane took it personally; he wanted to score one right back at you. If you took the ball away from him, Keane wanted that ball back.
That is the same style Bradley must bring to the field at Villa. If you score against Aston Villa, Michael Bradley will get that goal back. If you take the ball off one of his teammates, Michael Bradley will be taking that ball back.
If Bradley could play like that, and do it without taking things too far, Aston Villa will suddenly find themselves with a lot more of the ball. More of the ball will translate into more goals and more success for Villa—and it all just may start with Michael Bradley.
1. Become the Captain and a Storied Aston Villa Player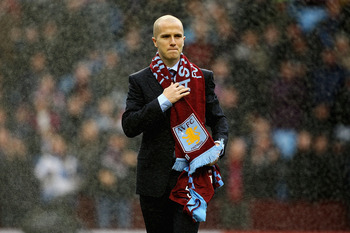 Matthew Lewis/Getty Images
There is a reason that Bradley chose Roy Keane as the man he wants to emulate. When you think of Keane, you think of success. Keane has one of the most decorated Premier League careers in the entire history of the league.
Keane won the Premier League title seven times in his career, five of them as captain of Manchester United. In addition, he won four FA Cups, two of them as captain, and as captain he led United to the 1999 Champions League title despite being suspended for the final.
In addition to all the glory Keane led United to, he also collected a slew of individual awards throughout his career, including both the FWA and PFA Player of the Year awards for the 2000 season.
For Bradley, the first step is establishing himself in the Villa first team and securing a permanent move to the club. Once he does that, if Bradley raises his game in the other aforementioned areas, he could be on track to become the captain at Aston Villa.
As captain of Villa, Bradley must lead the club up the table, with realistic goals in mind. Winning any trophy, whether it is the League Cup or the FA Cup, would be a tremendous success for the club. If he could lead them to two trophies, he would immediately go down in Villa lore, especially from the Premier League era.
Within the league, if Bradley led Aston Villa to a fourth-place finish and a spot in the Champions League, he would become a Villa hero forever.
These goals cannot be met overnight. For now Bradley must concentrate on playing his way into the team and being able to stay at Villa long-term.
It is very difficult to emulate the great career of Roy Keane. While Michael Bradley will most likely not achieve the same amount of success that Keane had during his career, if he can bring success to Aston Villa, the Aston Villa fans will think of him the same way that the Manchester United fans think of Keane. That is about as much as Bradley can ask for and is a great way of emulating the great Roy Keane.
Keep Reading