WWE News: Husky Harris Out "Indefinitely" After Punt Kick by Randy Orton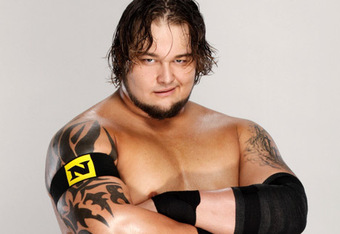 Husky Harris Possibly Written Off of Television on Monday's Raw
Following Randy Orton's punk kick to Husky Harris on Monday's Raw, WWE.com is reporting that Harris will be out "indefinitely."
Well, that may be the storyline the company is going with, but multiple sites have reported that the angle was used to write Harris off of television.
Though company officials are said to be high on his wrestling ability and character, they are not a fan of his size and (obviously pudgy) look. There are plans for a 3-on-3 Nexus vs. The Corre match at Wrestlemania, and Harris is not expected to be a part of the bout.
Like a lovesick teenager, I've got mixed feelings on this one.
For a 23-year-old, Harris should definitely be in better shape. But part of what makes him "Husky Harris" is his size and his ability to still move around well despite having some extra love handles.
I mean, does the WWE really want him to come back 40-50 pounds lighter?
Sure, Harris will have lost weight, but it's highly doubtful the dude's ever going to be ripped up.
If anything, having him drop too much weight will hurt his character.
Just tell the guy to stop eating so damn much but still stay on the beefy side. It's not like he's as big as someone like Yokozuna, Rikishi or even Broadus Clay.
Plus, do we really wanna see the Nexus represented by Mason Ryan, Michael McGillicutty and David Otunga at Wrestlemania?
Only McGillicutty can really wrestle. Harris needs to stay around.
Related Story: WWE Talent: Who Needs to Go, Who Needs a Push, Who's Being Wasted
Most recent updates:
This article is
What is the duplicate article?
Why is this article offensive?
Where is this article plagiarized from?
Why is this article poorly edited?