NBA All-Star Weekend: All-Time All-Star Snubs Team, Active Players Edition
Stephen Dunn/Getty Images
As we wait for the 2011 NBA All-Star Game reserves to be named, the debate over who got snubbed and who was most undeserving will officially begin.
Why wait? I submit Houston Rockets center Yao Ming for consideration as the most undeserving All-Star this year.
I mean, seriously?
Yao is very possibly finished for good. He played five games this season, averaging 18.2 minutes, 10.2 points, 5.4 rebounds, 0.8 assists, and 1.6 blocks per game.
This should go without saying, but given Yao's starting spot, a lot of people need to hear it: those are not All-Star numbers!
It's a near certainty that some deserving player will be left to watch the All-Star game from the sidelines. That got me thinking, "Who are the worthiest active players who haven't yet received the nod?"
There are plenty of retired players who fell victim to the All-Star voting process, like Rod Strickland, Arvydas Sabonis, Drazen Petrovic, Chuck Person, and Derek Harper.
It's too late for those guys, but at least these players still have next year (maybe).
* Please Note: These are players who have never been selected to an All-Star team in their careers.
Mike Bibby, Starting PG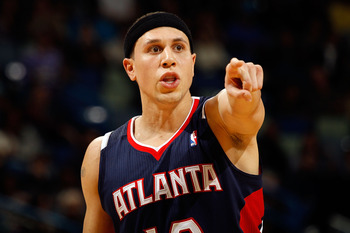 Chris Graythen/Getty Images
Career Stats: 930 games, 14,372 points, 5,348 assists, 2,968 rebounds, 1,135 steals
Best Season (2004-2005): 19.6 ppg, 4.2 rpg, 6.8 apg, 1.6 spg
The longtime Sacramento Kings point guard has never been an All-Star in his 12 year career.
He averaged a career-high 21.1 points per game in 2005-2006 and over eight assists per game in 1999 and 2000.
He played in at least 80 games in a season eight times.
Seems like Bibby would have been selected at least once during his tenure with the Kings, but so far he's been on the short end of the stick.
Jason Terry, Starting SG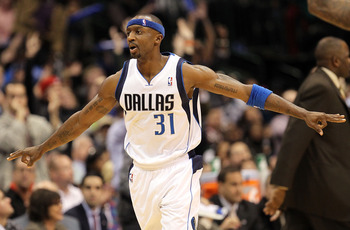 Ronald Martinez/Getty Images
Career Stats: 924 games, 14,978 points, 4,404 assists, 2,517 rebounds, 1,216 steals
Best Season (2002-2003): 17.2 ppg, 3.4 rpg, 7.4 apg, 1.6 spg
After five seasons with the Hawks, Terry has been with the Dallas Mavericks since 2004.
He's been very consistant throughout his career, averaging at least 15 points per game in every season after his first.
His accomplishments include an All-Rookie Second Team selection and the 2009 Sixth Man of the Year Award.
Earlier in the decade, Nash and Nowitzki garnered all the attention, while Terry was the odd man out.
Marcus Camby, Starting C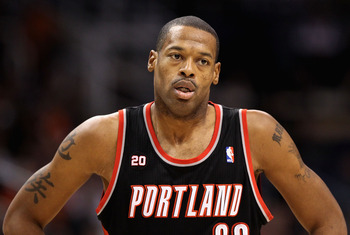 Christian Petersen/Getty Images
Career Stats: 870 games, 8,888 points, 8,737 rebounds, 2,212 blocks, 1,685 assists
Best Season (2006-2007): 11.2 ppg, 11.7 rpg, 3.3 bpg, 3.2 apg
Currently with the Portland Trail Blazers, Camby is in his 15th NBA season.
Though his durability has been an issue, Camby averages a career double-double with 10.2 points and 10.2 rebounds per game.
Even in 2007 when Camby won the Defensive Player of the Year Award with the Denver Nuggets, he didn't make the All-Star team.
He was selected to two All-Defensive First Teams and two All-Defensive Second Teams from 2005 to 2008.
Camby has led the NBA in blocks three times, and is 10th in NBA history with 2.5 career blocks per game.
Stephen Jackson, Starting SF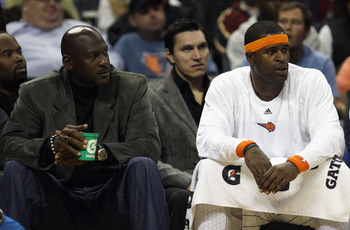 Streeter Lecka/Getty Images
Career Stats: 725 games, 11,746 points, 2,359 assists, 2,910 rebounds, 995 steals
Best Season (2008-2009): 20.7 ppg, 5.1 rpg, 6.5 apg, 1.5 spg
Jackson is a 10 year NBA veteran who has played for the Nets, Spurs, Hawks, Pacers, Warriors, and Bobcats.
He's averaged double-figures in scoring every year since 2002 and is a career 80 percent free-throw shooter.
Jackson finished 10th in the league in scoring and seventh in steals last season.
He was also part of the 2003 Spurs Championship team.
Al Jefferson, Starting PF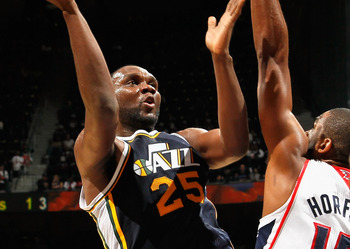 Kevin C. Cox/Getty Images
Career Stats: 456 games, 7,042 points, 553 assists, 3,972 rebounds, 800 blocks
Best Season (2007-2008): 21.0 ppg, 11.1 rpg, 1.5 bpg
Jefferson spent three seasons in Boston and averaged a double-double in his last season with the Celtics before going to Minnesota in the Kevin Garnett deal.
In his three seasons with the Timberwolves, Jefferson continued to prove himself to be a legitimate double-double threat.
He's in his first season with the Utah Jazz.
Kevin Martin, Reserve G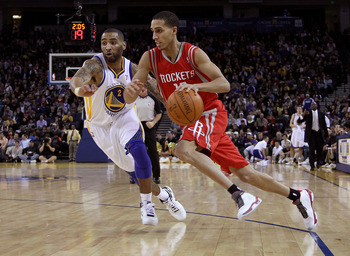 Ezra Shaw/Getty Images
Career Stats: 403 games, 8,281 points, 781 assists, 1,427 rebounds, 379 steals
Best Season (2007-2008): 23.7 ppg, 4.5 rpg, 2.1 apg, 1.0 spg
Martin has become a full time starter in his first full season with the Houston Rockets.
He averages over 18 points per game and shoots 38.4 percent from long range for his career.
He's eighth in the league in scoring this year.
Andre Iguodala, Reserve G/F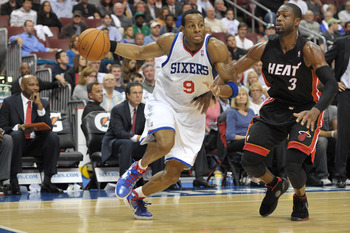 Drew Hallowell/Getty Images
Career Stats: 521 games, 8,208 points, 2,428 assists, 3,030 rebounds, 925 steals
Best Season (2007-2008): 19.9 ppg, 5.4 rpg, 4.8 apg, 2.1 spg
Iguodala has spent his entire career in Philadelphia and has started every game he's played for the Sixers. From his rookie season through last year, he missed just six games.
He averages 15.8 points, 5.8 rebounds, 4.7 assists, and 1.8 steals in just over 38 minutes per game.
The 2005 All-Rookie First Team is the closest Iguodala has gotten to an All-Star game.
Emeka Okafor. Reserve C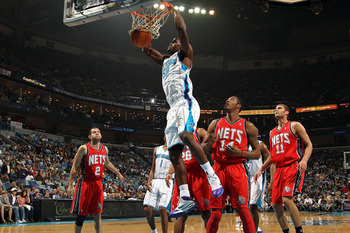 Chris Graythen/Getty Images
Career Stats: 461 games, 6,024 points, 4,754 rebounds, 813 blocks,
Best Season (2007-2008): 13.8 ppg, 10.7 rpg, 1.7 bpg
Although Okafor had a statistically better year in 2006, he didn't play a full season.
He's averaged a double-double in every season except the last one.
The 2005 Rookie of the Year will eventually be a multiple time All-Star, but remains a snub for now.
Richard Jefferson, Reserve SF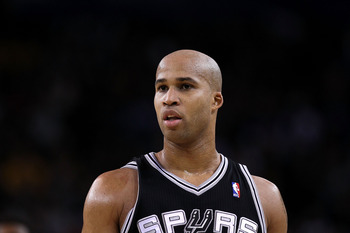 Ezra Shaw/Getty Images
Career Stats: 700 games, 11,697 points, 1,911 assists, 3,563 rebounds,
Best Season (2004-2005): 22.2 ppg, 7.3 rpg, 4.0 apg, 1.0 spg
Now with the Spurs, Jefferson is best known for his time in New Jersey alongside Jason Kidd and Kenyon Martin.
He averaged a career-high 22.6 points in 2007-2008—his last season with the Nets.
He's shooting a career-best 41.6 percent from three-point range in 48 games this season. His relatively unnoticed play is a big reason for San Antonio's extremely successful season.
It's hard to believe Jefferson has not been selected at least once in his career, especially while with the Nets. It was just bad luck being out-shined by J-Kidd and K-Mart all those years.
Lamar Odom, Reserve PF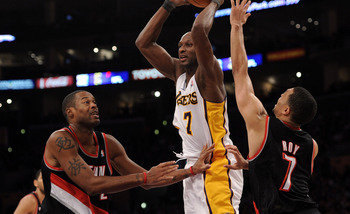 Harry How/Getty Images
Career Stats: 796 games, 11,696 points, 3,224 assists, 2,517 rebounds, 739 steals, 796 blocks
Best Season (2004-2005): 15.2 ppg, 10.2 rpg, 3.7 apg, 1.0 bpg
Odom is in his seventh season with the Lakers, and has become one of the best sixth men in the NBA.
He's one of the most versatile players in the league and a key part of the Lakers' championship runs.
Unfortunately for Odom, he gets overshadowed by Kobe Bryant and Pau Gasol.
He might not be an All-Star yet, but Odom has more championships than Steve Nash, Dirk Nowitzki, Yao Ming, Dwight Howard, Dwyane Wade, Carmelo Anthony, or LeBron James.
Keep Reading