Chicago Bulls: The 5 Best and Worst Drafts in Team History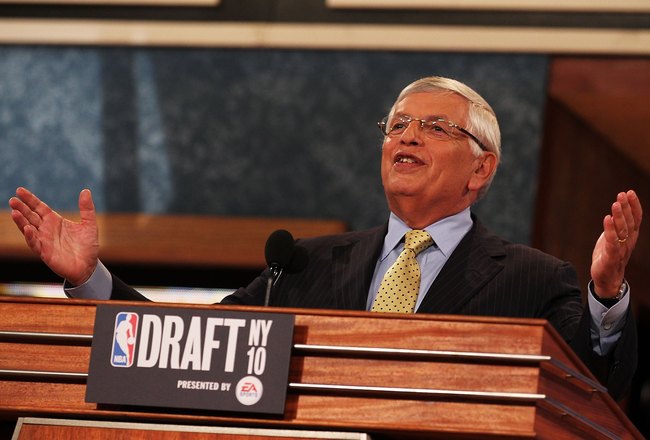 Al Bello/Getty Images
With the NBA draft coming up soon, I thought it would be interesting to look back at some of the best and worst drafts in Chicago Bulls team history.
While some of the drafts are no-brainer options, others may surprise you.
My criteria for top drafts are for the most part picking up multiple good players, or making choices vital to Chicago Bulls success in a given era.
My criteria for the worst drafts are typically the Bulls wasting high picks.
Let me know what you think in the comments.
5. Worst: 2006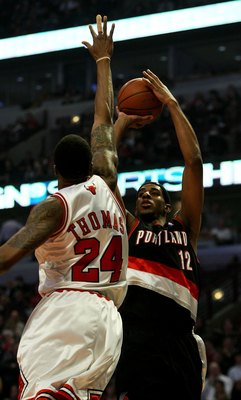 Jonathan Daniel/Getty Images
Acquired: Tyrus Thomas, Forward, Louisiana State University/Thabo Sefolosha, Guard, Switzerland
We start off with a recent bad draft: the 2006 edition.
The 2006 draft started off drafting LaMarcus Aldridge out of the University of Texas and Rodney Carney out of the University of Memphis. Of course, the day ended with Aldridge being traded for LSU forward Tyrus Thomas and Carney being traded for little-used Swiss Thabo Sefolosha.
Tyrus went on to tease Bulls fans with his athleticism while never figuring out how to really play basketball. Eventually, after his starting job was stolen by 26th overall pick Taj Gibson, he was traded to Charlotte for a future first-round draft pick, and he has not been missed.
Thabo was a decent player for the Bulls, and was a good defender in his time in Chicago, but he never developed any kind of offensive game. He was eventually traded away for a draft pick that brought in Taj Gibson.
Overall, this wasn't the worst draft in team history, but the Tyrus-Aldridge trade haunted Bulls fans until the drafting of Derrick Rose.
5. Best: 1999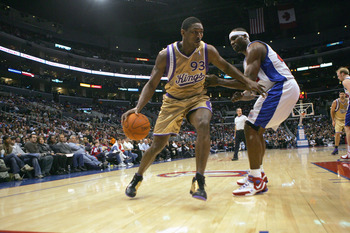 Jeff Gross/Getty Images
Acquired: Elton Brand, Forward, Duke University/Ron Artest, Forward, St. John's
It makes you wonder what could have been. With the first and 16th picks in the draft, the Bulls took a perennial 20-10 guy in Elton Brand and a future Defensive Player of the Year in Ron Artest.
Brand was the co-Rookie of the Year in 2000 and All-Rookie first-team member, as well as an All-NBA second-team member, two-time All-Star and NBA Sportsmanship Award winner after he left Chicago. He has career averages of 18.8 points per game and 9.6 rebounds per game despite limited production after signing with 76ers">Philadelphia. Unfortunately, Chicago traded him for the No. 2 overall pick in 2001, Tyson Chandler, which was a bad trade in retrospect.
Ron Artest, although he has a reputation as a head case, has been a successful player in his time on the court. He was an All-Rookie second-team member in his time in Chicago, and became Defensive Player of the Year, an All-Star, All-NBA third team, two-time All-Defensive first and second-team member and Kennedy Citizenship Award winner in 2011 for his great work with people with mental health issues.
Of course, neither of these players' best years occurred in a Chicago uniform, but they were still two great draft picks that were eventually bungled by Jerry Krause.
4. Worst: 1979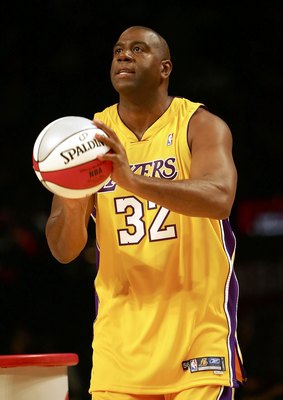 Lisa Blumenfeld/Getty Images
Acquired: David Greenwood, Forward, UCLA
You may not remember this draft, but it was one of the most disappointing in Bulls history. Before draft day, the Bulls had a coin-flip with the Lakers to determine who would have the No. 1 overall pick. Needless to say, Chicago lost and lost out on a guy called Magic Johnson, and drafted David Greenwood instead.
Greenwood was a decent player, but the Bulls obviously missed out on a future Hall of Famer and the best point guard in the history of the game, a pretty sizable difference.
4. Best: 2004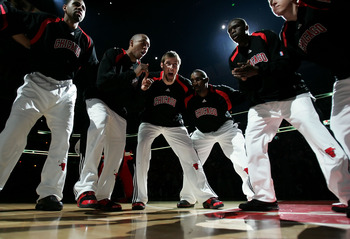 Jonathan Daniel/Getty Images
Acquired: Ben Gordon, Guard, University of Connecticut/Luol Deng, Forward, Duke University/Chris Duhon, Guard, Duke University/Andres Nocioni, Forward, Argentina
It's not often that you find four rotation players in one draft, but 2004 was one of those drafts. Along with 2003 pick Kirk Hinrich, this group combined to create a core that was very competitive in the East for three years.
Ben Gordon was a player who could straight-up shoot the ball in his time in Chicago. He was named to the All-Rookie first team and named the Sixth Man of the Year. He averaged 18.8 points per game and an incredible 41 percent from three-point land in five seasons for the Bulls before being let go in the offseason.
Luol Deng is of course the starting small forward for your Chicago Bulls. He made the All-Rookie first team and was named the winner of the NBA Sportsmanship Award in his time in the league. Deng has been lauded for his defense. He has averages of 16 points on 47 percent shooting and 6.4 boards per game.
Chris Duhon was a value pick in the second round of the draft, 38th overall. He was known for being a solid distributor in his time in Chicago. He posted averages around seven points and four-and-a-half assists in a backup point guard role, before being signed by New York in the offseason.
Andres Nocioni was a diamond in the rough as they say. He went undrafted technically in the 2001 NBA draft, but was signed after Argentina won the gold medal in 2004 by Chicago. He quickly became a fan favorite by scoring 25 and grabbing 18 rebounds in his first-ever playoff game, a win over favored Washington. He cemented his place in fans' hearts with his tenacious play and physical defense, as well as his shot. He averaged 11.7 points per game in his time in Chicago.
While none of these players are even All-Stars, this draft defined a short era of Bulls success, up until the Derrick Rose era. It was especially sweet after the hard times Bulls fans had to deal with following the Jordan era.
3. Worst: 2002
Jonathan Daniel/Getty Images
Acquired: Jay Williams, Guard, Duke University
This is another case of what could have been. Jay Williams was the highly touted No. 2 overall pick out of Duke University, taken after Rockets center Yao Ming.
Williams was sold as the point guard of the future and a certain All-Star, but struggled once he reached the NBA. He averaged 9.5 points and 4.7 assists per game in his rookie season.
While his year was not great, it was not worthy of being called a bust either. The reason that he was a huge bust happened after the season. Williams rode a motorcycle into a streetlight, tearing ligaments and nerves in his knee and breaking his pelvis. Jay was not wearing a helmet and was not actually licensed to ride a motorcycle in the state of Illinois.
The end of the Jay Williams era came a week later when Chicago drafted Kirk Hinrich to replace Williams at point guard.
3. Best: 2008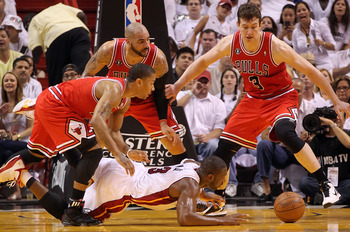 Mike Ehrmann/Getty Images
Acquired: Derrick Rose, Point Guard, University of Memphis/Omer Asik, Center, Turkey
People remember that the 2008 draft was the draft where Chicago defied the odds and grabbed Derrick Rose with the No. 1 overall pick despite having a mere 1.7 percent chance of gaining said pick. And that's exactly what you should remember it for!
In this draft, Chicago gained a player who is already in the top three players in Bulls history, and has the potential to be the top athlete in Chicago sports history.
Derrick Rose is the youngest MVP in league history. He's the first player since Jordan to lead his team to 60 wins. He's the first player since Jordan to make an All-Star team, and be voted in as a starter. He's the most electrifying little man that we may have ever seen in the NBA. And to top it off, he's a hometown kid from the streets of Englewood.
While Jordan is undoubtedly the best player in the history of the league, much less Bulls history, Rose has the potential to be even bigger in Chicago than Jordan. While that may sound sacrilegious, he's a hometown kid; many Chicago fans saw this kid dominate in high school before he ever even went to college, much less the NBA. He also could beat a team that may be more hated than the Bad Boy Pistons: the Hollywood-esque Miami Heat.
In addition to the fantastic player that Derrick Rose has turned out to be, people forget that the Bulls picked up the Turkish Hammer, Omer Asik. Asik was the 36th overall pick by Portland in the draft, but he was traded for a couple of Bulls' second-rounders, and that easily looks like a smart move right now.
2. Worst: 2000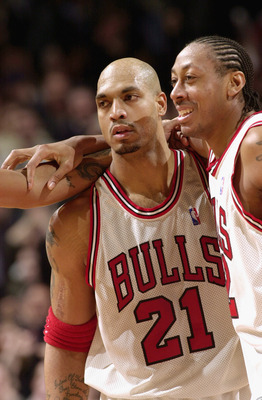 Jonathan Daniel/Getty Images
Acquired: Marcus Fizer, Forward, Iowa State University/Jamal Crawford, Guard, University of Michigan
In terms of actual individual draft picks, this may have been the worst in Bulls history.
Fizer wasn't a horrible basketball player, averaging 9.6 points per game. However, he was an extremely mediocre rebounder and was a tweener at 6'8" who never really fit into either position. His chances at being a role-playing scorer went down after he was arrested twice.
Fizer eventually tore his ACL and has never really had a chance of getting back to the NBA for a multitude of reasons.
Jamal Crawford has been a pretty good player in the NBA averaging over 15 points per game for his career and being a pure scorer in each of his stops. He was the type of player who was a star on the ugly New York teams when he was allowed to take any shot he wanted.
2. Best: 1987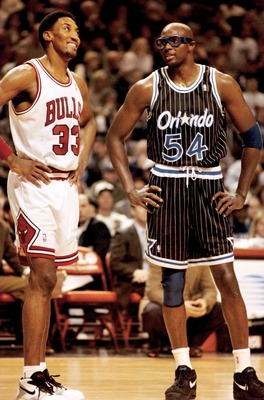 Jonathan Daniel/Getty Images
Acquired: Scottie Pippen, Forward, Central Arkansas/Horace Grant, Forward, Clemson
While the biggest piece obviously came in a different draft, this draft is the second-biggest reason the Bulls won six world championships.
Every Batman needs a Robin and that's where Scottie Pippen excelled. He was named to seven All-Star teams, three All-NBA first teams, two All-NBA second teams, two All-NBA third teams, eight All-Defensive first teams, two All-Defensive second teams, had his number retired by Chicago and was named to the 50 Greatest Players list.
Pippen was noted for being one of the best perimeter defenders ever, guarding any position on the floor at different points. He also averaged 16 points, six boards and five assists a game, showing that he was a player who could do anything that was asked of him, making him a great second option for the greatest ever.
The best part was that Scottie Pippen was traded for Haitian Olden Polynice, who went on to only be a role player in the NBA.
Horace Grant is one of the great forgotten Bulls in history. While many remember Dennis Rodman for being the great rebounder and defender next to Jordan in his second run, Horace Grant was that guy in the first title run. He averaged 13 points and nine boards in Chicago. He was named to an All-Star Game and two All-Defensive second-team appearances.
1. Worst: 2001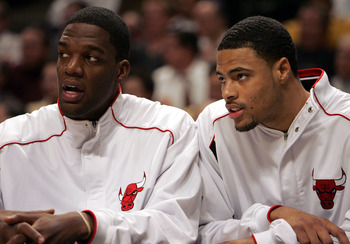 Jonathan Daniel/Getty Images
Acquired: Tyson Chandler, Center, Dominguez High School/Eddy Curry, Center, Thornwood High School

The 2001 debacle tops the list as the worst draft in Chicago Bulls history.
With their fourth overall pick, the Bulls selected center Eddy Curry out of Thornwood High School in Illinois. Curry absolutely had potential, but ate his way out of the league. Although he is listed at 285, his weight had ballooned to well over 300 pounds during his worst days as a New York Knick. T
he only time that Curry ended up being an asset to the Bulls after his first few years was when he was signed and traded to the New York Knicks, masterminded by Knicks knucklehead Isiah Thomas. The trade brought back two picks who turned into current Bulls big man Joakim Noah and Tyrus Thomas.
Tyson Chandler was the No. 2 overall pick in the draft, and was traded draft day for Elton Brand. He is a starting-caliber center in the NBA, but he's not what Bulls fans hoped he could be. Chandler came out of school as a very raw talent, and did not improve his offensive game at all in Chicago, which was proven by his averaging of only nine points a game at his max.
He played pretty decent defense, but that was not enough to make up for being traded for 20-10 man Elton Brand. Eventually he was dumped after the Bulls signed Ben Wallace.
This draft is the worst for a multitude of reasons.
First of all, the Bulls dumped former No. 1 pick Elton Brand for a kid straight out of high school who was later dumped for Howard Eisley and P.J. Brown in Tyson Chandler. Second, this draft gave Bulls fans hope that the Bulls would have a superstar frontcourt that would bring them back to relevance, of course, a dream that never came even close to fruition. Third, Eddy Curry showed us flashes of being a dominant offensive big, but never put it all together.
The frustration of all of these things compound to make the worst draft in team history.
Even though 2001 is a weak draft, it's disappointing that the Bulls completely struck out on two draft choices in the top five.
1. Best: 1984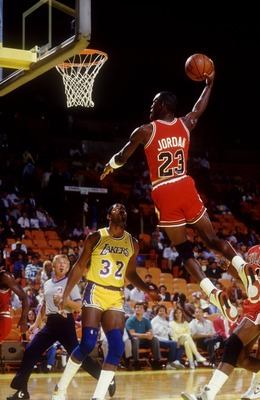 Rick Stewart/Getty Images
Acquired: Michael Jordan, Shooting Guard, University of North Carolina
Do I even need to explain? With the No. 2 pick, Portland passed on the best player of all time. Do I need to say any more? Sure, the rest of the draft picks for the Bulls were not spectacular, but do we care? Not at all.
Michael Jordan: six-time NBA champion and Finals MVP; five-time MVP; 14-time All-Star in 14 full NBA seasons; Defensive Player of the Year; 10-time All-NBA first team; nine-time All-NBA Defensive first team; one-time All-NBA second team (in his first NBA season); Rookie of the Year and All-Rookie first team; one of four retired numbers in Bulls history; NBA Hall of Famer; and those are just his awards.
Jordan also put up career averages of 30.1 points per game, 49.7 percent shooting as well as 30,000 career points in the regular season and an even better 33.4 points per game during the playoffs, the highest playoff average in history.
Obviously this is the best draft pick in NBA history, and I shouldn't have to explain any more.
Keep Reading

Chicago Bulls: Like this team?