NFL Super Bowl: Terrell Owens and The Top Five Media Day Divas of All Time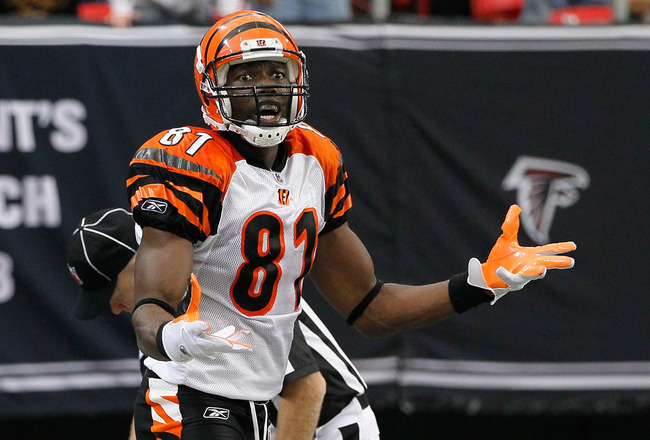 Kevin C. Cox/Getty Images
The temperature in Dallas is 20 degrees and the city is blanketed in a sheet of ice, but neither could stop the swarm of media members from descending upon Cowboys Stadium for Tuesday's Super Bowl 2011 Media Day.
The event went off without a hitch, but was lacking in outlandish quotes that were commonplace in years past.
Pittsburgh Steelers quarterback Ben Roethlisberger used his time at the podium to project the image of a changed man. He said all the right things, stating his desire to be a positive example and role model for kids.
America loves a comeback story, and winning a third Super Bowl before his 30th birthday will surely do wonders for his reputation. All of that is great for Roethlisberger, but it didn't make for entertaining banter among those looking for a juicy quote.
On the Packers side, Aaron Rodgers was predictably peppered with questions about Brett Favre. The Green Bay Packers have a new hero in town and the media hoped to stir the pot, banking on Rodgers to say something bitter about his predecessor.
Unfortunately for them, he handled the questions like a pro and didn't mention anything about Favre that would cause a commotion.
No single star stole the show with an Earth-shaking rant that would end up plastered on the front page of a newspaper.
For the most part, the Green Bay Packers and Pittsburgh Steelers go about their business in a quiet, professional manner.
The story of this Super Bowl is simple: Two very good football teams are going to battle on the biggest stage.
Sure, there is the occasional trash-talking, but these squads don't have any rockstar-esque divas that go out of their way to steal the spotlight.
Here is a countdown of the top five Media Day divas, er...darlings, in Super Bowl history.
Terrell Owens
Andy Lyons/Getty Images
Terrell Owens has never been known to shy away from the spotlight.
The man is the definition of an NFL diva, and Super Bowl Media Day is made for athletes like T.O.
At Super Bowl XXXIX in Jacksonville, Florida, Owens was a part of the Philadelphia Eagles team that was defeated by the New England Patriots.
The story leading up to the game was the status of Owens' ankle, as he missed the entire playoffs leading up to that point.
"I think God put me on this stage for a certain reason,'' Owens said. "I got hurt for a reason. I understand that. A lot of people don't. A lot of people are questioning my ability and probably the risk that I take playing this game six-and-a-half weeks after surgery. But it doesn't really matter what people say about me, I know what I can do. I know how my ankle feels and that's all that matters.''
"I think God put me on a platform to really show the world how great he is. God has put me in the position, and I'm welcoming that challenge. Just by the timing of me getting hurt, he had to sit me down and put things into perspective for me. And that's what he's done. He put me on the biggest stage of my life to show people how great he is.''
Owens played and caught nine passes for 122 yards.
Deion Sanders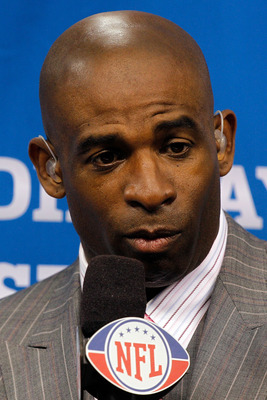 Scott Halleran/Getty Images
As a member of the San Francisco 49ers, Deion "Prime Time" Sanders was the darling of Media Day at Super Bowl XXIX in Miami.
Sanders adorned himself with bright, flashy clothing and jewelry. He was the center of attention in the days leading up to the game.
"Hey, all my life, I be the man," he announced in Sports Illustrated. "I mean, I've been in the spotlight at every level. It's just a bigger spotlight. I learned the system in college."
"How do you think defensive backs get attention? They don't pay nobody to be humble."
"Some people will come out to see me do well. Some people will come out to see me get run over. But love me or hate me, they're going to come out. I'm a businessman now, and the product is me. Prime Time."
"I'm the first defensive back to make $1 million a year. Set a record for a bonus. Cash up-front."




Brett Favre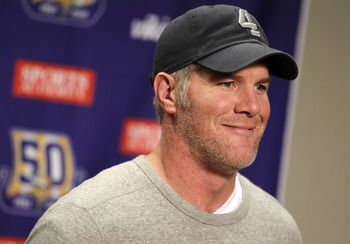 Gregory Shamus/Getty Images
Besides Michael Jordan and Tiger Woods, no athlete in history has received attention from the media like Brett Favre.
That is why 2011 might be Favre's worst nightmare. When he was sent packing by Green Bay, the Packers installed Aaron Rodgers as quarterback and never looked back.
Packer fans have embraced Rodgers and almost forgotten about Favre, and if there is one thing Favre can't stand, it is to lose the spotlight.
Favre led his Packers to 35-21 victory in Super Bowl XXXI over the New England Patriots.
He didn't make any outrageous Media Day comments, but his presence alone created a circus-like atmosphere.
It is hard to believe that 14 years later, the final chapter of his legacy could be written with a Super Bowl victory...for his replacement.
William Perry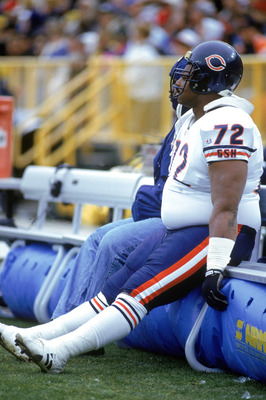 Jonathan Daniel/Getty Images
"The Fridge" was the subject of media attention and fascination when he burst onto the scene in 1985.
Weighing in at a hefty 350 pounds, it was difficult to not notice Perry during Super Bowl XX Media Day at the Louisiana Superdome.
But, due to his tremendous strength and size, he was not so much a diva as a media darling.
Mike Ditka used Perry as a halfback in goal-line situations that season, and he scored two touchdowns on those short-distance runs.
Jeremy Shockey
J. Meric/Getty Images
With long, flowing locks of hair and massive arms inked with tattoos, Jeremy Shockey has always been an NFL player that could be mistaken for a rock star.
His diva persona came out during the New York Giants' Super Bowl run in the 2007-08 season.
Shockey was spotted drinking a beer and lounging in a luxury box while he watched his team defeat the New England Patriots at Super Bowl XLII.
Following the win, he declined to participate in several Giants' celebrations, including the ring ceremony and a White House tribute for the new Super Bowl Champions.
On July 21, 2008, the Giants agreed to trade Shockey to the New Orleans Saints in exchange for second and fifth-round picks in the 2009 NFL Draft.
Keep Reading