The Real Problem With The Golden State Warriors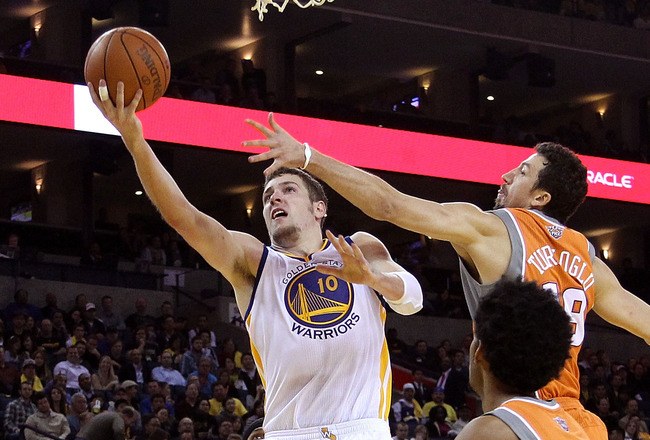 Ezra Shaw/Getty Images
The Golden State Warriors' problems have been discussed ad nauseum. Their backcourt is undersized, they don't play defense, they lack depth, and Andris Biedrins is about as useless as my knowledge about celebrity cup sizes.

But the real problem that the Warriors have is that they are stuck in a middle ground of mediocrity. They are not good enough to make the playoffs, but they are also not bad enough to rebuild through the draft.

There are only a couple of ways to build a contender.
Through the Draft

If you look at elite teams around league, they all have a legitimate star to build around. In most cases, they acquired that star through the draft. Dwight Howard, Derrick Rose, Tim Duncan, Dwyane Wade and Kevin Durant are just a few examples of top draft picks that have turned their respective teams into contenders. Three of the guys from the list were the No. 1 overall pick, Durant was second and Wade was fifth in possibly the deepest draft class of all time.

The Warriors aren't bad enough to get high lottery picks. And if the Warriors are counting on ping pong balls to get a top draft pick (i.e. the Chicago Bulls with Rose), history tells us that it isn't going to happen.
Free Agency

Who was the last big-time player to sign with the Warriors as a free agent?
Typical Bob Fitzgerald response: David Lee chose to come to the Warriors in a sign and trade. Dorell Wright chose to leave Miami for the Warriors. What do you mean the Warriors can't attract free agents?
They're both nice pieces and have helped the team tremendously this season, but neither are franchise players.
For whatever reason, franchise players do not come to Golden State. But then again, why would they? There are more desirable locations, teams with better personnel and teams that can offer just as much, if not more, money.
Just a thought: Even though the Cleveland Cavaliers have lost more this year than LeBron James' hairline, it's possible that they are in a better position than the Warriors to build a winning team.

The Cavaliers will have a top pick in June's draft, presumably followed by another top pick in 2012 and another in 2013, a la the Oklahoma City Thunder. Yes, the Thunder drafted well, but they had the second, fourth and third pick, respectively, in consecutive drafts. The transition from the league's cellar dweller to a contending team may not be as smooth for the Cavaliers as it was for the Thunder, but at least they will have the opportunity to get a franchise player.
In the NBA, it's better to either be a good team or a horrible team. The Warriors are stuck in the middle. They will continually win 35-45 games and stock up on late lottery picks. They might even sneak into the playoffs a few times, but they won't be contenders until they get a franchise player.
But I'm getting ahead of myself, like always. At this point, Warriors fans will take a first round exit.
This article is
What is the duplicate article?
Why is this article offensive?
Where is this article plagiarized from?
Why is this article poorly edited?

Golden State Warriors: Like this team?