LeBron James, Aaron Rodgers, Wally Judge and Monday's Sport Buzz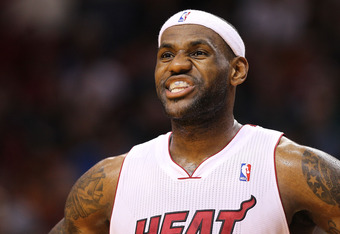 Mike Ehrmann/Getty Images
LeBron James, Aaron Rodgers, Wally Judge and Monday's Sport Buzz
Monday Night Football is over but luckily enough that doesn't mean there is a shortage of news or sports to pay attention to.
LeBron James came out today to say that he feels sorry for the Cavaliers' fans and the pain they are feeling. Does he mean that or is he trying to get back in the good graces of NBA fans?
What would a Super Bowl ring mean for Aaron Rodgers? Would a Super Bowl win make him the top NFL in the league?
Kansas State's Wally Judge has decided to quit the Wildcats. He is the third player to quit the program since the NCAA tournament. Is K-State coach Frank Martin next on his way out?
The Super Bowl is just a week away. Media day is one day away. What are some things to look for this week?
So sit back, relax and stay tuned here for updates, analysis and opinions on these and all the other Monday night sports stories.
As always please let us know what you think.
Is LeBron still a scumbag?
Do you think Rodgers is going to stumble against the Steelers on Sunday?
Is Judge an idiot or is Martin in the wrong?
Tom Pennington/Getty Images
Aaron Rodgers: What Would A Super Bowl Mean For This Packer?
The Green Bay Packers looked questionable when they allowed Brett Favre to walk away and decided to entrust their franchise to a young quarterback with no starting experience. Well the joke is on us.
Aaron Rodgers has become one of the best quarterbacks in the league and has made all Packers' fans forget about a future hall of fame quarterback.
That is an incredible feat.
Well, if the Packers win a Super Bowl behind the arm and legs of Rodgers, I think that absolutely takes him to the top of the heap of NFL quarterbacks.
That's right, ahead of Tom Brady, ahead of Peyton Manning, ahead of Drew Brees and ahead of Ben Roethlisberger,
The reason I think Rodgers makes that leap is because of his unique skill set.
He has the passing abilities comparable to Brady, Brees or Manning and he has the pocket presence and leadership of Roethlisberger. He is the complete package.
He also has fewer games under his belt than any of those other quarterbacks. That means less miles on his body, less wear and tear on his shoulder.
Rodgers may never have the numbers to break some of the records that the others have set, but I think when all is said and done, Rodgers finished his career with more Super Bowl wins.
This article is
What is the duplicate article?
Why is this article offensive?
Where is this article plagiarized from?
Why is this article poorly edited?
Christian Petersen/Getty Images
Wally Judge: What Is Going On With Kansas State?
On Monday Wally Judge became the third player since the end of last season to leave the Kansas State team.
The former McDonald's All-American averaged just 5.5 points and 3.8 rebounds after being a highly touted forward coming in a season ago.
Wally quit the team today," K-State coach Frank Martin said in a regularly scheduled news conference. "I kind of saw it coming because of some of his emotional situations. He just has not been enjoying it. He told me today that he thinks it is time for a change."
Judge will have to sit out a year before he is able to play again.
While this move seems innocent enough, it feels like Kansas State is headed down a tough path.
Martin is a disciplinarian as a head coach and that can rub some college kids the wrong way. Now, I don't know if Martin is the reason for this transfer, but for three kids to leave the program in such a short period of time, it seems like something is wrong with the Wildcat program.
This transfer is just the latest hiccup for the Wildcats this season.
After a few strong seasons where the Wildcats were highly ranked, they have dropped off this year.
K-State who is 14-8 overall and 2-5 in the Big 12, was No. 3 in the preseason rankings.
This is definitely something else to look for here. It seems like a bad thing when you see kids continually leaving a successful program.
This article is
What is the duplicate article?
Why is this article offensive?
Where is this article plagiarized from?
Why is this article poorly edited?
Mike Ehrmann/Getty Images
LeBron James: Does His Sympathy Help Cleveland Fans?
Well Cleveland fans, LeBron James feels for you.
"I wish the [Cavaliers] the best," James said. "And I wish the fans, more than anything, the best because we had a lot of great years together."
How does that make you feel Cavs fans? Does it help?
Seriously LeBron. "We had a lot of great years together." That is something you hear in a crappy break up letter.
Honestly, this is the most asinine thing I have ever heard. If LeBron really wished the best for Cleveland, he wouldn't have left.
I think Cavs owner Dan Giblbert needs to wear a shirt to the next Cleveland game that says "You were never my boyfriend." That's what would happen in Hollywood.
But in all honesty I don't know what James was trying to accomplish with this statement. The Cavs are in the midst of a 21-game losing streak after dropping Monday night's game to James' Heat.
This is just pouring salt in the wound in my opinion.
"It didn't matter for me if the Cavs were going to have a successful season or not," James said after the game. "I felt like I was making the right choice for me as an individual and for my career. Like I said, I have nothing bad to say about the players that I left and the team."
Is there anyway I can fast-forward until this isn't a story anymore?
This article is
What is the duplicate article?
Why is this article offensive?
Where is this article plagiarized from?
Why is this article poorly edited?