Low Expectations Part II: A Preview of the 2011 New York Mets Starting Rotation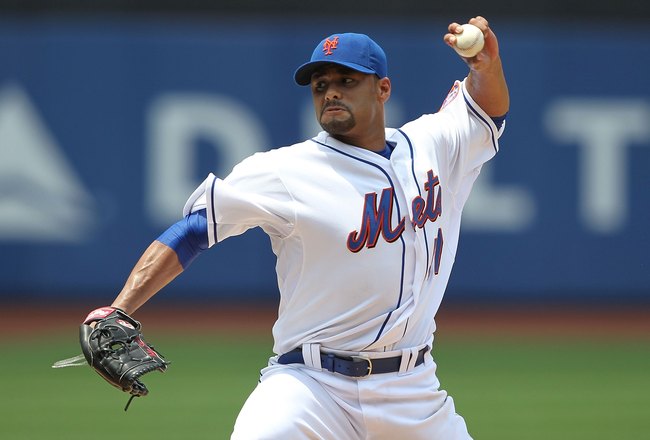 Nick Laham/Getty Images
In my previous post, we took an in-depth look at the Mets everyday lineup. It is clear that if everyone remains healthy, the Mets could put up some pretty big numbers with the bat; however, the big question mark that remains with this baseball team is pitching.
Johan Santana will miss the first half of the year after season-ending shoulder surgery last September.
There were reports a few weeks ago that Santana would miss the entire 2011 season, but the lefty disputed those claims, stating that he is on pace to return to the Mets in June at the earliest.
If the Mets had Johan Santana healthy, this would be a pretty good looking rotation, but without him, everyone has to move up in the rotation, and in some cases, will have to match up against the aces of the world like Roy Halladay, Tim Hudson, Josh Johnson and Tim Lincecum.
It will be a very difficult assignment for the new Mets rotation in 2011, an assignment that many predict will fail badly.
Let's meet the new rotation, and then take a look at the bullpen in part II of our 2011 Mets preview.
Mike Pelfrey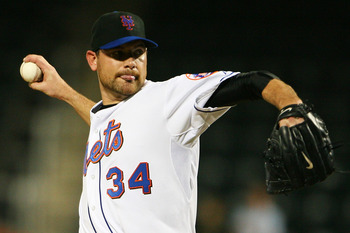 Andrew Burton/Getty Images
With Johan Santana out for the forcible future, Mike Pelfrey will be the pitcher most affected by the loss of the Mets' ace.
Pelfrey is used to being either the Mets two or three starter in their rotation and has only faced other teams aces on rare occasions. Now he will have to become the Mets' ace.
Years ago, the Mets' brass led by Omar Minaya once envisioned Pelfrey as a guy who could become an ace of the staff, even though Big Pelf has yet to develop that reputation.
Pelfrey had a breakout season in 2010, going 15-9 with a save; Big Pelf proved that he could pitch with extreme self confidence, and mix and match his off-speed pitches with his lethal fastball.
He opened 2010 as possibly the Mets best pitcher, posting a record of 9-1 with a 2.39 ERA, but went 6-8 in the second half, including an ugly July where he went 0-3 with a 10.02 ERA. Which Pelfery shows up this year will be huge for the Mets.
This year Pelfrey will be asked to do a little more. Even though he had to resemble the Mets' ace down the stretch last year with Santana out, he will have to become that ace starting April 1st and continue it for the forcible future.
There is no doubt that Pelfrey has the talent to become an ace, but he is very inconsistent. ESPN described Pelfrey this way, and it is quite accurate: "Pelfrey's 1.67 strikeouts-per-walk ratio over the past three seasons ranks seventh-worst among pitchers with 480-plus innings, and understandably his ERA has fluctuated, from 3.72 to 5.03 to 3.66."
"He's at the mercy of his defense, and as a result of all his balls in play he suffers in terms of WHIP, now 1.46 in his big league career. Pelfrey has been known to string together dominant hot stretches, but overall he's more of a match-ups candidate than a roll-him-every-time starter..."(ESPN).
How Pelfrey matches up against the big time aces of the National League will go along way in telling the story of the Mets season. Pelfrey, who has a propensity to wear his emotions on his sleeve, will have to take his game to another level to keep the Mets afloat.
R.A. Dickey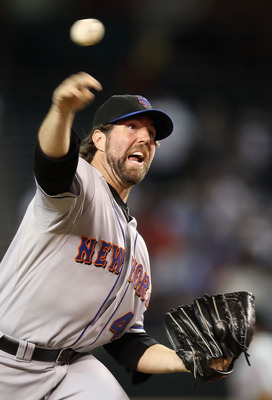 Christian Petersen/Getty Images
No pitcher was a better story in MLB than R.A. Dickey.
Dickey, who spent much of his career as a journeyman from the major leagues to the minors, never really got an opportunity to become a successful starting pitcher when he was with Texas, Seattle or Minnesota.
Dickey finally found a home with the Mets, and last season was the team's most inspirational story. The crafty knuckleballer, who is not shy about the fact that he can't crack 95 on the radar gun and always comes off as extremely humble, went 11-9 with a 2.84 ERA in 27 games.
Whenever the Mets needed to stop a horrid losing streak, it seemed like Dickey was the one who would find a way to get the Mets a victory.
He had a complete game victory against the juggernaut Philadelphia Phillies, a shut out against Albert Puljos and the Cardinals for 8.1 innings in a 4-0 victory and had another shutout/eight inning performance against the Detroit Tigers.
The Mets awarded Dickey with a new two-year contract, which he absolutely deserves, yet there are skeptics out there. Remember Chris Russo's rant about R.A. Dickey when he shut down the Mets as a member of the Seattle Mariners a few years ago?
People still don't believe in Dickey, some might even read into his spring stats, 0-2 with a 5.25 ERA, but it's time to give him the benefit of the doubt. He has a team that believes in his talents, and for the first time in his career; he has found a way to make use of that knuckleball on a consistent basis.
Dickey will be asked to be the Mets' No. 2 starter, which is a whole different challenge than last year when no one expected him to be a part of the team. Although no one should expect Dickey to post a sub 3.00 ERA again, he should still provide enough solid starts this season.
Chris Young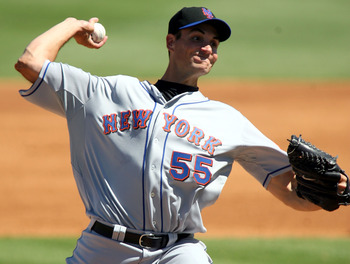 Marc Serota/Getty Images
I have a feeling that if the Mets have one breakout performance from a pitcher this year, it could be from Chris Young.
Once a vital member of the San Diego Padres pitching staff, injuries the last three years derailed Young's promising start to his career.
Young came to Mets with little expectations. If he pitched well enough to be a part of the roster, it would be a boon for Terry Collins and Sandy Alderson. If not, the Mets could easily go in another direction.
Instead, Young was very impressive this spring. In five starts, Young pitched to a 1.33 ERA and showed no signs of the lingering injuries that have plagued his career.
When he was healthy, Young was great in San Diego. He struck out 164 batters in 179 innings in 2006, and struck out 167 batters in 173 innings in 2007 and went 20-13 in those two seasons combined.
Still there are concerns. Young has never pitched more than 180 innings before in his career and hasn't started 30 games in a year since 2007.
If Young becomes a worthy risk for the Mets, he will have to stay healthy. At 32, Young still has a chance to become a solid and consistent pitcher in this league. He just has to stay healthy.
Jon Niese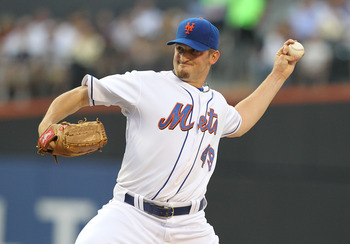 Al Bello/Getty Images
Here's a guy that a lot of people are overlooking in the Mets rotation. While all of the attention is on whether Mike Pelfrey can become an ace or whether R.A. Dickey can reclaim his form from 2010 or even how the new additions of Chris Capuano and Chris Young will do, not to mention the prolonged torturous stay of Oliver Perez, almost everyone has forgotten about Jon Niese.
After showing promise before a hamstring tear that ended his 2009 season, Niese had a solid first full season as a starting pitcher in the majors. He went 9-10 with a 4.20 ERA in 30 starts with two complete games and a shutout.
He has proven to be a good ground ball pitcher and his 148 strikeouts were an encouraging sign of how lethal his stuff can be to opposing hitters.
Niese does not have ace like stuff. He doesn't get the ball up past the low-to-mid 90's, but is still very effective. The one aspect of his game that must improve this season is opponents batting average against. Last year, his opponents hit .280 against him. If he can trim that down to .240 or .235, that would be a major improvement and will go a long way into increasing his value to this ball club.
Chris Capuano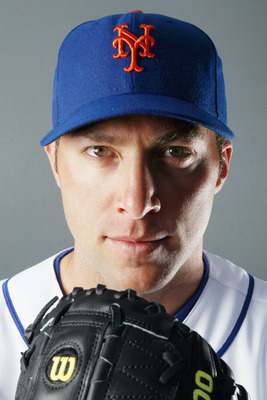 Elsa/Getty Images
Once an 18 game winner for the Milwaukee Brewers, Chris Capuano is the biggest mystery in the Mets rotation.
After that breakout 2005 campaign in Milwaukee, Capuano has been beset by injuries which caused him to miss a better part of the past four years. Presumably, Capuano is now healthy, and will be slotted in as the Mets' No. 5 starter.
Before injuries, Capuano was a prototypical No. 5 starter. Pitching to an ERA around 4.10, who struggled with walks and a high opponents batting average.
The Mets are hoping that Capuano is past his injury trouble and need him to pitch well enough to be a reliable player at the bottom of their rotation.
Because of all the missed time, expectations on Capuano are going to be low, which means two things.
1.) He could exceed those expectations and become a successful surprise for the Mets.
or
2.) He could bomb and the Mets could look within the organization to pitchers like Dillon Gee to fill out the fifth spot in the rotation.
Case in point, be patient with Capuano.
Keep Reading

New York Mets: Like this team?