National Signing Day 2011: 5 Schools Trying to Make a Big Splash
Jeff Gross/Getty Images
National Signing Day is this Wednesday, and the hype is already through the roof.
Several 5-star recruits have verbally committed to schools, but who knows what will happen when the pen hits the paper?
Here are five teams that will look to make a big splash on National Signing Day with the hopes of having their recruits have immediate impacts.
1) Ohio State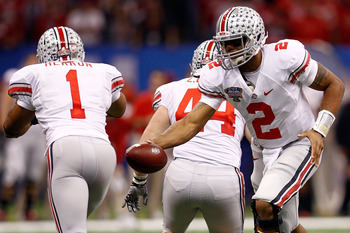 Chris Graythen/Getty Images
Coming off a 12-1 season and a Sugar Bowl appearance, you would think that Ohio State is in perfect shape.
But Jim Tressel and company slipped to No. 5 in the postseason polls. We usually see Ohio State as a top three team, so maybe some new recruits can help the Buckeyes compete for a national championship this year.
A few more key pieces can bring the Buckeyes back to their expected level, and that's No. 1 in the country. Still, 12-1 is a pretty darn good season.
1) Ohio State (cont.)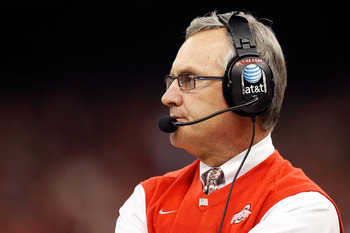 Matthew Stockman/Getty Images
Seven recruits have already committed to Ohio State, mostly on the defensive side of the ball.
One player to keep an eye on is quarterback Cardale Jones from Cleveland, Ohio. Terrelle Pryor won't be around much longer, so the Buckeyes have to look to their future.
Tressel got a late offer in to Jones, who is described as a "pro-style" quarterback, according to SB Nation. I wonder if playing for the hometown team would have any significant meaning for Jones.
2) Notre Dame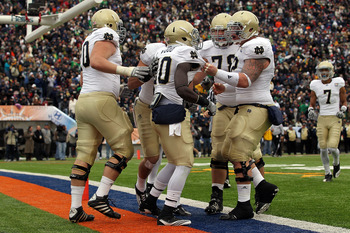 Ronald Martinez/Getty Images
With the last few seasons dominated by personnel changes and not exactly play on the field, Notre Dame, under head coach Brian Kelly, will look to bring in a strong recruiting class on Wednesday.
One thing that Notre Dame has that outshines some other schools is its tradition. It must be a special feeling to set foot on the field at Notre Dame Stadium, where so many great athletes once played.
Notre Dame has some pieces in place already and will look to fill some remaining holes.
2) Notre Dame (cont.)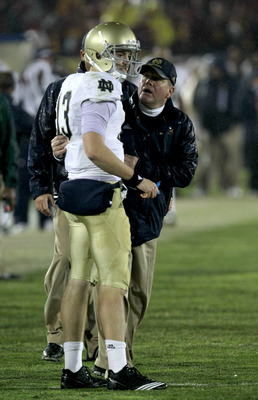 Stephen Dunn/Getty Images
Brian Kelly's goal on Wednesday is to sign players who can improve his defense. Two top 30 national prospects have already signed, according to the Chicago Tribune, and one more could be on the way.
Notre Dame finished outside the Top 25 in the postseason polls, but an improved defense could lead them back to their winning tradition.
3) USC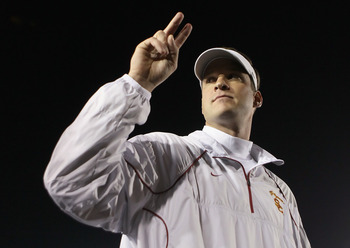 Jeff Gross/Getty Images
Like Notre Dame, USC finished outside the Top 25, which is a place we never see them.
Think of all the impact players USC has produced in recent memory: Reggie Bush, Troy Polamalu, Mark Sanchez, etc.
If I was a top-rated recruit, I would be chomping at the bit to attend USC and help them return to greatness. The college football landscape is always better when USC is a Top Five team.
3) USC (cont.)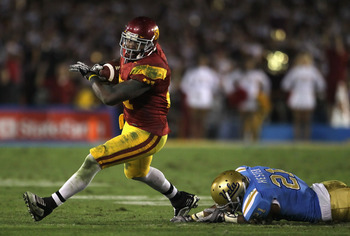 Jeff Gross/Getty Images
Cyrus Hobbi, a 6'4", 285-pound offensive lineman, has verbally committed to USC, according to the LA Times.
Hobbi is described as having great footwork and balance, and Lane Kiffin expects him to make an immediate impact.
Kiffin wants to shore up that offensive line, which is a big key at the college level.
4) Michigan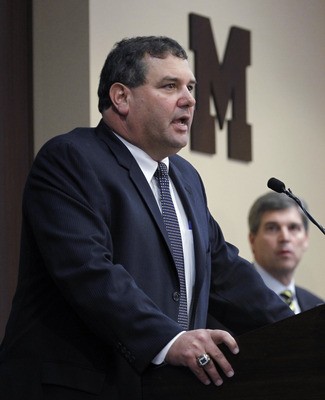 Gregory Shamus/Getty Images
Brady Hoke is inheriting a tough position. Michigan has not been the Michigan we know and love for the past few seasons, and it will be Hoke's job to convince recruits that he will alter the program once controlled by Rich Rodriguez.
The hype is there, but will the results be on Signing Day?
4) Michigan (cont.)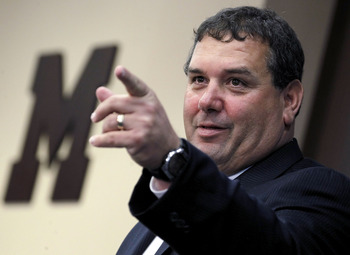 Gregory Shamus/Getty Images
Hoke has six solid recruits on his radar, but none have given a verbal commitment. A few are choosing between schools, so Hoke naturally hopes they choose Michigan.
A strong recruiting class coupled with a renewed sense of winning under Hoke could be just what the doctor ordered for the Wolverines.
5) South Carolina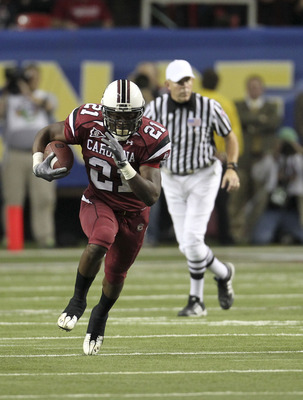 Mike Zarrilli/Getty Images
Of the five teams, South Carolina might be the most underrated of the bunch. They are coming off a 9-5 season but got off to a great start.
Marcus Lattimore had a breakout freshman campaign, and having the right pieces around him could only lead to more success for the Gamecocks this upcoming season.
5) South Carolina (cont.)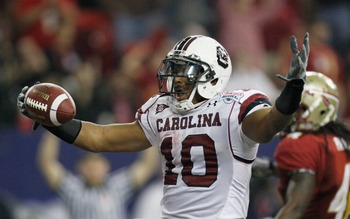 Kevin C. Cox/Getty Images
Steve Spurrier has already received a verbal commitment from Jerell Adams, a 6'5" tight end from Summerton, SC.
Things are looking up for the Gamecocks after their Top 25 finish. A strong recruiting class could lead to an even higher finish in the polls next year.
There may be some surprises come Wednesday, but even if there aren't any, Spurrier will have his team ready to play.
Keep Reading