Super Bowl XLV, New England Patriots, Pro Bowl 2011 and Monday's Top NFL News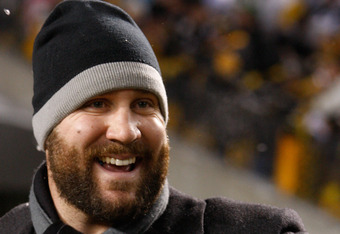 Jared Wickerham/Getty Images
The Super Bowl Hype Machine now is in full gear as we begin the final week of the 2011 postseason.
Now begins endless rehashing of all the storylines that got us through the 2010 season concerning the Steelers and the Patriots, plus the NFL labor talks that no one on the players side seems interested in participating in at the moment.
The Super Bowl is shaping up to be a great event, though, and I'm going to have to quit waffling and make my pick this week. There is no true favorite to me in this game, and you can take the Vegas line on this game and throw it out the window as far as I'm concerned.
We'll hit all those topics, plus more, today, so thanks for stopping by as we go through all of the day's top stories.
Sean Gardner/Getty Images
2011 NFL Draft: Christian Ponder Rises In Rank With Good Senior Bowl Showing
Christian Ponder may have locked himself into a solid second round draft slot with his performance Saturday at the Senior Bowl.
Ponder was named Senior Bowl MVP after going 7-13 for 132 yards and two touchdowns.
There are questions about Ponder's arm strength and durability, but if he has a good Combine showing in a few weeks, Ponder may lock himself into a high second round slot.
Ponder is one of those quarterbacks that have a lot of potential but too many questions to go in the first round.
It's not outside the realm of possibility to see Ponder go in the first round if he "wins" the Combine, but realistically, he now is a lock for the second round, and anyone who isn't mocking him as a second round pick has a different take on the situation than I do.
One thing Ponder does have is good pocket presence, which is vital to being a good quarterback in the NFL. Arm strength can be worked on slightly and worked around a lot depending on the offense.
Ponder also has shown great intelligence, and that's something you just can't value enough. Plus, with the questions surrounding Ponder, it creates a "chip" for Ponder to put on his shoulder and spend a whole career shaking off.
Right now, I would mock Ponder to the Buffalo Bills in the second round, but he could fall as far as Miami to the third round depending on how the rest of the draft shakes out. But don't be surprised to see Ponder go in the second round the way things stand now.
For another look at the draft, check out 10 Prospects Jim Harbaugh Will Target
This article is
What is the duplicate article?
Why is this article offensive?
Where is this article plagiarized from?
Why is this article poorly edited?
Tom Pennington/Getty Images
Super Bowl XLV has two participants and only will have one winner.
This is a very difficult Super Bowl to predict because everything you think you know about football doesn't have its normal application in this game.
The Steelers have an offensive line made up of backups, Civil War veterans, and a guy who just likes to dive into piles.
The Packers have an offense keyed around Aaron Rodgers, and if he has a bad game, the Packers really struggle.
Both defenses are stingy but both can give up big plays and big scores.
Here's what we know: The Steelers offense rarely scores a lot of points, but they win anyway. The Packers are much better than their record indicates, but most of their losses were well earned by mistakes and miscues.
The Steelers, on paper, have the edge on defense with their ability to stop the run, and the ability of players like Troy Polamalu and James Harrison to just flat out make plays.
But the Packers have the edge on offense with the multiple weapons the Packers have to utilize, plus the emergence of James Starks late in the season.
The Packers are well aware they had an offensive breakdown in the second half against the Bears, and that the defense saved them from missing the Super Bowl. The Packers have the ability to fix that problem and not make the same mistakes as last time.
Even if it was an issue of Rodgers "not being the same" after the Peppers hit, the coaching staff will be on Rodgers very quickly this week if he takes a big hit and looks "different."
I'm going to go with the Packers in a high-scoring game. Very few people are predicting a high-scoring game, but I think this game will be a tale of two offenses.
Ben Roethlisberger will find ways to make plays while Rodgers and Starks will light the night up.
It's not going to be a blowout, and the second half is going to be a slugfest.
Final Score: Packers 38 Steelers 27
For a look at something completely different, check out 15 Moves Pat Shurmur Must Make To Rebuild The Browns.
This article is
What is the duplicate article?
Why is this article offensive?
Where is this article plagiarized from?
Why is this article poorly edited?
Jonathan Daniel/Getty Images
The Green Bay Packers have a potent defense, but it won't mean anything if they let Ben Roethlisberger make play after play on Sunday.
Clay Matthews is a playmaker, and he has the potential to make game-changing plays this Sunday. The Steeelers offensive line is vulnerable, and if Matthews can bust through, he has the speed to catch Roethlisberger before Roethlisberger can escape the pocket and make something out of nothing.
The Packers defense is ranked fifth against the pass, meaning it's not going to be as easy for Roethlisberger to find seams in the coverage as he could against other teams.
The main thing the Packers have to do is just keep the receivers covered. The Steelers offensive line is bad enough that as long as you keep the receivers covered, the rest will take care of itself.
The reason Roethlisberger often is able to make a play while on the run with three guys nipping at his heels is because the coverage breaks down as the receivers break off of their routes. The Packers secondary has to stay on their assignment until the whistle blows, no matter which way they cut and no matter what's going on in the backfield.
That's the winning gameplan for the Packers.
For a look at the draft, check out The Best & Worst Case Scenarios For All 32 Teams.
This article is
What is the duplicate article?
Why is this article offensive?
Where is this article plagiarized from?
Why is this article poorly edited?
Jared Wickerham/Getty Images
The Pittsburgh Steelers are going to have to mix it up against the Packers in the Super Bowl on Sunday.
With Maurkice Pouncey out, the Steelers offensive line is even more vulnerable than it has been all season. But a Ben Roethlisberger on the run is a very dangerous Ben Roethlisberger.
Still, if the Steelers don't succeed with the running game early, it could come crashing down very quickly.
The Steelers can't rely on Roethlisberger to do everything because the Packers defense is too good. If they no longer have to try and defend the run, they'll drop everybody back in coverage while Clay Matthews introduces himself to Roethlisberger.
That offense has been pretty good despite the shortcomings on the line, and Roethlisberger is the best quarterback in the league to have on that field behind that particular line. Roethlisberger is mobile, and he's built like a linebacker, so he can take the shots he inevitably does take.
But the Steelers have this guy named Rashard Mendenhall, and if they don't utilize him, it will be to the Packers benefit. Mendenhall is the key to the game. If Mendenhall can gain at least 80 yards on the ground, the Steelers will have a true shot at winning the game.
For a look at trade rumors, check out NFL Trade Scenarios.
This article is
What is the duplicate article?
Why is this article offensive?
Where is this article plagiarized from?
Why is this article poorly edited?
Tom Pennington/Getty Images
Cowboys Stadium not only is the site of this year's Super Bowl, it's the site of one of the greatest marketing ideas in years, selling tickets to a game but not letting the ticket buyer actually get in the stadium.
That's right for the small price of $200, you can stand outside Cowboys Stadium in a roped off area and watch the game on television. I'm sure you also can buy concessions at regular concession prices as well.
Some marketing genius, and I don't use that term sarcastically, figured out that you can sell tickets to stupid people at marginally inflated prices, but that as long as they were cheaper than an actual ticket to get you inside the stadium, morons aplenty would be lining up to get them.
So you pay through the nose to travel to Dallas to see the game but you don't actually have a ticket to get inside. So then you pay the heavily inflated parking prices for the stadium plus you shell out another few hundred dollars to stand outside the stadium and watch the game on the big screen.
Congratulations, you're a moron. Please have yourself sterilized so you don't pollute the gene pool anymore.
I'd rip the NFL executives who thought up the idea, but their job is to think up new revenue streams. If people hadn't bought the tickets, it would go away. But apparently there really are a lot of stupid people out there, and the NFL is more than happy to take advantage of them.
For a look at something completely different, check out Jay Cutler & The 15 Most Gutless Performances In Sports History.
This article is
What is the duplicate article?
Why is this article offensive?
Where is this article plagiarized from?
Why is this article poorly edited?
Ronald Martinez/Getty Images
Aaron Rodgers will be the unquestioned focus of attention on offense for the Packers. Without Rodgers, it's a crapshoot on whether or not Matt Flynn can move the team.
Flynn was ineffective against the Lions with no preparation, but surprisingly effective against the Patriots with a week's prep time. Should Rodgers get knocked out of the game, that makes it difficult to predict how Flynn would react against the Steelers.
But we're not going to dwell on that because Rodgers is the starting quarterback, and we all hope he doesn't get injured.
Rodgers has several targets to choose from, including a now-healthy Donald Driver, James Jones and Greg Jennings. There's also his tight end Andrew Quarless plus James Starks out of the backfield.
The Steelers secondary has a weak link at the moment with Bryant McFadden. McFadden isn't their best corner to begin with, and now he's battling injuries. His backup is William Gay, and Gay is going to have to step up, or it's going to be a long day for Steelers fans.
Rodgers has to play like he did in the first half of the Bears game. The two defenses both are equally stingy, and Rodgers was doing great until that hit by Julius Peppers. Now Rodgers has had two weeks to recover, and assuming James Harrison doesn't decide to take the fine and try and knock Rogers out of the game, he should be able to score on the Pittsburgh defense.
For a look at the two Super Bowl teams, check out Why Steelers, Packers Are Role Models For The Rest Of The League.
This article is
What is the duplicate article?
Why is this article offensive?
Where is this article plagiarized from?
Why is this article poorly edited?
Ronald Martinez/Getty Images
Ben Roethlisberger is used to carrying the offense on his shoulders, but that doesn't mean it ever gets any easier.
The networks already have been working on their manufactured drama storylines to fill air time during the week and give the announcers hooks to riff off of during the game, and one of those is Roethlisberger's story of redemption and recovery from last year's trouble in Georgia.
Winning cures everything, and since the Steelers have been winning, Roethlisberger has become a pretty popular guy around Pittsburgh again. Understand that last spring, the town had completely turned on him after the team had missed the playoffs and sexual assault allegations resulted in a suspension for the Steelers quarterback.
In addition, the social scene in Pittsburgh couldn't wait to turn on Roethlisberger as stories of how bad his attitude was circulated local media.
In recent reports, Roethlisberger has been characterized as a changed man who seems to have learned from his mistakes. While I'm not saying this isn't true, I also know a Super Bowl appearance causes people to start giving their players the benefit of the doubt.
If Roethlisberger comes out and throws for 300 yards and four touchdowns, they'll be building a statue in his honor at the Pittsburgh Airport to sit right along side the Franco Harris one. If you've ever gone through the Pittsburgh Airport, you know what I'm talking about.
For me, though, it'll be much more entertaining to watch Roethlisberger get ripped apart if he has a bad day, throws two or three interceptions and can't find the end zone. That's when we'll see the claws come out.
If Roethlisberger has a bad day Sunday, not only will the Steelers lose, but Roethlisberger will get vilified again as bitter Steelers fans will start making up anything they can think of to reason away his bad performance.
It will be ugly, it will be mostly unprintable, but most of all, it will be entertaining to anyone who isn't a Steelers fan. Since I have no stake in this game, I'm all about the entertainment, and a Steelers loss, especially via a Roethlisberger egg-laying contest, will be about as entertaining as it gets.
For a look at the Super Bowl, check out the 20 Most Memorable Plays.
This article is
What is the duplicate article?
Why is this article offensive?
Where is this article plagiarized from?
Why is this article poorly edited?
Larry French/Getty Images
Pro Bowl 2011: Alex Mack Becomes Internet Star With Odd Touchdown
It could only happen in the Pro Bowl, a play so ridiculous that there's no way you could draw this up on a blackboard.
With less than a minute remaining, a series of laterals weren't defended because no one cared and Alex Mack ended up with the ball, running it in for a touchdown.
There's two ways of looking at this, though. That play either is the best or the worst reason to watch the Pro Bowl.
It's the best because the rules and attitude of the Pro Bowl allow a play like that to happen. Not that you don't have crazy laterals that end up in the end zone with a score during the regular season, but they don't happen quite like they did with Mack.
There was a lot of standing around, watching the play happen, and most of the players thought the play was over as the ball got pitched to Mack and were late to react. That doesn't happen in a "normal" game.
I'll also point out that there was no pass rush because the rules prohibited it and Cassel had all day to get that play started.
Those very same reasons are why the play is the worst reason, but that's only if you're a party pooper.
The merits of playing the Pro Bowl are a different argument. Since the game is being played, it may as well be entertaining, and the sight of Alex Mack barreling down the field for a meaningless touchdown was hysterical.
For another look at the Pro Bowl, check out Who Was A Stud, And Who Was A No-Show.
This article is
What is the duplicate article?
Why is this article offensive?
Where is this article plagiarized from?
Why is this article poorly edited?
Jemal Countess/Getty Images
Super Bowl XLV: Labor Negotiations Overshadow Festivities For Big Game
The owners and players seem headed for a lockout on March 4, and no one on the players side seems the least big interested in stopping the lockout from happening.
Instead of looking at the lockout as a failure, union chief DeMaurice Smith seems to be looking at the lockout as a bargaining chip, recently characterizing the negotiations as a "war."
While some NFL players may disagree with me, Smith is an idiot who is in over his head, and the players only are going to lose because of it. This isn't to say I'm putting on my "GO OWNERS" hat and rallying against the players, because I'm not.
I'm pointing out that Smith's approach to the labor talks is shortsighted and self defeating. There is absolutely nothing to gain by not sitting down at a table and trying to work this out now. The union can say whatever it wants about the owners and whatever the deal in front of them is and it doesn't matter now because Smith would rather pose and preen than try and get a better deal.
A lockout is a failure, and right now Smith is making the players look like the bad guys. Even worse, Smith's pointless bravado will end up costing a lot of people their jobs. A lockout will mean massive layoffs around the league for every team.
These people don't have millions of dollars to fall back on until a new deal is reached. They'll have to go to the unemployment office while the players hold off on buying that new Ferrari, or the second home in Boca.
The little people around the league will end up being the true victims of this lockout, and no one on the players side seems to care.
For a look at players who will get fat contracts moments after a new deal is signed, check out 25 Players Who Will Be Signed As Soon As A Deal Is Reached.
This article is
What is the duplicate article?
Why is this article offensive?
Where is this article plagiarized from?
Why is this article poorly edited?