Super Bowl 2011: Troy Polamalu, Charles Woodson and the Latest Super Bowl News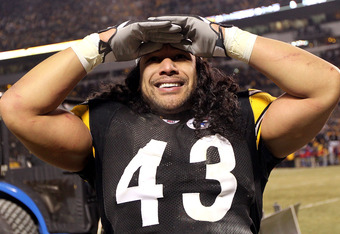 Nick Laham/Getty Images
It's hard to believe, considering the hype surrounding Super Bowl XLV, that we're still a week away.
Heck, we're still two days from the media descending on Dallas and the zaniness that is Media Day.
It doesn't mean there isn't a lack of news coming out of Green Bay or Pittsburgh, however, as they get ready to head out for the Metroplex.
Both teams have injury issues heading into the Super Bowl, albeit in different capacities. Two of the most important players for Pittsburgh could have their Super Sunday statuses in doubt. While in Green Bay, apparently the debate has gone in the last two weeks from was Jay Cutler injured to should the injured appear in the team photo.
There's also the lingering issue of Aaron Rodgers and his shoulder, which could have a big impact.
Either way, the news has been fast and furious leading up to Super Week. So this is the place for the latest news on the big game on this, the Sunday before Super Sunday. For everything from the Packers having a new vocal leader to the status of the Steelers' most important defensive player and so much more, this is the place to go.
So read on for the latest Super Bowl news.
Elsa/Getty Images
Bill Belichick: What Will Patriots Do With Their Two First Round Picks
Perhaps one of the most surprising things about this Super Bowl is that Bill Belichick isn't there, especially when the Patriots were the trendy Super Bowl pick the second half of the season. Instead, the Patriots are done and Belichick's in Hawaii, coaching at the Pro Bowl today.
But perhaps the biggest question now about the Patriots isn't what happened instead of what will happen. New England has a lot of questions, perhaps with many surrounding their two first round picks in April's NFL Draft. Knowing Bill Belichick, he'll trade one of them to either move down, move out of the first round or use it to land some player he'll turn into a star. But the Patriots do that with their later pick.
They won't trade the No. 17 pick they have from Oakland, not when they need a defensive lineman and there are expected to be a bunch of ends and pass-rushing linebackers available in the middle of the first round and at No. 17. We've already seen names like J.J. Watt and Cameron Jordan as possible picks in Mock Drafts, and Adrian Clayborn will get a look from New England if he's still there as well.
New England doesn't have a lot of holes, but the ones it does have are on defense. Almost every mock draft has them taking a defensive lineman, and that'll be the case.
But with Logan Mankins on the way out, be on the lookout for the Patriots to look at an offensive lineman as well. Then again with Belichick, you never really know.
For more NFL Draft news: 2011 NFL Draft: The Definitive Top 50 Big Board
This article is
What is the duplicate article?
Why is this article offensive?
Where is this article plagiarized from?
Why is this article poorly edited?
Super Bowl 2011: Getting Glee Star Lea Michele For Super Bowl A Big Step For NFL
Admit it, you were a little surprised when you heard the Black-Eyed Peas and Christina Aguilera were performing at the Super Bowl.
I mean, come on, it's the NFL. The league that was thrown under the bus after the "Wardrobe Malfunction" heard 'round the world, and wasn't really putting on spectacular performances before that anyway. Really, before Janet and Justin, the last memorable performance at a Super Bowl from an artist was probably Whitney Houston at Super Bowl XXV. And it was lip-synched at that.
But the NFL did something out-of-character when it pegged Lea Michele of Glee to sing America the Beautiful before the game:
They actually booked stars who are stars now.
It sounds somewhat stupid, but perhaps for the first time since you know what, they've picked someone who's in the public consciousness right now. Regardless of whether you like them or not, the Black-Eyed Peas are one of the hottest acts going right now, Aguilera's still pretty relevant and Michele's part of an extremely popular show (which happens to be a staple of Fox's lineup, who happens to be broadcasting the game. Coincidence?).
Now, don't get me wrong, I love Prince and Paul McCartney and Bruce Springsteen. But they're, how do I put this nicely, old (no offense).
The NFL's always trying to get every eyeball they can as part of their plan to become overlords of television. And by finally taking a chance with modern acts for the first time since Janet and not the "safe" choice, they're finally lifting themselves from underneath the weight of that fateful night.
And that's worth something.
For more Super Bowl news: Super Bowl 2011: Power Ranking the 44 Biggest NFL Games from I to XLIV
This article is
What is the duplicate article?
Why is this article offensive?
Where is this article plagiarized from?
Why is this article poorly edited?
Jonathan Daniel/Getty Images
Super Bowl 2011: Will Charles Woodson Regret His Post-Game Speech
This is the week where anything said or perceived to be said can be turned into bulletin board material. So in the grand scheme of things, Charles Woodson's White House rallying cry after the NFC Championship Game is not the most outrageous thing we've heard leading up to a Super Bowl. We can all remember the confidence from the Patriots before they were victims of one of the biggest upsets in Super Bowl history.
But unfortunately, as is the case many times with athletes who speak their minds in front of a camera, Woodson really can't win either way.
Don't get me wrong, Woodson's speech was an impassioned ploy to unite his teammates towards the common goal. But you know if the Packers don't win Sunday, you'll hear the calls by the sportswriters and fans alike, saying Woodson was tempting fate with the speech and somehow disrespecting the Steelers' enough to motivate them to victory.
Meanwhile, if he wins, we'll hear about how more athletes need to do this, how they need to unite their teams. Remember, we all went gaga with Wes Welker put his best foot forward in that press conference, but I'm sure there were some of you who probably thought he took it too far and cost the Patriots.
We can't have it both ways.
I see nothing wrong with Woodson's speech, and Mike Tomlin isn't Bill Belichick, who uses every word as food for his inferiority complex. But if the Packers lose, you're going to hear about this speech and how it cost the Packers.
At least Woodson didn't put his foot in his mouth.
For more Super Bowl news: Super Bowl 2011: Who Will Be Heroes Or Zeros On Super Sunday


This article is
What is the duplicate article?
Why is this article offensive?
Where is this article plagiarized from?
Why is this article poorly edited?
Gregory Shamus/Getty Images
Super Bowl 2011: Expect Troy Polamalu To Play In Super Bowl XLV
Troy Polamalu was listed as probable in the Steelers' injury report leading into Super Bowl week, according to the Pittsburgh Post-Gazette. No one should be surprised when he does play, considering how important he is to the Steelers.
Don't be surprised if he isn't too effective, though.
Polamalu's been struggling with injuries the past few weeks that has limited his time. It's hard to know how close to 100 percent he really is, but he's also one of the players who can make a difference just by being on the field. Now knowing this, he'll probably go out and have the game of his life next week. But we know how the Steelers are different just when he's on the field and when he's not.
Polamalu's one of those players who would run through a wall to make a play, the type players love to play with and hate to play against. But with an injury like Polamalu's been struggling with, it's hard to do what he likes to do, which his just find the ball and make plays.
Now I doubt Mike Tomlin would throw Polamalu out there as a decoy a la Paul Warfield against the Vikings in Super Bowl VIII. Polamalu will play, will start and will only come out if he absolutely has to. He's just that type of player.
But can the Steelers, knowing the quarterback and the offense they're facing, take that type of chance by leaving Polamalu out on the field? I highly doubt it.
Don't get it twisted, Polamalu will play. Just don't expect too much.
For more Super Bowl news: Super Bowl 2011: Who Will Be Heroes Or Zeros On Super Sunday
This article is
What is the duplicate article?
Why is this article offensive?
Where is this article plagiarized from?
Why is this article poorly edited?