Michigan State Crumbling: How Does This Affect the Big Ten Power Rankings?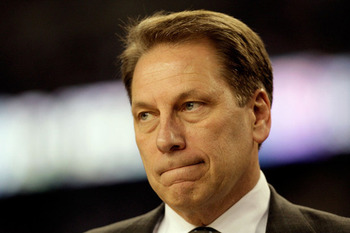 1,881.
That was the number of days since the last Michigan victory over Michigan State before last Thursday, when the Spartans lost to the Wolverines in East Lansing.
The loss dropped the Spartans to 4-4 in the Big Ten and 12-8 overall.
Panic button time?
Hold that thought.
The reason for the Spartans less than stellar year to this point is not a meltdown by the team, poor coaching or even the suspension of Korie Lucious.
The fall of Sparta within the conference this season has been a product of playing the deepest, most parity riddled conference in America.
Of course, Ohio State is a cut above the rest, and Purdue, Wisconsin, Michigan State and Illinois are all bunched in the middle. Nothing unusual there.
What sets this season apart in the Big Ten is the depth from top to bottom. Indiana and Michigan have both improved since last season, while Penn State has the ability to play anyone in the conference well on their home floor.
Two of the bottom four teams in the Big Ten beat ranked conference foes this past week, and of course there was the aforementioned defeat of MSU by Michigan.
How does MSU's slide to relative obscurity influence the Big Ten Power Rankings?
Continue reading to find out...
11. Iowa Hawkeyes 8-12 (1-7)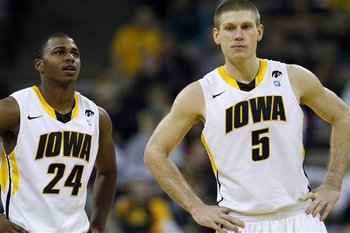 Iowa.
What is there to say this season?
The Hawkeyes have one win so far this season in conference play and are averaging just 68.4 points per game, good enough for 220th overall...
10. Indiana Hoosiers 11-10 (2-6)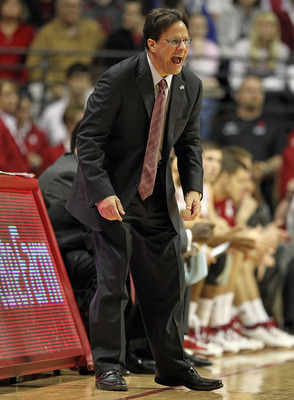 Andy Lyons/Getty Images
If things don't turn around soon for Tom Crean and Indiana, he may want to start looking for work elsewhere.
Granted, losing Maurice Creek again this season is a big blow, but Indiana just can't quite get over the hump and return to winning games against the top half of the conference.
Their win against Illinois this week is huge for the program, and they can hope to build on that momentum with a victory on the road at MSU.
9. Michigan Wolverines 12-9 (2-6)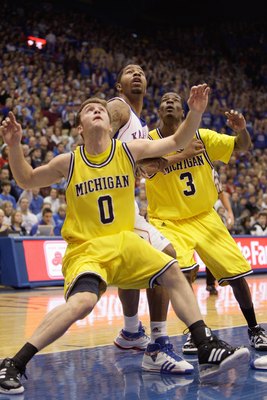 Jamie Squire/Getty Images
After getting the MSU monkey off of their collective back, the Michigan Wolverines have battle with Iowa before heading to Ohio State.
The Wolverines used tenacious defense and great perimeter play to take down the Spartans last week, and they will be looking for more success down the homestretch of this season.
Guard Darius Morris has been the catalyst for the Wolverine offense, scoring 15.6 points per contest to go with seven assists.
8. Michigan State Spartans 12-8 (4-4)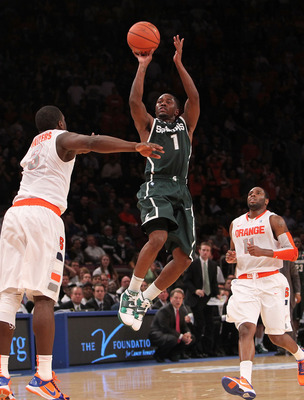 Nick Laham/Getty Images
As stated before, the Spartans are struggling, but not to worry.
As already mentioned, the conference is incredibly deep this season, and Tom Izzo has a steadying effect on young players.
That being said, the Spartans have got to find some sort of team chemistry, as they have looked disjointed and out of sync over the last several games, losing three in a row and four out of six.
Their upcoming schedule provides that opportunity, squaring the Spartans against Indiana and Iowa before a huge road trip to Madison on Feb. 6.
7. Northwestern Wildcats 13-8 (3-7)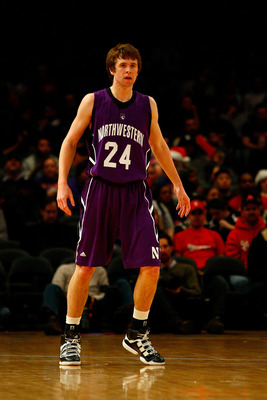 Chris Chambers/Getty Images
Northwestern is still looking for that elusive trip to the Big Dance.
And they won't punch their ticket this season.
The 'Cats just don't have the guns to hang with most of the conference and all of their wins are against less-than-stellar competition.
They had a chance to put away No. 1 OSU on Jan. 29, but fell just short, losing 58-57.
Want a challenge? Find a quality win on NU's resume.
6. Illinois Fighting Illini 14-7 (4-4)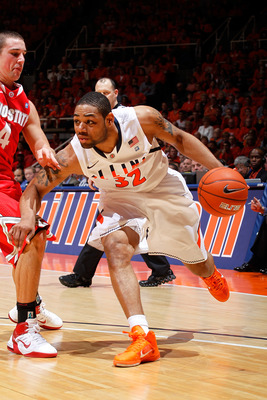 Joe Robbins/Getty Images
Illinois is definitely a force to be reckoned with in the Big Ten race this season, the hiccup against Iowa not withstanding.
If the Illini wish to remain competitive through the rest of the conference schedule, guard Demetri McCamey will have to step up and be the veteran calming influence for Bruce Weber's club.
5. Penn State Nittany Lions 12-8 (5-4)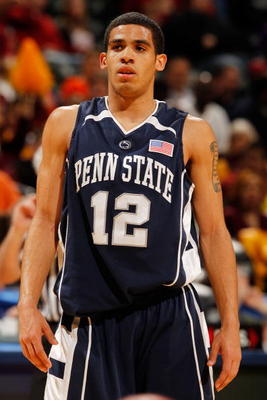 Jonathan Daniel/Getty Images
Penn State, what to make of you?
The Nittany Lions are coming off of a strong showing against Wisconsin.
They also have victories over MSU and Illinois.
Talor Battle and Jeff Brooks are one of the top duos in the conference, and the Lions are cruising toward an NCAA berth.
4. Minnesota Golden Gophers 16-5 (5-4)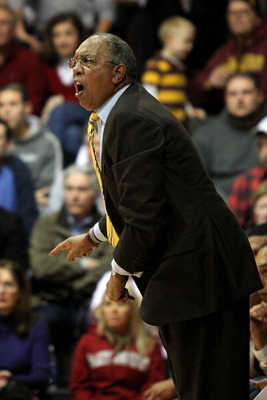 Chris Chambers/Getty Images
Minnesota can play with anyone, and Tubby Smith has his Gophers positioned well heading into the Big Ten homestretch.
Solid guard play from Al Nolen, and Blake Hoffarber, coupled with a strong inside presence in Trevor Mbakwe has the Gophers sitting pretty at No. 4 in the Big Ten standings.
The Gophers are second in the conference in field goal percentage defense.
3. Wisconsin Badgers 15-5 (5-3)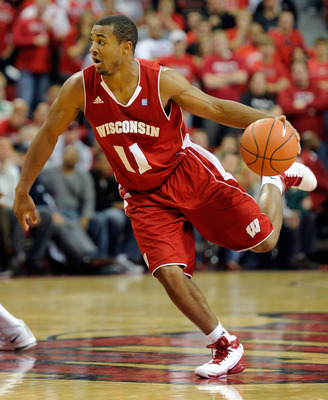 Ethan Miller/Getty Images
Since head coach Bo Ryan came to Wisconsin, the Badgers have never finished outside of the top four in the conference, and have never missed the NCAA Tournament.
This year is more of the same.
Anchored by sweet shooting forward Jon Leuer and guard Jordan Taylor, the Badgers are headed for the toughest part of their schedule.
Between now and Feb. 16, the Badgers play Purdue twice, MSU, OSU and Iowa.
The Badgers lead the conference in scoring defense, turnover margin and assist/turnover ratio.
2. Purdue Boilermakers 18-4 (7-2)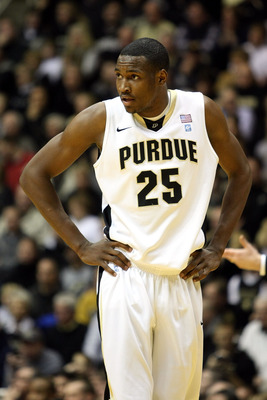 Chris Chambers/Getty Images
JaJuan Johnson is lighting it up this season.
He leads the conference in scoring, at 21.3 per contest and is fourth in rebounding at 7.7 per game.
Even without Robbie Hummell, the Boilermakers are cruising heading into their showdown in Madison with the Badgers next Tuesday.
1. Ohio State Buckeyes 22-0 (9-0)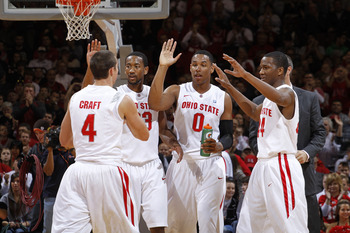 Joe Robbins/Getty Images
Jared Sullinger may be the most talented player in the country, but he is only part of the reason OSU is undefeated.
Veteran guard David Lighty has been the glue that holds this team together, calming freshman guard Aaron Craft and Sullinger, while performing very well in a leadership role.
The Buckeyes have their toughest pair of games coming up, with a trip to "The Barn" to face Minnesota on Feb. 6, followed by a trip to Madison to face Bucky Badger on Feb. 12.
Keep Reading

Michigan State Basketball: Like this team?