New England Patriots, Kevin Nash, Novak Djokovic and Sunday's Top Sports Buzz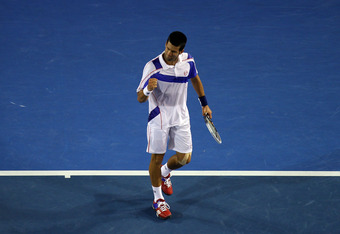 Mark Dadswell/Getty Images
It's the Sunday before Super Bowl Sunday, which is often dogged for being one of the slowest weeks in the sports world.
But instead of succumbing to general perception, I'm here to tell you that there are plenty of big stories developing across the globe that you need to be brought up to speed on.
Thanks to NFL schedule re-shuffling, this weekend is not entirely football-free, as today marks the sun and fun defense-free exhibition that is the Pro Bowl.
This weekend also marked the end of tennis' first grand slam, and I'll go over all the big stories coming out of the Australian Open, which recently crowned a men's and women's champion.
There's also all the anticipation and pregame analysis that accompanies next weekend's premiere event, Super Bowl XLV.
There are plenty of noteworthy stories already leaking out about the big game, even as we're a week away from kickoff. I'll try to get you up to speed on all that's going on with the Green Bay Packers and the Pittsburgh Steelers as they prepare for the game of their lives.
All that and more, as they say, as I'll touch on anything and everything that's grabbing sports fans' attention across the wide world. So keep it here to get yourself fully caught up on the day's hottest stories.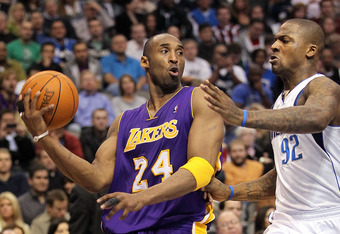 Kobe Bryant and the Los Angeles Lakers are entering a very tough part of their schedule, and doing so while playing some uninspired basketball. Is today the day when the defending NBA champions wake up, stirred by memories of their June glory when they face off against the reigning Eastern Conference champion Boston Celtics?
The last we saw the Lakers, they were losing an uninspired game to the lowly Sacramento Kings on the road on Friday night. It's been a stretch of inconsistency for the team, as they can boast of quality wins over the Utah Jazz, Oklahoma City Thunder and Denver Nuggets. But the Lakers also blew a big lead against their fellow Staples Center tenants the Los Angeles Clippers, and lost to a banged-up Dallas Mavericks team that had lost six straight heading into their meeting.
Now things get tough for the Lakers, starting with the arrival of the Boston Celtics later this afternoon in what should be a physical, tough game between two veteran teams used to winning. After this premiere matchup, the Lakers will play host to the NBA's best team, the San Antonio Spurs, in a big Thursday night potential playoff preview.
Those are two tough games, but it seems like the Lakers have picked up their level of play to match their opponents. Will Kobe and company be able to continue that trend against the Celtics and Spurs?
It's a bit troubling to see a team yo-yo between highly competitive against the league's best, as well as somewhat lackadaisical against lesser squads.
The real test comes after these two high profile home games for L.A. They will then depart on a seven game, 12 day road trip in which they'll visit New Orleans, New York, Orlando and Boston, all tough teams that the Lakers may run into in bigger games this summer.
This stretch serves as a good litmus test to see if the Lakers will still be in position to challenge for their third straight NBA title come playoff time. If they make some statements against the high level of opponents they're starting to run up against, it will be hard to bet against L.A. making another deep run in the postseason.
Does the Lakers' roster need some tweaking as the trading deadline approaches? Check this piece out and see if the Lakers have a player on their radar: NBA Trade Rumors: Each Team's Biggest Questions As Deadline Approaches
This article is
What is the duplicate article?
Why is this article offensive?
Where is this article plagiarized from?
Why is this article poorly edited?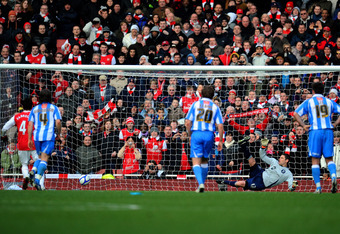 FA Cup's fourth round of action continued today, and one of the more back and forth games of the day saw Barclays Premier League powerhouse Arsenal hold off League One side Huddersfield Town AFC, winning 2-1 behind an 86th minute penalty conversion by Spaniard Cesc Fabregas.
Arsenal were very much in danger of falling to the less-heralded Huddersfield side at the Emirates, especially when a number of key events conspired against the Gunners.
Things started out innocently enough for Arsenal, as they opened up a lead in the 22nd minute behind a deflected goal for Nicklas Bendtner. They looked to be in position to put themselves comfortably in front, finding space out wide against the Huddersfield defense.
Then things turned, as stalwart Arsenal playmaker Samir Nasri had to limp off the pitch after suffering what was described by manager Arsene Wegner as a "serious" hamstring injury that could sideline him for up to three weeks.
Arsenal also then went down a man on a straight red card deservedly handed out to defender Sebastien Squillaci.
Huddersfield then jumped into the driver's seat, applying tons of pressure on the Arsenal defense, and frequently bidding for an equalizer. The goal finally came in the 66th minute, on a perfect Alan Lee header past Arsenal keeper Manuel Alumnia.
Wegner was forced to insert usual starter and talisman Cesc Fabregas late in the game to give his side a boost, and Fabregas didn't disappoint. He threatened the Huddersfield defense, and it was ultimately his completion of a Bendtner-drawn penalty that allowed Arsenal to survive.
It was a costly win for the Gunners, but they move on in the FA Cup, only days after they sealed their spot in the Carling Cup finals. The drive for hardware for the London side continues.
Other FA Cup action today includes Notts County hosting Manchester City and Tottenham Hotspur visiting Fulham. Games already completed include Wolverhampton losing at home to Stoke City 1-0, and West Ham United currently leads Nottingham Forest 3-2 late in the action.
For more on the January transfer window which is about to close, check out Liverpool Rumors: Can Luis Suarez and Fernando Torres Co-Exist?
This article is
What is the duplicate article?
Why is this article offensive?
Where is this article plagiarized from?
Why is this article poorly edited?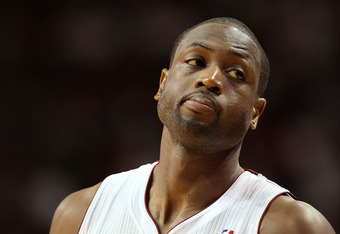 Miami Heat fans have to be holding their breath as the team deals with a sudden rash of injuries that have contributed to some inconsistent play from the highly touted team, which has last five of its last seven games.
The latest and perhaps highest-profile injury concern emerged on Thursday following the Heat's 93-88 loss on the road against the New York Knicks. Their star Dwyane Wade came up with a wrist injury following the game, which ultimately forced him to miss the Heat's next game the following night, a one point home win over the Detroit Pistons.
Wade was sent for an MRI on the wrist, but ESPN reported that the MRI came back negative, ruling out any serious injury for one of Miami's key stars.
Still, Wade now joins his two other Superfriends as dealing with injuries and potentially missing time. Power forward Chris Bosh has missed Miami's last four games with a sprained left ankle, and it's unclear when Bosh will come back.
LeBron James also twisted an ankle during the Detroit game on Friday night, although that injury didn't stop him from dropping 39 points in 44 minutes of action.
But even the Heat's role players are hurting, as sharpshooters Mike Miller and Eddie House are both nursing aches and pains.
The Heat have a big, nationally-televised game this afternoon on the road against the Oklahoma City Thunder, and it's unclear how healthy the squad that takes the court will be. James figures to play, but it's uncertain what Wade's availability will be.
Bosh is still not expected back, and his absence coincided with the downturn in Miami's play.
Can Miami win without one of their big three? The answer appears to be no at this point, but I think the real issue is the healthy players trying to find their comfort level on the court without the safety net of all three elite players on the roster.
I think Miami can survive without Bosh, but if they miss two of the three players at once it becomes exceedingly tough for their offense to succeed. It brings guaranteed double teams to whichever of the three is left on the court, and forces the scoring load onto players like Mike Miller and Zyrdunas Ilgauskas, who may not be up for the assignments.
The All Star break is fast approaching in the NBA, and here's an innovative look at a potential way of putting the All Star rosters together: NBA All Star Rosters 2011: Drafting the All Star Teams, NHL Fantasy Style.
This article is
What is the duplicate article?
Why is this article offensive?
Where is this article plagiarized from?
Why is this article poorly edited?
Pro Bowl 2011 takes place today, and for football fans still feeling the excitement from an exciting two conference championship games last weekend, this game is sure to be a major letdown. And that's despite the NFL's best efforts to make the Pro Bowl more relevant and timely by moving it to the week between conference championship and Super Bowl Sunday.
The game is billed as the NFL's All Star game, but by putting the game smack dab in the middle of huge games played by what amounts to the league's top four teams, much of the star power is sucked out of the contest.
A whopping 22 players who were elected to the Pro Bowl have dropped out in advance of the game set to take place in Honolulu, Hawaii later today. That's an entire game's worth of players bowing out due to various reasons, be it injury, fatigue, or otherwise. To me, this is just one of the many signs that the Pro Bowl needs to once again be re-calibrated heading into 2011.
I understand that players drop out of every major league's all star game, and also concede that this would still be an issue if the Pro Bowl were to take place in the middle of the regular season.
But consider the fact that the league is looking to expand the regular season to 18 games as part of the new collective bargaining agreement. There is an ideal way to do this and also build in an added week of rest for players who are understandably concerned about the added wear and tear of an additional two games on their schedules.
Move the Pro Bowl to the middle of the season and have it serve as a legitimate All Star break, similar to what the other three major sports leagues do with their games. Players get a week of rest, even the ones that are elected to the game considering it's basically glorified flag football.
You also get more attention from more casual fans, as football season is only getting started, and fans of the lesser successful teams might be more invested in their squads than they would be in late January, a month after most teams' seasons ended.
To me that's at least a good starting point for how to handle the Pro Bowl in the future. Having it mid-season would get it more attention and more viewers, which is all the NFL ultimately cares about. It also would give the players an extra week of rest, which is a big concern for them.
The Pro Bowl have you thinking about possible trade targets to fill your favorite team's needs? Check out this piece on the prime NFL trade targets: 2011 NFL Trade Rumors: Power Ranking the Top 15 Players Who Could Be Moved.
This article is
What is the duplicate article?
Why is this article offensive?
Where is this article plagiarized from?
Why is this article poorly edited?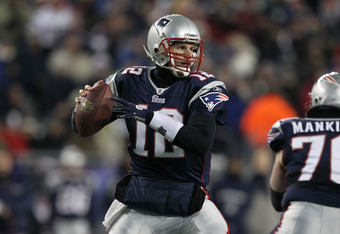 New England Patriots fans have turned their attention to the 2011 NFL Draft, as we're now two weeks removed from the team's disappointing loss to the New York Jets in the AFC Divisional playoff round. The Patriots are the only team with two first round picks, having the 17th pick sent to them from the Oakland Raiders as part of their trade for defensive tackle Richard Seymour.
New England also has the 28th pick, what would have been their only selection of the draft's opening round. But with two picks to play with, the question becomes, what will coach and architect Bill Belichick choose to do with his coveted first rounders?
Despite enjoying a stellar 14-2 regular season, the Patriots still have a number of needs to fill either on draft day or through free agency/trades. The draft has long been their prime means of restocking their roster, as Belichick has shown no hesitation in plugging in rookies in key situations and coaching them up to fit his expectations and schemes.
This piece from NESN lists defensive end, outside linebacker, tackle, guard, running back and wide receiver as New England's draft day needs.
The most glaring area of need, at least to me, is the New England offensive line. They have questions in terms of whether three longtime starters, Matt Light, Logan Mankins, and Stephen Neal, will return for 2011. The last game of their season fresh in minds, New England's offensive line looked a step behind the Jets' aggressive defense.
A shot of youth along the line charged with protecting franchise quarterback Tom Brady is to me the biggest need for New England on draft day. Players like Colorado's Nate Solder, Wisconsin's Gabe Carimi, Mississippi State's Derek Sherrod and even Boston College's Anthony Castonzo might all be possible targets for the Patriots if they're looking for an offensive lineman in round one.
If New England wants to go defensive, they could target versatile and explosive pass rushers like California's Cameron Jordan or Purdue's Ryan Kerrigan, or even Iowa's Adam Clayborn. All have high talent levels when it comes to rushing the passer, and all would fit needs for New England.
There's also the potential for a skill player, such as Alabama running back Mark Ingram or perhaps Maryland wide receiver Torrey Smith.
To me it's got to be offensive line first and foremost for Belichick on draft day. He could also decide that two picks isn't needed in round one, and choose to trade down in favor of adding another pick in a later round. This is a frequently deployed Patriots strategy, so I wouldn't be surprised if they don't ultimately end up making two first round selections.
Still, there's a lot to consider with the Patriots' upcoming approach to the NFL draft, thanks to their draft-centric model of roster construction.
For more on the upcoming draft, check out 2011 NFL Draft: The Definitive Top 50 Big Board.
This article is
What is the duplicate article?
Why is this article offensive?
Where is this article plagiarized from?
Why is this article poorly edited?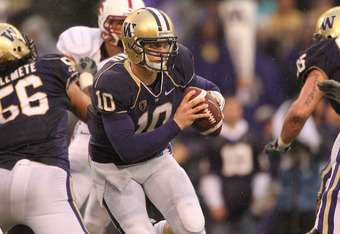 Senior Bowl 2011 took place yesterday afternoon, and the high profile showcase game for departing seniors to make positive impressions on NFL scouts was won by a South squad led by Florida State quarterback Christian Ponder. The final score was 24-10 in favor of the South, with Ponder leading the way by throwing two touchdown passes.
But the player with possibly the most on the line was North quarterback Jake Locker, who has seen his draft stock suffer through a tumultuous year during the regular season, as well as mixed reviews now during offseason workouts.
Locker was one player flagged as having convincing left to do during the week of practices leading up to the Senior Bowl and the game itself, but his struggles with inaccuracy and inconsistency continued during yesterday's game.
The Washington quarterback is considered a first round talent, but after a down year on campus plus a less than inspiring week of practice, teams should be re-thinking their evaluations on Locker. His game seems to have changed since his stellar 2009 season, and it hasn't changed for the best.
With NFL teams relying more and more on their passing games for yardage and success, it's extremely risky to invest so heavily in a quarterback who may or may not develop into a consistent, accurate passer.
One player who, according to evaluators, greatly helped his draft stock is Miami (FL) wide receiver Leonard Hankerson. Hankerson was responsible for the Senior Bowl's biggest play, a 48 yard reception on a Ponder pass, and was consistently getting open down the field.
Hankerson is considered a second round pick at this point, but with a lack of great depth in the wide receiver draft depth charts he could have worked his way up in the pecking order somewhat. His strengths are considered to be his ability to run routes and fight through tight coverage, skills that are becoming more and more relevant in the NFL.
Want to see who else boosted their draft stock in the Senior Bowl? Check out this piece Senior Bowl 2011: Von Miller and 10 Players Who Helped Their NFL Draft Stock.
This article is
What is the duplicate article?
Why is this article offensive?
Where is this article plagiarized from?
Why is this article poorly edited?
Green Bay Packers players have been caught up in a bit of a controversy during this notoriously slow week off before Super Bowl XLV, as debate has swirled regarding the inclusion of players on injured reserve in the upcoming team photo.
Yes, it's a controversy about the team photo, a seemingly trivial storyline that seems tailor made for this dull week of waiting for the Super Bowl. But it's still an issue, especially when you consider that high profile players have weighed in and openly disagreed about the proper protocols relating to players out for the year with no chance of appearing in Super Bowl XLV.
First it was injured linebacker Nick Barnett who took to Twitter to voice his displeasure of being excluded from the team photo. He backed up his statements in an interview with Yahoo! Sports, and was backed by a fellow injured reserved star, tight end Jermichael FInley.
The Packers responded claiming that the sheer number of players on injured reserve (15) made it a logistical nightmare to get all the players to Dallas and in place for the photo, while also having the facilities in place to let them continue to rehab.
Coach Mike McCarthy, however, was noticeably annoyed by the fact that Barnett and Finley spoke out about the exclusion and created this tempest of drummed-up controversy. Aaron Rodgers' comments indicated that the injured reserve players weren't all still around and functioning as full time team members, as he stated that "Some of the guys who were injured, you know, they are still part of this team, but some of them didn't choose to stick around."
Bottom line, this is a total non-issue for the players set to step onto the field next Sunday. The Packers didn't do anything that other NFL teams haven't done before with their IR players once they've reached the biggest stage. Jeremy Shockey of the New York Giants watched Super Bowl XLIII from a luxury box after suffering a broken leg, and wasn't there as a fully-integrated team member. It's not a groundbreaking development that Barnett and Finley would be excluded, and their complaining publicly just serves as an unneeded distraction during a usually dull week.
Want to take a look at how the Packers and Steelers' skill players match up? Check out this piece Super Bowl 2011: Power Ranking the Skill Players of Super Bowl XLV.
This article is
What is the duplicate article?
Why is this article offensive?
Where is this article plagiarized from?
Why is this article poorly edited?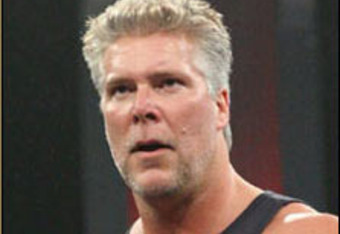 Kevin Nash, the long time star of the WWE and WCW, is set to make a grand return on pay per view tonight in the 2011 Royal Rumble.
Nash is set to depart TNA, the federation he's been a part of since 2004, and will re-emerge in the WWE universe on the grand stage of the Royal Rumble, one of the higher profile pay per view events on WWE's calendar.
According to reports, he's expected to be a participant in the over-the-top-rope rumble itself, and will then continue on in WWE. It's not clear who will be Nash's first feud partner in upcoming storylines, but he is sure to draw plenty of attention from reverent fans who remember his glory days in the 90s.
It's also reported that Booker T is going to rejoin WWE simultaneously with Nash, another former Vince McMahon employee who had been working at competitor TNA. It's looking like Vince was able to lure away two of TNA's bigger names just in time for his high-profile pay per view to go down tonight.
The question I have is, what does Nash have left to offer WWE? He's going on 52 years old and left WWE six years ago after suffering an in-ring injury. During that stint in the early 2000s while in his late 40s he showed his age pretty clearly, lacking the athletic ability he had once possessed even for a man of his great size.
Nash is charismatic and a legend in the medium, but this just reeks of bringing a guy in to just keep him away from the competition. TNA had enjoyed his high-profile presence, and now Nash heads back to his roots, hoping this stint in WWE ends better than his last.
For more on the upcoming Royal Rumble, check out this piece on the event for which it's named: WWE Royal Rumble: 10 Bold Predictions for the Epic 40 Man Battle.
This article is
What is the duplicate article?
Why is this article offensive?
Where is this article plagiarized from?
Why is this article poorly edited?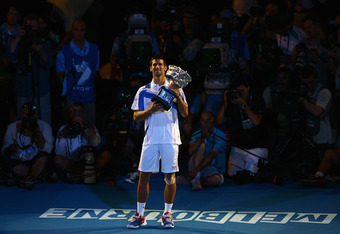 Novak Djokvoic turned Andy Murray back in straight sets to win the Australian Open men's final and capture his second grand slam title, firmly establishing himself as a top contender to challenge the thrones of Roger Federer and Rafael Nadal.
Djokovic won the final of an upset-filled Australian Open in straight sets over Scotland's Murray, the final line going 6-4, 6-2, 6-3. This marked the third grand slam final reached by Murray, but he's yet to win the big one and will have to wait until May's French Open for another crack at a title.
For Djokovic, he's enjoyed a wonderful stretch of play, making it to the U.S. Open final last September while also leading Serbia to their first ever Davis Cup win back in December.
Djokovic was the number three seed in this tournament, and he was once again faced with going up against the recent era's most dominant player, Roger Federer, in the semi-finals in Australia. The two met at last year's U.S. Open, also in the semis, and the results here in January were the same: Djokovic again turned aside the Swiss legend.
So now the questions have begun to swirl: has Djokovic passed Federer, who is slowing down now late into his legendary career, in the men's tennis ranks? And are tennis fans ready to embrace the less-heralded Serbian in the face of a decline from Federer?
One player Djokovic is still yet to conquer on the big stage is Rafael Nadal, whom he lost to in the last U.S. Open final. The next grand slam tournament will offer a big test for the emerging Serbian star, as Nadal owns the clay courts of Roland Garros.
I'm sure tennis fans will be glad to see Nadal and Federer re-emerge come the remaining grand slams, but Djokovic seems to have the inside track on picking up where the top two leave off. His play may not be as sexy as either Rafa or Roger, but he's in good form and has been winning in bunches. Why not give him a chance, especially now after his second Australian Open title?
What are some of the scariest sights in sports? Check out one writer's take, perhaps a Federer/Nadal-free grand slam final is one of them? The 50 Most Horrifying Sights in Sports.
This article is
What is the duplicate article?
Why is this article offensive?
Where is this article plagiarized from?
Why is this article poorly edited?