Aaron Rodgers Show: The Budding Packer's 10 Best Performances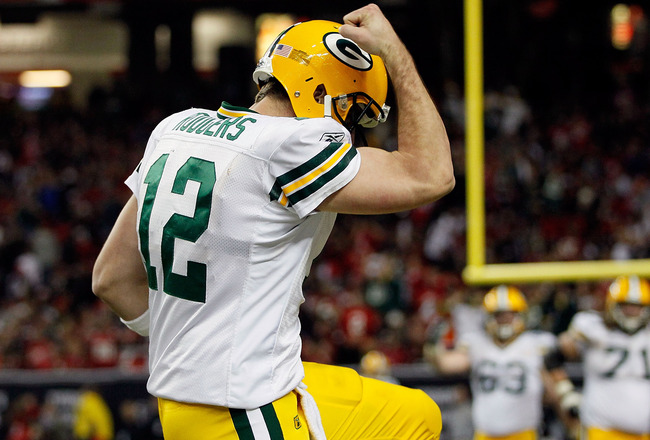 Kevin C. Cox/Getty Images
No one expected it. Not even in Green Bay.
The Aaron Rodgers phenomenon took the NFL by storm as soon as Brett Favre departed Titletown.
Fans of the Green and Gold despised management for trading away the figure they had grown to love over sixteen exciting years.They also unfairly attacked the new guy, who deserved the chance to start after three years in waiting
Packer Nation watched as Aaron Rodgers stepped onto Lambeau Field on September 8, 2008 as the starter for the first time. Avid cheeseheads were ready to criticize his every mistake and mourn the loss of their beloved Favre.
However, all doubt and bitterness began to melt away as Rodgers rushed and threw for a TD leading his new team to their first victory with him under center.
Now the tide has turned. Aaron Rodgers has become an elite quarterback, and in just three seasons he has lead the Packers to the Super Bowl.
A majority of fans have come to hate Favre, aka Purple Judas, and they've placed all of their trust to No. 12. Here are a few of A-Rod's best games thus far.
10. October 25, 2009 at Cleveland Browns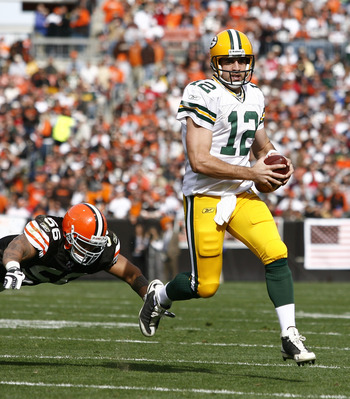 Matt Sullivan/Getty Images
The Packers dominated in Cleveland and so did Rodgers.
Three-fourths of his twenty passes were completions, and one-fifth of those completions were touchdowns. I'll let you do the math.
Rodgers orchestrated a 99 yard drive that resulted in him finding James Jones for the score. He had a career high passer rating of 155.4 and also added 23 yards on the ground.
9. September 14, 2008 @ Detroit Lions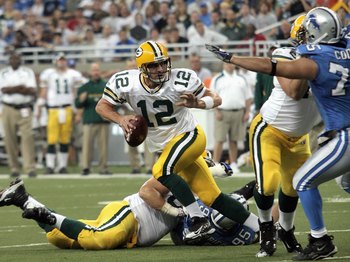 Domenic Centofanti/Getty Images
It was a game of firsts for Rodgers. In his second game as a starter, he picked apart the Lions secondary for his first 300 yard game.
He tossed for three touchdowns, also a first, as he began to erase the memory of Favre from the minds of Green Bay fans.
Once doubted for his athleticism, Rodgers began to prove his ability to pick up yards on the ground. He gained 25 yards on four carries using his ability to escape when the pocket collapsed.
With a passer rating of 117 and his first fourth quarter comeback, Rodgers led the Pack to the victory to go 2-0 to open the 2008 season.
8. December 28, 2008 Vs. Detroit Lions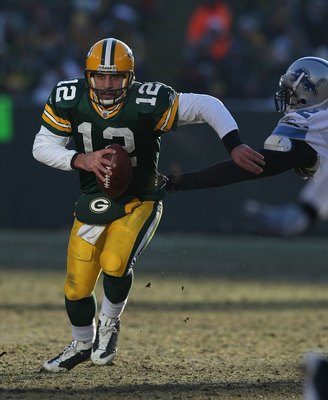 Jonathan Daniel/Getty Images
Yes, Rodgers had some of his best outings when the Packers were matched up with the winless Lions.
This game will be remembered as the finale of the worst season for a team in NFL history. But Rodgers made sure that the Lions couldn't squeak out their first win in Week 17 of the 2008 season.
Similar to the contest at Ford Field earlier in the year, Rodgers had over 300 yards and 3 TDs. However, his passer rating boosted up to 132.2 in this one.
7. November 26, 2009 @ Detroit Lions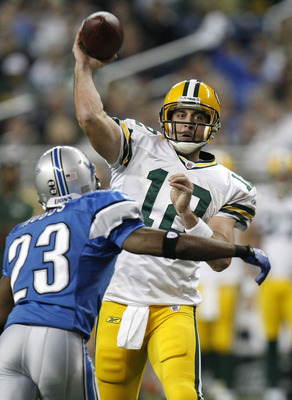 Gregory Shamus/Getty Images
It's usually a good day for any Green Bay quarterback when they step onto the field against the division opponent Detroit Lions.
I almost called them a division rival, but lately it is hard to call the Lions as such because the Packers have won ten of the last eleven meetings between the two NFC North teams.
Rodgers once again sent the Lions secondary off running with their tails between their legs. He completed 71.8 percent of his passes for 348 yards and 3 TDs.
6. December 20, 2009 @ Pittsburgh Steelers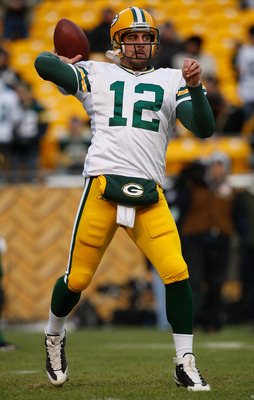 Jared Wickerham/Getty Images
Rodgers led the Pack with 383 yards and 3 TD through the air in this late season shootout, but unfortunately the defense didn't show up at Heinz Field.
The secondary gave up 503 passing yards to Ben Roethilisberger and a last second game-winning TD.
Rodgers also rushed for 22 yards on three carries and punched it into the endzone once on the ground against a physical Steelers defense.
5. November 7, 2010 Vs. Dallas Cowboys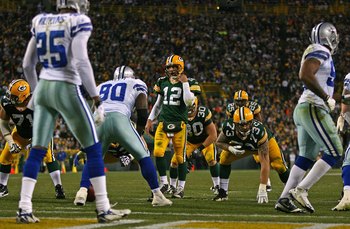 Jonathan Daniel/Getty Images
It was Wade Phillips last game as the Cowboys head coach, mostly because Aaron Rodgers and the Packers routed America's Team in primetime.
Rodgers was efficient, completing almost eighty percent of his throws, as well as effective, getting the ball into the endzone three times.
He had 330 all purpose yards until back up Matt Flynn came into finish the game for the Packers.
4. November 21, 2010 @ Minnesota Vikings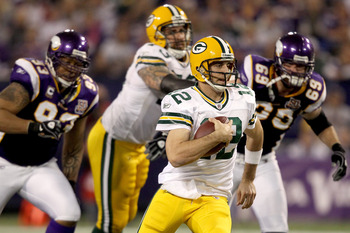 Matthew Stockman/Getty Images
Rodgers and the Packers got the final say in the Favre saga by routing the Vikings in the Metrodome.
Rodgers ended the game, probably the most satisfying of his career, with a QB rating of 141.3 while the old man could only muster a rating of 51.2.
He passed for 301 yards, rushed for twenty one, and tied his career high of four touchdown passes as the Packer rolled over the rival Vikings.
3. January 10, 2010 @ Arizona Cardinals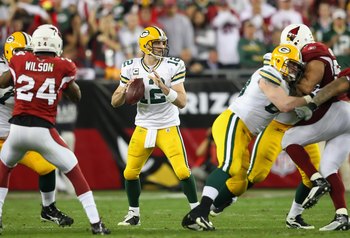 Christian Petersen/Getty Images
Rodgers was stellar in his first playoff game, but so was the man in charge of the opposing team's offense. It was a battle of elite quarterbacks, but Kurt Warner's Cardinals came out on top in overtime.
On the game's first play, Rodgers threw his first postseason interception. But he put it behind him and played lights out from that point on, throwing for 423 yards and 4 TDs as well as running for a TD.
In OT, Rodgers was ready to lead the team to the Divisional Round, but an uncalled hit to his helmet caused him to fumble the ball into the hands of Karlos Dansby who ran it back for the game-winning score.
2. December 26, 2010 Vs. New York Giants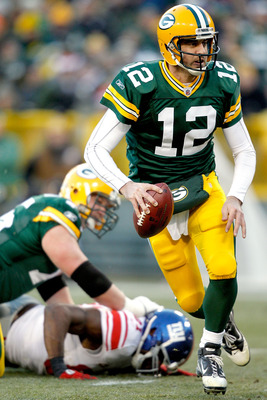 Matthew Stockman/Getty Images
If the Packers were to make the playoffs in 2010, they needed to beat the Giants to have a chance at the Wild Card.
Rodgers didn't disappoint. His hot hand lasted all game long. Four hundred four yards and 4 TDs later, he had led Green Bay one step closer to the post season.
1. January 15, 2010 @ Atlanta Falcons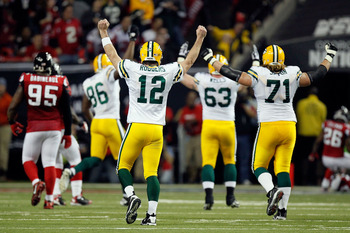 Kevin C. Cox/Getty Images
Facing the NFC's number one seed and with a trip to the NFC Championship on the line, Rodgers had the best game of his career thus far.
The third year starter looked unstoppable as he dismantled the Falcons defense for 366 yards and 4 TDs, one a rushing score. His completion percentage, 86.1, was one of the highest in playoff history.
Aaron Rodgers is becoming an elite quarterback and will continue to have many memorable games as the quarterback of the Green Bay Packers.
The world will watch as he tries to add Super Bowl XLV to his list of best performances.
Keep Reading

Green Bay Packers: Like this team?